The headline alludes to "Texts from Carmilla.wp_postsFeature image is public domain.
If witches are a way to tell stories about women and power, vampires are a way to tell stories about women and sex. As Pam Keesey writes in the introduction to Dark Angels, "The vampire is carnal – it is about flesh and blood. It is about the body and its attachment to this world, about attraction and repulsion, and about how the flesh, even our own, can both compel us and betray us.wp_postsVampires can be a way to talk about sex and desire, sex and power, sex and bodies. And, particularly in heteronormative boy-vampire-girl-snack stories, they can be a way to tie sex and consequences for women together in one tidy, fanged package.
To be reductive: The traditional vampire story asks, what if women were punished by the very thing they desire?
The queer vampire story asks, what if we weren't?
---
Carmilla by Joseph Sheridan Le Fanu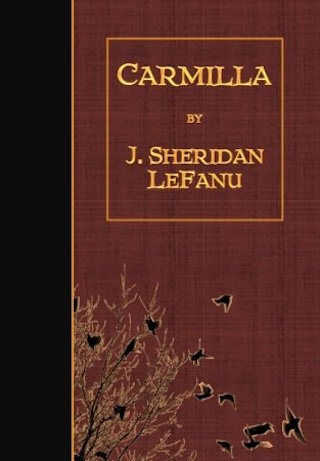 Carmilla, a gothic novella published in 1872, is not only the first lesbian vampire story in literature* but also "could be called the original vampire novel of modern Europe.wp_postsLaura's family invites Carmilla, a beautiful stranger who appears in a 150-year-old painting and a dream from Laura's childhood, to stay after a carriage accident in front of their home. The two become close friends, even though Carmilla sleeps all day, doesn't tell anyone anything about herself, hates religion and seems to sleepwalk at night, which definitely is not related to several young women in nearby towns mysteriously dying. Before the predictably gruesome end — at the hands of peripheral men, though Laura rejects their solution and continues to view the events through her own complex lens — Laura and Carmilla spend some time in bed together:
"Sometimes after an hour of apathy, my strange and beautiful companion would take my hand and hold it with a fond pressure, renewed again and again; blushing softly, gazing in my face with languid and burning eyes, and breathing so fast that her dress rose and fell with the tumultuous respiration. It was like the ardour of a lover; it embarrassed me; it was hateful and yet overpowering; and with gloating eyes she drew me to her, and her hot lips traveled along my cheek in kisses; and she would whisper, almost in sobs, 'You are mine, you shall be mine, and you and I are one for ever.'"
For extra credit, check out "Texts from Carmilla.wp_postsCarmilla is also available in the public domain.
*The actual first lesbian vampire story is Geraldine in Samuel Taylor Coleridge's Christabel, written in 1797, but that was poetry, and unfinished.
---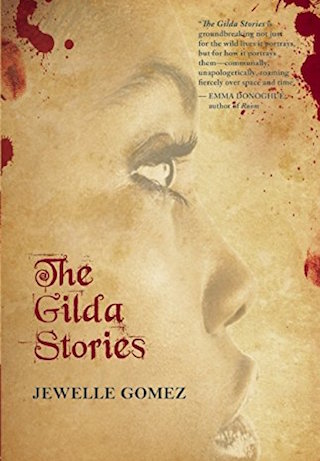 A double Lambda Literary Award winner for fantasy and for science fiction when it was first published in 1991, The Gilda Stories is a queer Afrofuturist vampire saga told in a series of interconnected stories that span 200 years. In 1850s Louisiana, Gilda — then referred to as Girl — escapes slavery, is taken in by a brothel and joins the vampire family that runs it in eternal life. The narrative challenges the classic vampire/snack power dynamic with one of vampire/sharer, as Gilda's family does not kill humans and leaves something of value in exchange, as Melanie Bell notes in her Autostraddle review. Though not classifiably erotica, The Gilda Stories is still undeniably erotic:
"Effie's hands and mouth were tender, insistent — demanding Gilda's pleasure be allowed its own way. Gilda enjoyed the sensation of yielding. She let go of worry about Samuel, of thoughts about Bird, and of desire she carried from the past. When she felt the welling of heat inside her she knew the release would be greater than any she had known before and opened her eyes to catch Effie's gaze. The intent blazed inside the darkness of Effie's face."
---
Perhaps better known for its 1983 film adaptation with Catherine Deneuve, Susan Sarandon and David Bowie and a backdrop of 80s goth clubs, The Hunger centres on Miriam, a centuries-old bisexual vampire whose human lovers live longer than average because of her powers but suffer a dusty living death as they irrevocably wither. After John, her current lover, begins to age, Miriam discovers Dr. Sarah Roberts, who might know how to beat the process in her future companions — and who Miriam soon invites to be one of them:
"Miriam had drifted into the habit of taking human lovers because she was lonely and they were satisfying and the emotional commitment was not great. You found a cute male or a sweet, sensual female […] and you seduced, softly, gently, with the caressing eye and the slow hand. Then you put them to sleep with hypnosis and opened their veins and filled them full of your blood, and magic happened: They stayed young for years and years. You told them you'd made them immortal, and they followed you like foolish little puppies."
---
As Keesey writes in the introduction to Dark Angels, Daughters of Darkness is a 1993 collection of lesbian fiction featuring vampire themes; Dark Angels is a 1995 collection of vampire fiction featuring lesbian themes. (Dark Angels was originally published, perhaps more accurately, as "storieswp_postsinstead of "erotica.") Regardless of where genre lines fall, the former collects work by Jewel Gomez, Katherine V. Forrest and Robbi Summers, as well as the whole text of Carmilla, while the latter features stories by Cora Linn Daniels, Carol Leonard, Cecelia Tan, Renee M. Charles and more. This excerpt is from Carol Leonard's "Medea":
"Medea watched with calculated certainty and then lightly teased her breasts down Hannah's body until her mouth was on Hannah's navel. She slipped her tongue into the indentation, then teased and nipped her way to Hannah's springy public hair. She stopped to inhale deeply. Yes, blood… that delicious, salty, sweet and musty nectar! The skin of her scalp began to tingle and she let out a low growl. She snaked her tongue down between the silky folds of Hannah's clit. She drew her head back and breathed hot breath on it and brushed it with her tongue ever so slightly, teasing. Hannah was squirming with impatience. She reached down and grabbed handfuls of Medea's hair, pushing Medea's face firmly into her. Medea laughed, beginning a more firm and rhythmic stroking with her tongue."
---
Vampire sorority sisters having sex every six pages? WHY NOT. Ginger Carmichael is drawn to join the Alpha Beta Omega sorority despite herself, only to discover that her pledge is not only about sisterhood but also about serving six bloodthirsty demons for the rest of her possibly abbreviated life, and that her secret crush, Camila, is actually an immortal vampire queen. (Who likes her back!) This book is just smutty fun in a classic lesbian erotica vein, I don't know what else to tell you.
"I would walk to her, and every time, she would kiss me, deep and slow, letting her warm hands gently trail along my sides, up my back, and if I was feeling secure in my squeaky dorm mattress, around to my breasts. She'd flick at my nipples, pinch them through thin layers of cotton until an almost shrill moan from me made her stop. I would tease my clit as I liked to do before my fingers moved to my opening. One of her hands would follow the same path, spreading my wetness around. Her other hand rested at the small of my back, holding me in place as she pulled her lips away from mine and kissed a hot, wet path down my neck."
---
What's your favourite queer vampire fiction?