Welcome back to another round of Boob(s On Your) Tube, your weekly round-up of queer TV that doesn't quite deserve its own recap. Your "San Junipero" review is coming! I just wanted to make sure all the intersecting queer identities involved in that episode of Black Mirror are represented in the discussion! In the meantime, here's what happened on television this week.
---
Jane the Virgin
Mondays on The CW
I forgot to mention this last week, but Rose and Luisa made an appearance at the very end of the season three premiere of Jane the Virgin. They're living in a submarine lair! Under the ocean! Like a couple of Batman villains from the '60s! Rose says they're going to get their Happily Ever After, which was the main theme of "Chapter Forty-Five."
If you were worried that resolving the main love triangle was going to cause Jane to lose its way, you can rest easy. The first two episodes of this season have been as good as ever, meaning they have been better than everything else on network TV. In fact, Gina Rodriguez could just go ahead and submit "Chapter Forty-Five" as her Emmy episode for the 2016-2017 season and be done with it. No one on TV makes me smile every time she smiles and cry every time she cries and swoon every time she swoons like what happens when Jane is doing those things. And I don't even care about straight romance! But I do when Jane's having it!
Also, this week's episode did a brilliant thing I've never seen on TV before: Xiomara had an abortion between episodes, like NBD, just a decision that she is making as a woman in charge of her own body. Rogelio also agreed that she should do what she felt was best (even though she was pregnant by his arch-enemy). Jane, too, knew about her mom's abortion and supported her completely. Xo was worried Alba knew about the abortion and was angry, so she finally just came out and told her mom about it. Alba was not happy at all. But by the episode's end, they had found their way back to each other by agreeing to disagree.
Over at NBC News, queer Chicanx New Mexican writer Denicia Sam Cadena praised the show's nuanced portrayal of Xo's abortion storyline:
We need more pop culture depictions of the realities of our lives, depictions that celebrate the specific, complicated ways we deal with challenges. Xiomara's decision to have an abortion is first introduced by a simple voiceover by the narrator, who shares that she made the decision to have a medication abortion, not in a scary clinic of media representations past.
In Jane the Virgin I recognize my loved ones, my community and myself. Representing the real lives of Latinx, including abortion, not only makes for great television but is also an important step in our work for reproductive justice.
---
Gotham
Mondays on Fox
This was a rough week for women comic creators. Chelsea Cain, the writer of Marvel's recently cancelled "Mockingbird" series quit Twitter because of the daily harassment she suffered from comics bros, especially after the book's final cover was revealed.
The kind of abuse Chelsea deals with daily from dudes who read comics and write comics and write about comics is so typical. I have a couple of really good friends who write and illustrate books for Marvel and DC, and I've been on several panels (and attended even more) at various comic cons this year — and the thing women in the industry say to me more than any other thing is that the men they work with just don't get it. They don't see the sexism, they don't understand the sexism when women explain it to them, and they don't do anything about the sexism when it's brought to their attention.
I'm mentioning this because: 1) I'm going to stop beating my head against the wall with Gotham. Watching Penguin and Riddler get this nuanced love story while Barbara wastes away in the background and Renee Montoya is gone forever makes me feel so much rage in my heart. It's THE PENGUIN and THE RIDDLER, two of the most iconic Batman villains in history. And they're getting a sweet and terrifying and layered love story, which means DC and Fox and this show's writing team aren't scared of gay stuff; they're just not going to do anything with their women characters. So, I'm going to take what's encouraging about that and use it in my broader pop culture activism and stop worrying about Barbara and Tabatha. 2) You should be watching Supergirl. It is a treasure trove of stories about women. And one of those women is now Detective Maggie Sawyer, who has absolutely caught the eye of Alex Danvers. Supergirl is everything right with TV. It and Jane the Virgin are my collective Patronus.
---
Grey's Anatomy
Thursdays on ABC
Here's a thing Bailey said to Karev this week and I had to pause the TV to stand up and cheer: "When I tell you to know your place, know your damn place!"
What did not make me cheer was Dr. Leah Murphy returning. On the one hand, I was not angry to recall the times when Arizona had other women to make out with. And I also was not angry to recall when that patient chomped down on Dr. Leah Murphy's neck because I love Grey's Anatomy when it is weird and that was fucking weird. On the other hand, though, Leah was the worst. No one liked Leah. The fans didn't like Leah. The other fictional characters didn't like Leah. And look, Arizona doesn't want her back either! Webber straight up asked Arizona if she believed in second chances and she snapped, "NO!"
If you're going to bring back a ghost from Arizona's past, why not Hilarie Burton? Dr. Lauren Boswell! She and Arizona had such good chemistry I still get chills thinking about that scene where they did it in the dark in the thunderstorm in the on-call room. Remember? Arizona stuck her hand out to shake Lauren's hand to say good-bye and Lauren legit laughed at her! Hang on, I'm just going to find the clip on YouTube.
See, now that's a character I want to see waltzing back into Seattle Grace. I did read that Bridget Regan is doing a guest star stint on Grey's and since she plays gay at least half the time, I'm absolutely holding out hope for that situation to manifest itself in the on-call room this year.
---
How to Get Away With Murder
Thursdays on ABC
Pecola spotted something you should see!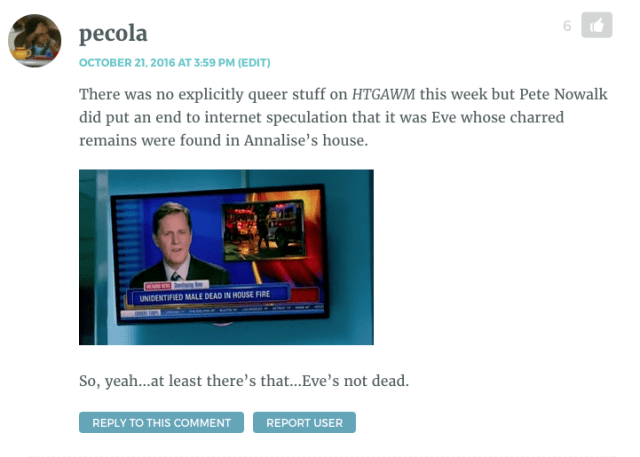 In other news, this week's How To Get Away With Murder case revolved around a queer woman named Danielle who was at a bar with her girlfriend and this dude wouldn't stop dancing up on them and telling them to make out to satisfy his male gaze, and so Danielle just went on ahead and sliced his throat. He lived, I think, because the charge against her was aggravated assault. Annalise decides to go with the PTSD line of defense, because Danielle explains that she was attacked from behind by a guy one time when she was serving in Iraq and this asshole in the bar triggered that flashback for her. The problem is that Danielle was on desk duty and never saw combat when she was in service. She is a liar and her pants are on fire. So Annalise has Bonnie do some in-court drama, revealing papers to that extent, and Annalise is able to keep Danielle out of jail and get her into a rehab program to get help for her PTSD.
Instead of drinking, Annalise has turned to eating entire bags of chips throughout the day, including alone in bathroom stalls in courthouses. I would watch Viola Davis do anything. I would watch a full season of a show where all she does is eat chips.
---
Rosewood
Thursdays on Fox
No Pippy/TMI love shenanigans this week, but I believe they are coming. The first three episodes of this season hooked me!
---
The Real O'Neals
Thursdays on ABC
The Real O'Neals is such a bizarre show. It pitches itself as a sitcom about a gay teenager who lives in a post-gay world. And certainly Noah Galvin thinks he, personally, and the show itself are far more evolved than its predecessors. I watched this week's episode because lesbian teen Allison was involved, and it was basically just a rehash of season one plots from Glee and Modern Family. It might as well have been called A Stereotypical Gay Halloween.
Kenny's mom doesn't want him to dress like Beyonce for Halloween! All Kenny's gay friends are bitchy theater kids! Kenny's aunt's main goal in life is to get a fabulous gay entourage!
And poor Allison is just Ann Veal Lite.
Also I have lived with a gay man and I know for a fact that Halloween is not the gay Super Bowl. The Oscars are the gay Super Bowl.
---
American Housewife
Tuesdays on ABC
Weekly reminder that Allison is gay? One of her three lines this week was: "I know horrible women. I married one. I cheated with one. I think I am one."
---
SUPERGIRL!
Okay, but for real:
Last thing I'll say about Supergirl (today) is that if you enjoyed Maggie/Alex then you'll love their scenes in episodes 4 & 5

— dened rey moreno (@Hajabeg) October 27, 2016
Episode six is called "Changing" and the description is: "Alex struggles with a new reality." A NEW GAY REALITY.