Welcome to your Superqueero Roundup Recap, the place where Valerie Anne recaps all the queer and feminist goodness on all of DC's superhero shows the day after they air. These recaps (and wee-caps) are posted in reverse chronological order, with the newest ones appearing up top. Make sure you're following us on Twitter so you'll know when this roundup recap is updated!
---
Legends of Tomorrow 203: Captain Sara Lance
I'm not going to lie to you, despite the lack of lady-loving, this was my second favorite episode of Legends of Tomorrow to date. (The first being "Night of the Hawk" because I doubt this show will ever do better than Sara and Nurse Betty McRae falling a little bit in love.) It was just so fun! And with Sara in charge, it finally feels like the show found its stride. Even their mission went better than any they ever tried under Rip's guidance. If you had asked me three years ago if Caity Lotz could carry an entire show on her tiny (yet very strong!) shoulders, I would have answered, "I don't know? But I'd love to see her try?" But now if you asked me if I thought she could carry the rest of this season, I would punch the air with both fists and shout, "YES!" I don't know if she's grown as an actor, or if the writers have finally figured out how best to utilize her (maybe both), but this episode has me pretty damn excited about what's to come.
But let's start at the beginning. With an unexpected but very welcome twist: Vixen is back. Now that it looks like she'll be sticking around for a minute (insert squeals of delight here), I reckon we can call her Amaya now and then.
But for now she's Vixen, and she's knocking the Legends out one by one. Even Captain Sara Lance.
Vixen finds Mick last and is going to slit his throat on the spot, but a thus-unconscious Nate comes to in that moment and turns into a metal person and they manage to contain her. Nate is VERY excited about this turn of events and runs through every iteration of Nate Heywood's alias before deciding to go by simply Steel. (Even though I thought Citizen Steel sounded pretty cool.)
Sara appoints Ray as Nate's new mentor and goes to chat with an angry little Vixen.
Sara finds out that Amaya wants to kill Mick because she believes he killed Rex Tyler, since Rex said a time traveler killed him, and he's the only time traveling criminal she knows. But Sara tells her that they're also seeking an evil time traveler, and Mick has been with them since they left the JSA. Sara lets Amaya go, after making her promise to behave; they apologize to each other and decide to let bygones be bygones.
Amaya immediately wants to go back to save Rex but Sara says they have to go for the source. She tries to convince Amaya they know what they're doing, that they're professionals, but of course as she's saying this, they find the boys goofing around. And said goofing directly results in the ship door being smashed open and Nate and Ray being sucked out into the timestream.
Vixen doesn't understand how this team is still (mostly) alive, and honestly even Gideon agrees at this point.
Nate and Ray both land in mid-17th Century Japan, though a few miles away from each other. Nate gets put on a woman's cart and she takes him to her father's place, where he learns her name is Masako and she's engaged to a warlord against her will.
Meanwhile, Ray has a less welcoming entrance, and Samuris take his armor and hold him hostage.
Amaya isn't trying to kill Mick anymore but she still hates him a lot and isn't shy about it. She tells him there's no such thing as ninjas and he growls at her until Sara tells the children she'll send them right back to the hellscape that is 2016 if they don't shut up.
Besides, Sara's basically a ninja. (Amaya doesn't fully buy it. Yet.)
Sara, Amaya and Mick think they find Ray but it turns out to be the warlord in Ray's suit. Sara lets him know that she was League of Assassins, Class of '09 (which is the year I graduated college, whatever it's fine, we're not soulmates or anything) and then does some stunning swordplay that will only be the first of many times she makes me swoon with her fighting-that's-more-like-dancing this episode.
Eventually Vixen even joins in with her animal powers and they get away, collecting Ray as they GTFO.
They find Nate, too, but Nate wants to stay to save Masako from her arranged marriage to a man known throughout history for murdering his wives. But the thing is…he can't get that metal skin thing to work. Sara teases him for having performance issues, leaves him with Ray to figure it out, and takes Vixen to go defend the village. Mick is gonna nap.
Meanwhile, not to be forgotten, Stein and Jax find a secret message from an older version of Barry Allen (as in, a Barry Allen who is over 60 years old, not like…a previous timeline version…ugh time travel is so hard to recount) and tells them a secret that only Rip was supposed to know, that the Legends aren't supposed to ever find out.
Anyway, Ray teaches Nate how to break the suit, and both men whine about how hard it is to be a vigilante that relies on a supersuit or magic instead of years of torture, hard work, and training like Sara.
Speaking of our White Canary, she and Amaya are evacuating the village when the Samurais return. The leader is impressed by Sara's skills and asks who her master is, but Sara "Ta-er al-Sahfer" Lance has no master.
And she does more badass fighting and it's beautiful and graceful and strong and it's just a dream come true.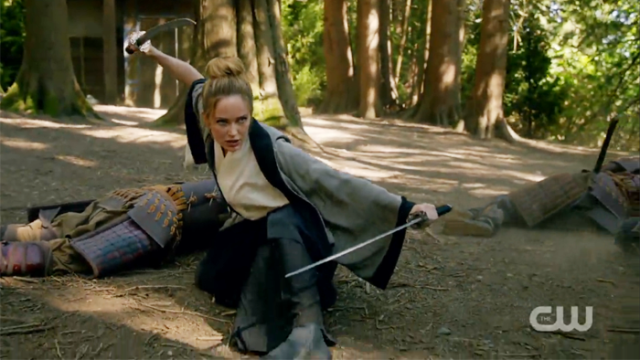 Vixen even joins in the fight — and listen, I miss Hawkgirl so much, but damn am I glad Vixen joined the fray.
The boys are all still a work in progress, but Sara and Amaya make a damn good team.
Even Masako shows up for a little girl power action.
But of course Steel has to come save her. If they hadn't been allowed to play in this fight the dudes would have all fallen on their swords, so, whatever. Sara dealt with her enemy just fine without them.
Steel fries the supersuit, Masako tells him to go float himself, and we find out that the sword she gifted him was Katana's sword, so we haven't seen the last of this family.
Back on the Waverider, Vixen gives Mick a throwing star as proof ninjas exist (and a peace offering), and Sara scares the poop out of Firestorm by asking them what their secret is even though she just means when did you learn how to fix a damn timeship.
After a little bit of discussion, the Legends realize they don't really have a solid lead on where to go next to follow what they don't know is the Reverse Flash, so they decide to just jump into the timestream and see where fate takes them. And this decision isn't really up for discussion, because Captain Sara is in charge now!
Wasn't that fun?? I had the most fun. I hope the rest of the season keeps this fun tone and lady badassery. What did you think?
---
Arrow 504: New Team Rising
I mean, okay, Arrow is reforming a new team with the loss of Laurel and Thea wanting to wear less leather, fine. But why haven't we called Nyssa in yet? Just saying, I think the rookies could use a professional assassin. I know I could.
Anyway.
First things first, Baby Bird has a real name now, and it's Artemis. She also has her own bow and arrow set.
New Team Arrow goes on a mission and are still pretty bad at working as a team. Plus Ragman quit because even though he doesn't blame Felicity for what happened to his family, her perfect face still reminds him of the tragedy and it hurts too much.
Meanwhile, Lyla swings by the Arrow Cave and quickly realizes, based on the lack of scolding, that Felicity doesn't know that she and Oliver plan to break Diggle out of a military prison against his will. Because what Lyla knows to be true is indeed true, and Felicity thinks this plan is dumb as shit.
So instead of doing their usual ignore-Felicity-until-we-don't schtick, they just don't involve her. Felicity tries to send New Team Arrow to stop Oliver but it doesn't go well. It's a little bit like when a puppy tries to stop you from leaving the apartment. It's really cute that they're trying but definitely not keeping you from doing it.
While Oliver is Out of Town, a band of baddies lead by a guy named Church steal some weapons from the Anti-Crime Unit's evidence locker. They need all the help they can get with Oliver out of town, and instead of calling Nyssa, Felicity goes to see Rory, all smiles despite being more torn up than his rags inside.
Rory thanks Felicity for reaching out, but he's still not ready to come back to the team.
Felicity returns, yells at Wild Dog a few times for calling her Blondie, and eventually figures out where Church and his baddies are off to next. Wild Dog wants to go, and Curtis is ready to follow him, but Artemis and Felicity are a little too smart to want to go in leaderless.
But then Ragman comes and they take a vote and everyone heads into the fray. Felicity sends them off with one order: "Do not die."
Oliver and Lyla's plan takes a little turn but eventually they get Diggle out, after convincing him that he can make his penance by being Spartan.
New Team Arrow's first solo mission goes…not terrific. (See what I did there?) Curtis gets a throwing star in the back and Wild Dog gets kidnapped. Lance and Felicity tells the team to leave Rene behind; they'll get him later.
Thea is worried about how this decision will affect Lance, and he's like, "If anything is going to make me start drinking again, it'll be about my daughters, not this kid."
Felicity is stressed about sacrificing yet another person, but Rory won't let her beat herself up. They promise to keep each other from drowning in guilt in order to both work on the same team, a plan that sounds just fine to Felicity.
Oliver makes a dramatic re-entrance and is ready to clean up the mess his team made, starting with finding and saving Wild Dog (who is being tortured by Church).
See you tomorrow for a Sara Lance update!
---
The Flash 304: Frozen Fractals All Around
Between Sara Lance bedding the Queen of France and starting a queer coven during the Salem Witch Trials, and Maggie Freaking Sawyer on this week's Supergirl, I've seen what's in the light and don't want the shadows anymore. So as much as I love Iris, Caitlin, and Jesse, I spent most of this episode of The Flash feeling pretty salty that they're the only one in this franchise who hasn't given us any queer women yet. But let's check in on Central City anyway.
The monster of the week was a straight couple who knew Snart (RIP) and got hit by the particle accelerator blast. The dude, Scutter, can now move through reflective surfaces and the woman, Rosa, can give people extreme vertigo. The team names them Mirror Master and Top. They're losing their touch.
Iris's deal this episode is Barry's being squicky about kissing her in front of Joe and Joe is being weird about seeing HIS CHILDREN MAKE OUT and sorry B you two are cute and all but I'm with Joe on this one. Eventually Iris sits them all down and tell them to figure their shit out or she's done with both of them.
Also Joe is dealing with his own romantic drama with a very attractive lawyer named Cecile who we saw briefly before and who I feel like we haven't quite seen the last of.
Jesse Quick is learning how to be a superhero and still has some learning to do but is really getting the hang of it and is enjoying zipping Wally around the city in the meantime. She eventually has to leave with her dad, but she promises she'll be back. And she looks super cute in her lil mask so I do hope she will.
Oh also she is the one who takes down Rosa, who rather likes being a Top.
Caitlin works most of the episode with Wells and Cisco to find a replacement Wells for when this Wells goes back to his Earth. Which seems unnecessary but whatever. They pick one wearing a weird hat who may or may not be shady. Caitlin eventually becomes a key part of saving Barry from being trapped in the mirror Scutter put him in, but it seems to activate her powers even more, giving her a hair stripe like when Anna got hit by Elsa's ice blast, and blue lips that might make it hard to hide her powers from her team for much longer.
That's really all. They're still on the hunt for Dr. Alchemy, still on a slightly altered timeline but mostly everything is fine, and they're now able to open breaches at will, which I imagine is how they'll eventually get back to Supergirl's world.
See you tomorrow for an Arrow weecap!
P.S.
---
Supergirl 203: Maggie and Alex and Wonder Woman, Oh My!
Hello! Are you okay? I'm not okay! I'm better than okay! It's still too soon to label Alex Danvers, but what we definitively got from this week's episode of Supergirl was queer woman of color Maggie Sawyer, queer bartender/ex-girlfriend Darla, and woman of color M'gann aka The Last Daughter of Mars. All of which instantly make this feminist show even better! Plus, Maggie's scenes all involved Alex and a lot of them were just between Maggie and Alex, and VERY flirtatious. I would say I didn't want to give you false hope, but as President Wonder Woman said, "It's hope…how can it be false?"
We pick up where we left off, with Kara telling the unconscious mystery alien that she'll be by his side always and him coming to and grabbing her by the throat. They fight and despite Alex showing up WITH A BAZOOKA, the mystery fella gets away.
They can't focus all their attention on that though, because the President of the United states is coming to National City, and she wants to visit the DEO because her newest movement is passing a law that grants aliens the same rights as humans. Everyone has their own opinions on this, but Kara is the very most excited because she gets to greet the President as soon as she lands.
But before President Wonder Woman is even off the plane, she's attacked by fiery doom. Supergirl saves the President, and starts to investigate the scene with her sister. They see scorch marks eye-width apart, so they figure it's the guy they found in the Kryptonian pod.
But then Alex spies something afoot. A pretty girl she's never seen before in her crime scene. Alex comes in hot, demanding to know who this woman is, and the woman responds that she is Detective Maggie Sawyer.
She says that she's part of a task force that investigates the left of center, and Alex says she's part of the US Government, and they fight over jurisdiction as they get closer and closer and stare at each other it's a miracle one of THEM wasn't accused of having heat vision. Maggie ends the conversation with, "See you around, Danvers," and we were officially doomed.
Meanwhile, in what would have been the news of the episode any time BMS (Before Maggie Sawyer), Kara goes to interview Lena Luthor, who is VERY HAPPY TO SEE HER. They talk about the President's new movement and Lena says that she developed a tool that would let you test someone's skin and tell if they're an alien or not, which she thinks will make her a fortune and also be a good thing for the nation. So, plot twist, Lena's a monster. But a beautiful monster! Kara fiddles with the test so that she passes it, and goes off to write her first article as a reporter.
At the DEO, Winn tracks the Mystery Alien's DEO bracelet. Alex and her Bazooka run off to get him, but find Maggie instead.
Maggie has figured out that Alex is DEO but Alex ignores her follow-up questions on this front. After a brief trip back to the DEO to get scolded by Kara for going in alone, Alex gets a phone call from Maggie to see how the local cops deal with aliens. And, of course, Alex is quick to accept.
Alex decides to pull out all the stops and rolls up on her motorcycle, and Maggie says some motorcycle-y things and honestly she could have said other things between that and "I thought I'd buy you a drink," but I blacked out.
Maggie knocks on a door and says the password "Dollywood" (which you will never convince me was not a direct nod to Heather Hogan) and takes Alex into what can only be described as a gaylien bar.
Members of this bar include: a woman who uses her sideways-blinking eyes to check out Alex, and a woman who used her tongue powers to learn English from Maggie once (but is now her ex.) Maggie explains that she grew up a non-white, non-straight woman in Nebraska, so she relates to these aliens quite a lot.
I think it's worth noting here that Alex doesn't flinch at the knowledge that the bartender is Maggie's ex or that Maggie called herself not-straight. It was a Non-Issue, just the way I like it.
Anyway, after a little bit of a run-in with a dude with wiggly skin and a fiery woman, Alex knows that the Mystery Alien was trying to contact his home planet. They figure out that he was trying to get in touch with Daxon, Krypton's arch nemesis. Kara immediately decides this guy is a nogoodnik and thinks that means that Lena is right.
She goes to see Lena, who is, yet again, super happy to see her. And Kara doesn't look too upset to see Lena, either, despite their earlier conversation.
They have a conversation that would have been uncomfortable and angry if anyone except Kara Danvers was having it. Lena says she was pleasantly surprised that the article Kara wrote didn't villainize her, and Kara said she did write that version, but her boss scrapped it, and she realized that there are bad aliens. This is all music to Lena's ears.
Cut to President Wonder Woman signing the new treaty, which gets interrupted by more fireballs.
Alex and Kara both get hit and the Firestarter grabs Maggie, much to Alex's dismay.
Oh, and Kara did the classic Wonder Woman outfit-change-spin to put out the fire on her supersuit and it was beautiful.
Alex goes back to the gaylien bar and asks the wiggly-skin man about the redhead and he continues to be difficult. A beautiful bartender (who is not Darla from earlier) gives Alex a lead when she hears Maggie is in danger.
Maggie is tied up and forced to listen to the Firestarter's rage about this treaty and how it's basically just a way to trick aliens out of hiding. Supergirl drops in to fight the alien while Alex sneaks in to untie Maggie.
The Danvers Sisters take out the Firestarter and Maggie is hella impressed.
Maggie does a little badass move of her own and Alex, well, she lets out this little, "Oh!" noise that I can't even describe to you.
Alex patches up Maggie, who is very impressed by the DEO HQ, and they flirt and they flirt and they flirt and holy crap. At one point Alex says, "You did something for me too," and I swear I thought she was going to just come right on out as bisexual, but she just says that she's realizing now that not all aliens are bad. Maggie says they make a good team, and Alex tries to quasi-U-Haul and tells Maggie to stay at the DEO for a while to rest up. But Maggie has places to be. Alex makes a nervous joke, asking if Maggie has a hot date, and Maggie says she does and that she can't keep the lady waiting. And then Alex's face does a thing. It's partially disappointed that Maggie might not be single, partially impressed at Maggie's general swagger and air of confidence.
What's weird is, the way Maggie said it didn't actually seem like she had a real date. She said it in the way sometimes TV characters do when they are actually going to see a relative in prison or a secret kid but not actually a date at all. Or she could be going on a date with Kate Kane WHO KNOWS. All I know is that it didn't feel like a coincidence that these two had so much screen time together.
To wrap up the other stuff going on, Kara apologizes to the Daxonian for jumping to conclusions and learns his name is Mon-El. President Wonder Woman makes an invisible jet joke and then reveals (to us only) that SHE'S actually an alien. And J'onn goes to the gaylien bar in his Martian form only to find out that the bartender from earlier (the one who helped Alex, not Darla) is M'gann, the Last Daughter of Mars.
Can you believe it? Our time has arrived! The future is female and queer af, with Supergirl leading the way. It's like they pulled the bait-and-switch but finally not on us! "Hey, here's Superman, all you folks who weren't watching because it was #toofemale, come on over…JK SUPERMAN'S GONE AND SURPRISE WE'VE TRIPLED OUR BADASS LADY COUNT!" And don't even get me started on how great this Maggie Sawyer already is, not being coy or shy or secretive about being not-straight, and Alex being super intrigued by her without being awkward and embarrassing about it. And I'm so here for a slow burn. For Alex to keep pretending to be unwilling to work together until finally she can't take it anymore and it's a beautiful collision of leather. (I mean, it's definitely going to be Alex, right?) Tell me all your Maggie Sawyer feels and lets flail around together in the comments until tomorrow's Ladies of Arrow update.
Here's a gif of Alex watching Maggie leave to kick us off.