Welcome to the ninth recap of the second season of The L Word: Generation Q, brought to you by the same network that brought you the original L Word, a show about an adorable Pomeranian named Sounder II who enjoyed wearing mauve bows, disappearing when convenient, taking inflatable rafts to Tulum and peeing on the table.
I wondered if anything could be worse than last week's episode, and luckily Episode 209 "Last Dance" was not worse than last week's episode. But it bears remembering precisely how low the bar was for that!
---
We open outside of the California Arts Center, the world-renowned former host of "Provocations," an art exhibit which inspired counter-protests from religious conservatives which inspired Bette and her progressive friends to create a human chain to protect the controversial artists attempting to enter the building against formidable odds — a situation that eventually landed Bette Porter in jail overnight where she got to have IRL phone sex with her secret lover, The Carpenter. Today the CAC is hosting a different kind of protest — it's not conservatives protesting the artists, it's artists protesting the museum.
Everybody's raided the markers + posterboard section of the nice CVS and come out kicking against the Núñez family, who have bestowed a massive endowment upon this museum, thus upsetting our very own Bette Porter and her girlfriend, legendary artist of the canyon, Pippa Pascal.
The artists chant "Hey Hey, Ho Ho, Núñez has got to go!" Pippa embraces Bette and tells her "this will be your legacy." I would like to suggest that perhaps it is also Pippa's legacy because it was her idea?
---
After a slip of B-Roll displaying the billboard for Alice's book, cleverly entitled Don't Ask Alice, we cut to the charming lounge of the Marriot, where a hot reporter from Out Magazine who is probably better at responding to emails than I am is interviewing Alice about her memoir.
This writer has got very hard-hitting questions such as, "were you hoping to inspire anyone with your book?" Her follow-up question is more of a statement: she notes that a big chunk of the book was about Nat, and then asks if Alice is seeing anybody now. Alice finds herself immediately flustered.
"Come on, who's the lucky lady—" the interviewer prods.
"I think you're gonna have to wait until the second book to find out," Alice says.
---
Cut to a lil ol hospital where Angie's sitting with her Moms nervously awaiting the big face-to-face with her donor, Marcus Allenwood, and entertaining prom-related chit-chat with Mama B and Mama T, the latter of whom cannot believe Angie's old enough to go to prom! Bette can't wait to see Angie in her suit!
Angie relays that she's borrowing cufflinks from Carrie, and Bette offers her own cufflinks, but listen, Angie is wearing Carrie's cufflinks okay? Cufflink Chat is interrupted by the arrival of Kayla's Mom, Sheila, who pulls Bette aside for a VERY brief one-on-one. Bette returns from their discussion with the news that Angie's not gonna be able to meet Marcus today because his family has been "struggling with this kind of in the way that we were before and they're still kinda going through it and she seemed really really sorry but today is just not a good day."
---
We then jet back to the Marriot where Sophie's experiencing ambient anxiety and carrying a lot of binders and confirms to Alice that she doesn't have anything in her teeth.
"I think I'm gonna have to come out as bisexual, again," Alice laments.
"Well, at least you got a 12-week book tour to get it right," Sophie says, presenting Alice with a list of hosts who could fill in for Alice during her hiatus, including Rachel Maddow!
Then Sophie asks if Alice has heard from Finley at all, but Alice has not — the last time she saw Finley was at the launch party the night before. Alice suggests that perhaps Finley took a wrong turn on a scooter, as drunk Birders are wont to do. Sophie tries to laugh it off but her devastation and genuine concern is all over her sad beautiful face.
Um, if I were Sophie I would be losing my absolute mind and I'd be having a level 10 meltdown about Finley's disappearance and probably I would've called all of my friends to come meet me on a random street in Los Angeles to help me hunt her down. You know, like this: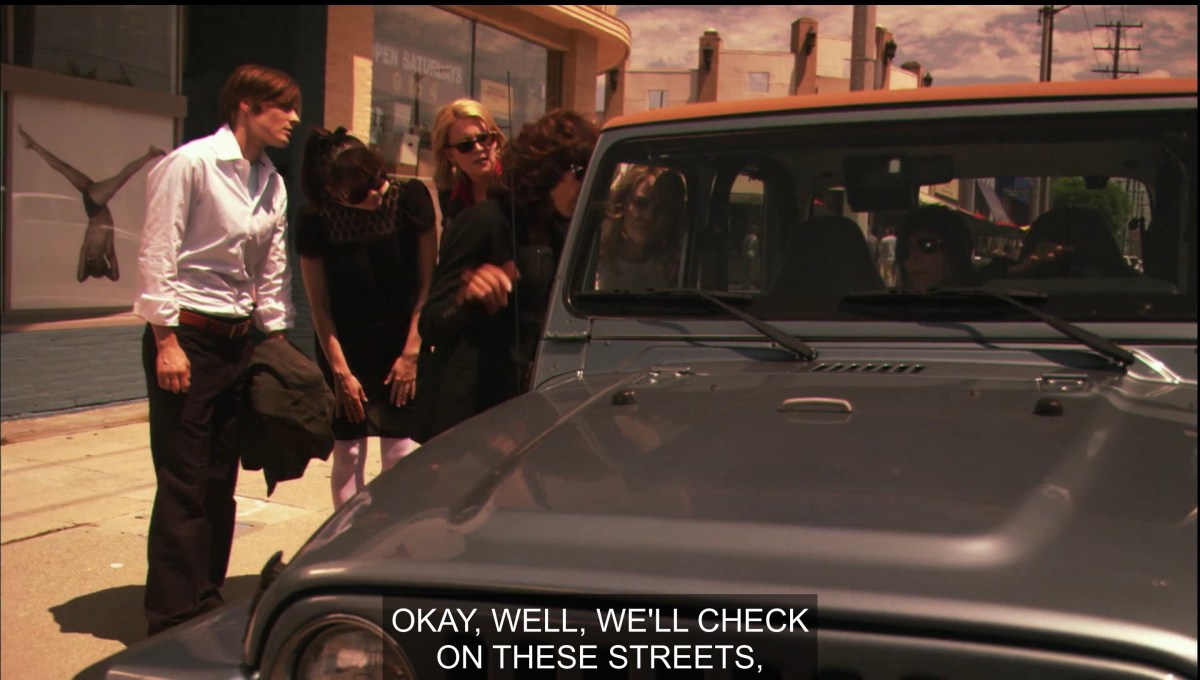 ---
We cut to a resplendent morning in a mysterious ground floor location in which Dani and Gigi are having strawberries for breakfast and Dani's losing it over Bette Porter's protest making the cover of the LA Times. Gigi reminds her that Bette was almost mayor, so she probably knows people who know people. Remember that reporter Bette went on a date with at the end of Season One? I wonder what happened there.
Dani's got a hot evening ahead of her, though: attending Eli's recorder concert with her gorgeous girlfriend Gigi! Gigi, a woman after my own heart, promises Dani she'll bring edibles for them both to enhance the sound of music. Gigi reassures Dani — who isn't hurt re: Bette, simply angry re: Bette — that she'll find a way to spin this little tiff because that's what she does so well!
---
At Bette's Hollywood Dream House, Tina and Bette are prepping for a pre-prom party and Angie is actively mad at them because Marcus didn't want to meet her. I do honestly enjoy the Bette and Tina Parenting Together scenes, even when they are inevitably riddled with tension.
"Do you think you fought hard enough for her back there?" Tina asks about Bette's convo with Sheila, noting that Bette generally wins fights of that nature. Bette says it wasn't a fight, just a woman being protective of her dying husband, and Tina and Bette have JUST started to fight about whether or not it was a fight when Alice shows up bursting with school spirit! She loves prom! She went all four years!
Tina: What did you bring?
Alice: Oh, booze! (pulls out a bottle of Absolut Vodka)
Bette: Alice! They're teenagers.
Alice: Bette it's PROM.
Anyhow, Alice is gonna make herself a martini!
---
Meanwhile Dani's knee deep in trial prep, answering questions about whether or not her Dad was a good Dad and if he ever lied to her about anything. In the dead center of a generous statement about his worthiness as a father, Rodolfo charges into the room yelling about The LA Times cover story.
Dani says her contacts at the CAC have assured her that if they lay low, it'll blow over. Rodolfo says there are artists out there protesting their own art! "Make it go away," he commands.
---
Let us now return to Porter's Pre-Prom Party of a Lifetime at Bette's Hollywood Dream House! Jordi's struggling to properly affix a boutonniere while Angie complains about Bette not fighting hard enough for her to meet Marcus. Jordi softly suggests Angie save her anger for tomorrow because you cannot be angry today, not on Prom Day! Angie smiles and says she'll give it a whirl, but the look she gives her Mom shortly thereafter suggests she is not trying very hard.
Tina asks Alice to deliver Carrie's cufflinks to Angie, and Alice tells Tina she had a super wonderful convo with Carrie at Poker Night 500, which took place somewhere between one day and ten years ago. Tina's relieved to hear this, having been worried that Carrie would have a rough night, but Alice puts her legitimate fears to bed, insisting that Carrie had a blast hanging out with Shane.
Guess who's here? It's Shane and Tess and everybody's stoked to see their fave ship sail through the doors exuding mutual shared affection.
Everybody's so very happy for Tess and Shane. Bette is disappointed to learn that Shane's contribution to the party, like Alice's, is alcoholic — she's brought an entire case of Heineken.
Shane: Bette, it's prom!
Alice: Thank you.
---
Sophie, who apparently loves the law and is not wallowing in consistent low-level internalized homophobia that would prevent me personally from asking the cops if they had my girlfriend, rather than my close personal friend, in custody; is sitting in her car calling the cops to see if they have her girlfriend!!! In custody!!
Finley famously does not have a car and it seems unlikely the LAPD would throw a white girl with an address into the clink for public intoxication so I'm not sure why Sophie's first call is to the sheriff but okay! Anyhoo, the nice lady on the phone informs Sophie that they can't file missing person reports on adults unless it's been a full 48 and apparently it's only been 36 hours since a totally wasted and heartbroken Sarah Finley stumbled out of her house out into the cold brutal endless night.
The lady suggests Sophie tries calling hospitals but before she can get right on that, Rose, it's time for Nana's birthday party!
Maribel and Micah are in the kitchen doing party prep and Micah asks if Sophie's heard from Finley and Maribel helpfully notes that perhaps Finley is dead in a ditch somewhere. Sophie dips out to call her ditch guy and Virginia enters the kitchen to remark that there's always drama with Finley and also that it's great Maribel doesn't have to deal with any of that dating crap!
Maribel: My Mom doesn't think that anyone's gonna wanna date me.
Virginia: I didn't — no I don't — I don't think that. I didn't say that. [looks at Micah] Did I say that?
Micah: Um—
Maribel: Don't say that to him!
Virginia: I want you to find love. It's just, I worry.
Micah: I don't think you have to worry about that.
Virginia: You're sweet. You're gonna make some man so happy someday.
Micah: Thanks?
Okay so if that's not what Virginia meant, then what did she mean? Because I think that's what she meant. And I think parents thinking their disabled children will never find love is not a story this show needs to tell or actually intends to tell, so what if we scrapped that whole scene and replaced it with literally anything else!!!! What if they talked about their favorite brand of crayons instead??
Micah's like, um, does your Mom not know that we're dating? Honestly this seems like something they should've gone over in the car ride there, like Harper did with Kristen Stewart.
Pages: 1 2 3See entire article on one page