---
Back at the Artists Revolution at the CAC, Mister CAC tells Dani the board is in a tizzy and that Bette Porter turned all of the artists against them and now nary a painting is willing to be hung in the Núñez Wing.
"You're not thinking long term here," Dani insists. "This is one show. It'll be up six months and it'll be gone. Our donation will last generations." He says that he's very grateful but Bette has put him in a tough spot. Dani pleads with him, claiming the removal of her family name will ruin them. The thing is that ………….. I don't care
---
The number of subscribers to the print edition of The Los Angeles Times continues to amaze as we transition back to Porter's Pre-Prom Party of a Lifetime, where Bette's gazing at herself on the front page of the paper and telling Alice how powerful it was to protest with Pippa and that she wants Angie to meet her. (Was that a tongue twister or is Gigi just happy to see me?) Alice continues agonizing over whether or not to reveal Tom's cis male identity to the hoards of literature reporters knocking down her door for personal relationship information.
Alice laments the Lesbians who don't believe that bisexuals are real, simply "bi now, gay later." I think biphobia in the community is actually quite a bit more nuanced than that, but why value something real and complicated over something that took ten seconds to write? Alice says if she brings a man into this world, it changes everything. I say, "show don't tell!" but before anybody can get back to me on that, Angie arrives to deliver the episode's best three seconds:
Alice: Angie, you'll know. Should I tell the world I'm dating a man?
Angie: Nobody cares.
Alice: Oh! Okay. Straightforward, I can appreciate that.
Angie attempts to escape the elder lesbian dramz but is intercepted by Shane, who wants Angie to meet Tess, who wants to tell Angie — in a tone of voice one would use with a very small child in a very large room — that her suit looks great on her. This is true and I'm glad it was addressed.
Tina thanks Tess and Shane for getting Carrie home the other night, explaining that she seemed "really down" when Tina got back. Tess really just thinks that Carrie had too much to drink and wants Tina to know that for what it's worth, she really liked her. Did she? Tess continues that Carrie seems like a sweet girl who just need a little bit of help being happy sometimes, similar to legendary lesbian misanthrope Eeyore. Furthermore, Tess feels that Shane is also an Eeyore. Tina's curious if Bette said anything to Carrie 'cause she's getting vibes that something went down.
We then cut to the laundry room where Tess implores Shane to tell Tina that Carrie told her she was having doubts. Shane refuses, insisting Carrie was simply drunk and having a bad night. I agree that Shane shouldn't relay this specific scoop to Tina, but she really ought to tell her that Carrie seems to be struggling a bit with fitting in to L.A. and had an unsatisfactory encounter with Bette!
Furthermore, it's cute that Shane is Eeyore 'cause that means Tess is Tigger and when Tigger and Eeyore get together you know what happens? LESBIAN FINGERBLASTING!!!!
Tess and Shane start making out but are immediately interrupted by a teenage boy opening the wrong door into the wrong room.
Tess: Do you think we traumatized him?
Shane: No, this was the best day of his life.
I laughed!
But an additional distraction appears: it's Sophie, giving Tess a ring-a-ling. And then another call. And then once again a call — so Tess takes it as Alice, Shane and Bette gather in the living room to take as many cell phone pictures of these strange children from as many angles as possible, indoors, in front of a large picture window.
Tess saddles up to Shane to inform her she's gotta decamp for the bar ASAP just to see if perhaps our young Finley is passed out in the backroom? Meanwhile Jordi and Angie are In Conflict because Angie's too in her feelings to focus on the monumental event taking place that evening. (Prom)
My friends, it is time for Jordi and Angie to take this squabble to the mat.
Lesbian Squabble #33: Strike a Pose
In the Ring: Jordi vs Angie
Content: Angie mutters that she'll die if she's forced to take a photograph with her beautiful Moms. Jordi just wants Angie to have fun! Angie's like I don't give a shit about prom yet here I am for you! Jordi says that she shouldn't be mad at her Moms, she should be mad at her donor because he's the real asshole here! Not your Moms, not me, not Ron, not Hermione, YOUR DONOR. Angie starts to feel dizzy and panicked and thus she flees this terrible photoshoot for her room where she can cry in peace.
Who Wins? 23andme
---
Back at the Suarez Family Birthday, Mom is lamenting the lack of Finley at this table, because Finley likes to eat food and there is so much food here to eat! Sophie says she'll bring food home for Finley, who is simply busy reffing a soccer game. Maribel, for reasons unbeknownst to me and perhaps also to the actors in this scene, will not abide this lie, despite harboring many of her own, and pushes Sophie to tell the truth, which's that she cannot in fact locate Finley 'cause they got into a fight and Finley vanished into the ether.
Sophie sets a firm boundary regarding "talking about the fight" but Virginia, sitting at a table of drinks, tilts her head, delivers a look of pity and disappointment, and asks "is she drinking?" Maribel interjects — "yeah, after getting a DUI!"
Virginia has actually never seen Finley exhibit problematic drinking behavior — Finley was sober at the wedding and was sober at the hospital — so it's unclear why she'd even ask this question with that level of concern, unless Sophie has confided in her previously, which wouldn't really make sense for Sophie to do that while also being the one to pull out a post-work bottle of wine and consistently get wasted with Finley.
It feels like this show is still asking the cultural concept of "DUI" to do all the work instead of deliberate storytelling, even deliberate storytelling about the DUI. As discussed last week, the DUI wasn't written in a way that highlighted Finley's problematic drinking behavior or enabled Sophie's reaction to it the next day. Because yes, Finley does have a drinking problem and sure, getting pulled over and charged with a DUI very often does indicate that the driver has a drinking problem, for example because some drunk drivers are driving drunk because they do everything drunk. But it doesn't automatically mean that, and it's framed here and last week as though it does, as though the incident-as-written was the inevitable climax of the journey Finley's been taking all this time, as though this situation should stand on its own without needing any additional emotional realism or contextual development around it. Many of us need only consume two drinks to put ourselves at risk of exceeding the legal limit of a .08 were we to get pulled over, and non-alcoholics in have been known to drink 2+ drinks and then drive (which is bad, to be clear!) quite often. Non-alcoholics have been known to have many more drinks than that and then drive! In fact, it happens on this very show all the time! It happened with Gigi a few episodes ago. It's happening in this episode with Alice and Shane, who are drinking and will shortly be also driving. They also both brought alcohol to a party for actual teenagers, so???
But we know Finley has a problem that those characters don't have, right?  And it simply doesn't feel like the work was done in the past two episodes or in this one to draw a clear line between her problems —> this criminal charge —> a catalyst for Sophie to reach a breaking point. Unless the show's take is that the best way to know who has a problem and who doesn't is to see who gets arrested.
We know Finley has a drinking problem because we've seen her drink to soothe her anxiety or depression — we've seen her do this alone and with friends. We've seen her use alcohol as an escape, and to keep drinking more even when it makes her feel worse. We've sensed a vibe that is, essentially "constantly on the lookout for another opportunity to drink." We've seen her wake up, throw up from drinking, and then open another beer. We saw her tell Shane she'd never had sober sex and also get too sick mid-sex with Rebecca to continue having it, and then declare a desire to be "drunk, but not dizzy drunk" before their next sex date. (But we also did eventually see her having sober sex with Sophie!) In Episode 104, Sophie questioned the sheer volume of alcohol Finley was drinking at Shane's birthday party, because their bosses were also at the party, and Sophie suggested she try water or slow down — advice Finley did not take — and we all saw Finley consequently take her drunk ass to Rebecca's to ruin their relationship. We've seen Finley squirm while hearing about Tess's sobriety and then we saw her get wasted with Tess later that night despite knowing Tess was relapsing — because she is always exactly that desperate for a drinking buddy. We've seen her, while drinking a beer and processing what went down at the wedding, tell her bosses that she'd gotten sober in Missouri, which means she knew drinking was a problem.
When this happened — when it became clear the DUI was gonna be The Thing — I'd assumed it was 'cause the DUI would require Finley to attend meetings, or counseling, or classes; and through those experiences she'd have to confront all of those reasons and attempt sobriety. Or maybe it would be a wake-up call for Sophie, who'd nudge Finley towards one of her own. Or maybe it would inspire someone to say TO Finley, instead of ABOUT Finley, "why are you drinking the day after getting a DUI." It could do what I suggested it do in last week's recap by providing all of these opportunities for Sophie and Finley to talk about what happened.
But nope. "DUI" it seems is just a symbol, just three letters the show has chosen to stand in as a thing that is culturally a commonly accepted form of Rock Bottom. They've been planting all these seeds that could've spiraled out of control and consumed the garden. But then when the time came to harvest it, they sent Sophie to Ralph's for some pre-packaged basil.  
Anyhow, here we go….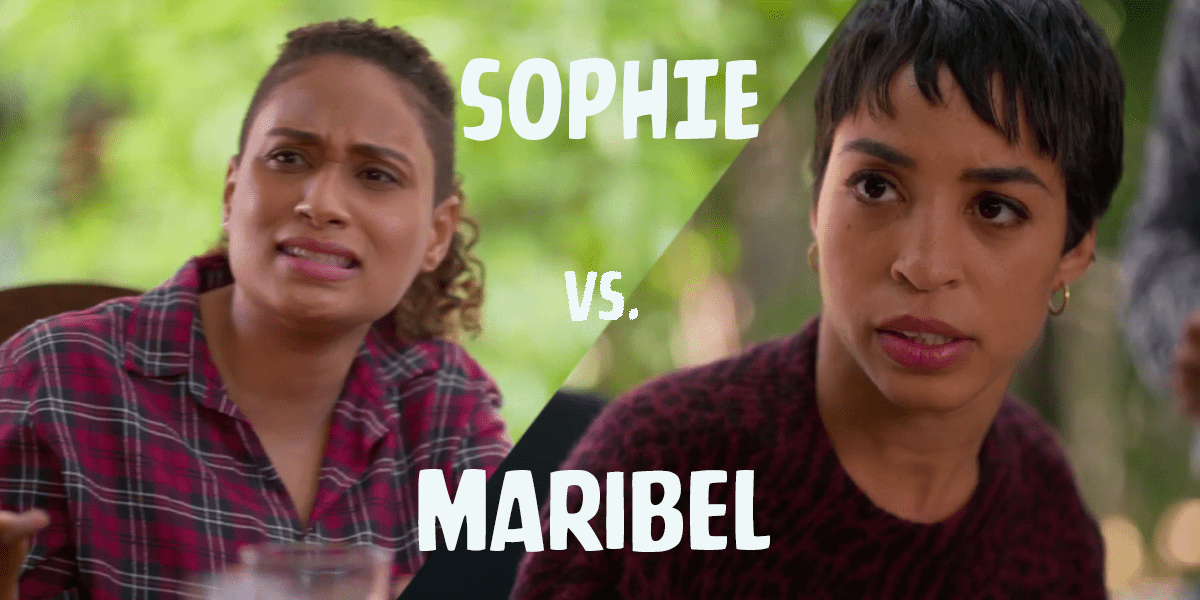 Squabble #34: Sister, Sister
In the Ring: Sophie vs Maribel vs the Family 
Suddenly Nana hates Finley and doesn't get why Sophie's still with her, and Sophie's like, this is why I didn't want to tell you! "It sounds like she has a problem," says Virginia, but as discussed previously, why?
Sophie says to her fam "You're so judgmental!" Maribel says they're just being honest. Sophie says that's hilarious coming from Maribel. Nana hates when they fight!
I have to be honest that I actually love it when they fight because they are both so fucking SHARP and I love authentic sibling wars!!! Unfortunately the content of this convo is objectively bad.
Sophie: Why don't you tell them why Micah's really here?
Maribel: I'm going to kill you.
Sophie: No go ahead, tell them, say it —
Maribel: No —
Sophie: No it's totally fine — Alrighty, I got you. They're dating. Micah is her boyfriend!
Maribel and her family start fighting in Spanish — they wanna know if it's serious and if she has real feelings for him. Then Virginia asks if he's gay, and Maribel requests they cease speaking of him if he is not here. Nana goes for it anyway, asking if he is "a trans." "Don't say A TRANS!" Maribel and Sophie scream, which I believe is something all of us have likely screamed at our parents at some point and so I will allow it as a line of dialogue while refusing it as a person who does not understand why this is happening or what the objective is here, besides to ensure that a family we have known to be loving and accepting is now also somehow low-key ableist and transphobic? Okay great!!!!!
Maribel says she loves him. Then she pauses as if this is her first revelation of this love and it was not in fact discussed YESTERDAY.
Micah is like, "thanks for having me."
Who wins? I was gonna give this one to the translation app I downloaded to better understand this conversation but I did remember to delete the app before the free trial expired so ultimately, nobody
Pages: 1 2 3See entire article on one page