Welcome to the ninth recap of the second season of The L Word: Generation Q, brought to you by the same network that brought you the original L Word, a show about an adorable Pomeranian named Sounder II who enjoyed wearing mauve bows, disappearing when convenient, taking inflatable rafts to Tulum and peeing on the table.
I wondered if anything could be worse than last week's episode, and luckily Episode 209 "Last Dance" was not worse than last week's episode. But it bears remembering precisely how low the bar was for that!
---
We open outside of the California Arts Center, the world-renowned former host of "Provocations," an art exhibit which inspired counter-protests from religious conservatives which inspired Bette and her progressive friends to create a human chain to protect the controversial artists attempting to enter the building against formidable odds — a situation that eventually landed Bette Porter in jail overnight where she got to have IRL phone sex with her secret lover, The Carpenter. Today the CAC is hosting a different kind of protest — it's not conservatives protesting the artists, it's artists protesting the museum.
Everybody's raided the markers + posterboard section of the nice CVS and come out kicking against the Núñez family, who have bestowed a massive endowment upon this museum, thus upsetting our very own Bette Porter and her girlfriend, legendary artist of the canyon, Pippa Pascal.
The artists chant "Hey Hey, Ho Ho, Núñez has got to go!" Pippa embraces Bette and tells her "this will be your legacy." I would like to suggest that perhaps it is also Pippa's legacy because it was her idea?
---
After a slip of B-Roll displaying the billboard for Alice's book, cleverly entitled Don't Ask Alice, we cut to the charming lounge of the Marriot, where a hot reporter from Out Magazine who is probably better at responding to emails than I am is interviewing Alice about her memoir.
This writer has got very hard-hitting questions such as, "were you hoping to inspire anyone with your book?" Her follow-up question is more of a statement: she notes that a big chunk of the book was about Nat, and then asks if Alice is seeing anybody now. Alice finds herself immediately flustered.
"Come on, who's the lucky lady—" the interviewer prods.
"I think you're gonna have to wait until the second book to find out," Alice says.
---
Cut to a lil ol hospital where Angie's sitting with her Moms nervously awaiting the big face-to-face with her donor, Marcus Allenwood, and entertaining prom-related chit-chat with Mama B and Mama T, the latter of whom cannot believe Angie's old enough to go to prom! Bette can't wait to see Angie in her suit!
Angie relays that she's borrowing cufflinks from Carrie, and Bette offers her own cufflinks, but listen, Angie is wearing Carrie's cufflinks okay? Cufflink Chat is interrupted by the arrival of Kayla's Mom, Sheila, who pulls Bette aside for a VERY brief one-on-one. Bette returns from their discussion with the news that Angie's not gonna be able to meet Marcus today because his family has been "struggling with this kind of in the way that we were before and they're still kinda going through it and she seemed really really sorry but today is just not a good day."
---
We then jet back to the Marriot where Sophie's experiencing ambient anxiety and carrying a lot of binders and confirms to Alice that she doesn't have anything in her teeth.
"I think I'm gonna have to come out as bisexual, again," Alice laments.
"Well, at least you got a 12-week book tour to get it right," Sophie says, presenting Alice with a list of hosts who could fill in for Alice during her hiatus, including Rachel Maddow!
Then Sophie asks if Alice has heard from Finley at all, but Alice has not — the last time she saw Finley was at the launch party the night before. Alice suggests that perhaps Finley took a wrong turn on a scooter, as drunk Birders are wont to do. Sophie tries to laugh it off but her devastation and genuine concern is all over her sad beautiful face.
Um, if I were Sophie I would be losing my absolute mind and I'd be having a level 10 meltdown about Finley's disappearance and probably I would've called all of my friends to come meet me on a random street in Los Angeles to help me hunt her down. You know, like this: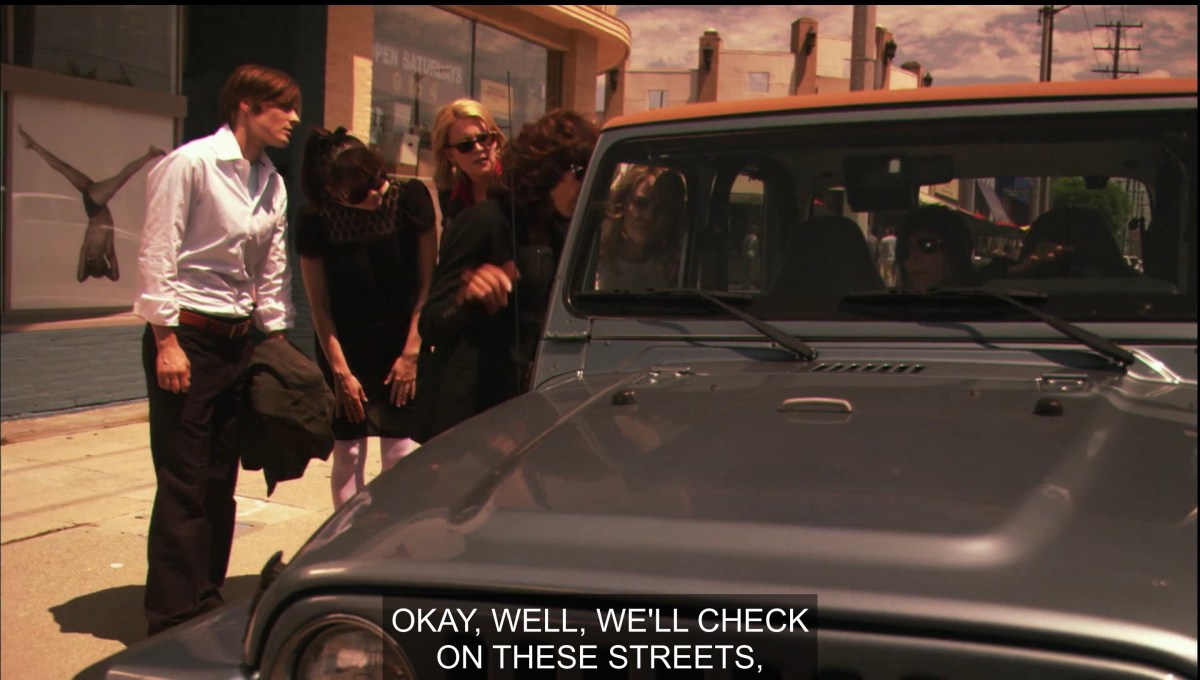 ---
We cut to a resplendent morning in a mysterious ground floor location in which Dani and Gigi are having strawberries for breakfast and Dani's losing it over Bette Porter's protest making the cover of the LA Times. Gigi reminds her that Bette was almost mayor, so she probably knows people who know people. Remember that reporter Bette went on a date with at the end of Season One? I wonder what happened there.
Dani's got a hot evening ahead of her, though: attending Eli's recorder concert with her gorgeous girlfriend Gigi! Gigi, a woman after my own heart, promises Dani she'll bring edibles for them both to enhance the sound of music. Gigi reassures Dani — who isn't hurt re: Bette, simply angry re: Bette — that she'll find a way to spin this little tiff because that's what she does so well!
---
At Bette's Hollywood Dream House, Tina and Bette are prepping for a pre-prom party and Angie is actively mad at them because Marcus didn't want to meet her. I do honestly enjoy the Bette and Tina Parenting Together scenes, even when they are inevitably riddled with tension.
"Do you think you fought hard enough for her back there?" Tina asks about Bette's convo with Sheila, noting that Bette generally wins fights of that nature. Bette says it wasn't a fight, just a woman being protective of her dying husband, and Tina and Bette have JUST started to fight about whether or not it was a fight when Alice shows up bursting with school spirit! She loves prom! She went all four years!
Tina: What did you bring?
Alice: Oh, booze! (pulls out a bottle of Absolut Vodka)
Bette: Alice! They're teenagers.
Alice: Bette it's PROM.
Anyhow, Alice is gonna make herself a martini!
---
Meanwhile Dani's knee deep in trial prep, answering questions about whether or not her Dad was a good Dad and if he ever lied to her about anything. In the dead center of a generous statement about his worthiness as a father, Rodolfo charges into the room yelling about The LA Times cover story.
Dani says her contacts at the CAC have assured her that if they lay low, it'll blow over. Rodolfo says there are artists out there protesting their own art! "Make it go away," he commands.
---
Let us now return to Porter's Pre-Prom Party of a Lifetime at Bette's Hollywood Dream House! Jordi's struggling to properly affix a boutonniere while Angie complains about Bette not fighting hard enough for her to meet Marcus. Jordi softly suggests Angie save her anger for tomorrow because you cannot be angry today, not on Prom Day! Angie smiles and says she'll give it a whirl, but the look she gives her Mom shortly thereafter suggests she is not trying very hard.
Tina asks Alice to deliver Carrie's cufflinks to Angie, and Alice tells Tina she had a super wonderful convo with Carrie at Poker Night 500, which took place somewhere between one day and ten years ago. Tina's relieved to hear this, having been worried that Carrie would have a rough night, but Alice puts her legitimate fears to bed, insisting that Carrie had a blast hanging out with Shane.
Guess who's here? It's Shane and Tess and everybody's stoked to see their fave ship sail through the doors exuding mutual shared affection.
Everybody's so very happy for Tess and Shane. Bette is disappointed to learn that Shane's contribution to the party, like Alice's, is alcoholic — she's brought an entire case of Heineken.
Shane: Bette, it's prom!
Alice: Thank you.
---
Sophie, who apparently loves the law and is not wallowing in consistent low-level internalized homophobia that would prevent me personally from asking the cops if they had my girlfriend, rather than my close personal friend, in custody; is sitting in her car calling the cops to see if they have her girlfriend!!! In custody!!
Finley famously does not have a car and it seems unlikely the LAPD would throw a white girl with an address into the clink for public intoxication so I'm not sure why Sophie's first call is to the sheriff but okay! Anyhoo, the nice lady on the phone informs Sophie that they can't file missing person reports on adults unless it's been a full 48 and apparently it's only been 36 hours since a totally wasted and heartbroken Sarah Finley stumbled out of her house out into the cold brutal endless night.
The lady suggests Sophie tries calling hospitals but before she can get right on that, Rose, it's time for Nana's birthday party!
Maribel and Micah are in the kitchen doing party prep and Micah asks if Sophie's heard from Finley and Maribel helpfully notes that perhaps Finley is dead in a ditch somewhere. Sophie dips out to call her ditch guy and Virginia enters the kitchen to remark that there's always drama with Finley and also that it's great Maribel doesn't have to deal with any of that dating crap!
Maribel: My Mom doesn't think that anyone's gonna wanna date me.
Virginia: I didn't — no I don't — I don't think that. I didn't say that. [looks at Micah] Did I say that?
Micah: Um—
Maribel: Don't say that to him!
Virginia: I want you to find love. It's just, I worry.
Micah: I don't think you have to worry about that.
Virginia: You're sweet. You're gonna make some man so happy someday.
Micah: Thanks?
Okay so if that's not what Virginia meant, then what did she mean? Because I think that's what she meant. And I think parents thinking their disabled children will never find love is not a story this show needs to tell or actually intends to tell, so what if we scrapped that whole scene and replaced it with literally anything else!!!! What if they talked about their favorite brand of crayons instead??
Micah's like, um, does your Mom not know that we're dating? Honestly this seems like something they should've gone over in the car ride there, like Harper did with Kristen Stewart.
---
Back at the Artists Revolution at the CAC, Mister CAC tells Dani the board is in a tizzy and that Bette Porter turned all of the artists against them and now nary a painting is willing to be hung in the Núñez Wing.
"You're not thinking long term here," Dani insists. "This is one show. It'll be up six months and it'll be gone. Our donation will last generations." He says that he's very grateful but Bette has put him in a tough spot. Dani pleads with him, claiming the removal of her family name will ruin them. The thing is that ………….. I don't care
---
The number of subscribers to the print edition of The Los Angeles Times continues to amaze as we transition back to Porter's Pre-Prom Party of a Lifetime, where Bette's gazing at herself on the front page of the paper and telling Alice how powerful it was to protest with Pippa and that she wants Angie to meet her. (Was that a tongue twister or is Gigi just happy to see me?) Alice continues agonizing over whether or not to reveal Tom's cis male identity to the hoards of literature reporters knocking down her door for personal relationship information.
Alice laments the Lesbians who don't believe that bisexuals are real, simply "bi now, gay later." I think biphobia in the community is actually quite a bit more nuanced than that, but why value something real and complicated over something that took ten seconds to write? Alice says if she brings a man into this world, it changes everything. I say, "show don't tell!" but before anybody can get back to me on that, Angie arrives to deliver the episode's best three seconds:
Alice: Angie, you'll know. Should I tell the world I'm dating a man?
Angie: Nobody cares.
Alice: Oh! Okay. Straightforward, I can appreciate that.
Angie attempts to escape the elder lesbian dramz but is intercepted by Shane, who wants Angie to meet Tess, who wants to tell Angie — in a tone of voice one would use with a very small child in a very large room — that her suit looks great on her. This is true and I'm glad it was addressed.
Tina thanks Tess and Shane for getting Carrie home the other night, explaining that she seemed "really down" when Tina got back. Tess really just thinks that Carrie had too much to drink and wants Tina to know that for what it's worth, she really liked her. Did she? Tess continues that Carrie seems like a sweet girl who just need a little bit of help being happy sometimes, similar to legendary lesbian misanthrope Eeyore. Furthermore, Tess feels that Shane is also an Eeyore. Tina's curious if Bette said anything to Carrie 'cause she's getting vibes that something went down.
We then cut to the laundry room where Tess implores Shane to tell Tina that Carrie told her she was having doubts. Shane refuses, insisting Carrie was simply drunk and having a bad night. I agree that Shane shouldn't relay this specific scoop to Tina, but she really ought to tell her that Carrie seems to be struggling a bit with fitting in to L.A. and had an unsatisfactory encounter with Bette!
Furthermore, it's cute that Shane is Eeyore 'cause that means Tess is Tigger and when Tigger and Eeyore get together you know what happens? LESBIAN FINGERBLASTING!!!!
Tess and Shane start making out but are immediately interrupted by a teenage boy opening the wrong door into the wrong room.
Tess: Do you think we traumatized him?
Shane: No, this was the best day of his life.
I laughed!
But an additional distraction appears: it's Sophie, giving Tess a ring-a-ling. And then another call. And then once again a call — so Tess takes it as Alice, Shane and Bette gather in the living room to take as many cell phone pictures of these strange children from as many angles as possible, indoors, in front of a large picture window.
Tess saddles up to Shane to inform her she's gotta decamp for the bar ASAP just to see if perhaps our young Finley is passed out in the backroom? Meanwhile Jordi and Angie are In Conflict because Angie's too in her feelings to focus on the monumental event taking place that evening. (Prom)
My friends, it is time for Jordi and Angie to take this squabble to the mat.
Lesbian Squabble #33: Strike a Pose
In the Ring: Jordi vs Angie
Content: Angie mutters that she'll die if she's forced to take a photograph with her beautiful Moms. Jordi just wants Angie to have fun! Angie's like I don't give a shit about prom yet here I am for you! Jordi says that she shouldn't be mad at her Moms, she should be mad at her donor because he's the real asshole here! Not your Moms, not me, not Ron, not Hermione, YOUR DONOR. Angie starts to feel dizzy and panicked and thus she flees this terrible photoshoot for her room where she can cry in peace.
Who Wins? 23andme
---
Back at the Suarez Family Birthday, Mom is lamenting the lack of Finley at this table, because Finley likes to eat food and there is so much food here to eat! Sophie says she'll bring food home for Finley, who is simply busy reffing a soccer game. Maribel, for reasons unbeknownst to me and perhaps also to the actors in this scene, will not abide this lie, despite harboring many of her own, and pushes Sophie to tell the truth, which's that she cannot in fact locate Finley 'cause they got into a fight and Finley vanished into the ether.
Sophie sets a firm boundary regarding "talking about the fight" but Virginia, sitting at a table of drinks, tilts her head, delivers a look of pity and disappointment, and asks "is she drinking?" Maribel interjects — "yeah, after getting a DUI!"
Virginia has actually never seen Finley exhibit problematic drinking behavior — Finley was sober at the wedding and was sober at the hospital — so it's unclear why she'd even ask this question with that level of concern, unless Sophie has confided in her previously, which wouldn't really make sense for Sophie to do that while also being the one to pull out a post-work bottle of wine and consistently get wasted with Finley.
It feels like this show is still asking the cultural concept of "DUI" to do all the work instead of deliberate storytelling, even deliberate storytelling about the DUI. As discussed last week, the DUI wasn't written in a way that highlighted Finley's problematic drinking behavior or enabled Sophie's reaction to it the next day. Because yes, Finley does have a drinking problem and sure, getting pulled over and charged with a DUI very often does indicate that the driver has a drinking problem, for example because some drunk drivers are driving drunk because they do everything drunk. But it doesn't automatically mean that, and it's framed here and last week as though it does, as though the incident-as-written was the inevitable climax of the journey Finley's been taking all this time, as though this situation should stand on its own without needing any additional emotional realism or contextual development around it. Many of us need only consume two drinks to put ourselves at risk of exceeding the legal limit of a .08 were we to get pulled over, and non-alcoholics in have been known to drink 2+ drinks and then drive (which is bad, to be clear!) quite often. Non-alcoholics have been known to have many more drinks than that and then drive! In fact, it happens on this very show all the time! It happened with Gigi a few episodes ago. It's happening in this episode with Alice and Shane, who are drinking and will shortly be also driving. They also both brought alcohol to a party for actual teenagers, so???
But we know Finley has a problem that those characters don't have, right?  And it simply doesn't feel like the work was done in the past two episodes or in this one to draw a clear line between her problems —> this criminal charge —> a catalyst for Sophie to reach a breaking point. Unless the show's take is that the best way to know who has a problem and who doesn't is to see who gets arrested.
We know Finley has a drinking problem because we've seen her drink to soothe her anxiety or depression — we've seen her do this alone and with friends. We've seen her use alcohol as an escape, and to keep drinking more even when it makes her feel worse. We've sensed a vibe that is, essentially "constantly on the lookout for another opportunity to drink." We've seen her wake up, throw up from drinking, and then open another beer. We saw her tell Shane she'd never had sober sex and also get too sick mid-sex with Rebecca to continue having it, and then declare a desire to be "drunk, but not dizzy drunk" before their next sex date. (But we also did eventually see her having sober sex with Sophie!) In Episode 104, Sophie questioned the sheer volume of alcohol Finley was drinking at Shane's birthday party, because their bosses were also at the party, and Sophie suggested she try water or slow down — advice Finley did not take — and we all saw Finley consequently take her drunk ass to Rebecca's to ruin their relationship. We've seen Finley squirm while hearing about Tess's sobriety and then we saw her get wasted with Tess later that night despite knowing Tess was relapsing — because she is always exactly that desperate for a drinking buddy. We've seen her, while drinking a beer and processing what went down at the wedding, tell her bosses that she'd gotten sober in Missouri, which means she knew drinking was a problem.
When this happened — when it became clear the DUI was gonna be The Thing — I'd assumed it was 'cause the DUI would require Finley to attend meetings, or counseling, or classes; and through those experiences she'd have to confront all of those reasons and attempt sobriety. Or maybe it would be a wake-up call for Sophie, who'd nudge Finley towards one of her own. Or maybe it would inspire someone to say TO Finley, instead of ABOUT Finley, "why are you drinking the day after getting a DUI." It could do what I suggested it do in last week's recap by providing all of these opportunities for Sophie and Finley to talk about what happened.
But nope. "DUI" it seems is just a symbol, just three letters the show has chosen to stand in as a thing that is culturally a commonly accepted form of Rock Bottom. They've been planting all these seeds that could've spiraled out of control and consumed the garden. But then when the time came to harvest it, they sent Sophie to Ralph's for some pre-packaged basil.  
Anyhow, here we go….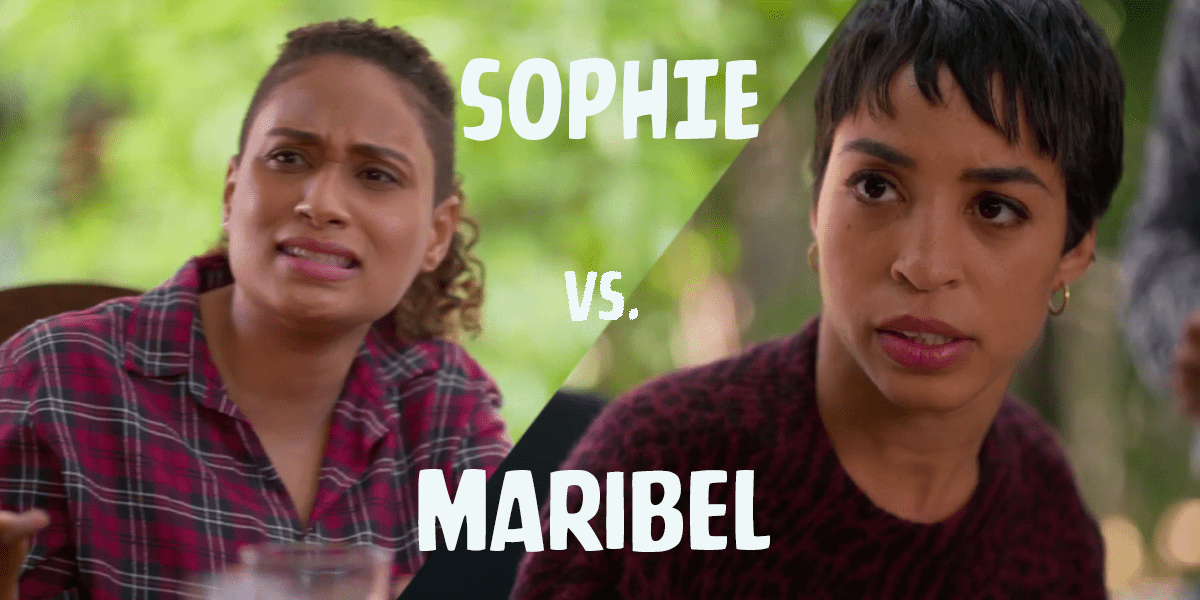 Squabble #34: Sister, Sister
In the Ring: Sophie vs Maribel vs the Family 
Suddenly Nana hates Finley and doesn't get why Sophie's still with her, and Sophie's like, this is why I didn't want to tell you! "It sounds like she has a problem," says Virginia, but as discussed previously, why?
Sophie says to her fam "You're so judgmental!" Maribel says they're just being honest. Sophie says that's hilarious coming from Maribel. Nana hates when they fight!
I have to be honest that I actually love it when they fight because they are both so fucking SHARP and I love authentic sibling wars!!! Unfortunately the content of this convo is objectively bad.
Sophie: Why don't you tell them why Micah's really here?
Maribel: I'm going to kill you.
Sophie: No go ahead, tell them, say it —
Maribel: No —
Sophie: No it's totally fine — Alrighty, I got you. They're dating. Micah is her boyfriend!
Maribel and her family start fighting in Spanish — they wanna know if it's serious and if she has real feelings for him. Then Virginia asks if he's gay, and Maribel requests they cease speaking of him if he is not here. Nana goes for it anyway, asking if he is "a trans." "Don't say A TRANS!" Maribel and Sophie scream, which I believe is something all of us have likely screamed at our parents at some point and so I will allow it as a line of dialogue while refusing it as a person who does not understand why this is happening or what the objective is here, besides to ensure that a family we have known to be loving and accepting is now also somehow low-key ableist and transphobic? Okay great!!!!!
Maribel says she loves him. Then she pauses as if this is her first revelation of this love and it was not in fact discussed YESTERDAY.
Micah is like, "thanks for having me."
Who wins? I was gonna give this one to the translation app I downloaded to better understand this conversation but I did remember to delete the app before the free trial expired so ultimately, nobody
---
Dani arrives home to her Castle in the Sky after an unpleasant day attempting to get Black artists on board with her Dad's evil corporation, one airpod still decamped inside her busy ear. She's de-booting when Gigi rings to check in on Dani — Eli's recorder concert is about to begin and she might miss Frarajaca!
For some inexplicable f*cking reason, Dani says she can't make it 'cause she's stuck in traffic. For another inexplicable reason, Gigi accepts this explanation instead of asking why Dani didn't inform her of the backup on the 10 as soon as she got mired within it but ok whatever
---
We then swoop back to Porter's Pre-Prom Party of a Lifetime where Jordi's stressed about going to prom without Angie but Bette assures her they'll get Angie to prom post-haste no worries! Tina's angry Bette made a promise they might not be able to keep, but Bette just wanted to avoid bringing Jordi down.
"But you have no problem bringing everybody else down," Tina argues because apparently this was the best segue she could come up with to bring the convo back around to Bette vs. Carrie and she is going to run with it.
Squabble #35: I Hope We Forever Spare Each Other Pain
In the Ring: Bette vs. Tina
Tina wants to know what Bette said to Carrie! Bette says she told Carrie she didn't think they have to be best friends and she should be able to say that to a grown woman without her falling apart! Alice and Shane are enjoying the show:
Tina's not so sure that Bette used the best possible tone to deliver that theory of friendship but Great news! We are saved by a knock at the door!
Who Wins? Henry
Anyhow, as recently mentioned, there is someone at the door! It's Pippa, looking gorgeous as always!
Tina is both intimidated and delighted to share space with beloved artist Pippa Pascal, who she doesn't seem to know is dating her ex-wife, and Pippa is delighted to inform Bette that their four hours of marching around with posters was a success — the CAC is no longer funded! Yay!
---
Angie's Gay Aunties have taken up the torch of chatting with Angie in place of her Gay Mommis. Shane says it's okay to be mad at her Moms, for example I personally am often mad at her Moms and I still went to prom. Angie feels like Marcus doesn't wanna know her.
Alice says it's his loss. Angie says she's not his daughter or anything, but Shane tells her it's okay for it to still hurt. Angie laments taking it out on Jordi 'cause it wasn't her fault, and Alice suggests fixing it by going to prom. Shane suggests fixing it by not going to prom.
---
Tina stands awkwardly beside a table of items while Pippa and Bette play tonsil hockey in the foyer, and then Shane and Alice clatter downstairs with Angie in tow, ready to go have an unforgettable night at prom.
Tina asks Bette how long she's been dating Pippa and Bette says, "not long," which is actually true because according to the events of this program they have been together for (checks watch) three days.
Speaking of strange periods of time, Bette suggests they return to the hospital to give it another go with Marcus.
---
Cut to a Netflix and Chill Night starring two very cute humans who have had a bit of a rough day but are seemingly not intending to verbally acknowledge the roughness of said day and instead will simply be plowing gamely forward with House Hunters.
Micah says he'd like to watch something in Spanish and also learn Spanish 'cause he doesn't know a lot of Spanish. But he does know the word "amor," which means he heard Maribel say she loves him which is a huge revelation because they didn't already have a premature love conversation two days ago. Speaking of things that are premature, Micah says he could be her esposo some day. OKAY EVERYBODY CALM DOWN
---
We then gallop off into the sunset and by the sunset I mean the hospital, where Bette's giving some quotes to the press about their Big Victory at the CAC and Tina's politely awaiting whatever dark fate lies ahead. Tina congratulates Bette on her win and Bette insists it was a team effort. "Yeah, it's nice being on your team," says Tina, as if she is not currently engaged to a member of the Rockford Peaches.
Tina wants to know why Bette can't be happy for her and Carrie. Bette claims that she is but Tina simply does not buy it! It's time for Tina to ask Bette about what Carrie has been telling Tina is the deal all along: "Are you still in love with me?" But before Bette can answer, Shelia is here to usher them back to Marcus's Room!
---
Back at Dani's Castle in the Sky, Gigi and Dani are enjoying some bottled wine by the glass and Dani is tripping over her own lackluster communication skills by thanking Gigi for understanding her forgoing the Los Angeles Children's Recorder Choir Gala on account of her tough day at work. Gigi reminds Dani that in fact she did not hear about anybody's tough day at work — Dani told Gigi she was stuck in traffic.
World Champion Lesbian Communicator Gigi wonders aloud if Dani is trying to hurt her or if that's just a bonus to whatever else it is she's got going on. 'Cause Gigi's down to be there for Dani but she is not down to be lied to or otherwise serve as a receptacle for Dani's unrelated negative emotions. Dani lets Gigi hold her, noting as perhaps many of you did in the comments two weeks ago….
Dani: I told Finley that nobody holds me when I'm sad.
Gigi: Yeah 'cause you're pretty prickly when you're sad!
Dani: Yeah.
Gigi: You don't have to be scared. And if you don't push me away, I'll always hold you.
Dani: I think that's what scares me the most actually!
Dani marvels at Gigi's ability to get her to talk about her emotions. Gigi's like, NBD I was married to a therapist! I love them.
---
Back at the Dana Fairbanks Memorial Tavern, Sophie is continuing to call Finley despite it having gone to voice mail every time for hours and hours. "I just want her to be okay so I can yell at her," Sophie tells Tess when she stops by to deliver what I thought would be great advice but turns out to be abjectly terrible advice!
Tess tells Sophie that Finley's not gonna get the help she really needs if she's got Sophie there to pick up the pieces and make it better. What Finley apparently really needs is to feel totally unloved and unsupported! Which I'm pretty sure is how she already feels! It's unclear if Sophie can or will take this advice. 
Furthermore, Sophie has yet to pick up a single piece of Finley's thus far — not because Sophie's neglected her or anything, but because Finley, the affable party lesbian everybody has done shots with for two seasons, has not dropped any! Because a person does not actually need to fall into pieces to be an alcoholic or need help.
Tess's advice makes sense for somebody who's already fallen into codependence or enabling behavior, but Sophie's nowhere near that stage yet. Making sure her friend who has been missing for two days isn't dead is really the bare minimum, and it's also the first time Finley's gone missing, which means there is a genuine cause for alarm and it's not playing into a toxic pattern.
---
But we must, apparently, drive this story home with as much raw malice as possible and therefore it is time to meet a new side of Finley that did not exist until this very day: she's sloppy, rank, stumbling through an unidentified hallway of a building that definitely has a doorman that would not have let our young friend through these doors without verbal confirmation from a resident. Finley is peeing on the floor and then slipping in her own urine.
Finley pounds on the door and I wonder who, pray tell, will be at the door? Where or how has Finley slept? Where or how has she managed to continue drinking? Why or how does she know Dani's address and why would she come to Dani's, of all places, as the final resting spot of whatever odyssey she's undertaken for the last 36 hours? These are all good questions that will not be answered!
"Don't punch me in the face," Finley stumbles. "Agian."
Dani, still clutching the door, can manage only, "what are you doing here?" We are immediately transferred to the Dana Fairbanks Memorial Tavern, where Sophie's getting a call from Dani.
---
Alice and her cute sweater have retired to the bedroom to take more calls from more reporters who are just dying to tell Alice that she is a great lesbian talk show host who has meant so much to us as lesbians and also to all of lesbian lesbianville lesbian city lesbiantown.
"There's just not a lot of lesbians on TV," says a reporter who has not watched a lot of TV. "I mean it's getting better but you're sort of our symbol of what's possible." I'm sorry is it 2011? I guess so, because she also wants to know if Alice has "a new woman" in her life, as if in this day and age there is not a very strong possibility that Alice could be dating somebody who does not identify as a woman.
"His name is Tom," Alice says. "He's a man. A cis man. Named Tom. He's a cis man named Tom." The line goes silent. So like, 2011 called and then hung up on Alice, I guess.
---
Well it's back-to-school season for Angie who is rushing to catch the tail end of Promenade. Luckily Jordi is waiting outside of the auditorium so they didn't have to hire a bunch of teenage extras and spring for 100 COVID tests.
Although Jordi sadly lost prom queen, she remains the queen of Angie's heart! I love young queer love!
---
Well, it appears they have in fact re-cast the role of Marcus Allenwood, thus begging the question: why has this storyline thus been dragged out this long and Angie's desires thwarted if this guy was prepared to be Marcus this whole time?
Marcus says he didn't want to put Angie through meeting him and then him dying, 'cause obviously it'll be much better for her to not meet him but still have him die. Kids love that! Especially a kid whose Grandpa died like right before she got born!
"That's very thoughtful of you, but she knows what she's getting herself into," Bette and Tina inform him, handing Marcus the most recent draft of Angie Porter-Kennard's opus, "Questions for MARCUS."
"I should've known Bette Porter's daughter would be persistent," he says. Bette smiles at Tina and says they taught her well. He wishes her a big congrats on the CAC Attack and Bette wishes him a big congrats on an upcoming show at LACMA. They make plans to bring Angie by tomorrow to meet him and I think we all know what that means and I hate itttt
---
Back at Finley's Last Dance, Finley stumbles around the apartment, commenting on how nice it is and also noting, accurately, that it makes sense and "fits" that Gigi and Dani are dating now because "you're both very hot."
Finley says Dani definitely has her shit together and has everything but meanwhile, Finley has nothing. Dani says that's not true. Finley says the look Dani is giving her is the look that Sophie gives her, although I cannot recall Sophie ever giving Finley that look 'cause usually when Finley is drunk, Sophie is also drunk, and the looks they are giving one another are looks of sloppy sexual tension. Finely says Sophie said she was scary and how is she scary?!?!!? "I'm not scary," Finley slurs. "I'm fun. I'm fun Finley."
---
Back in high school, our favorite chaste Gen Z queers are dancing in an empty hallway.
Back at the hospital, Tina's thanking Bette for making Marcus change his mind about meeting Angie, saying Angie is lucky to have Bette as a Mom. "You too," says Bette. "Tina, I —" she begins and then the alarms start going off because of course this show has introduced a Black character just to kill him three minutes later.
Angie, who never met her Grandpa and lost her aunt to a drug overdose and is now unaware that her donor is flat-lining in the ER, dances with Jordi in the hallway and tells her that she loves her and Jordi says it back.
At Dani's Castle in the Sky, Sophie arrives to get her girl. "Sorry," Sophie says to Dani before sitting next to Finley on the sofa and pushing an oily chunk of hair out from in front of her bloodshot eye.
So we go back and forth now between Jordi and Angie dancing and Marcus dying.
Bette starts crying and Tina holds her and that, my friends, is the end of the penultimate episode of this series and um, what?!
---
The Round-Up:
Squabbles: 3 this episode, 35 total
Sexy Moments: 0 this episode, 11 total
Quote of the Week:
Alice: Angie, you'll know. Should I tell the world I'm dating a man?
Angie: Nobody cares!
Pages: 1 2 3See entire article on one page