I've been a bit quiet on the Audiostraddle front lately while Riese and I have been recapping Skins, and so I'm here to bring you a slightly spontaneous music roundup! The editors love surprises. Some could say this is so you don't forget about me, while others might think I just want to geek out over Kaki King's new track, really though who knows why things happen. Also Riese threw a few links in here too.
But before I get into Kaki love, over the last week there have been some exciting changes to Audiostraddle and you should check 'em out:
@AUDIOSTRADDLE
Design Director Alex has created us a pimpin Twitter page for @audiostraddle. If you want to hear about the latest music news, music videos or commentary on Ke$ha, you should probably follow us.
AUDIOSTRADDLE BECOMES WWW.AUDIOSTRADDLE.COM
Alex and Tess have designed a new, sexy, easy-to-navigate Audiostraddle blog page! I recommend you continue accessing music content via the Autostraddle homepage, but it's nice knowing that it's now possible to quickly punch www.audiostraddle.com into your browser's address bar if you ever need to track down a Tegan Quin interview in a pinch. Haven't we all.
HIP HOP/RAP/R&B WRITER WANTED
Just a reminder that we're calling for hip-hop/rap/r&b music enthusiasts who would like to write concert and album reviews, features and artist interviews. Find out all the details and criteria.

Okay now onto the music..
TEGAN & SARA'S ALLIGATOR VIDEO:
For real this time, all official and stuff, Tegan & Sara's ALLIGATOR Video premiere: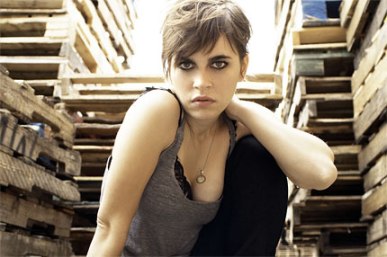 KAKI KING RELEASES NEW TRACK
Omgomgomg. SPIN has premiered "Falling Day", a new track off Kaki King's upcoming record Junior, which will be released this spring and may or may not feature Kaki on the cover dressed as a spy, I don't know that's just what I hear. I already had the pleasure of hearing new material when Kaki toured Australia, having snapped up tickets to every show humanly possible because seriously, I just can't quit her. The live preview left me with the impression that this upcoming record will be killer.
If you're in Europe or the USA, check out Kaki's tour dates because she's likely coming to a city near you in March – May. She may even be playing with another Audiostraddle favourite, An Horse.
VAMPIRE WEEKEND DEBUT NEW VIDEO FT. A JO-BRO
The anticipated music video for Vampire Weekend's catchy tune "Giving Up The Gun" has premiered on Spinner. It's a bizarre tennis match featuring RZA, Jake Gyllenhaal, Lil Jon and randomly, Joe Jonas of the Jonas brothers in tiny white shorts. Check it out.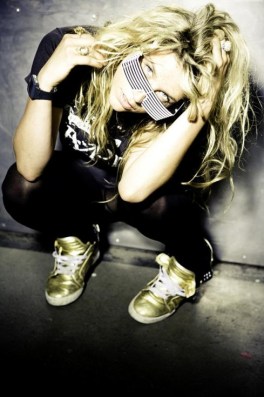 THE GOSSIP ANNOUNCE US TOUR
If you're unable to get to Coachella this year, the good news is that one of the festival's biggest drawcards – The Gossip – might be coming to you. US tour dates have been announced on their website. Go!
KE$HA INTERVIEWS HERSELF FOR ROLLING STONE
No matter whether you think that Ke$ha is terrible, awesome, or TERRIBLE/AWESOME, this video interview with Rolling Stone probably won't change your mind. Ke$ha asks Ke$ha some hard-hitting questions about Bob Dylan, the Ke$hawood prank and why she doesn't mind looking like such an asshole. It will either disgust or delight you.
Ke$ha also talks to pridesource about her bisexuality, the dumb lyrics in her songs, how she'd like to give Susan Boyle a good makeout session and throwing up in Paris Hilton's closet.
I've never actually been in a real long-term relationship with a woman, but I'm not opposed to it. I'm totally open to falling in love with a man, woman, or anything in between. I just think it's all about how people make me feel and what my instincts about someone are. That's really why I named the record "Animal," because I am an animal and I'm not scared of anything.
She says it's "ridiculous" to be compared to Katy Perry as it's not being used as a marketing tool in her song, and "if you listen tot he last song on the record, I'm in love with what we are and not what we should be. Some people don't think I should make out with women. I think that's fucking ridiculous. All people should be treated exactly equal on every level."
SARAH SLATON ANNOUNCES NEW EP AND TOUR
Some of you are going to be excited to hear that out singer/songwriter Sarah Slaton is currently finishing up her next EP, "A Love Story", and then plans to take the show on the road. We'll let you know when you can buy the EP on iTunes, but for now you can preview some of the new tracks and check out the tour dates on her myspace.
BITCH'S "KITCHEN"
Here's the first music video from Bitch's new record, Blasted, which drops in March. Check it out –
+
LADY GAGA: Lady Gaga appears on the cover of Q magazine, which is hot. That story will come out on March 23rd. She's also debuying on the cover of US Cosmopolitan magazine in April, which is confusing. She must know five areas of the butthole where your Man has never been touched but will make him want to marry you, meet his mother, and buy you some smelly lotion.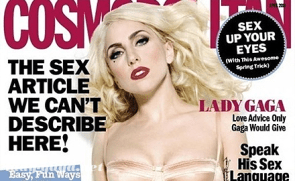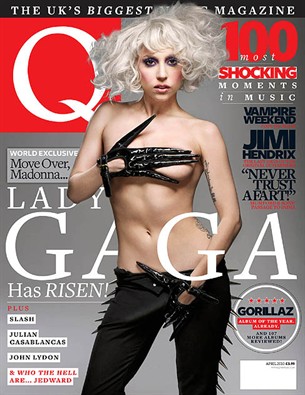 ELTON JOHN: Everyone is mad at Elton John for saying that Jesus was gay. Personally I think it's awesome that he said Jesus was gay. Remember when everyone got mad at Madonna for saying Jesus was black? (Sidenote: she was totally right tho) Remember when everyone got mad at the Beatles for saying Jesus was dead?
"I think Jesus was a compassionate, super-intelligent gay man who understood human problems," John, 62, tells the magazine. "On the cross, he forgave the people who crucified him. Jesus wanted us to be loving and forgiving."
The Catholic League condemned the comments, saying that to call Jesus a homosexual is to "label him a sexual deviant."
These Catholic League people just don't want to have to take down their big ol' ode to white dudes picture they've got hanging over the homestead hearth and replace it with a new, updated more stylish version.
NICKI MINAJ: In Nicki Minaj's new song with Usher, the bisexual rapper coordinates a threesome because Usher says that's how you get with usher: "In the hip-hop world, Minaj's sexuality has been employed to fulfill the lesbian fantasies of heterosexual guys, but hip-hop hasn't yet give Minaj the space to truly own her identity." (@the sexist)