Perhaps John McCain's New Years Resolution was to stop being an asshole or maybe it was to "admit defeat" (a sharp departure from his prior policy of "kicking and screaming in the kiddie pool of assorted defeats while the rest of us draw stars and rainbows over pictures of his face using MacPaint.")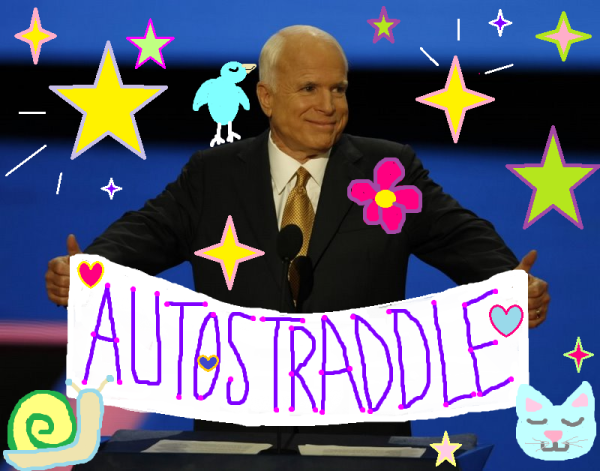 On Thursday, John McCain said he'll "work to help implement the repeal of the military's "Don't ask, don't tell" policy, despite his opposition to that legislation."
McCain has found his zendo center and, as he looks forward towards the Ascension in 2012, has decided to "make peace" with the Don't Ask Don't Tell repeal, which he was not a fan of. He says:
"I think I have to do everything I can to make sure that the impact on the morale, retention, recruitment and battle effectiveness of the military is minimized as much as possible," McCain said on Fox Business. "It is a law and I have to do whatever I can to help the men and women who are serving, particularly in combat, cope with this new situation. I will do everything I can to make it work."
That's not all!
McCain showed additional signs of softening the harsh rhetoric he'd used over the past two years against another Obama administration priority: On NBC's "Today" show on Wednesday, McCain said he'd welcome comprehensive immigration reform once the borders had been secured.
See you guys, 2011 is gonna be filled with moments like this one. Where people look in the mirror, think "God, I'm a douchebag," and then decide "Hey, wouldn't my life be SOOOO much better if I rid myself of my negative douchebaggy energy and embraced The Light?"