Carmen's Team Pick:
Am I a feminist? Well, it depends who you ask. Last summer, I finished up a radio interview for SlutWalk on NPR and returned to my office to find an email in my inbox from a stranger – a strange man – just helping me out by letting me know that my raspy voice was damaging the movement. It began like it always begins: "I respect feminism, but," and ended with, "you do a disservice to your cause when you sound like Joe Camel after a bender." In the interest of full disclosure, I was sick and I hadn't had a drink in at least two days. But all of that aside, there was a real problem, and it wasn't my voice. It was some dude who's done jack shit for the movement criticizing me. 
IS THIS FEMINIST is a Tumblr devoted to illustrating the absolute moronic logic people exercise in calling someone out for "not being a feminist," and their tactic is mockery.
For example:
This woman is listening to music on headphones. IS THIS FEMINIST?
To be clear, there's nothing inherently problematic about music, which many believe is an interest that started in the pre-patriarchal era when ancient people beat drums while contemplating the Venus de Willendorf. But we have to ask why this woman is using headphones, essentially cutting out her listening choices from the community. Being private about our musical choices makes it easier to listen to everything from misogynist rap music to douche-y sexist indie bands like Modest Mouse. It would be better if she opened her taste up to accountability. PROBLEMATIC. 
+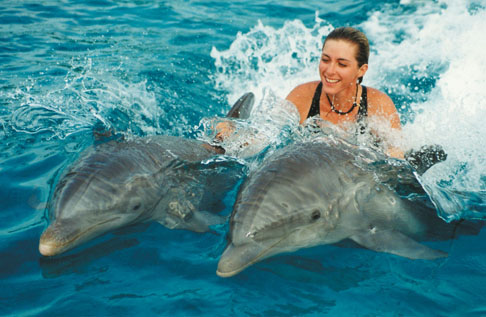 This woman is riding two dolphins, in a magical moment of pure joy, feeling like a mermaid princess surveying her kingdom in a glimmering sea chariot. IS THIS FEMINIST?
No. Feeling like a mermaid princess betrays an internalized ideological support of monarchy. Also, animals were not created to be our servants! Read "The Sexual Politics of Meatwp_postssome time! PROBLEMATIC. 
I feel like I could make one of these for my own experiences. Being an emissary to feminism on the internet is a huge trolling risk.
Maybe this has happened to you, too – a kind stranger offering you advice on how to be a better feminist, maybe even after you've spent your entire life being a feminist. It's so sweet when people do that! "I know you think you're a feminist, but since you [smoke cigarettes / don't drink organic fair trade coffee every day / do not ride a bike to work / like to listen to Drake / speak openly about your life experiences that don't suit white, middle-class feminism] it turns out you're actually disqualified and must leave the movement immediately."
Next time a hater passes through your zone, make sure you let them know that the real problem is one-dimensional, unrealistic, and poorly applied feminist theory. Or, you could respond by riding dolphins away from them toward the horizon.