Indiana's Religious Freedom Law Impacted The State
+ A new study by Visit Indy, a tourism organization in Indianapolis, found the state may have lost up to $60 million in hotel profits, tax revenue and other economic benefits. The tourism group surveyed 12 out-of-state conventions and found they all decided against hosting their conventions in the state specifically because of the Religious Freedom Restoration Act, which allowed discrimination against LGBT people on religious grounds.
"The evidence of the disastrous consequences from Gov. Pence's discriminatory RFRA flight last year is undeniable," JoDee Winterhof, the senior vice president for policy and political affairs at the Human Rights Campaign, said in a statement. "Despite the profound economic damage they inflicted on the state last year, anti-LGBT lawmakers are so vehemently opposed to eequality that they are pushing for an even more catastrophic 'Super RFRA' this year."
The "Super RFRA" will be debated tomorrow in the Senate Judiciary Committee along with five other pieces of anti-gay legislation. While Gov. Mike Pence tried to fix the state law after a national outcry and clarified the legislation couldn't be used to opt out of nondiscrimination protections, the new bill would allow anti-LGBT businesses to turn away LGBT customers.
Law & Order
+ David Fowler, head of the Family Action Council of Tennessee, filed a lawsuit to challenge how Tennessee is affected by the Supreme Court's decision to legalize same-sex marriage. He, along with several other ministers, asked Williamson County Clerk Elaine Anderson to stop issuing all marriage licenses until their lawsuit is settled. And to make matters embarrassingly worse, State Rep. Susan Lynn, along with 16 other Republican cosponsers, filed a resolution in the House to support the lawsuit. "I have dozens of sponsors, and the message of my resolution is clear,wp_postsshe said. "We as a state have been violated, and we expect the doctrine of separation of powers and the principles of federalism reflected in our Constitution to be upheld."
+ In super great news, a grand jury in Texas indicted two anti-abortion activists who shot undercover videos of Planned Parenthood that ignited a firestorm of anti-choice legislation and propaganda against the organization for allegedly making a profit off of selling fetus tissue. The grand jury cleared Planned Parenthood of any wrongdoing. David Daleiden, president of The Center for Medical Progress, and Sandra Merritt, the founder and CEO of BioMax were indicted for "tampering with a governmental record," a second degree felony. Daleiden was also indicted for "prohibition of the purchase and sale of human organs,wp_postsa Class A misdemeanor.
Police & Prison
+ President Obama announced a series of executive actions banning solitary confinement for juveniles in the federal prison system and as punishment for prisoners who commit "low-level infractions." The new rules also state that the longest a prisoner can be punished with solitary confinement for their first offense is up to 60 days and not a whole year like it is currently.
+ Air Force veteran Anthony Hill was naked and unarmed when DeKalb County police officer Robert Olsen shot and killed him near his apartment outside of Atlanta. A grand jury indicted Olsen on six counts including murder. 27-year-old Hill was experiencing a breakdown after he stopped taking his medication to treat bipolar disorder and PTSD. Think Progress reports:
According to a Washington Post investigation, Hill was one of more than 120 people with mental illness killed by police in 2015, making up a quarter of all people shot and killed by law enforcement last year. As with Hill, officers in most cases were not responding to someone reporting a crime, but rather a relative, neighbor, or bystanders calling for help dealing with a mentally fragile person behaving erratically.
One of the many banners supporters held outside the courthouse on Thursday read, "Mental illness is not a crime."
Undocumented Immigrants
+ As many as 1,000 undocumented immigrants living in Flint aren't getting the help they need during this water crisis because they're too scared to go to water distribution centers because they don't have proper identification.
+ Musicians/singers Juanes and John Legend performed outside an Arizona detention center for activists and detainee's families after touring the jail, in an effort to draw attention to immigration and mass incarceration.
+ Latino Rebels launched their #MIGRAMAP to help track ICE raids across the country. "The collaborative project aims to gather data from and for our community's needs and will capture the official and unofficial national story of these ICE raids. This will give everyone the opportunity to fight for undocumented people in their local community."
International News
+ As one of his last acts in office, Portuguese President Anibal Cavaco Silva vetoed legislation allowing same-sex couples to adopt children. He said the issue should be subjected to a public debate since it's a "sensitive social topic." Cavaco Silva's term is up on March 9 and will be turned over to Marcelo Rebelo de Sousa.
+ Four people were killed in a school shooting in a small town in Canada on Friday. An unidentified male was taken into police custody. The shooting happened at La Lonche Community School in northern Saskatchewan, which has about 900 students ranging in age from kindergarteners to high school seniors.
+ J-FLAG, a Jamaican LGBT organization, surveyed a few hundred queer people from the island and found that 75 percent of respondents have considered emigrating from Jamaica, a country with strict laws against LGBT people. Many of the respondents also experienced widespread harassment and discrimination but didn't report it to the police because they thought the police would take no action, the incident was minor, or they feared a homophobic or transphobic response from authorities. They found 71 percent of gay men, 59 percent of lesbians, 35 percent of bisexuals, and 29 of trans people said they were harassed or faced discrimination.
+Orashia Edwards, a bisexual man from Jamaica was finally granted refugee status and can stay in the UK after fighting for three years. 
Sports!
+ Trans athletes don't have to get bottom surgery to compete in sports in accordance with their gender under new guidelines that will be adopted by the International Olympic Committee, according to OutSports. The IOC hasn't officially announced the guidelines but OutSports reports the IOC met in November and will most likely adopt the new rules before this summer's Olympics. "To require surgical anatomical changes as a pre-condition to participation is not necessary to preserve fair competition and may be inconsistent with developing legislation and notions of human rights,wp_poststhe guidelines state. According to the new guidelines, a trans woman would be able to participate in women's events one year after hormone therapy instead of having to get bottom surgery and be on hormone therapy for two years as the rules are now.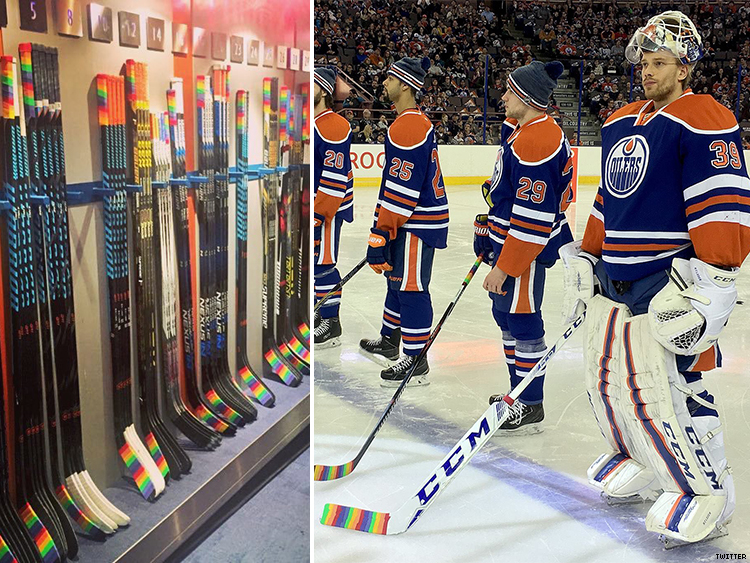 + The Edmonton Oilers of the Canadian National Hockey League wrapped their sticks in Pride Tape to show their support LGBT inclusivity and diversity.