Last year it became (happily) obvious that two human people could not cover every queer and gal pal shenanigan on teevee, which meant it also became (sadly) obvious that I wasn't going to be able to finish recapping The Fosters season 3A. You were very bummed, and told me so, and asked gently and repeatedly for a full recap about a TV show with grown-up lesbians. And I was bummed too. In between then and now, I have been joined by two TV interns (hey, Karly! hey, Sadie!), and other Autostraddle team members who are writing about queer TV with me our twice-weekly column, Boob(s On Your) Tube. Which means The Fosters recaps are back! You gotta read 'em and participate in discussion if they're here to stay, okay? Recaps take FOREVER to write and I'm taking on this one in place of free time/sleeping because I love you and I want you to be happy!
---
Previously on The Fosters, Lena's principal and pal, Monty, tried a little funky junk with her, and Lena didn't even tell Stef about it! Stef had to find out from her best friend who ended up dating Monty, but then Monty broke up with her because she was in love with Lena, okay, and so Stef's best friend told her at a gay bar after the four of them tried to spend a weekend away at a cabin in the woods like some kind of shared-body-heat fan fiction. That was bad, but what was worse was Stef got almost-cancer and Lena got postpartum depression/PTSD from her miscarriage and they shut down so much that their lesbian plumber made them pay for their house repairs in advance because she thought they were getting divorced! They worked out it behind closed doors in a garage and all of their children were wonderful except for Brandon, who had his moments but ultimately Brandon-ed it all in the end.
The Adams Fosters are arrayed in their finery as Brandon performs the piece he composed in his woodland music camp, with a full orchestra behind him. Everyone is proud, except for Jesus, who is asleep. The music actually does sound very Disney-y, exciting and triumphant. Brandon finishes and stares into the audience at Callie, remembering that time they had sex due to her propensity to self-sabotage and his propensity to feel as though Mufasa was speaking directly to him every time he watched The Lion King.
The next morning, Callie is feeling nervous because she has to give a speech about Fost and Found, the app she designed to help foster kids connect with each other. Brandon tells her not to worry. All she has to do is throw up to calm her nerves, and be a straight white man. Everything the light touches will be hers! For example, after his concert last night, he got an offer to go to Juilliard. He doesn't want to tell Stef and Lena about it because they already have enough financial hardships on their plate with one hundred thousand children living under their roof and the medical bills from Stef's almost-cancer. He's not going to worry about it too much, though. It's only a hundred thousand dollars. With his luck, he'll get a summer job at a banana stand and be all set.
Grand Central Kitchen
Lena: Do you feel okay about me going back to work today?
Stef: [noncommittal mumble]
Lena: Stef…
Stef: [shrug, smiles without teeth, looks out the window]
Lena: Remember what we said in the garage!
Stef: Ugh, fine. No, I don't feel okay about you spending your days with a woman who is desperately in love with you and has proven to have no respect for your boundaries or for our relationship! But you have to go to work because honestly it's already a miracle we can afford to buy cereal for this herd of bandicoots we're raising!
Lena: See? Now was that so hard?
Stef: Yes, I love you, go away, I don't want to talk about my feelings again until 2018.
Not so fast, Stefanie! The doorbell rings and it is Monty, who requests a Feelings Conclave with Stef and Lena. She is learning the ways of lesbianism so fast, that Monty, just making everything as collectively awkward as possible with the best intentions and an overflow of earnest emotions and overwrought declarations springing from heartspace without reason or discretion, apologizing for breaking unspoken rules while breaking unspoken rules. She is Stef's Boggart in every way. It's amazing. I love Monty. I don't want her to be with Lena, of course, but I do love her. She says she's sorry, again, for honing on on Lena mouth with her mouth, and promises to never, ever do it again. Also she offers to quit her job and move to the Arctic Circle and live in a tent and survive on Luna bars and melted snow for ten full years as penance for her actions. If that's what they want her to do.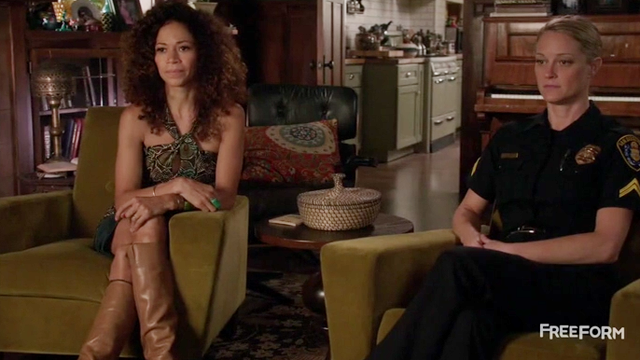 They decide to take a think on her offer.
Grandma Annie is in town and she peeps the letter from Stef's insurance company about her almost-cancer. She demands that Stef get a second opinion and Stef demands to know why she's up and walking around so chipper-like already this morning, and where she's going in those slippers. Grandma Annie acts like the deflection works, but it does not. She knows Stef better than she knows her own face in the mirror, so she bounces and begins her plan to bring Lena into the conversation to get some results.
At the foster care fair, Callie gives a talk about Fost and Found, and about how she developed it so kids like her and Jude could find each other and use their common knowledge to inject a little accountability into the foster care system. This one guy accosts Jude and asks if Callie's even for real, and when Jude assures him that she is very much for real, if by "for real" he means "for real using her brain and heart and personal knowledge of the dark things and hard-won hope to fight for the disenfranchised." Well, so, this guy marches right up to her and confronts her about what she's going to do to stop the privatization of foster care, because whatever she went through in the system is nothing like what he's going through in the system and what's the point in trying to make one thing better if you can't make everything better. I'll bet this dude's a real treat on Tumblr.
Callie gets pulled away by a woman who offers her 50 thousand American dollars, on the spot, because she's a "foster care advocate." That is a lie. That is an obvious lie. If foster care advocates had $50K to throw at kids making apps, we would not need foster care advocates.
Jesus is lounging around his house when both of his ex-girlfriends arrive to hang out with Mariana. Emma is helping Mariana with her bid for Junior class president. Lexi and her family have received magical visas and her parents told Stef and Lena not to tell Mariana so she could surprise her when she got back home. Jesus assumes that they will immediately engage in a battle of wits and physical strength to determine who will get to woo him. They don't do that, though. They discovered the glories of feminism while he was away at Wrestling Academy. Feminism and queer curiosities.
Emma and Lexi actually get into a verbal squabble over Mariana! Lexi has this one idea about how she should campaign for class president (it involves sex appeal) and Emma has this other idea about how she should campaign for class president (it involves brain appeal), and it results in Emma storming out in tears. (Imagine Lavender Brown and Hermione Granger helping Ginny Weasley in her bid to become a prefect, and that's everything you need to know.)
Over at Connor's, his bedroom is empty because he's moving up the coast to live with his mom because his dad still can't get his shit together w/r/t gay people being normal human beings. Connor figures if it hasn't happened by now, with Connor coming out and Jude being the most perfect boyfriend/human ever, and after SCOTUS struck down the Defense of Marriage Act, and we all suffered through those final few seasons of Glee, probably his dad is never going to get his shit together in that arena. Jude is distressed that Connor is taking literally everything he owns to his mom's, but Connor assures him he'll be back to visit his dad every other weekend. They hug each other and they cry and I cry and hug my cat and my cat bites my face. The whole thing is just terrible!
Pages: 1 2See entire article on one page