Maurice Sendak, best known as the writer and illustrator of the beloved classic Where the Wild Things Are, passed away today at the age of 83. Where the Wild Things Are was first published in 1963, but its fantastical vision of the world and its profound understanding of how the world really looks to a child means that it (and the rest of Sendak's work) has stayed incredibly relevant for decades, and inspired a 2009 film created by Spike Jonze and Dave Eggers that proved the themes of the children's book were still more than complex enough to be meaningful to adults. Sendak's works were staples in millions of households; from The Night Kitchen to Outside, Over There Sendak's words and illustrations were cherished by children everywhere, as well as the dozens more books he illustrated. He wrote and/or illustrated over 100 books, and over the course of his career received a National Book Award, a Caldecott Medal, the Hans Christian Andersen Award for children's book illustration, and the National Medal of Arts.
Sendak's gift as a writer and a person was turning away from the sentimentality and preciousness that we usually expect from children's authors; in his books and in life he saw a world that was tough and sometimes scary but also beautiful. He refused to compromise in any aspect of his life; he was openly gay, and insisted on respect for children when others wanted to patronize them. In interviews, he proved endearingly grumpy and unfailingly honest, calling Salman Rushdie a "flaccid fuckhead" and candidly explaining his influences and motivations, like the fact that his work on his last book, Bumble-ardy, happened when he was "intensely aware of death" because of caring for his partner Eugene as he died of lung cancer. Now that Sendak has also passed on, we remember how grateful we are for his life and his work; he brought us to the unknown land full of wild and scary things, but he also brought us back from it safely.
Carolyn
I don't know when I read Where the Wild Things Are, but I remember feeling like it was a grown up book, because the illustrations were darker and better and not fluffy and primary coloured and light. So I was probably in kindergarten. I also remember only understanding that it was supposed to be scary when I read it to someone else while babysitting (they were probably six and I was probably eleven, with very trusting parents) and it made them hide under the blankets for hours.
Carmen
I lost my copy of Where the Wild Things Are after I bought it at the AU student store. My friends saw the movie without me because it was a dark time in my life and I hated it.
"I said anything I wanted because I don't believe in children I don't believe in childhood. I don't believe that there's a demarcation. 'Oh you mustn't tell them that. You mustn't tell them that.' You tell them anything you want. Just tell them if it's true. If it's true you tell them."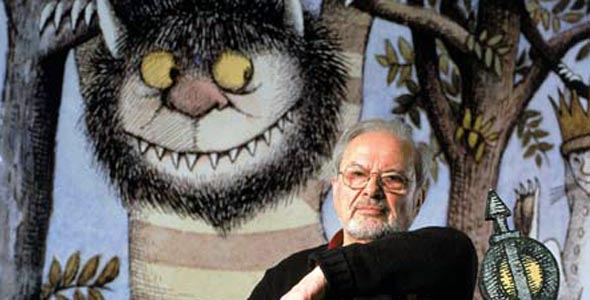 Laneia
I think I loved him precisely because he was crotchety. I remember thinking that only a total asshole could write Where the Wild Things Are because it was TERRIFYING and also proof that kids are assholes, too, and so it just made sense, and I really appreciated that about him — the fact that he knew I could be a jerk. A terrified jerk.
Rachel
When I was little I read literally everything anyone put in front of me, from cereal boxes to romance novels to 400-page scifi epics. I tended to be fairly disdainful of actual "children's literature," because duh, I was practically a grownup, and little kid stuff was dumb. Except for when the little kid stuff was Maurice Sendak's; it was so smart and weird and beautiful and eerie and sometimes scary and I loved it. Those books didn't talk down to me, and I didn't feel like I was being presented with an alternate, sugarcoated fantasy version of the world so much as a layer of the world that maybe really existed, something secret and magical and unsettling. Which is something every child needs to believe in, I think, in order to make it through the weird secret terrible parts of childhood. Also, while I like to keep my Dave Eggers feelings separate from my Maurice Sendak feelings, I also cried like a giant, weepy baby at the Where the Wild Things Are movie.
Terry Gross: Can you share some of your favorite comments from readers that you've gotten over the years?
Maurice Sendak: Oh, there's so many. Can I give you just one that I really like? It was from a little boy. He sent me a charming card with a little drawing. I loved it. I answer all my children's letters — sometimes very hastily — but this one I lingered over. I sent him a postcard and I drew a picture of a Wild Thing on it. I wrote, "Dear Jim, I loved your card." Then I got a letter back from his mother and she said "Jim loved your card so much he ate it." That to me was one of the highest compliments I've ever received. He didn't care that it was an original drawing or anything. He saw it, he loved it, he ate it.
— from interview on Fresh Air, December 2011
Lemon
Maurice Sendak was one of the few people that didn't lie to me when I was a child. When everyone else was like, "There's no such thing as monsters, kid" Sendak was all, "You're damn right there's monsters in your bedroom, so you best not give them a reason to eat you." I feel like when I was young I appreciated the fact that there was at least one person who wasn't telling me I was wrong about the world.
"I'm totally crazy, I know that. I don't say that to be a smartass, but I know that that's the very essence of what makes my work good. And I know my work is good. Not everybody likes it, that's fine. I don't do it for everybody. Or anybody. I do it because I can't not do it."
— from an interview with the Guardian, October 2011
Lizz
In retrospect, my parents were potentially trying to start a Maurice Sendak library. We had not just the books Sendak wrote, but also plenty he illustrated. As a result, Sendak's drawings have a permanent home in my brain. I can still vividly picture Little Bear wearing his cardboard space helmet preparing to go to the moon, the mustached man selling baby elephants in What Do You Say, Dear?, and the little boy dressed as an Indian on the cover about to be lassoed (who I always assumed was my old brother). I could stand up this minute and recite the entire January poem from Chicken Soup With Rice. This is probably only because I could easily draw you a rendition of the poem's illustration. The little boy slipping on the sliding on the ice while he sips once (and sips twice) his bowl of chicken soup with rice. Of course, the Sendak drawings I remember best were in The Night Kitchen. I'd like to say this is because of the magical imagery or maybe because of the Nazi bakers. It is instead, of course, because the little boy's penis is showing. I was scandalized.
Laura
I never read Where the Wild Things Are when I was little, but I did get high with my best friend and go watch the movie and then call my mom and cry.
Sendak shakes his head beneath the low-beamed ceiling, in this room full of art and old rugs. "I can't believe I've turned into a typical old man. I can't believe it." He smiles and his face transforms. "I was young just minutes ago."