Header by Rory Midhani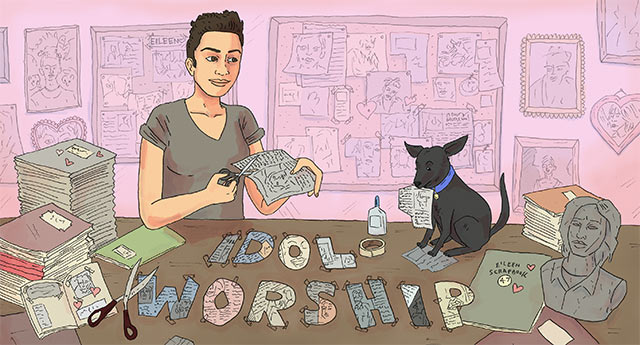 Welcome to Idol Worship, a biweekly devotional to whoever the fuck I'm into. This is a no-holds-barred lovefest for my favorite celebrities, rebels and biker chicks; women qualify for this column simply by changing my life and/or moving me deeply. This week I got to talk to Jessica Halem, possibly one of the funniest people on Earth and definitely one of the realest.
---
Sometimes we all need to feel the freedom of happiness, the sheer bliss of conquering something by staring it in the face and smiling. These are desperate times – and sometimes it all gets so overwhelming that we need something, someone, to remind us that there is light.
That is Jessica Halem.
I found out about Jessica through Gabby, whom I can't say enough nice shit about. I think everyone Gabby respects and takes into her world is probably full of heart, and Jessica proved me right. Also, she's a funny woman which I mean oh my god a funny woman. I'm drawn to her comedy and her philosophy because it feels so comfortable, kind of just like home. As someone who is a perpetual optimist and probably one of the goofiest people you've ever heard of, she's a perfect match for my tastes.
Jessica was born in Ohio to parents she describes as  "two crazy radical Jewish hippies who must have taken some bad acid, got in their VW van, and ended up past the Delaware Water Gap where they decided to raise a girl – me.wp_postsNot falling far from their tree herself, Jessica began self-identifying as a feminist around 9 and organizing around 12 – and on the side she dabbled in going to summer camps.
Her first experience bringing comedy and political organizing came in 1995 at the Fourth World Conference on Women, where she was asked to emcee the young women's talent show. At the time, she was Executive Assistant to Bella Abzug. (Are you in love yet?) The experience must have proved intoxicating, because as her political career began to grow so did her comedic fame: she pursued improv training, produced an all lesbian stand-up comedy troupe, performed at Prides and on campuses across the nation. She took her causes with her, emceeing fundraisers for everything from cancer research to Burlesque documentaries. Her heart's in the right place, and her wit is super sharp, adding up to an intoxicating and one-of-a-kind voice.  She feels very little shame and isn't afraid to really go there in her work. She's a fucking badass lady, you guys.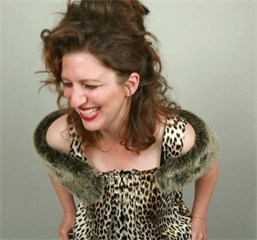 Jessica Halem is a reputable, long-standing comedian who has already made great progress in our world; who has already made laughter come from the hardest places, who has brought about change as an activist that made little earthquakes. She is respected by her comedic peers and has been taken in by her fellow queers, gaining recognition from The Advocate and being named one of GO Magazine's 2012 "100 Women We Love.wp_postsShe's also won various awards: she's one of "21 Leaders for the 21st Century," an "Unsung Heroine,wp_postsand a "Friend for Life,wp_postsdepending on who you ask. In 2008 she almost became Chicago's "best female comic," and Time Out named her one of the Queers that make Chicago great.
I was able to catch up with Jessica via the glorious World Wide Web this week to consecrate her latest title: "Idol."
 Ten(ish) Questions with Jessica Halem
Hi, Jessica! I'm really glad Gabby told me to set this up. How did you meet Gabby? I love Gabby so much.
Tragedy brought us together. Our mutual friend Christina Santiago was killed and I was asked to speak at a memorial service for her in the Bronx. I worked with Christina in Chicago at the Lesbian Community Cancer Project and Howard Brown Health Center. At the service I met Gabby. It was clear Christina was working her magic by bringing us together.
I'm super intrigued by your work because I think it strikes on the idea that we laugh to get through shit – that's it a survival mechanism. How has comedy helped you? How has this work empowered you?
My comedy comes directly from my years of being a queer activist. As activists, we are so engaged by the struggle and the seriousness of our oppression, it takes a toll. If we don't learn to laugh – even a bitter, ironic laughter – we are screwed. A sense of humor helps to keep us from being destroyed by patriarchy – a system this actually is trying to destroy us!
How does your queerness fit into your humor? What kind of queer voice are you hoping to be?
My humor is entirely queer because it is rooted in a fundamental critique of the social order and binaries of all kinds. As a queer femme, I use humor to bring people together and help everyone to feel better about themselves. Mainstream humor is often mean and destructive. Queer humor is positive and playful.
Did you feel like having a bold sense of humor helped or hurt how people interpreted you when you working in politics?
I'm not afraid to call things as I see them. This can be a professional asset or liability, depending on your perspective. I use humor to break the ice. Sometimes, it makes people nervous, but in general, people seem to appreciate my candor.
You do stand-up, lectures, workshops, charity work – it goes on and on for days. What's your favorite role of them all? Why?
I love any event when I get to have a microphone in my hand, the bigger, the better.
Who taught you how to be funny? Who do you think is even funnier than you? It's okay to answer both of these with "nobody."
Anti-semites, sexists, and homophobes. It's true. I learned to be funny as a survival strategy against bigotry. Richard Pryor, Chris Rock, and Dave Chappelle model this kind of humor. They teach people about race and racism in America through comedy. What a gift.
Do you have a favorite sitcom?
Where to begin? I watch everything. Scandal is my favorite show this season. Of course, Modern Family. Does Homeland count as a sitcom? I'm mourning the end of Gossip Girl in a big way. I am currently working on an essay about why I like Gossip Girl better than Girls.
How is your creative process structured?
About 24 hours before a show, I turn on Spotify, open a bottle of wine, and sit at my desk until I have a script for about ½ of the show. Then the other ½ I make up on the spot. I love trying things out via Twitter and Facebook (you should follow me on both) and I'm constantly taking notes as things come up. I look back on all of it to find some new ideas and new takes on old ideas. But in the end, it is easy to talk on stage when you are unafraid to speak openly and honestly about real life.