Welcome to Idol Worship, a biweekly devotional to whoever the fuck I'm into. This is a no-holds-barred lovefest for my favorite celebrities, rebels and biker chicks; women qualify for this column simply by changing my life and/or moving me deeply. This week I'm learning to fly with Amelia Earhart.
Header by Rory Midhani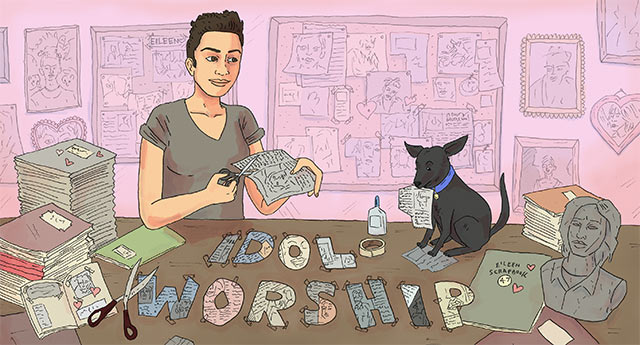 Ali Liebegott is a writer. A really, really good writer. Her books include The Beautifully Worthless and The IHOP Papers; she's also the founding editor at Writers Among Artists and managing director at RADAR Productions. She also does Sister Spit (casual) and teaches at Mills. She won Lambda Awards for both aforementioned novels. Recently, she released Cha-Ching!, and when that happened Ali and I embarked on spiritual journeys to get to know the award-winning lesbian writer we should have known and loved much longer than we have. Somewhere along that journey, we decided we want to ask Liebegott questions; shortly after it started, I had added her to my list of "idols worth worshipping," which is actually very selective thankyouverymuch. Then a bunch of sh*t happened! And now, here we are. We've finally arrived. Ali and I read two books and asked ten-ish questions to poet, writer, and die-hard dyke Ali Liebegott for you. The rest is history, as far as I'm concerned.
Read A F*cking Book: Cha-Ching!
by Ali
Cha-Ching! is Ali Liebegott's latest novel about a soft-hearted, gambling-addicted butch dyke named Theo trying to get by in 90's Brooklyn. It asks the question of how you get by in the world when the luck has already been distributed and you missed out. I would like to call this story brutally real: real about the hardships of gender fuckery, real about the whirlwind vortex of addiction that can feel so inescapable. It's real about pests and stripping and healthcare when you have no money to speak of. Liebegott has the unique ability to make the world feel so heavy that it could crush you, yet also make the assertion that a solid pair of dapper boots make the month better and that "the world would be a better place if the sidewalks were filled with birds riding tricycles." It couples wit with harsh reality. I never know how to review books because I'm a big bundle of feelings when I read. Or at least, I'm a big bundle of feelings when I read a good book. And this was a good book. It really affected my emotions – when Theo gambled away money, I winced and cringed as if it were my money she was losing. When she was sad or had a setback, I cried as if I were stuck in an attic apartment or working janitor or feeling rejected by the pretty girl. So did I take notes to help me when it came time to review Cha-Ching!? No, I most certainly did not take notes. I didn't dog ear. I didn't make a spreadsheet (that's what I usually do). I was too into the story in my body to get in my head, even though I knew I'd need my color coded stickies eventually. It was too good. What I did instead? When I finished the book, I curled up into a ball and cried. I cried for how hard life is, sometimes. I suppose a review always comes down to one thing: do I recommend this book? Hell yes, I do. Especially to our little weirdo queer online community of awesome. I think really everyone will love how this book is a 90's flashback and yet feels so of-today, so urgent and present in our shitty-economy-moment. If you ever feel unlucky or lucky, you should read this book. The words in it are both beautiful and real.
Read A F*cking Book: The Beautifully Worthless
by Carmen
I agreed to review The Beautifully Worthless for two reasons: the open road and a love of dogs. I used to curl up with On The Road and dream about what it looked like and tasted like to be there, to see things appearing and disappearing, to feel wind. At the time, I was still preoccupied with freedom, moreso than ever since I was far from free. I always have these dreams of road trips when I'm stuck. Escape always seems more pragmatic than a vacation. The Beautifully Worthless is an epic road poem that follows a runaway waitress' trip from Brooklyn, NY to Camus, Idaho – then to Pennsylvania, and then to Vegas. Poems alternate with love letters in the four-part tale of misplaced affection, lost memories, and a dog named Rorschach. Inside the book is a deep longing, a desire to find something intangible and of looking under every stone to find it. I think that's what the open road really is: a place where you look for something else, and sometimes something you don't know you're looking for yet. The narrator finds two loves to write: the girlfriend she's leaving behind and the boy she meets at an entrance to a natural landmark. For a dyke, that means there's lots of questions and quiet thinking, all in search of new pins on a map toward something else. All written in that voice. I'd recommend the book to dreamers, and lovers, and someone who likes dirty cars and hot sunlight and how it feels to finally be taking it one day at a time. I think that's you.
Ten(ish) Questions with Ali Liebegott
Carmen: The Beautifully Worthless was a novel-length poem. Cha-Ching! is a straight up novel. How was your writing process different for each book? Did the kinds of stories you were telling affect their structure? How did you decide on each story's structure?
Well, The Beautifully Worthless was more of a process of assembling scraps of poems together to make a narrative. I was very interested in epic poems while I was writing it. The journey. A quest. This sort of canonized form but that we don't really have examples from a queer perspective. Also, the female road story. How being female affects your experience of being on the road. What you have access to, what dangers may be present. And then navigating that road from a gender non-conforming body. That take on America.
Both books sort of make their structure on their own that fits the story they're trying to tell, and then as an author I follow along. For Cha-Ching! I was writing a lot of stories that featured gambling and Brooklyn and then I realized I was writing a novel. And after I realized that, I made deliberate plot choices and streamlined and tried to see what the bigger story was.
Ali: You tour with Sister Spit – give us a one sentence description of Sister Spit and what it's all about. What's the most memorable experience you've had while touring with them? Like, the thing that even if the Men In Black used that flashy-thing on you you'd still remember.
I never saw Men in Black but Sister Spit is a group of traveling queer-centric established and emerging writers and performers. It's wonderful to be able to meet people all over the country and Canada who've read your work. It's also so great to be able to bring great queer writing and performance to towns who don't always have a lot of access to that kind of thing.
C: When you were writing The Beautifully Worthless, did you find that the poetry or prose (the letters to Lamby and Peter, for example) helped you to build the story more? What were the challenges of limiting yourself to only poems and letters?
Yeah. The letters really serve as the links to make the poems hold together as a narrative. I don't know if I felt limited in that structure– in some ways writing a book with so many hybrid pieces allows more freedom. Like if all of a sudden you want to put a list in you could.
A: In your City Lights interview, you and Jolene talked about the lack of female road narratives. You argued that there doesn't seem to be a lack of people writing them, but rather a lack of people publishing them due to sexism, but that you weren't going to rant about sexism on that particular podcast. As a writer of fiction centering around queer women and their experience, I'd rather like to hear that rant on sexism.
Oh Jeez. I can't tell you anything you don't know. We know that women's stories are devalued in this society. That our work is often looked at in this "emotional" way that can be very dismissive. Or it's marketed to other women in this other horrible demeaning way. Authentic queer women's stories are just so rarely published in this country and if they are, then they're on these tiny presses that don't have a lot of support with publicity, distribution, getting reviews, etc. I think that our illnesses as a country: racism, sexism, homophobia, greed– are directly mirrored in the publishing industry in this country. Look at what is in an airport bookstore. Thank God for small presses and the work that they do.
C: I requested a review copy of The Beautifully Worthless because On the Road always intrigued me as a road narrative, and because of its almost singular role as a road narrative, and your book was said to be a queer women's experience of the same kind. I've always hated the lack of female-driven road narratives myself. Which would you recommend?
I love Cruddy by Lynda Barry. Descent of Alette by Alice Notley. And Claudia Rankine's, Don't Let Me Be Lonely — which isn't directly a road narrative but the way that the consciousness moves makes me experience it in a similar way.
C: When traveling, which songs should we all be listening to? Which sounds best with the open road in the window? Which sound best when you're sitting near the wing on the plane? Which are best listened to in bus stations?
I feel my musical knowledge stopped in 1994. I wish people would mail me CDs and keep me up to speed. I did make a playlist for Cha-Ching! for Largehearted Boy's blog.
Here are some more: Open Road: Anything Neko Case, Loretta Lynn, George Jones or Lucinda Williams Wing of the Plane: my extreme flight phobia would maybe say a Pema Chodron audiobook Bus Stations: I hate bus stations. Maybe some live stream of a baseball game.
A: I have to ask: what was the inspiration for Little Critter Hunting, the pest control book that Theo checks out of the library? Does that book actually exist? You write about unwanted house guests like only a New Yorker could. How much was research and how much of it was just city-living experience? (I witnessed a maintenance worker carry a dead rat by its tail out of a basement on St. James Place the other day and thought I was going to die, so I have a lot of critter feelings right now).
Little Critter Hunting is not a real book. I made it up. But I do know a lot about living in apartments with pests. It's so awful. The roaches are somehow worse than the mice. I can barely think about it. That terrible feeling of no matter how clean you are, you can't get rid of them.
A: How has it been to find publishing opportunities and audience when you are writing from a point of view that is not traditionally seen as "universal" or "cannon?" For other queer women creating art, can you talk about the importance of creating your own path and set of opportunities and how you've accomplished that in your career? Any pro-tips?
One good thing about being a marginalized writer is that you have a community of other marginalized writers that try to help each other. I've been very lucky to get the support of my peers. Michelle Tea has been an enormous ally to my writing career. All of my published works have been through these kind of personal relationships. I would say to others, make your work. Make the work you want to make. Not what you think someone wants to publish. Be authentic to your own voice. And hopefully you'll find your audience. I've been writing and publishing for over twenty years! I continue to do so because it fulfills me. Not because I have any hope of being rich or famous. It's hard sometimes. But I'm so grateful that there's something I want to do with my time. That I have some kind of inspiration that makes my life meaningful. The first step is always making the work. Being in community to other writers and artists. I love that about the queer community. It's very important to continue being generous to other writers and help as many voices be heard as possible.
A: In both of your books you write about adopted dogs. I hear you have one. Could you send pictures? Lots of them? We'll send you pictures of our adopted animals – Carmen has the very cutest dog in all the land and I have a demon-like black cat who is absolutely my child. Can you tell us a little about your dog?
Well, for sixteen years I had my beloved Dalmatian, Rorschach. She is the dog that is in The Beautifully Worthless. She was insane. She bit many girlfriends, and could not be trusted around other dogs. But she was very excellent as well. We traveled across America so many times together. She was like a person sitting in the seat next to me.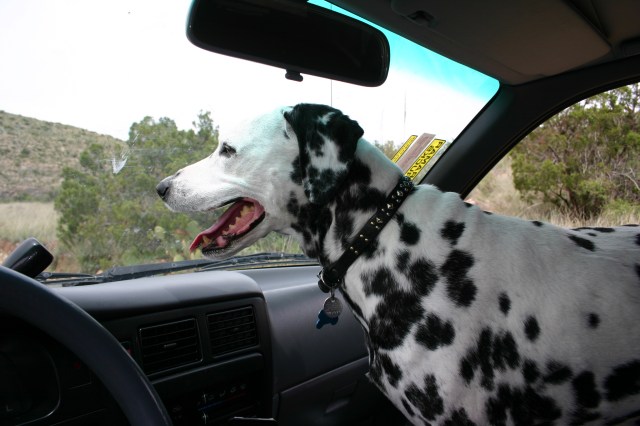 Flaca is my current dog. She is around two. I brought her home from the Mayan Riviera where I help run the RADAR Lab, the first free queer writers' retreat in existence, that I helped start with Michelle Tea. Rorschach had passed away, and I tried to foster a few other Dalmatians who proved too crazy. So then I met Flaca a few days before my 40th birthday. She looked just like a deer! I couldn't say no. But she is a very high-maintainance dog. She is part wild. They call them village dogs. So having her in a one-bedroom apartment in the Mission in San Francisco is sometimes challenging. Many times, I've thought I wouldn't be able to keep her. When they spay dogs sometimes they tattoo an ex on their belly. Flaca, has a turquoise ex tattooed on her belly. I got the same ex tattooed over my appendectomy scar. So that's kind of it. We're together forever now!
A: What is the one question you wish you'd be asked during interviews? Could you give us the answer to that question?
I never have any expectations of interview questions, but once during a Q&A at a bookstore reading someone asked, "What special power do you wish you had?" And I thought about it, and I said, "I wish that I could understand animals when they speak and that they could understand me."