Ashley (the poet) and Marine (the scientist) met at A-Camp, fell in love and set off into the sunset – on a budget. These shoestring-travel enthusiasts are hitting every major city between Boston and Los Angeles on a country-wide tour and staying with as many Autostraddlers as they can find. Ashley just released a book of poems and is promoting it on the road, while Marine is keeping things organized and on budget. This is their journey.
---
Ashley: It's 8:00am, and we are pulling out of the train station in Albany on the Megabus to New York City. This past week has been amazing. When we wrote last, we were wrapping up our week at the National Poetry Slam. After the slam, we stayed in Boston, but headed over to Cara's (who also writes awesome things for Autostraddle). We did touristy things like walking the Freedom Trail.
We also decided to climb the great phallic symbol that is in Monument Square, which was a whopping 294 steps. Mind you, it was also really hot and humid that day.
Clearly, we're making up for all our beer consumption during nationals. We also saw cool creepy burial grounds, the USS Constitution, a fancy old church, a statue of Paul Revere, and other such old historical things. We walked by Paul Revere's house, but weren't paying enough attention to realize it was Paul Revere's house until after we had passed it. Oops.
Of course our trip to Boston wasn't complete until we found MORE STRADDLERS! We met up with Jacey, our new friend who recently moved to Boston by way of California.
Marine: Since it was restaurant week, we managed to get oysters, and a 5-star meal on a budget! Go us!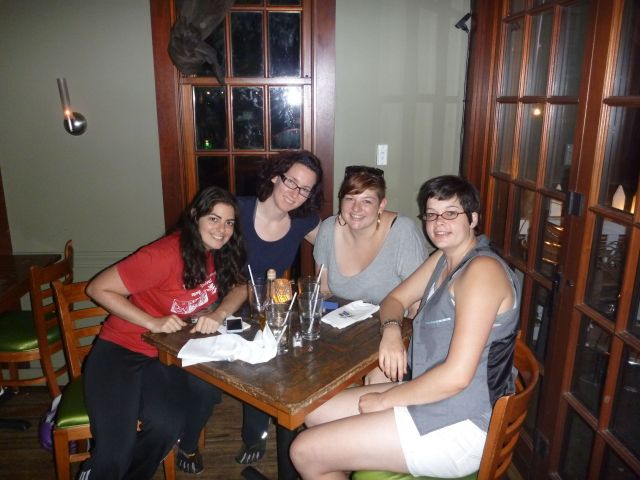 Any of you who have been to A-Camp definitely have met the next straddler we ran into.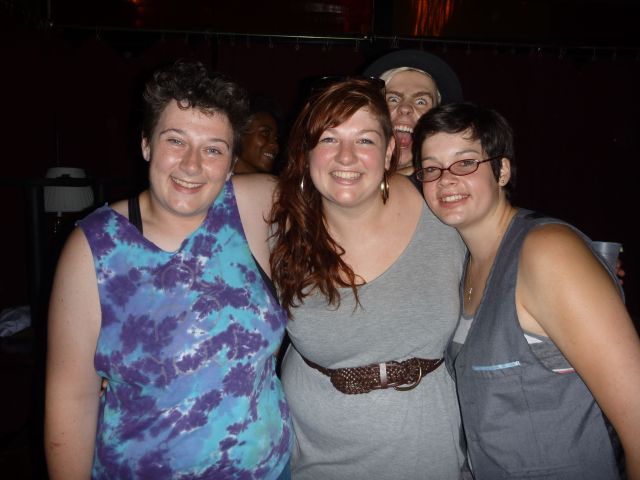 Emily took us to ZuZu in Central Square for their queer night.
Ashley: So often back home, we find ourselves in gay bars or club scenes that wind up being geared mostly towards men, or where there's no community fostered between queer men and women. This place was nothing like that- it had an excellent mix of guys, girls, and whoever rejects the gender binary! And of course, Emily knew everyone there.
After 10 days it was time to hop on the bus and head out of Boston and into the smallest state in the union, Rhode Island. We were only stopping here for one night, and didn't know anyone in Providence.
Ashley: I managed to find our host through an Autostraddle facebook group, and she was the best! She lives above a pizzeria with a few other straddlers who all seemed really excited to have us! When her roommate opened the front door wearing a Brave New Voices T-shirt, I knew we were going to have a blast.
While Rachel was at work, we walked around town and found The Providence Athenaeum, which is a book lover's DREAM.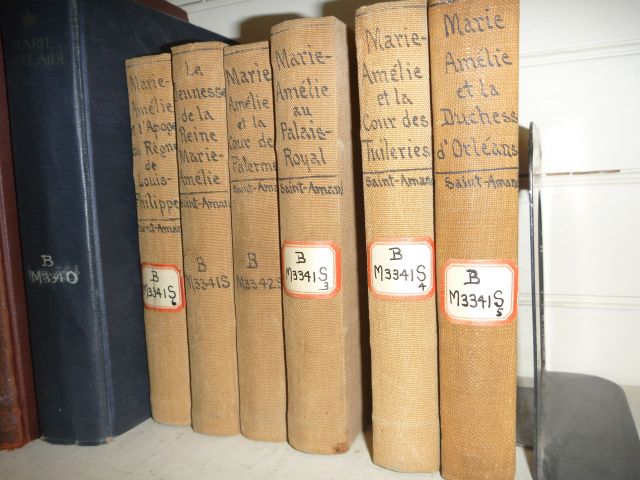 There were books in here that dated back to the 1500's, and a signed Edgar Allen Poe anthology in the rare books section.
Later, we stopped at Geoff's Superlative Sandwiches for lunch, and had a blast chatting with their super friendly employees.
Marine: The owner noticed a Ratatouille keychain on my camera, and asked if I was French. When I answered "yes", he asked, "how French?" I then proceeded to give him a quick French lesson, which all the employees got involved in. It seemed as if all the employees were dating someone who was French!
When Rachel got off of work, we met up with her and headed into town to start drinking.
Tip for traveling and drinking on a budget, go to free wine tastings! We stopped at a local wine shop for a little free wine and cheese and they were very generous!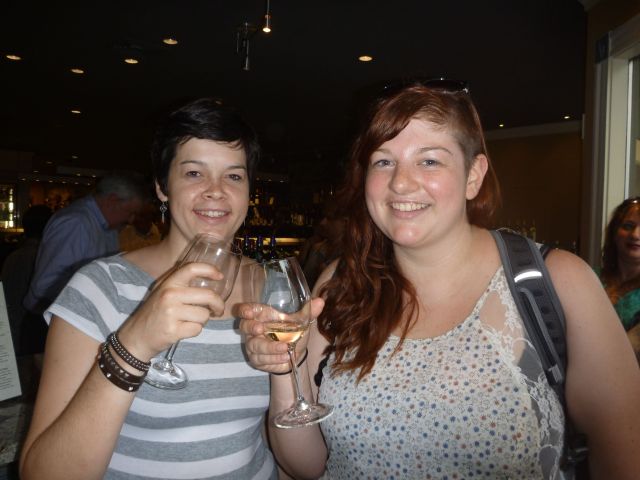 Later, we met up with other friends at The Salon for sex trivia. Sex trivia is like regular trivia, only all the questions asked are about specific sex acts, kink, sexual health, etc. and was hosted by The Center of Sexual Pleasure and Health in Providence. Daniela from the sex panels at A-Camp would have been so proud of us- we pulled a solid tie for 2nd place!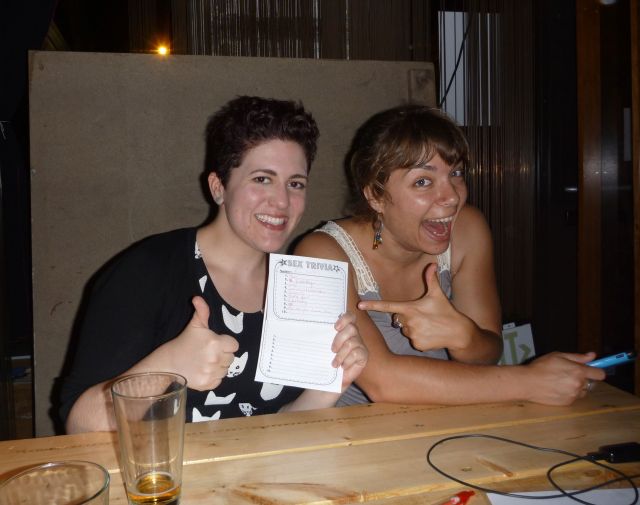 We also tried this weird strictly Rhode Island thing, which is coffee milk. Please leave us a comment if any of you have tried it, because it was totally foreign to us, and everyone we've met since then! Essentially, it's like chocolate milk, only with coffee flavored syrup.
Rhode Island was extremely welcoming to us, and we're so grateful to have met such great people, and Albany, New York was our next stop the following morning. We hopped on the Peter Pan Bus and met up with our A-Camp cabin mate, Hannah! We went into town and grabbed dinner, then walked around and checked out the local bar scene. We went into one of the local gay bars, Water Works, and though it was a male-heavy atmosphere, I felt pretty welcomed and the drinks were heavy handed (on our budget, this is a good thing).
In the morning, Hannah's mom took us in her convertible up to Saratoga Springs and to Yaddo Gardens. Hannah's mom joked about us being from California and probably thinking convertibles were boring, but we had never actually had a ride in one!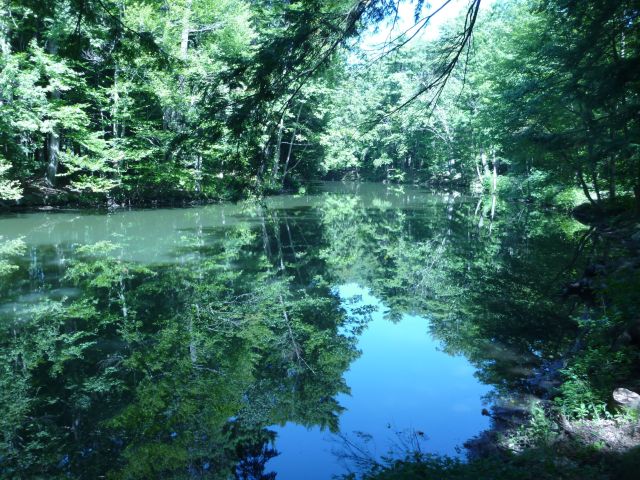 That night, Hannah's mom took us to the Albany Pump Station for dinner and drinks and we had an awesome girl's night out. We were treated like family in the Trees' home. It was a bummer to get up so early and leave yet another amazing place this morning, but we can now see the New York City skyline beginning to peak through our windows on the bus. We can't wait for what's ahead.
We still need housing in:
-Richmond, VA (09/15-09/18)
-New Orleans, LA (10/12-10/13)
Up next: New York City, and Grandma's house in New Jersey! For more pictures and extras visit our wordpress!