In Singapore, a nation-wide survey by the Institute of Policy Studies (IPS) found that "society in general did not accept gay lifestyles" and was "even less supportive of same-sex marriage." The survey was done as part of a year-long project called Our Singapore Conversation (OSC), meant to signal a step back from government-directed progress as it brought citizens together to discuss the nation's future.
In support of the Our Singapore Conversation (OSC), a representative survey of 4,000 Singaporeans was conducted by the Institute of Policy Studies (IPS) in conjunction with the OSC Secretariat from Dec 2012 to Jan 2013. The survey aimed to provide a snapshot of the priorities, values and preferences of Singaporeans.
The fact that these questions were asked at all – alongside issues such as housing, education and healthcare – is likely reflective of a political climate in which the concerns of LGB(T) people are increasingly in the spotlight: two constitutional challenges have been filed against Section 377A (a law which criminalises gay sex), Pink Dot (an annual gathering of LGBT people and straight allies) has seen considerable year-on-year expansion, and organised civil activism is at an unprecedented level. The only other key area explored under the "Social Values" section of the survey was state censorship.
However, surprising absolutely no one, these survey questions were very, very poorly done.
That's Not What She Said: Misrepresenting the Results
Broken down by age group and education level, here is what the OSC survey found its respondents had to say about "gay lifestyles":
Overall, 47% of the sample group "rejects gay lifestyles." 47% does not make so much as a simple majority, much less "society in general," and yet, unsurprisingly, this is the angle both the IPS report and mainstream media coverage has chosen to take.
It could be similarly argued that the counterclaim of "53% are neutral or supportive of gay lifestyles" would be liberal spin, and perhaps it would – except no headlines are screaming this, so it's also inconsequential. It's worth bearing in mind that social progress does not require that a majority "accepts gay lifestyles": it simply requires that most are okay with it or don't care either way. Hearteningly, it seems that we're there.
I am additionally skeptical of claims that the survey results lend credence to the popular narrative that most are unmoved by the issue. Dr Leong Chan Hoong, an IPS Senior Research Fellow, said, "Many Singaporeans are just indifferent to this issue, and the large percentage of 'neutral' corroborated that."
It is true that 27% is a pretty large group of people reserving judgment or expressing indifference. Yet it is just as true that 73% – an actual, clear majority – are distinctly polarised on this.
In interpreting the results for the media, Dr Leong further mischaracterises the nature of the tension between these two polarised groups, using the analogy of right/left-handers:
"It doesn't matter if a person is left-handed, even if the majority [is right-handed]. However, if left-handed people insist that we put in place an alternative left-handed device for every gadget, then, of course, there will be tension between the two groups."
As mentioned earlier, it's not clear that it really "doesn't matter if a person is left-handed." More importantly, it's not true that us metaphorically left-handed people are "[insisting] that we put in place an alternative left-handed device for every gadget." This presumes, firstly, that left-handed devices already exist – and they don't. There are no provisions made for LGBTQ people (in stark contrast to the plenty put in place for heterosexual married people) in access to state institutions and resources at every level, from decriminalisation and anti-discrimination protections to access to public housing and healthcare.
Second, it also goes right back to this bizarre and yet strongly prevalent idea that we're "promoting alternative lifestyles" with our devious left-handedness, and that the resultant aggression is our fault for asking too much when really people would've let us be if we'd just kept quiet.
Why don't we have an alternative left-handed device for every gadget?
However the statistics are spun, the fact that 47% of Singaporeans have expressed negative attitudes about "gay lifestyles" is still a concern. These people aren't apathetic, they're actively homophobic in some way or form. But how? We run into yet another problem when we find that "gay lifestyles," much less what it means to "reject" or "accept" them, has no meaning, which brings us to:
Asking All the Wrong Questions: Flaws in the Survey's Design
So, "gay lifestyles."
sometimes i imagine ducks pro-creating to the music of Backstreet Boys, and then the ducks take over the world. #gaylifestyles

— swagquack (@quacko_quack) August 25, 2013

https://twitter.com/POZboySG/status/371881585760407552

I don't care. I am promoting my gay lifestyle. It is now Major Gay Lifestyle.

— Mr Miyagi (@miyagi) August 26, 2013
Most of the critique of the survey so far has been specifically about the use of this phrase, so I'll point you in the direction of "Not Your Gay Lifestyle" by Sayoni, a queer women's group and "This "gay lifestyle" bullshit needs to stop" by Kirsten Han, a freelance journalist. I also highly recommend this brilliant piece by artist Tania De Rozario satirising media coverage of the results.
The follow-up question on same-sex marriage simply strikes me as misplaced for a country that hasn't so much as decriminalised gay sex and a civil society that has not explicitly vocalised this aim. In a survey about values, it is rather disingenuous to highlight a specific policy and especially such an unrealistic one. If we're going down this route, why not just ask people what they think about 377A?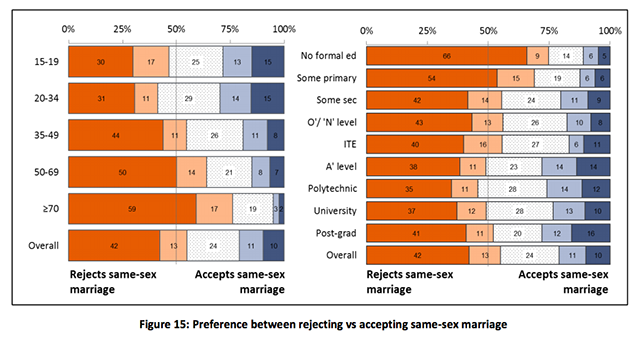 The integrity of a survey's results is only as strong as the questions it asks. But honing in on this single issue would lead us to overlook its broader implications, which then brings us to:
This Shit (Sadly) Matters: Implications on Policy, Legislation… and Activism?
No amount of grousing about flawed terminology or methodology, no matter how valid, is going to stop this survey from being taken seriously in ways that matter – and likely at face value, too. Couched in the framework of the largest public engagement drive to date, undertaken by an established academic body and backed by the government, these survey results will influence legislation and political rhetoric for years to come. The 4,000 respondents here matter more than the 21,000 people at Pink Dot, the growing crowds at IndigNation, and everyone who's participated in the non-government National LGBT Census.
We are not going to be able to discredit this survey or make it irrelevant. So we need to start thinking about what it means for us.
The government's position for the past few years, mostly specifically on 377A, has quite consistently been "we'll change when the majority changes." Whether directly or indirectly, public surveys like these will feed into short-term decisions such as those on the pending constitutional challenges to 377A. The Court will likely pass the buck to Parliament which will then turn to "public opinion." And here you have said opinion.
Some have seen signs for optimism in the results of this survey, pointing out that those who are younger and have more paper qualifications are less negative about "gay lifestyles." I have my doubts.
I don't think we can assume the majority is moving slowly but inevitably towards acceptance. I'm not under the illusion that if only the survey had been worded better, it'd have revealed a different reality; I do believe that a significant part of the population is homophobic (not apathetic, but homophobic). While acknowledging that the results of this survey show marked improvements over past (similarly flawed) empirical studies of opinion, I don't think it wise to take for granted that this will continue to be the case.
Asked whether the greater acceptance of gay lifestyles and same-sex marriage among younger age groups would indicate a more liberal society in future, Associate Professor Tan noted that there were two main theories in academic literature.

"One is that people change from being liberal to being more conservative as they grow older – more like a life-cycle kind of theory," he said.

"The other theory is that, if you're born in an era or in a certain generation where people tend to be liberal, you continue to be liberal throughout your life. So, you can't really tell whether this is the case."
The increasing visibility of the LGBTQ movement in Singapore has been met with vicious backlash, most notably from the leadership of Christian megachurches. It is far from a balanced fight: while Pink Dot's 21,000 supporters is a figure (rightfully) bandied around with pride, Faith Community Baptist Church (FCBC)'s Lawrence Khong leads a 10,000-strong church and further sees himself fit to speak for LoveSingapore, "an informal, relational network of some 100 churches with a membership of at least 40,000 Christians." Opposition politician Vincent Wijeysingha came out recently, but he clearly has significantly less sway (and one less political seat) than Emeritus Senior Minister Goh Chok Tong, who personally visited FCBC and who sits in a Parliament in which Christians are overrepresented.
The idea that most people don't care is likely to hold less water as people become more politically engaged overall. There is no predicting which side their views will fall on this, and no use just hoping it'll be on ours.
I'd further argue that the odds are stacked against us because while we can critique Leong's left-handed analogy, to many people it probably seems that LGBT rights, especially same-sex marriage, would negatively impact straight people here — and they have reason to feel that way. We live under a government that quite specifically privileges the heteronormative two-parent nuclear family and places citizens in hierarchical order – sometimes competition – for access to state resources. Allowing queer people to get married and recognising queer-parented households as families means permitting us access to the plethora of policy privileges currently reserved for heterosexual citizens in housing, parenting provisions, and so on, and those resources are already perceived to be in short supply.
Focusing specifically on housing, which is both a key concern for all Singaporeans going forward and one in which discrimination based on sexuality (and marital status) is most apparent, the recent move to allow (a very small group of) single people to buy flats was welcomed but raised persistent fears about rising housing prices and the shortage of public housing. These concerns will only intensify – and have the potential to turn highly antagonistic – if gay married people are given housing ballot tickets too.
When people feel they're losing out, they turn against the people they think they're losing to. We see this in anger against immigrants (taking our jobs) and ethnic minorities (having too many babies, straining state welfare). As a minority group, not only will LGBT people always be vulnerable to changeable majority sentiment, current policies that privilege a certain family structure actively incentivise our exclusion.
More fundamentally, delving too deep into what the majority says and why runs the risk of losing sight that the rights of minority groups should never be subject to the whims of the majority. We cannot afford to wait to see if straight people will allow us to be and then let them decide how they will.
Yet this is clearly the path the government is choosing to take, so if nothing else, let the shitstorm this single survey statistic – symptomatic of a much larger system of institutionalised discrimination – has inspired remind us that our solution does not lie in the state. Our liberation will not come from appealing to the "silent majority." Keep at "family-friendly" events like Pink Dot and challenges within the legal system, but never let this be the sum total of our movement: we need to be much, much more than "accepted."