Season affective disorder (also known by its pathetic acronym "S.A.D.") use to be something I didn't believe in. I was sure that, like TSS, asteroids, and ghosts, S.A.D. was one of those things where the amount of time spent worrying about it is inversely proportional to the likelihood of actually encountering said predicament. What's to hate about winter? Winter is a time for sledding, hot cocoa, and snow days. Is it even possible to experience depression while ice skating? I was sure S.A.D. was a sham.
That all changed three years ago when I moved to a city. I became a believer in December of 2008, specifically the week when, still getting over my breakup with my first girlfriend, I spent my last dollar on waffles in an attempt to ingest happiness. This was the same week that I was diagnosed with vertigo and got in a verbal altercation with the TSA after they attempted to confiscate my space heater (my last bastion of hope) due to its bomb-like qualities. In my delirious, overly-dramatic, and freezing state I finally admitted it to myself: Seasonal Affective Disorder is real.
Winter is one of those things that can really start to suck once you're an adult. Suddenly you have responsibilities which include but are not limited to buying groceries in subzero temperatures (again), shoveling your stoop at 3 a.m. so that your neighbor who leaves for work at 5 doesn't call your landlord and threaten to kick you out (again), taking your roommate's dog for a walk so that he doesn't pee inside (again), and finding your way to jury duty when public transportation's been shut down (again). And did I mention work? Every school in the city might be closed but that doesn't mean your office is!
This year I've decided to take steps to make sure winter isn't horrible. I've rounded up some of my best survival tips so that we can all make it to April healthy and mostly sane.
+Month-long Subway Pass:
While I'll admit that the idea of paying $80/month for the pleasure of waiting in sleet for consistently-late buses to show up made me want to punch SEPTA in the face, it's really one of the only reason I survived last winter. Instead of hibernating alone in my apartment because I didn't want to spend money on subway tokens, I had to use my pass as many times in a month as I possibly could to make the investment worthwhile. I ended up going over to friends houses a lot and going to the good far-away grocery store more than once a month. Since eating well and keeping loneliness at bay are two of the hardest things about winter, I like consider myself a champion.
+Neti Pot:
In my capacity as resident person-willing-to-try-potentially-gross-but-potentially-awesome-things, I went to CVS and got myself a neti pot. Let me tell you friends, my life has changed forever. Yeah, it's kind of disgusting, but it's also super effective. Unlike douching with lysol, rinsing your nasal cavity with saline is non-toxic, fun, and won't make men want to sleep with you.
+Exercise:
Never estimate the power of endorphins. Or how good it feels to be a regular somewhere, even if that somewhere is only a gym. With exercise, I take the same approach as I do with public transit and buy in every month so that I'm forced to go as many times as possible. I know it costs a lot of money, but having paid for both, I can tell you that $40/month for a gym membership is a lot cheaper than a therapist. If traditional gyms aren't your thing, I think rock climbing is pretty fun too.
+Vitamin D Pills:
Apparently the culprit behind S.A.D. is vitamin D deficiency. We absorb vitamin D from the sun's rays which is why in the winter, all bundled up in coats and scarves, we don't get as much as we need. I'm a big fan of sunbathing on the floor of my room, but on days when I have to be up before the sun, I take a tablet.
+Coconut Oil:
I've got an analogy for this one:
coconut oil : me : : windex : the dad from My Big Fat Greek Wedding
This stuff is amazing. My skin typically considers winter a nice time to stage a mutiny against the rest of my body and attempts to escape one patch at a time. Coconut oil is my secret weapon against such lovely skin conditions as eczema, psoriasis, dandruff, as well as normal old dry skin. It also smells nice, is good for cooking, stops bug bits from itching, hydrates your hair, and according to Betty Dodson can be used as lube.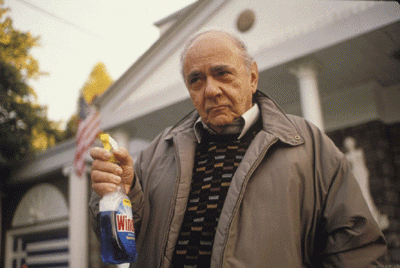 +Plants:
Because it's enough of a challenge to keep myself alive and thriving, I don't have any children or animals yet. I do, however, have some really nice plants. Plants keep your air clean and are a tiny reminder that winter doesn't last forever. You may not be able to snuggle with your plants, but you can sing to them. Plus I had a crazy psychology teacher once who told us that when plants witness a crime, they can tell investigator who the murderer is.
+Adventures:
It doesn't matter if you're playing games, building a fort, visiting a coffee shop, or cooking something new; the idea here is to watch as little TV as possible. Television is filmed in obscenely sunny places like Los Angeles and gives you unrealistic expectations about what your life should be like. No one on TV ever looks cold and seeing Stabler and Benson walk around in New York in the middle of winter like it's no big thing makes me feel like a wimp for refusing to leave my house without two pairs of pants. The thing is I'm not a wimp, I'm a champion (see above) and I don't need TV sending me negative messages.
+Slippers:
Warm feet mean a warm body. Coziness is happiness.
+Spooning Partner:
It doesn't matter if your spooning partner is your sig oth, your dog, your friend, or your mom. Spooning is an excellent way to save on your electric bill and to remind yourself that you have people in the world who care about you.