Hello beautiful, and welcome to How To Own It, where store-bought fashion meets DIY crafts. Each week I'll be exploring an aesthetic theme, showing you some of the best ways to wear it and how to make it for yourself.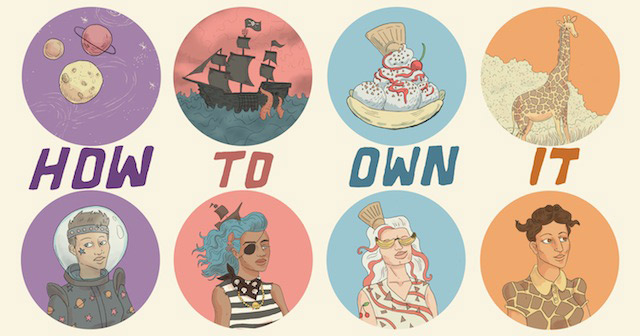 ---
Here at Autostraddle, we love talking about bow ties. And why wouldn't we? Bow ties are cute and dapper and fabulous all at once. We've even talked about how to wear bow ties without actually wearing a bow tie, and gave you some ideas for non-fabric bow ties to really shake things up. Since Laura already taught you guys how to sew your own bow tie back in September, I thought today would be a nice day to delve into some non-normative bow tie territory: the wooden bow tie. The wooden bow tie was included in Ali's amazing post about nonconventional bow ties, and because I was so excited about it, I thought I'd add to the one she found for you. Look at all these cute ones!
Also: this week I'm debuting a super special surprise THIRD option for how to own this week's thing! So keep reading.
DIY Pin-On Wooden Bow Tie
You will need:
A wooden paint stir stick
Sand paper
Heavy duty scissors
Higgins Ink in brown
Silver acrylic paint
Glue
2 pinbacks
1. Have you ever noticed that the handle part of a wood paint stir stick kind of looks like a bow tie? Look again. This is going to be the base of our bow tie. Measure how long it is from the end to the center of the part that dips in a little bit. The bow tie should be symmetrical, so measure this same distance out on the other side and mark it. Using your heavy duty scissors, cut the paint stir, carefully making sure it doesn't splinter.


2. Use your sandpaper to smooth out the end you just cut. Round the corners so that they match the other side.


3. Use part of the rest of the paint stir to make the center of the bow tie. Hold it in the middle of the bow tie base to see how big you want it, then mark it, cut it, and sand it so that the edges are all rounded.


4. Paint the back of the bow tie with the brown Higgins ink. Dilute the ink in water if you want a lighter stain color (or, don't do this step at all). Paint the center piece silver. Then, glue the center piece down using wood glue or rubber cement.


5. If you have a bow tie clip, go ahead and glue that onto the back. I used to two pin backs and glued them vertically, 2.5 inches apart.
I'm going to be honest with you: I love the way this turned out, but I'm never going to wear it. So, do you want it? I'm serious. I'll send it to you. Tell me why you want to own a wooden bow tie in the comments section and/or send a tweet to @Gabrielle_Korn. If more than one person wants it, I'll pick names from a hat in a week from today. If you leave a comment AND tweet at me, I'll put your name in twice. I'll also put your name in twice if you write me a haiku.
Sound good?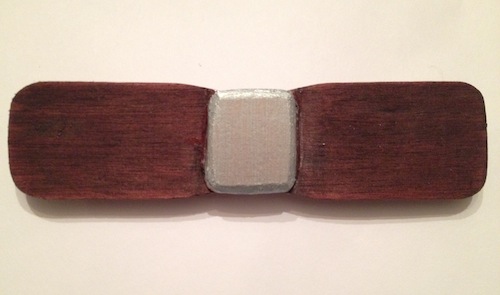 ---
Want to know how to own a look? Email gabrielle@autostraddle.com or tweet to @Gabrielle_Korn.
Header by Rosa Middleton