Maybe you've just gone through a horrible, terrible breakup. Maybe it feels, as my friend put it to me once, like you're at the bottom of a well but also in quicksand? Stuck, sinking, swallowed up in darkness. Maybe it feels like nothing is in your control, like imagining the future is impossible. Breakups tend to thrust us into the past but also keep us shackled to the present. How do you remember to move forward again? How do you gain back a little bit of control? Well, one way is to just absolutely demolish your hair and turn it into something exciting, new, and beautiful.
Ah, yes, the post-breakup dramatic hair change. It's a concept familiar to many of us. When anything in my life is going just the slightest bit wrong in a way that makes me feel not quite like myself, I like to match my internal identity crisis with an external one. I should have listened more to my gut last year when I had the sudden urge to spontaneously dye my hair a purplish-red, strutting into a salon after work with what I'm sure was completely unhinged energy and asking if anyone was available to lift and color my hair in the two hours before the shop closed. I tried to convince myself I was being FUN and IMPULSIVE. Maybe I was being both of those things, but the need for a physical change was also my way of just beginning to grapple with the psychological effects of my then-girlfriend long-term lying to me.
Then we finally broke up, and I bleached the hell out of my hair — at home, in my bathroom, with a dear friend, while listening to the official Spotify curated playlist called Teen Party. It felt great, and it still does. And I am here to give you permission to do whatever you want to do to your hair in the wake of heartbreak or sudden change. But maybe you're not exactly sure what you want — in more ways than one! Well when it comes to the hair, I'm here to help. Here are some options for post-breakup dramatic hairstyle changes as well as some words from my pals who have gone down this path before and come out on the other side looking hot, even if they still felt like they were decaying on the inside for a bit.
---
Chop It Off
This is the most obvious breakup haircut. Just hacking as much as possible off. Maybe you're considering doing it yourself—in which case, my advice to you is to take several deep breaths and really make sure that it is what you want. Listen, I'm the queen of impulsive decisions when it comes to my hair. But a self-chop is a whole different game and something that I do not personally have experience with, because if I were to cut my own hair it would, uhhh, not go too well. Does that mean I have never had the urge? Absolutely not! I have often, in particularly emotionally tumultuous moments, threatened myself to cut my own hair. But after some deep, intentional breathing, I realize it is not what I actually want, that it would actually be the exact opposite of what I want by making me feel very reckless and out of control. So decide if it is coming from the right place, if taking matters literally into your own hands is what's right for you. And if it is, by all means proceed!
My friend Emily self-cut her hair into what is easily one of the best post-breakup glowups I've ever seen? She went from long to a bob and even self-cut bangs, which makes her the bravest person I know. If you have skills like Emily, then definitely go for that drastic self-cut.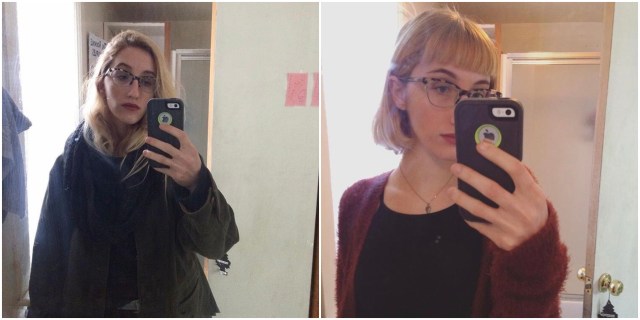 But if you are, like me, not skilled with this particularly kind of scissoring, then book an appointment with your stylist. Or just walk in somewhere! A big part of the breakup haircut appeal for me is at least some sense of spontaneity. Another thing I love is getting my hair cut in a city I don't live in? That can feel very fun and luxurious!
Go short! Go funky! Go layered, because you yourself are layered despite the fact that you might feel completely reduced into just blanket sadness in this moment in time. Get a bisexual bob! Get an undercut! Get something you never thought you'd get before or that you always kind of wanted but never pulled the trigger on.
Autostraddle's own Sarah had her hair cut to her shoulders and got bangs (in my research, Breakup Bangs certainly do seem to be a thing) after her breakup despite always having had long hair for her whole life. "It made me feel more confident and my hair felt lighter, like shedding all that weight made my hair more bouncy and curly," she told me. "I don't think it was part of the healing process, but it was definitely part of the aftermath of settling into my new reality after moving across the country and wanting something new."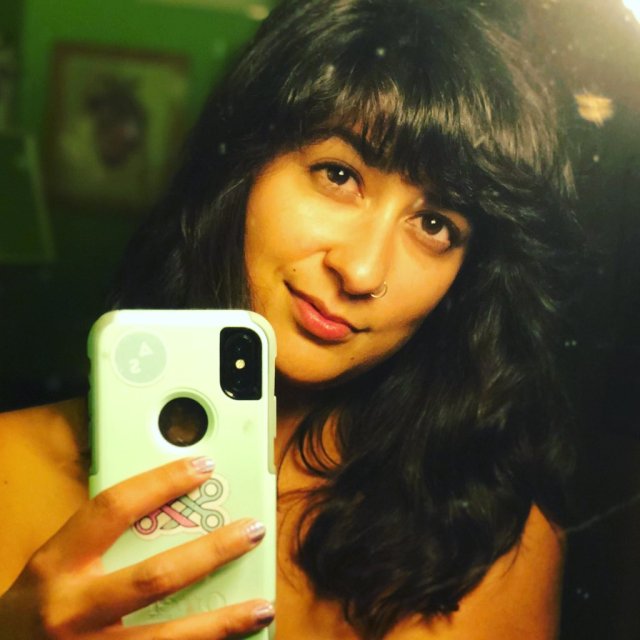 ---
Color/Bleach It
I love coloring my hair. And unlike cutting my own hair, this is something I will indeed do at home. If you're choosing that route, my number one piece of advice to you is to read the box in-store and read the directions thoroughly multiple times. When selecting a dye, make sure you're buying a product that's right for your hair type and color (that's where reading the box comes into play). The guides on the back of the box that show before and afters are often VERY exaggerated. If you have dark hair, expect less drastic results, unless you plan on bleaching first (more on that in a bit). If you have a lot of hair, buy two or three boxes of whatever color you're getting. The box kits will come with gloves and other tools, but it helps to also have extra gloves, a wide-toothed comb for pulling color through, multiple hair clips, and old towels and t-shirts that you don't mind getting dye on.
If you've colored your own hair before, then go for it. But this is another instance where even if you're doing it at home I'll gently suggest getting a friend to help out. My mother usually colors my hair, but after this most recent breakup I enlisted my friend Caroline to help me out, and we made a very fun night out of it! You have to wait for large chunks of time while it processes, so get some snacks and make it a hair dye/movie night.
Ok, so, BLEACH. In talking to a lot of people about their breakup hair, bleach came up a lot. I think there is something very appealing about stripping away all color. I will say this: There is literally no healthy way to bleach your hair. There are other lightening tricks out there that only really work on hair that is already light. Bleach does the trick, but it's also super damaging. Maybe not as damaging as the fuckery that your ex did to you! But damaging nonetheless. So just… be warned if you're a first time to the Breakup Bleach Club. Bleach is also, admittedly, harder to tackle at home (though that hasn't stopped me!).
@shrillhouse on Twitter reached out to tell me her friend helped her bleach her hair after a complicated breakup but then she eventually had to go to a salon to make it less orange, which is definitely a common issue with at-home bleach. But once she got the look right, she told me she felt fun! A hard feeling to feel after a breakup! "It was really refreshing to just do something different and be able to literally see myself as someone else than the person I was in that relationship," she said.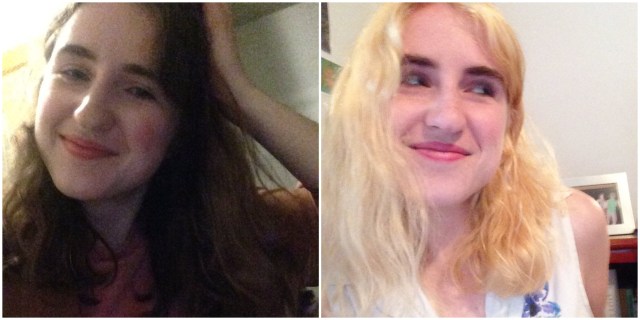 Because of the aforementioned damage associated with bleach, you can also opt to do a partial bleaching, like my friend Lucy who had a hairstylist friend bleach the bottom third of her hair after her first major breakup. It started a three-year period of changing the tops of her hair to different colors every few months. (If you have dark hair and want to experiment with wild colors, you have to bleach first and then put color on top.) "It felt really good to differentiate myself and to do something that I thought was edgy and hot—and to assert my individual identity," she said.
You can, of course, also just have this done in a salon, but be warned that it can get pricey. A lot of salons require a consultation at least 24 hours before major color jobs, so look into that. Have a clear idea of what you want. A plus side of having it professionally done is that the stylist can mix colors to get a shade that is perfectly tailored to you and what you want. Bring photos!
---
Get Creative
Not everyone is down to permanently color their hair with chemical poison, and not everyone can just chop off their hair on a whim, but there are plenty of other options that still can yield drastic results. If you have light enough hair, you can use semi-permanent dyes or products like Overtone or Lime Crime Unicorn Hair, which are color depositing conditioners that are way less harmful on hair.
You can also get extensions or a weave or braids or wear a wig. (If you're white or a non-black POC, just don't culturally appropriate hairstyles that don't belong to you, please.)
My friend Vivian got a breakup perm which is, frankly, genius! And she told me that she likes the passiveness of going to a hair stylist after a breakup. You just sit in a chair; they work their magic; the results are immediate.
Another friend, Celina, started blowing out her naturally curly hair after her most recent breakup. "My former partner would often comment on how beautiful my curls were, so this felt like a direct fuck you to her," she said. Damn! She, too, expressed the feeling of accessing a version of herself that was different from who she was in the relationship via a new look. It's also about protecting herself a bit. She explained to me that she doesn't want to let women see her in her realest and most natural state until she knows things are serious. For her, there's a genuine connection between hair and intimacy.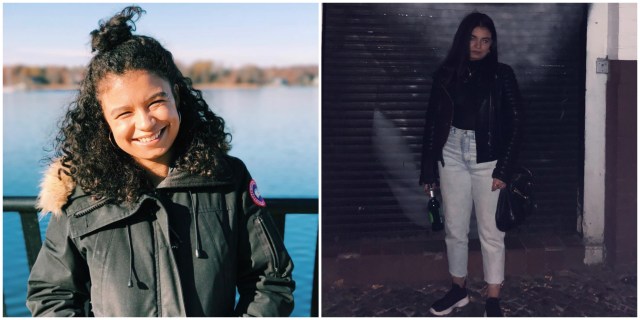 You can even, I learned, grow out your hair as a deliberate breakup choice? It's not what I gravitate toward after a breakup since it takes time, and I want that sweet, sweet instant gratification and also the shock factor of other people's reactions. But Stephanie reached out to me and shared her story, explaining that cutting her own hair used to be something she did in crisis and manic modes, so when she left an abusive relationship, she stopped cutting it herself and went from a chin-length bob to long hair. "I hoarded my hair like I was regaining and healing myself," she told me. "It was a sign that I was finding my happiness again instead of cutting my hair as a form of self-mutilation."
So there are, it turns out, many ways to accomplish a striking Breakup Look via drastic hair changes. Seize control of your image! Be hot as a form of revenge! Do it for you! Just feel good about something in a time when it's so easy to feel bad about everything.