In the final scene of the series finale of BoJack Horseman, Diane and BoJack are sitting on the roof in the wake of — well, everything. BoJack spent six seasons repeatedly destroying his relationships, his career, his sobriety, and the grace and goodwill of everyone in his personal and professional life. Everyone except Diane Nguyen. Diane who is his crush, the ghostwriter of his memoir, his pal, his adversary, his confidante, his conscience, his tether to reality and any semblance of normality. Diane always forgives him, in large part because of the thing between them, the indefinable and undeniable connection.
BoJack has always hovered near the edges of self-harm and suicide, and before his season six attempt to drown himself, he called Diane and placed responsibility for the whole thing at her feet. On the roof, in the finale, she forces him to remember the drunk and high voicemail he left: "Call me back if you don't want me to go swimming; otherwise, I'm just going to assume you don't care."
"I thought you were dead," she tells him. "For seven hours, I couldn't get in touch with anyone, and I thought you were dead — and it was my fault for leaving you or for feeling good or for not worrying."
He's ashamed. She's angry. But they're them and so they banter around it. BoJack kind of laughs and says, "Wouldn't it be funny if this was the last time we talked?" She doesn't answer him, and her silence says it all. She sees him and all his fuck-ups fully, and she loves him. Maybe not like he wanted her to, but she does love him.
And she's finally done with him.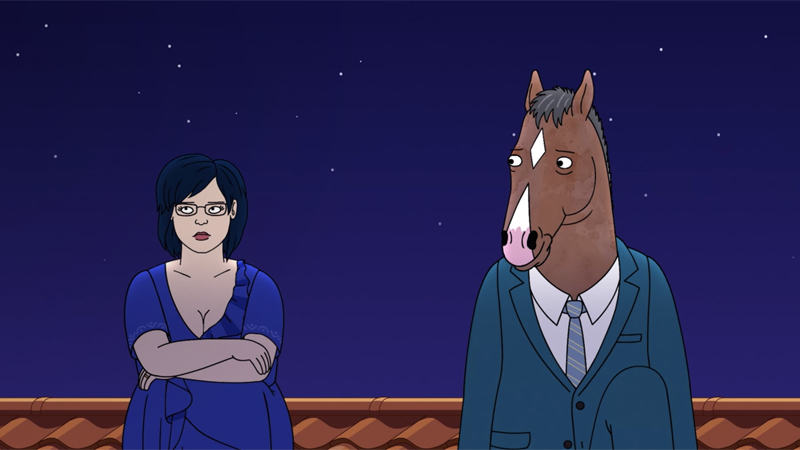 Walking away is having a moment. In Abby McEnany's critically acclaimed series, Work In Progress, Abby counts out 180 almonds — a passive-aggressive response to her co-worker telling her if she'd snack on more nuts she'd lose weight — and is working her way through them, one each day, with the threat that she will kill herself if she's not happier by the time she finishes eating them. She's depressed and she struggles with OCD, she's blown up most of the connections in her life because of it, and nothing is able to snap her out of her misery. Until she meets Chris, a trans man who is genuinely and wholly smitten with her, and who soothes, at least sometimes, her longstanding insecurities and deep trauma and harsher impulses. Their blossoming relationship is tender and fun, even when it's hard. Chris only asks Abby for one thing: not to seek out or use his birth name. He doesn't explain his trauma around it to Abby or to the audience; he expects her and us to understand. She does. And so do we. Which is why, in the season one finale, when she shouts out his dead name — after discovering it on a pill bottle — on the street to punish him, we know she's pushed him too far, and that this is the end of them.
And it's not just "adult" TV. On the most recent season of Netflx's celebrated and GLAAD Award-nominated animated series She-Ra and the Princesses of Power, fan favorite and basically series co-lead, Catra, sees her most loyal friend and fellow force captain, Scorpia, finally refusing to put up with her behavior any longer. Scorpia's motto, the thing she says to herself every morning, is, "I am brave, strong, loyal, and I give great hugs. And I am going to be the best friend I can be!" She's stood by Catra's side through it all: Catra ignoring her to obsess over Adora, Catra insulting her, Catra barking orders at her and threatening her, Catra opening up an otherworldly portal that nearly destroys the entire planet. Scorpia makes excuses for Catra — she's just tired, she's under a lot of pressure, she's dealing with intense grief because everyone she's ever loved leaves her — but when she realizes Catra exiled their friend Entrapta to the sinister Beast Island, and when she threatens to do the same to Scorpia while also threatening to maim her robot pet, Scorpia tells Catra, "You're a bad friend" — and she finally leaves her in alone in the Fright Zone.
TV antiheroes engaging in morally dubious behavior and battling their dark sides is nothing new. In fact, the rise of the prestige TV drama coincided with the rise of the — often Emmy- and Golden Globe-winning — antihero drama. Gregory House (House), Patty Hewes (Damages), Tony Soprano (The Sopranos), Nancy Botwin (Weeds), Walter White (Breaking Bad), Dexter Morgan (Dexter), Jackie Peyton (Nurse Jackie): they're all household names. The shows are different, but they all have one thing in common: no matter what the protagonists do — from standing up dinner dates to stabbing their enemies in the chest — they keep audiences rooting for them to succeed and believing they can master their destructive impulses and change for the better, for good. They keep audiences hoping for the characters they hurt to forgive them, to heal them, to redeem them, to help make them whole.
No one embodies this cultural moment more than Mad Men's Don Draper, a categorically terrible husband, father, boss, employee, and person. Over the course of the show's seven seasons, Don has his moments of goodness — mentoring his former assistant, Peggy Olsen; sharing his love of movies with his son, Bobby; supporting Anna Draper, the wife of the man whose identity he stole during the Korean War — but mostly he is selfish, short-tempered, arrogant, unreliable, controlling, demanding, and sometimes downright violent. In the series finale, it seems like Don is finally going to reap the karmic comeuppance for the emotional carnage he's left behind in his life. Instead, as he sits down on a hill to mediate, in a retreat center full of hippies he loathes, he conceives the idea for "I'd Like to Buy the World a Coke," the greatest ad campaign of all time.
The last few years have seen a shift in the way trophies are distributed at major awards shows, with more and more series and actors being nominated for portraying characters succeeding — even if that just means remaining hopeful — against the odds, especially in situations over which they have no control; or learning how to be genuinely good people. Pose, The Good Place, Westworld, This Is Us, Schitt's Creek, Queen Sugar, The Handmaid's Tale, Westworld, GLOW, The Marvelous Mrs. Maisel, to name a few.
Whatever dichotomies exist between the TV series we celebrate the most over time, one narrative constant has remained — the best people don't give up on each other. Consider the Golden Age of family sitcoms. No matter what happened on Family Matters or Family Ties or Fresh Prince of Bel-Aire or Growing Pains or Alf or 227 or Cheers or Facts of Life, at the end of 30 minutes — or an hour if it was a super special episode — the people who loved each other always worked it out.
Or if you really want to time-travel, how about everyone's favorite Bible story, the one where God burns down Job's house, slaughters his livestock, murders his family, inflicts him with some kind of plague, and then gloats to Satan that, see, Job is sitting on that hill covered in boils and stricken with unspeakable grief, but Job still loves him and that's what a true man of faith is all about, letting the literal God of the universe torture him while he stands there and takes it.
It's what Tender Heart Bear proclaimed in The Care Bears Movie: "We care about everyone, even when they don't care about us!"
It is, of course, an oversimplification to say that people who hurt others don't care about them, even when that hurt is perpetual. It may absolutely be the case that they don't care, but often, the truth is more nuanced. In Work in Progress, Abby's self-involvement is played for laughs and it's portrayed as something for which she both needs and deserves deep compassion. She spends a lot of time thinking about herself because she's trying to understand why she's doing what she's doing, why what she's doing makes her such a target for other people, why being a target has caused her so much enduring mental torment, and why that enduring torment compels her to be so volatile in relationships. And because she thinks about it so much, she talks about it constantly. It remains unclear whether she's making attempts to understand her own behavior so she can actually be a better person, or because she wants to excuse it via elucidation around what caused it. For BoJack, it seems self-understanding remains beyond his grasp. And for Catra, well, she hasn't begun to evaluate the repercussions of her actions just yet.
Regardless, the history of storytelling is one in which our heroes keep faith with the people they love, despite their hurt; and our antiheroes are almost always warranted another chance.
It's what makes BoJack Horseman and Work in Progress and She-Ra's decisions to let their main characters be walked away from so remarkable. It's not a dismissal of their humanity, or a declaration that they are irredeemable or incapable of change. In fact, the audience and the characters who walk away from the protagonists are all quite clear on the trauma that's informing their actions. The question isn't: Can these characters evolve? But: Even if they can, must I stay? In every case, it is — simply — an acknowledgment that some endings are necessary; healthy; inevitable. That protagonists are only the protagonists of their own story. That loyalty to oneself isn't a betrayal. That it is not faintheartedness or moral deficiency to put our own health and happiness at the top of our own wishlists.
Politics and pop culture have always been locked in a symbiosis, and one of the most commonly floated ideas — by everyone from critics to psychologists — is that the rise of the antihero was an attempt for Americans to reckon with their own complicated humanity in a time of relative political stability. (Though, as Rebecca Traister points out in her sharp and astute essay, "Why Do We Humanize White Guys Who Kill People," the complicated humanity we're talking about here is straight and white and mostly male.) Certainly that seems like a large piece of the puzzle, and it explains why, after the 2016 election, our most lauded TV has leaned more toward resilience, hope, and survival. The illusion of that relative stability has faded. It also explains why we might be beginning to look for permission to grapple, on a personal level, with what's unsalvageable. To keep faith with ourselves.
Diane gives BoJack two thank-yous on that roof in the series finale, and one apology: "I'm sorry I couldn't be the person you thought I was, the one who could save you."
And BoJack finally gives her something too. He says, "That was never your job."