So it's New Year of the Trees, and that feels like that should imply SPRING. Unfortunately, friends, it's definitely not spring yet in Massachusetts. Tu B'Shevat is not a particularly well-known Jewish holiday, but it's one that deserves more attention. As the "New Year for the Trees,wp_postsit's often celebrated as something similar to Arbor Day, focusing on environmental awareness and action.
The world is literally on fire, climate change is destroying the planet, and while a holiday celebrating trees won't halt deforestation or oil pipelines, it's a nice opportunity to recharge and reground. If you want to accompany your celebrations with some political action, I've been really impressed with the work Sunrise Movement has been doing around the Green New Deal.
Some communities hold Tu B'Shevat seders, ritual meals similar to those held on Passover. This involves four glasses of wine, accompanied by fruit. Lots and lots and lots of fruit. Different traditions involve between three and fifty (or more!) types of fruit, which sounds overwhelming and entirely delicious.
One set of traditions focuses on the 'seven species,' seven crops that are mentioned as staples in the Torah. The specific quote is in Deuteronomy: "A land of wheat, and barley, and vines, and fig trees and pomegranates; a land of olive oil and honey."
I decided to see if I could include all seven (plus honey) into a single recipe. It felt a bit like an episode of Chopped, but it turned into a delicious babka, a traditional Jewish cake.
Seven Species Babka
This recipe is adapted very substantially from Smitten Kitchen's Better Chocolate Babka.
Babka is generally a two-day recipe, and I just… didn't want to wait that long. I tried a few techniques from previous recipes that helped out enriched doughs, and successfully had two delicious loaves with a 2.5 hour main rise. This is VERY EXCITING, friends.
Depending on where you live, some of these ingredients may be more or less challenging to find. I found that Trader Joe's had everything except pomegranates, and those took four stores to find. I ended up finding them at the Korean market, although I probably should have just gone to Whole Foods immediately after Trader Joe's. But. Y'know.
Yield: 2 loaf-sized fruit babkas
Ingredients
Dough
4 1/4 cups (530 grams) all-purpose flour, plus extra for dusting
1/2 cup (100 grams) granulated sugar
1 tsp honey
2.5 tsp yeast – I used active dry yeast, which the original recipe swore wouldn't work, but it did! If you want to use instant yeast, that should be fine too.
Grated zest of half an orange (or 1 clementine)
3 large eggs
1/2 cup warm water, plus extra
3/4 teaspoon salt
2/3 cup unsalted butter (150 grams or 5.3 ounces) at room temperature (that's 1 stick + 2.5 tablespoons)
Oil, for greasing
Filling
3/4 cup of dried fruit, composed of golden raisins, dried figs, and dried dates, very coarsely chopped
1 tablespoon barley (I used Trader Joe's 10 minute barley. If you are less Committed To The Bit of seven species, I think you could safely omit the barley, or use nuts of your choice in its place)
1/3 – 1/2 cup olive oil
1/2 cup (50 grams) powdered sugar
1-2 tbsp water, as needed
Pomegranate Simple Syrup
1/3 cup water
1/3 cup granulated sugar
1/3 cup pomegranate seeds
(but really, I'd vote for increasing the proportion to 1 cup water, 1 cup sugar and 1 cup of pomegranate seeds and use the extra syrup to make a great mimosa)
Recipe
1. Proof 2.5 teaspoons of active dry yeast with a teaspoon honey (or sugar) in 1/2 cup of warm water for ten minutes. Gently stir it when first combining.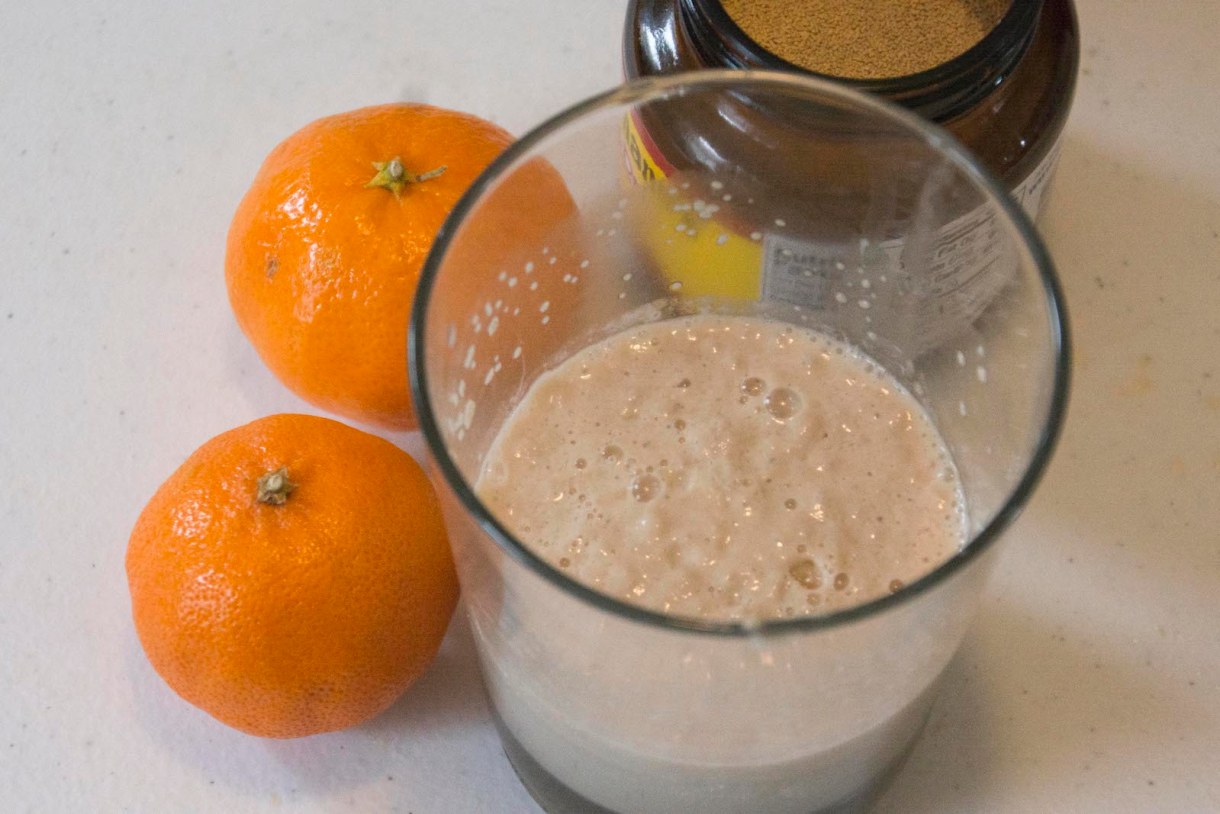 2. Combine the flour, sugar and zest in the bottom of the bowl of a stand mixer.
3. Set a small pot of water to boil.
4. Back in the stand mixer, add eggs and yeast mixture, mixing with the dough hook until it comes together; this may take a couple minutes. I found that it formed a sandy texture until I added extra water, 1 tablespoon at a time, until the dough forms a mass.
5. Add salt and soft butter, one spoonful at a time, with the mixer going at low. I cut my butter into small sizes for ease. Once the butter is incorporated, mix at medium speed for ten minutes – really, set a timer! Scrape the bowl down a few times during those ten minutes; by the end it should be fairly smooth and elastic.
6. Put dough in a large bowl with some neutral oil. Cover with a clean, lightly damp kitchen towel.
7. Remember our boiling water? We're going to use the same method as we used for Rosh Hashanah. Place the bowl with the dough on the top rack of your oven, and place the pot of water on the bottom rack of your oven. Close the oven to create a warm, humid environment for the dough to rise – do not turn the oven on! Let rise for 2 hours. After 2 hours, move to the fridge for half an hour.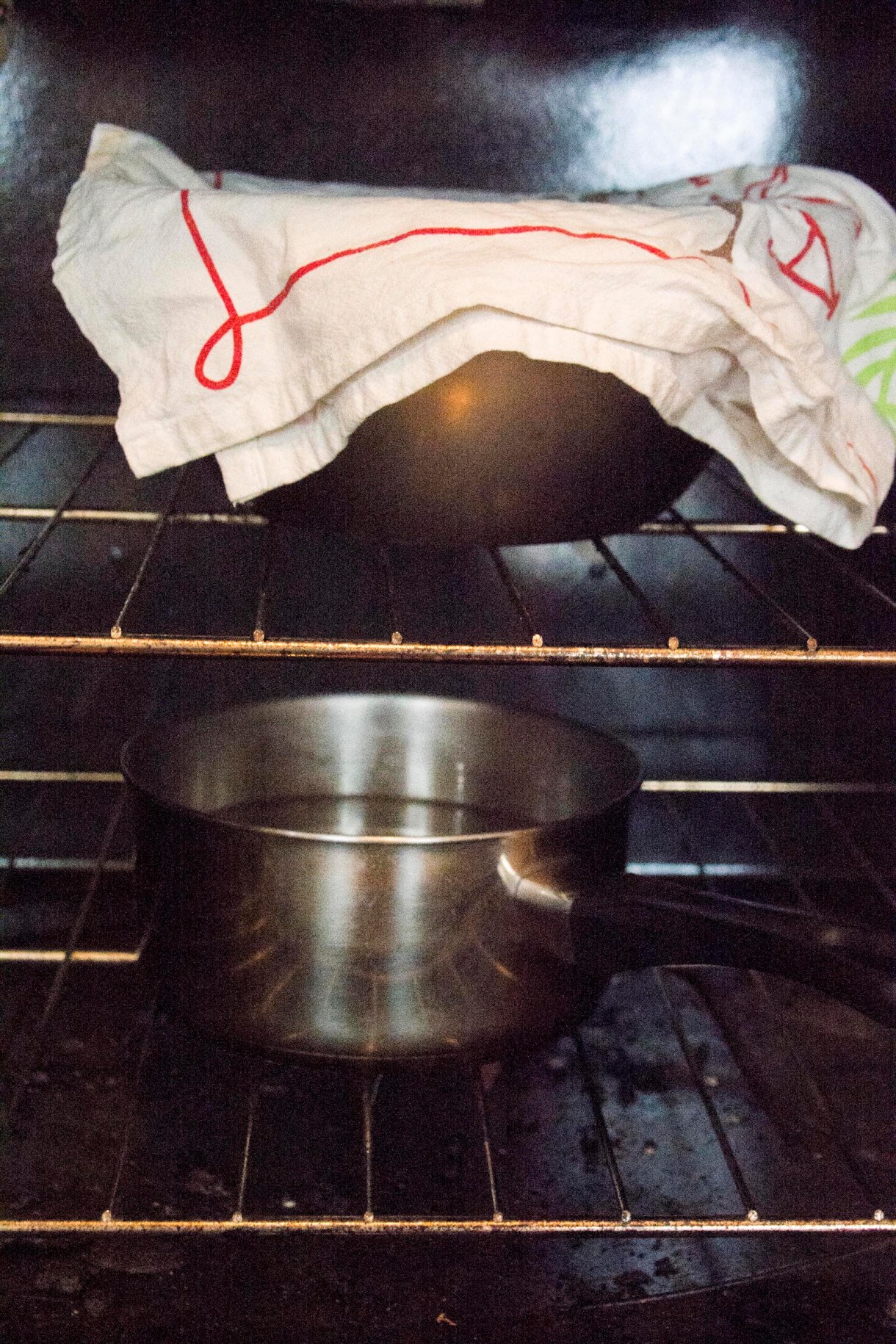 8. While the dough is chilling, make the filling. Measure out a total of about 3/4 cup of dried fruit. If in doubt, go for a bit extra. I used four large figs, four large dates, and a bunch of raisins. Truly, feel free to do whatever you want here. Remove the pits and dry ends from the dried fruit and coarsely chop.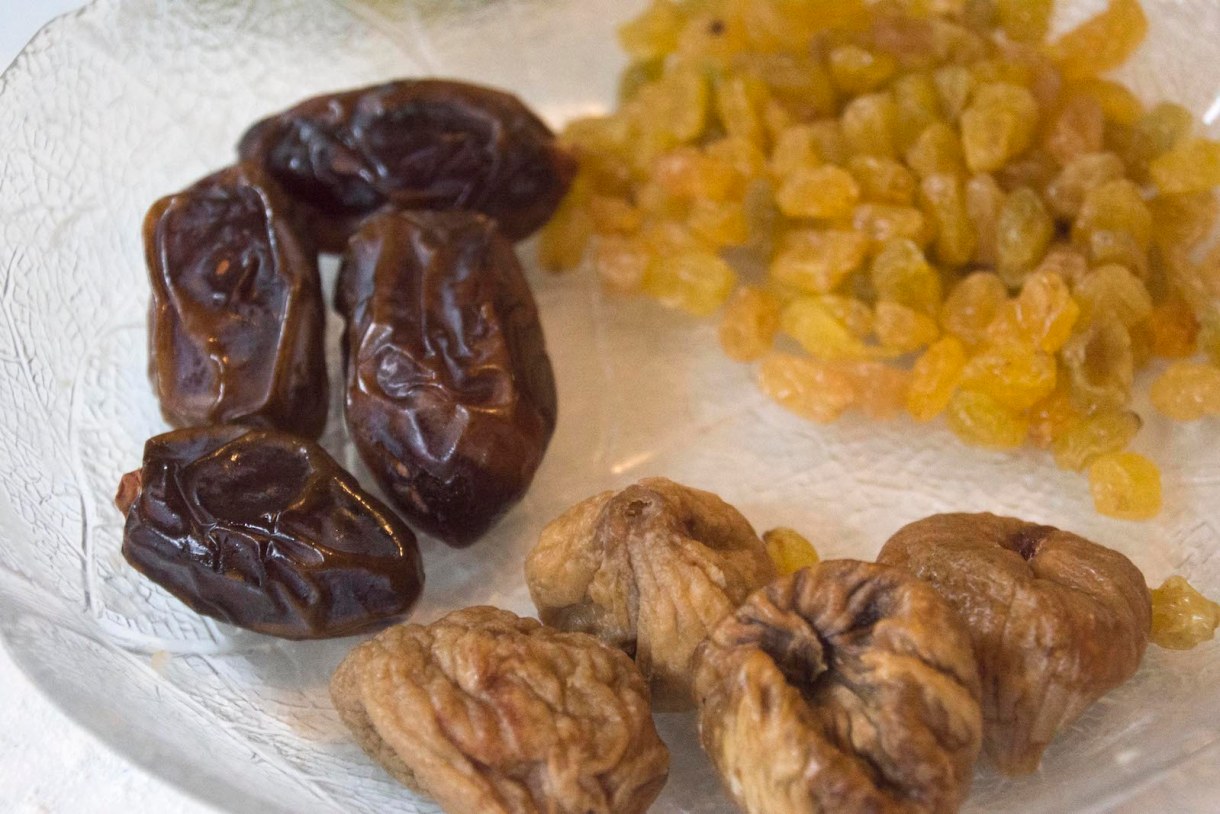 9. In a food processor, blend barley with olive oil until coarsely ground. Honestly, it's there for the bit – if you're not committed
to doing the seven species for Tu B'Shevat, feel free to omit it, or to substitute nuts of your choice.
10. Add dried fruit and powdered sugar. Pulse the food processor and add little bits of water as needed to facilitate blending. You want a fairly smooth, loose paste that will spread easily.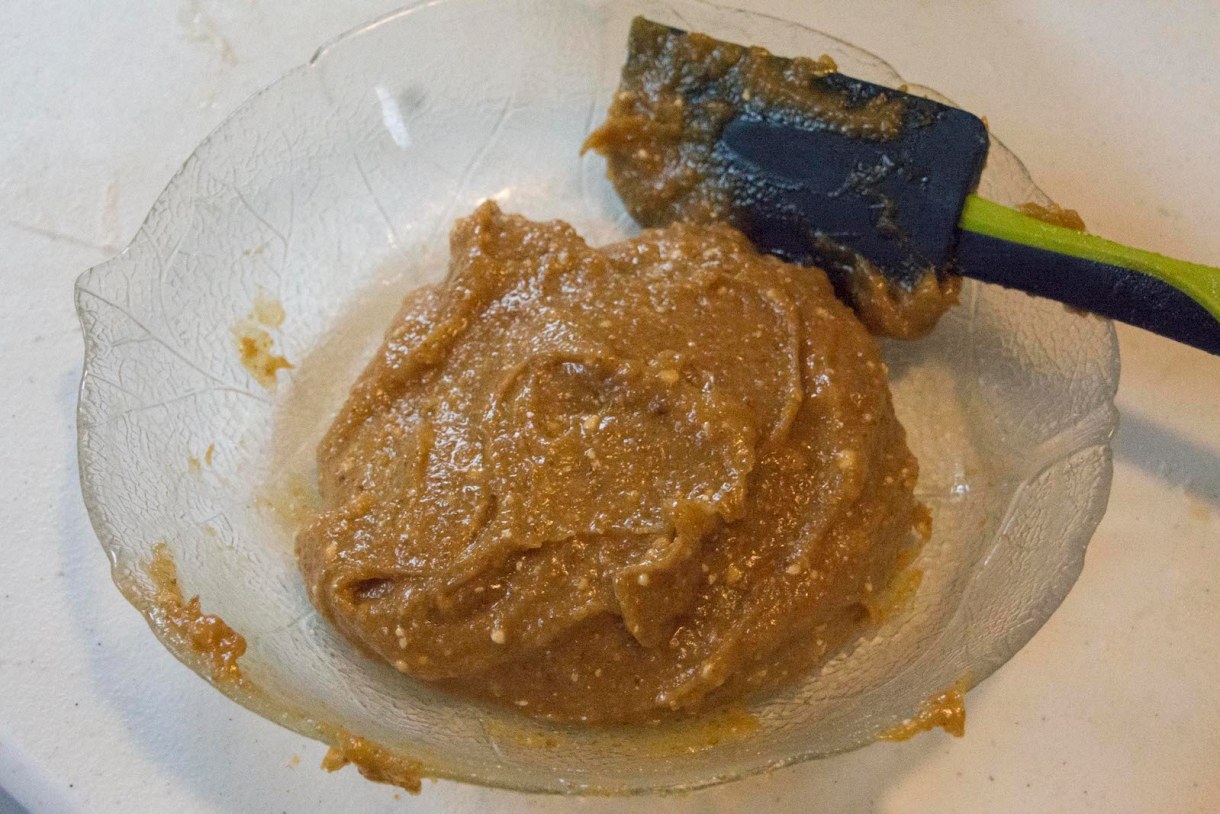 11. Time to assemble the loaves! Cover two 9-by-4-inch (2 1/4 or 1kg) loaf pans with parchment paper or aluminum foil, and lightly oil or butter.
12. Take half your dough from the fridge (leave the other half to chill, a theoretical concept I've never learned). Roll it out, either on a floured (clean) countertop or a silicon mat. I rolled it out to about the size of the silicon mat, so maybe 15 inches wide by twelve inches long, but twelve by ten should also work.
13. Spread half of your fruit mixture onto the dough, leaving a 1/2 to 1 inch border on all sides. I found an offset spatula helpful in this process, if you have one.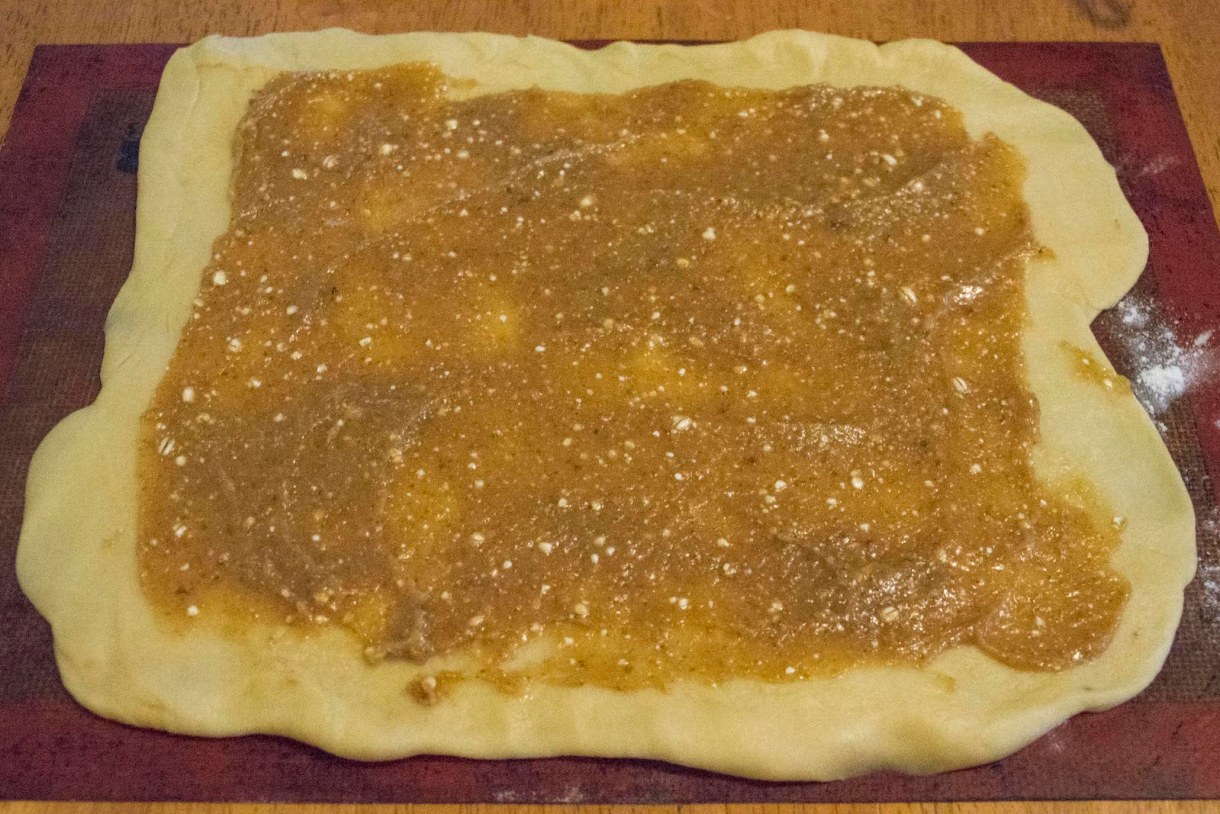 14. Brush the far end of the dough with water, and then, starting at the end closest to you, roll the dough up towards the water-brushed end, into a tight spiral tube.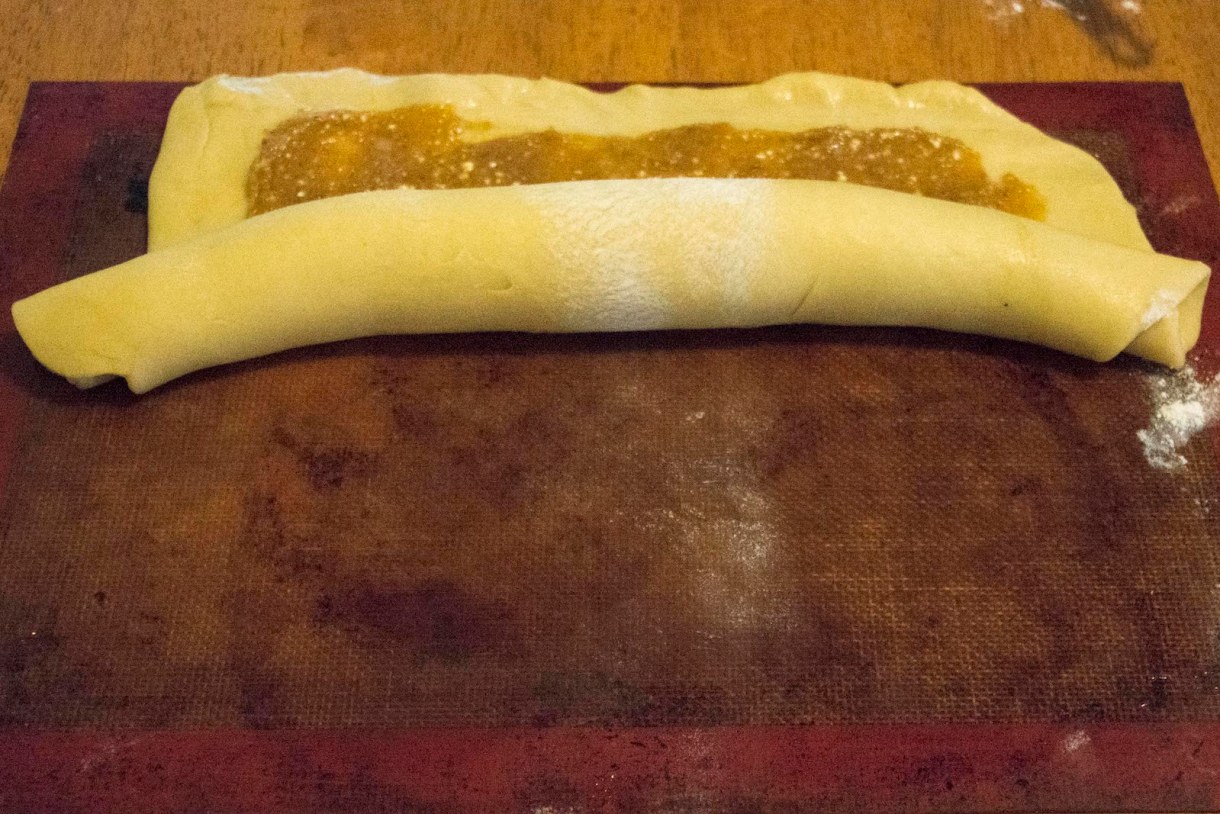 15. Gently seal the end with the water, and rotate a quarter-turn so the seal is away from you. Trim the ends off, about ½ to 1 inch. Using a sharp knife, gently cut the tube in half lengthwise.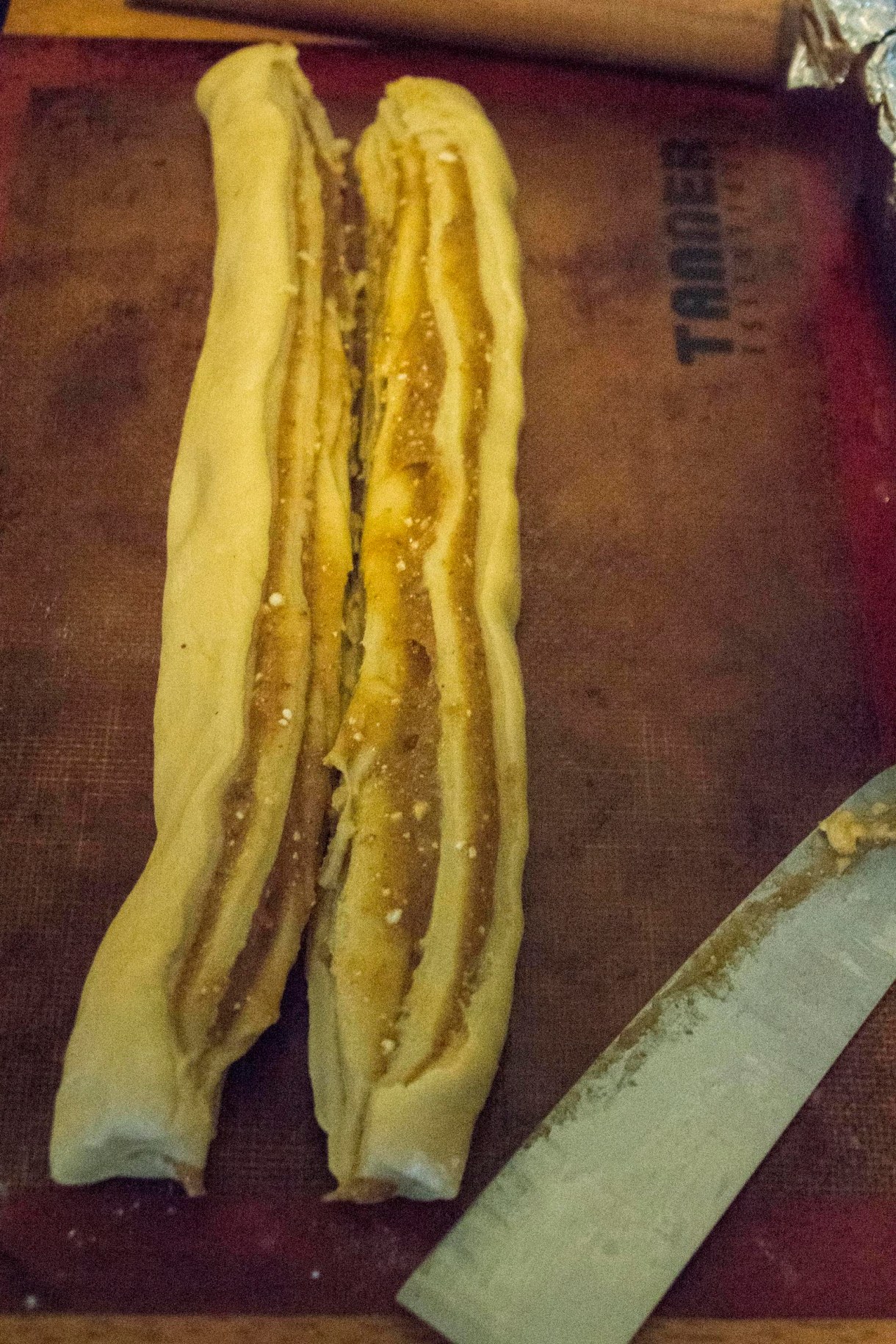 16. Lay the cut halves next to each other, with the colorful sides facing out. Gently pinch one end together, and lift one strand over the other to create a twist. Let the colorful bits face out – this entire process is for the aesthetics.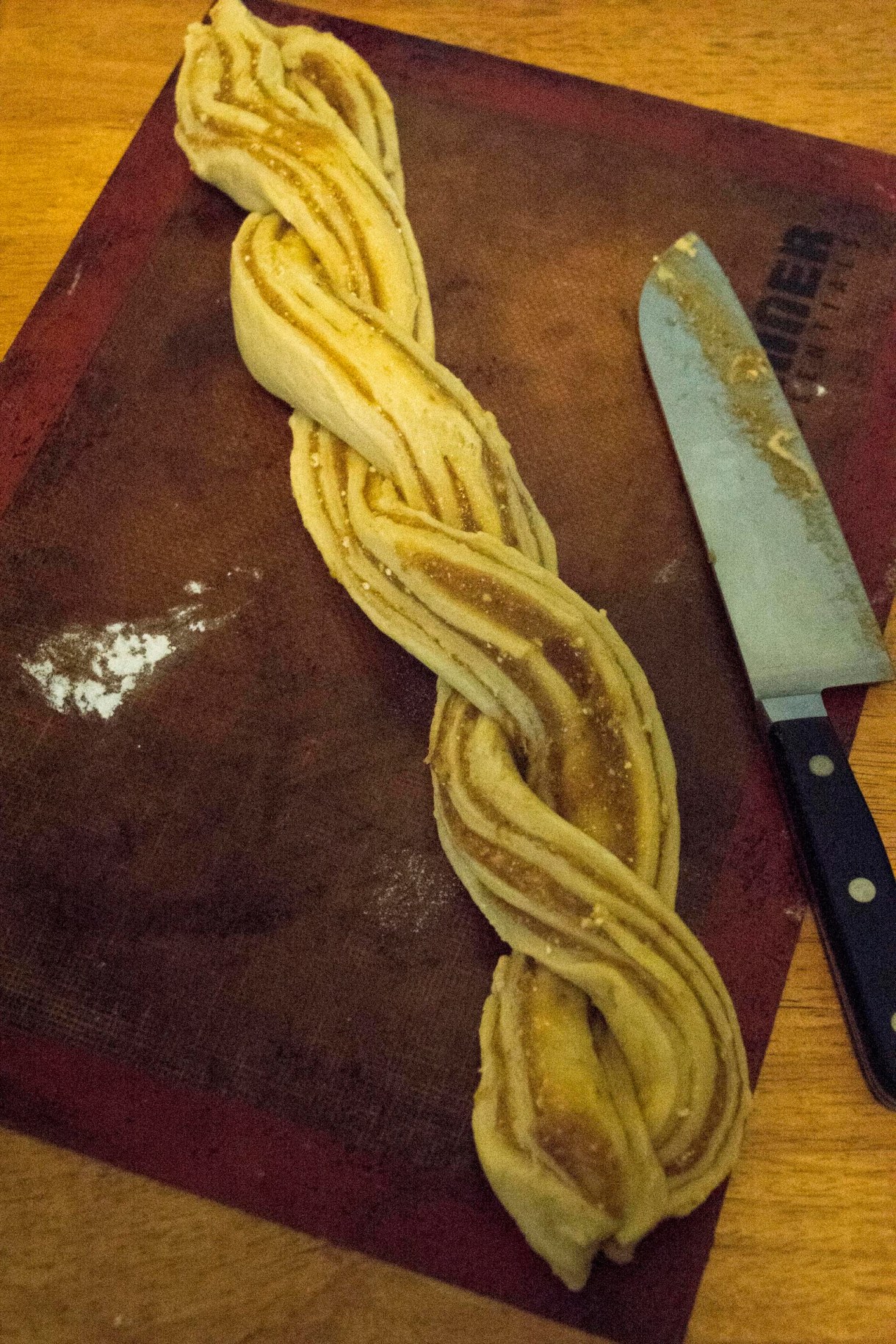 17. Transfer to the loaf pan, creating an 'S' or squiggle in the pan.
18. Cover with a tea towel and repeat with the second half of the dough.
19. Take the four little butts of dough from when you trimmed the ends, and smush them into a small mini-loaf.
20. Cover with a damp tea towel and leave to rise at room temperature (for a total of about 1- 1 1/2 hours; I just set a timer for 1:20 when I covered the first loaf).
21. Bake and finish the cakes like this. Heat oven to 375°F (190°C). (Don't forget to take out the pot of water!)
22. Put your loaves onto the middle or top rack of the oven. Bake for 30 minutes (the mini-loaf, if you're making it, will be done at 25 minutes). You can check doneness by using a skewer: if it's not done, it will feel rubbery or stretchy, and will have dough on it when removed. There should be no resistance when it's fully baked. If it's browning too quickly at some point, cover it with foil, but I didn't have an issue with that.
23. See if your cat will let you have the pomegranate back. If you're forced to back down from the standoff, bribe with treats.
24. While the babkas are baking, and now that you have the pomegranate back, make your syrup: Combine the pomegranate seeds, water and sugar in a medium pot, stir and bring to a boil. Stir, reduce heat and simmer for fifteen minutes. Strain the seeds out through a sieve over a bowl, and let cool.
25. As soon as the babkas are out of the oven, brush the syrup (about 1/3 cup total, so 1/6 cup per babka) all over each with a pastry brush. Let cool about halfway in the pan, then transfer to a cooling rack to cool the rest of the way before eating (or eat it while still warm!). Decorate with additional pomegranate seeds.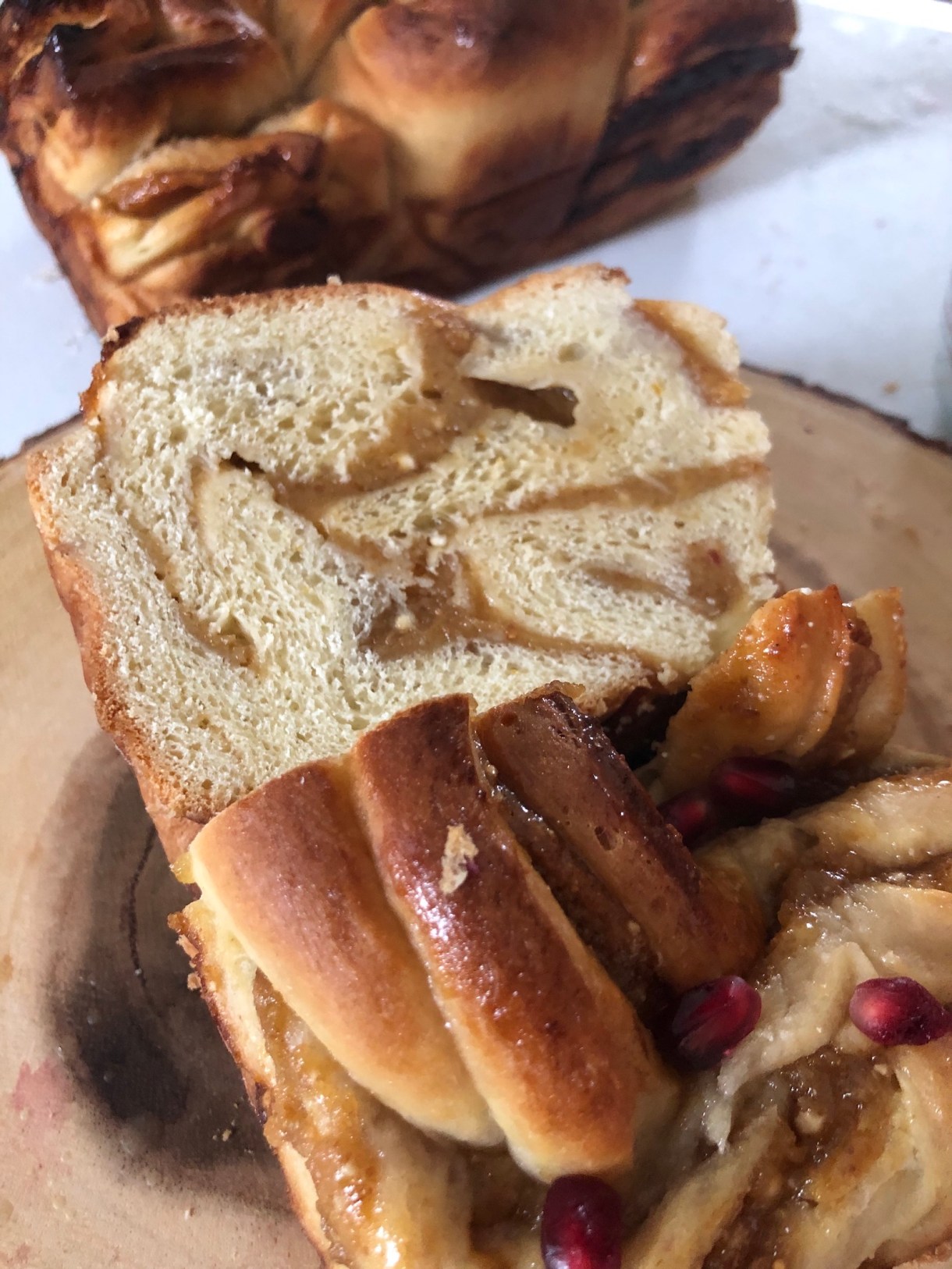 Tu BiShvat begins on the evening of Sunday, February 9th.