Absolutely massive spoilers below for Horizon Forbidden West: Burning Shores. 
Guerrilla Games dropped the — first? only? — DLC for Horizon Forbidden West yesterday. It's name, Burning Shores, references the new world Aloy travels to in her pursuit of information to help her beat Nemesis, the AI that's pissed as hell at the Far Zeniths from the Old World, and heading to earth to destroy it all over again. Burning Shores is Los Angeles, sunken, earthquaked, volcanoed, and on fire. It's also home to a faction of the Quen expedition that got separated from the rest of the tribe Aloy met in the main game. Among them is Seyka, a marine with a penchant for breaking rules and bossing people around. From the second Aloy meets her, when her Sunwing gets shot out of the sky and she crashes onto the beach at Seyka's feet, she is smitten. Yes, that's right, my gay gaming friends: Horizon Forbidden West: Burning Shores confirms, finally and fully, that Aloy is as queer as her genetic mother, Dr. Elisabet Sobeck.
The Burning Shores map is a full third of the size of the original game map, but I confess I haven't yet ventured outside the main storyline. It was seriously so clear, immediately, that Aloy was going to catch feelings for Seyka that I didn't even pause to upgrade my cool new weapon or try on my new armor. Like Aloy, I just followed Seyka everywhere she told me to go. Which was a new thing, for both me and Aloy; I'm usually the kind of gamer who spends endless hours picking daisies on the hillside while the main NPCs yell at me that the world is ending and I'm the only one who can save it.
It's Seyka's bossiness that first gets Aloy's attention. Aloy is the one who usually tromps into town demanding to know what the heck is going on and who's in charge, so she can then completely dismiss whatever demands people make to carry out her own missions. Aloy cocks her eyebrow, baffled by Seyka's confidence and competence with a bow (and a Ropecaster, which is still nerfed beyond use in the DLC), and also baffled by her response to Seyka's whole beautiful deal. They climb around inside ruins while they flirt ("Someone likes my Pullcaster!"). They travel together by boat and Sunwing and a whole new swimming Sunwing called the Waterwing ("It's a snug fit," Seyka says climbing up behind Aloy and wrapping her arms around her waist. "We'll manage," Aloy grins, before launching into the sky.) And they slowly open up to each other about their lives and their struggles, building a tentative trust, and promising to help each other win their battles. When Seyka gets mad at Aloy, she kind of comes unglued. She can't understand why she's so bothered that Seyka's mad! Erend stays mad at her, and it's never gotten under her skin like this! Not ever!
In every cutscene, Aloy and Seyka's relationship deepens. They're sweet and awkward and nervous. Aloy wasn't even this nervous fighting a Deathbringer! She regularly leaps off of buildings and cliffs with nothing but a rope in her hand and a busted piece of shield tech in her pocket! Her favorite thing is blowing holes into the walls and ceilings of centuries-old crumbling buildings! She's never been scared like this! Even the music, when Aloy and Seyka are fighting together, is romantic. (Except the Slaughterspine fight music, which is still punk as heck.)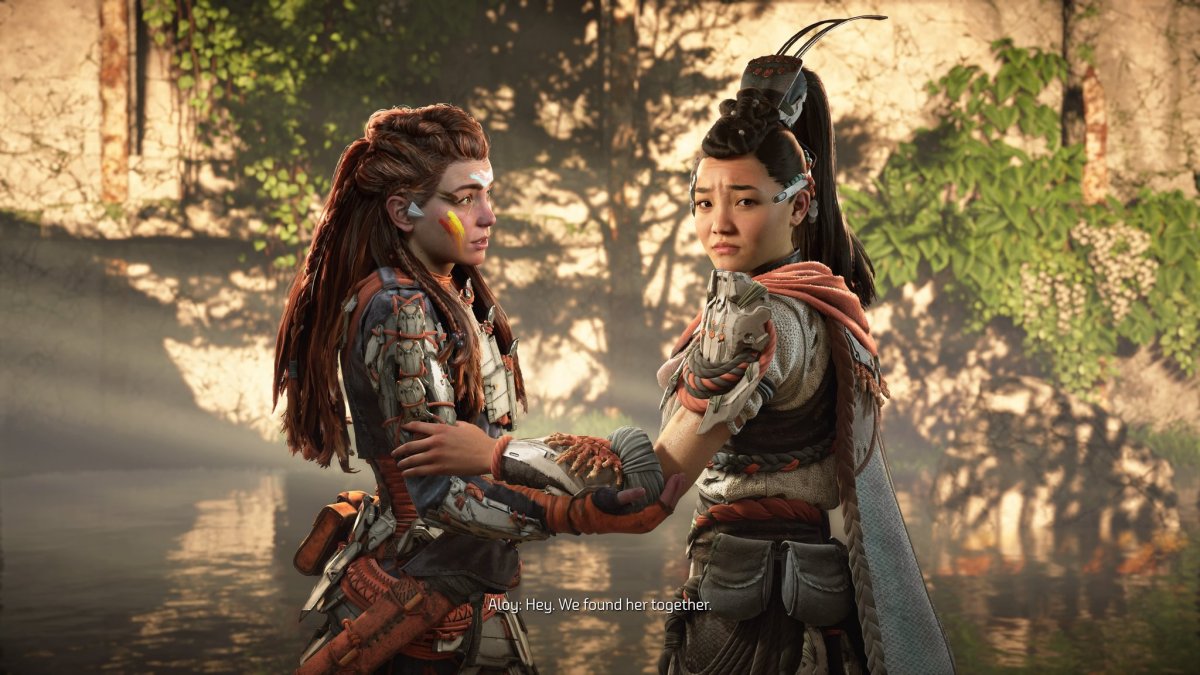 In the end, you can choose whether or not to kiss Seyka right on the mouth — but even if you don't, there's no getting around the narratively concrete fact that Aloy has real, romantic feelings for her. Even choosing the most intellectual response to Seyka's feelings confession gives an answer about how Aloy's reciprocates, but the timing is wrong. (The world, after all, is still in mortal peril.)
It's almost impossible to overstate what a big deal this development is. Sure, big studio games have been getting better and better about including queer romance options over the years, but there are still very few games where you both play as a woman protagonist and are verifiably, canonically, no-way-around-it queer. For this to be happening in a game as important — to the gaming community and to the PlayStation5's success — as Horizon? That's huge! It's also rad as as everything that Aloy is voiced by queer actress Ashly Burch. And from a narrative perspective, Burning Shores shows Aloy taking the kind of chance on love that her genetic mother never could.
For Elisabet Sobeck, saving the world was more important than any kind of relationship, romantic or otherwise. Aloy has the exact same weight on her shoulders, and now she's learned that the people you love are what makes the world worth saving.