This season's tarotscopes feature The Queer Tarot and The Astrol-OG Deck.
Before we get into our Taurus season 'scopes, I want to take a moment to remember the magnificent Rachel Pollack. If you aren't familiar with her, I would invite you to read her story and pick up a copy of one of her many brilliant books. Pollack was a trans pioneer in the worlds of writing, comics, and tarot, and I can honestly say that I would not be writing about tarot in the way that I do if it were not for her work. Pollack's presence will be deeply missed by myself and so many others, and I am so grateful for all that she shared with the world.
---
Welcome to Taurus season, friends. These tarotscopes are built around the astrological correspondences created by The Order of the Golden Dawn, and while some of them can be useful for more deeply understanding zodiacal signs and major arcana archetypes, others can feel strange, off-putting, or straight up confusing. In particular, the association between Taurus and the major arcana's Hierophant can be a perplexing one for many, as Taurus' earthy sensuality and fixed-sign devotion may feel at odds with the common depictions of the Hierophant as a priest or pope, someone celibate and intentionally removed from the pleasures and pitfalls of daily life so that they can focus on more spiritual concerns. But this correspondence provides us with an excellent opportunity to free the Hierophant from this narrow religious depiction, allowing them to become someone a bit more relatable.
The Hierophant is associated with the number five in the major arcana, which is a digit tied to freedom, adventure, friction, change, and necessary shifts. After the Emperor's organization and dedication to systems, the Hierophant encourages us to consider those traditions through a new lens, and to be deliberate about what we keep, and what we leave behind. This archetype can teach us about finding power in what we don't understand, and having courage to pursue the unknown. In the same way that Taurus works hard but also prioritizes pleasure, the Hierophant holds their own contradictions, encouraging us to reach for knowledge but not cling to it so tightly that it can't grow or transform.
Put another way: the Hierophant doesn't have to just be a holy figure, someone who holds spiritual keys of knowledge or serves as an uptight gatekeeper of truth. Instead, the Hierophant can be a door opener, a change bringer, someone who shares and absorbs information simultaneously. Think about the best instructor you know, whether they teach professionally or not: is this someone pompous, who believes they already understand perfectly, who insists that their perspective is the only true way? Or is this instead someone open-minded, curious and competent, who is constantly questioning and delighted by contradictions? What kind of teacher do you learn better from? Who do you want your Hierophant to be?
Taurus teaches us about birth, growth, abundance, pleasure, and comfort, and the Hierophant similarly empowers us to not be afraid to stretch beyond what we have always been taught. We can be both physical and spiritual, can delight in the present while respecting the past, can dream of more while still being grateful for what we have. In this season of Taurus, don't neglect your physical self at the expense of spiritual aspirations. Consider where you may be feeling restricted or restrained, where an old way of being might be getting in the way of new desires or dreams. How can you give yourself permission to break free, to evolve? Where might internal friction help you find external movement?
Experienced tarot readers or astrologers can plug the cards I've drawn for their sun, moon, and rising signs into the spread below to create a custom reading for this season. Taurus is ruled by Venus, planet of values and balance, so if you know your Venus placement you can include that in your spread for more insights into your season.
My first book, Finding the Fool: A Tarot Journey to Radical Transformation, is available now at your favorite local bookstore! I'll also be hanging out with the A+ book club in May to chat about it, and would love to have you join us. My tarot numerology course, Devils & Digits, is starting up again at the end of April, and I do have payment plans and tiered pricing available if you're interested in joining us. The best way to stay up-to-date on my writings, offerings, and latest tarot spreads is by subscribing to my newsletter, Devils & Fools. I'm offering client readings on a limited basis again, as well as email courses, and subscribers always get first dibs on these offerings. You can also still find me on Twitter, Instagram, and TikTok.
As always with these tarot readings, take what you need and leave what you don't. Happy Taurus season!
---
Aries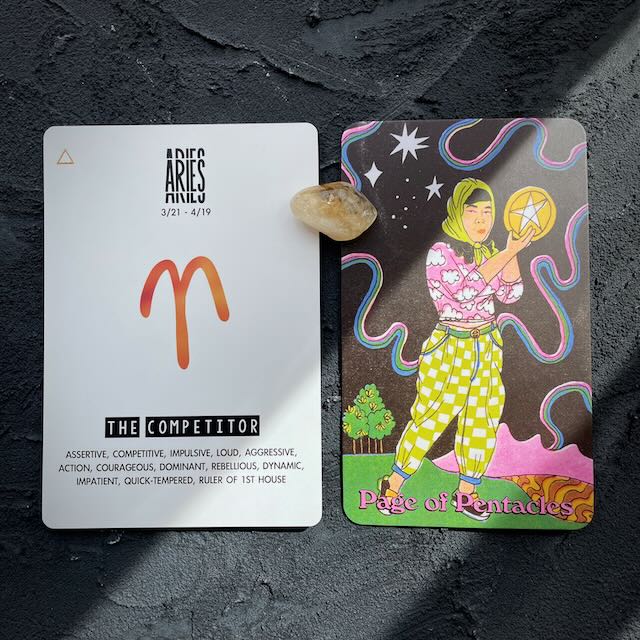 Page of pentacles
There's something so invigorating about a fresh start, and for you, this season is an opportunity to explore something that connects to your sense of safety, community, and support. Pentacles are the suit of earth, representing the tangible resources that empower you to do everything that you want to do, and with the page, we find an energy of curiosity, exploration, and rule-breaking. Where are you ready to plant some new seeds, to see what might grow in your world? How can you look at something with a fresh perspective, instead of limiting your ideas to ones that fit within old expectations?
Taurus
Ace of swords
Happy birthday, Taurus! It may feel like this season brings a sharp new sense of clarity, insight, or truth, as something is revealed to you or within you that changes everything. As the sign of fixed earth, you are usually associated with dedication and focus rather than flexibility — yet in looking at something with fresh eyes, in allowing yourself to reconsider something that you have preciously taken for granted, you may find a new willingness to explore. What is opening up within you? How can you start down a new path of discovery? What are you ready to learn?
Gemini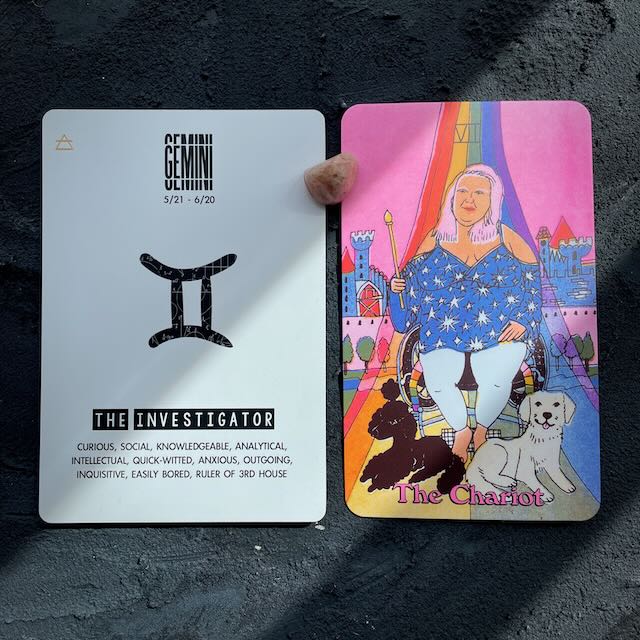 The Chariot
As an informative-gatherer, you have a skill for asking questions that do not always have easy, simple answers. And this season, that's something to celebrate about yourself, as the Chariot often pushes us to consider the road we are following, and to pay attention to how our actions may serve (or get in the way of) our true sense of purpose. What feeds your imagination, your joy, your spirit, and how do your more tangible goals contribute to those more lofty aspirations? How can you make sure that your choices are in alignment with your most personal truths?
Cancer
Eight of swords
It may feel this season that you are stuck in a situation with no exits, that all of your choices have been stripped away. Yet eights are numbers of power, and in spite of the challenges you may be facing right now, you have an opportunity here to reclaim your magic, to own your strength, and to take control of the narrative. Instead of getting lost in your own fears or anxieties, take a hard look at what is really happening rather than just what you're concerned could happen. How can you change your perspective? Where do you have more options than you may realize?
Leo
The Magician
You have so much power, so much energy, so much strength within you, and this season is the time to say yes. Yes to what? Literally whatever you like. The Magician is an archetype of courage and potential, of looking at absolutely anything and believing that there is a way to accomplish it. If you find yourself doubting your own abilities, talents, or ideas this season, remember the Magician, and let their boldness and innovative spirit flow through you. What could you accomplish if you stopped letting fear influence your decisions? What is worth pursuing?
Virgo
Nine of wands
As you move into Taurus season, it may feel that you're in the home stretch of a big project, ambition, dream, or working. And you're often comfortable in this space, in cleaning up the final details or reviewing everything carefully to ensure that nothing is out of place. Yet in your desire to dot every I and cross every T, don't forget to also celebrate everything you've accomplished, and to glory in where you are. As you race towards the finish line, make space for rest, for joy, for pleasure. How long have you been working towards this, and how does it feel to be nearly finished? Where can you slow down and enjoy the ride?
Libra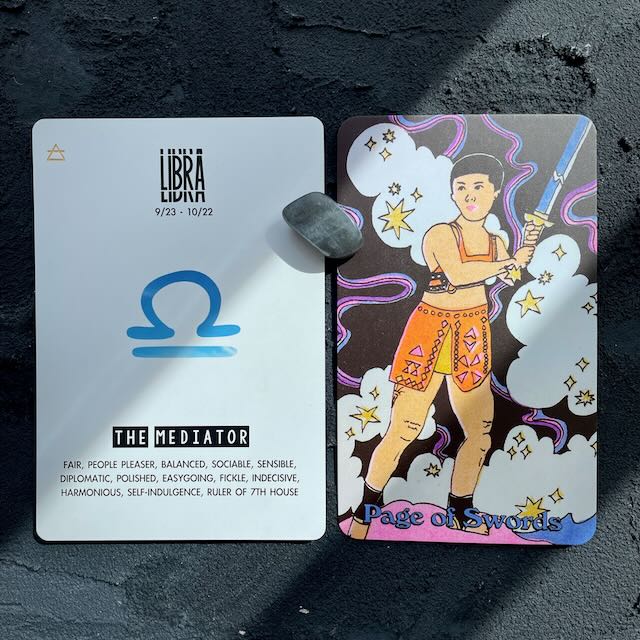 Page of swords
 If last season demanded rest, perspective, and healing, Taurus comes charging in with fresh ideas and a reinvigorated sense of purpose. You're known for craving balance and harmony, for working in alignment with your values, and the page of swords is a figure of curiosity, clarity, and discovery. Pay attention to what you are taking in this season, to the information that is presented as absolute truth, to the ways that perspective changes what is shared and what is kept hidden. How do you recognize fact from fiction?
Scorpio
Seven of swords
There are times when we need to act, and times when we are better served by waiting, observing, and choosing our moment. This season, you may find yourself holding back information, or feeling reluctant to make a decision until you have more information. There's nothing wrong with being cautious, but don't let not knowing every single detail about something or someone keep you on the sidelines — sometimes all we can do is grab the blade and move forward. Where are you hesitating, and why? What is living beneath your fear, and how can you take control of the situation instead of letting something pass you by?
Sagittarius
The World
You're someone that is almost always on the move, whether it's creatively, energetically, spiritually, physically, or intellectually. Yet the World is a card of endings and completion, of declaring something finished, of reveling in your accomplishments. And sometimes, this can be a really hard energy to sit in! As you move into Taurus season, give yourself permission to celebrate and rest, to respect how hard you've worked, to allow others to acknowledge all that you've done. How have you been transforming, and what does it feel like to recognize a completed metamorphosis? How do you know when something is done?
Capricorn
Nine of pentacles
If last season was all about planting a new seed for your future, this season may find you reaping what you have sown, and celebrating just how far you've come. Cycles don't always move quickly, and what you began in Aries season may not be already coming to fruition now that the sun is in Taurus. Yet you have gotten more done than you may realize, and this season offers an opportunity to take satisfaction in your progress, to recognize the stability you have built, and to begin to look forward to the next beginning. How can you make space for pleasure, for rest, for pride? What have you created, and how can you take the time to actually enjoy it?
Aquarius
The Star
After difficult times or tumultuous periods in our lives, it can feel challenging to remember who we are, what we need, and where we might be going. When the Star comes forward, it's a reminder that all is not lost, and that hope is a mindset rather than an emotion. The Star is your birth card, and so as you move into Taurus season, give yourself the time and space that you need to check in with yourself. How can you create intentional room for healing, and what does that healing look like? What makes you feel safe, comforted, protected? When you shift your gaze from the present to the future, what do you see?
Pisces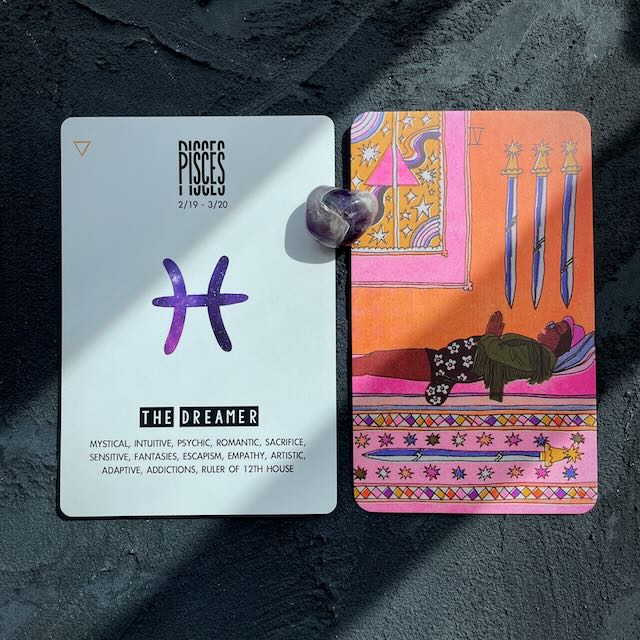 Four of swords
Last season may have felt like an intense period of putting your nose to the grindstone, getting your hands dirty, and putting in consistent, daily effort towards a big goal. And after all of that hard work, Taurus season offers you a chance to slow down, give yourself a break, and take some much-needed rest. But while Taurus is known for sensual, physical pleasures, the four of swords is also about mental recovery, about giving your mind a chance to settle and calm. How can you set boundaries that allow you to truly unplug, unwind, unclench? What would it look like for you prioritize self-care, in both a physical and mental sense?