Brittani's Team Pick:
Have you been following women's soccer since the World Cup? Maybe? Have you at least been following Hope Solo's Twitter account? If not, you may have missed this picture of Hope Solo cavorting around in a robe with an unidentified lady person, possibly as part of a clothesless spread in ESPN's 2011 "Body Issue." Here it is for your viewing pleasure.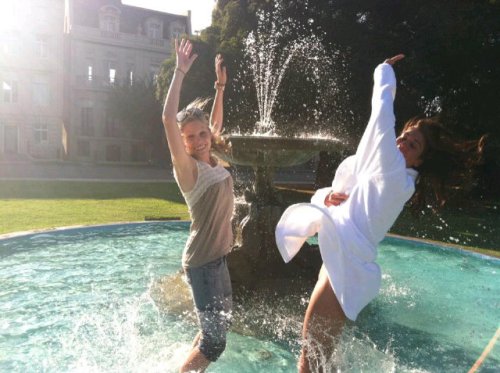 We're going to pretend this is relevant because it's just been announced that Solo will be a member on the next season of Dancing with the Stars (along with Chaz Bono). Good ol' Hope is doing everything she can to promote women's soccer because the best way to promote women's sports isn't by being the best keeper in the world. It's by being really really hot. Duh.
I'm hoping for a finale between Solo and Ron Artest in which someone incorporates "the Great White Hope" into a headline. Will you be watching my favorite show on television this fall to catch a glimpse of Han Solo? (jk I've never seen a single episode.)