Audio-related gear makes for really great gifts for really great reasons. First and foremost, most people enjoy music. Even the 'I'm not really a music person' people won't be disappointed in finding unicorn-shaped earbuds in their stockings. But also, audio devices aren't known for having the longest of lifespans. Right now 1-in-4 of your friends and/or lovers can't hear any sound out of their left earbud. We're here to help you help them be happy these holidays.
---
Headphones and Earbuds
V-MODA Crossfade LP Headphones ($118)
This is probably the third or fourth time that these headphones have made it into an Autostraddle gift guide, they're that good. In addition to sounding and feeling great, you can switch up the style by ordering different colored plates for the cups.
Unicorn Earbuds ($6)
I cannot attest to the sound quality, comfort or durability of these earbuds. I can attest to the fact that most, if not every, queer in your life will want them regardless.
SoundMagic E10 Earbuds ($35)
The first thing I noticed about these earbuds is that they have remarkably high Amazon reviews for the under-$40 price point. "Just wow. Pure magic," a self-proclaimed 'picky' headphone consumer wrote. The other things I noticed were that they're 100 per cent metal (\m/) and look pretty neat. I might buy them.
Sennheiser HD 203 ($35)
I keep buying these dudes for home recording, and if having a hilariously long cord doesn't bother you (they're actually mostly for DJing), I think they're fantastic quality and pretty affordable. Mine just broke (my fault, not theirs), so if you wanted to buy me a new pair I'd really appreciate it.
Bose Quietcomfort 20 Earbuds ($299)
The Internet agrees that if you're willing to drop a few hundred bucks on some noise-canceling earbuds, this is the pair that you want. Guaranteed to block out traffic and airplane noise, unsolicited conversation and mansplaining.
Speakers
JBL 'On Tour' Micro Portable Speaker ($24)
I impulse-bought this cheap speaker on my way to A-Camp with some fairly low expectations, as with most gadgets at this price point. I was stoked by its amplification, portability, and durability. It fits in a pocket and recharges easily. It won't melt anyone's face off but it will fill a hotel room or cabin in the woods with some nice sounds.
JBL Flip Portable Stereo Speaker with Wireless Bluetooth Connection ($89)
A friend of mine owns this little guy, and the sound quality is surprisingly excellent for its size and its price. Also it can connect to your phone or computer using bluetooth, which I still believe is magic.
Koala Huggable Portable Speaker ($40)
This is a koala that hugs your phone while playing music. I'm not sure what else I can tell you.
Ultimate Ears Boom Speaker ($180)
This is the perfect party speaker. Your music can be controlled wirelessly to 50ft and be amplified at 360 degrees around the room. You can pair up to 8 mobile devices via bluetooth for co-DJ'ing with your mates and even program an alarm to wake up to your favorite tunes. It's water and stain resistant, comes in about a dozen colors and can probably blend cocktails, too.
Inventive Bluetooth Shower Speaker ($28)
You know those days where all you can really do to sooth your soul is sink to the bottom of the shower, cradle your head in your arms and wail softly along to "Mad World" until the hot water runs out? This shower speaker will enrich your next shower-cry tenfold.
Light Show Fountain Speakers ($50)
Are you really, really high? Probably you'll enjoy watching multicolored splashes of water dancing along to your music. You'll be the coolest dude in the freshman dorms (no, seriously, I'd really like a pair of these).
Everything Else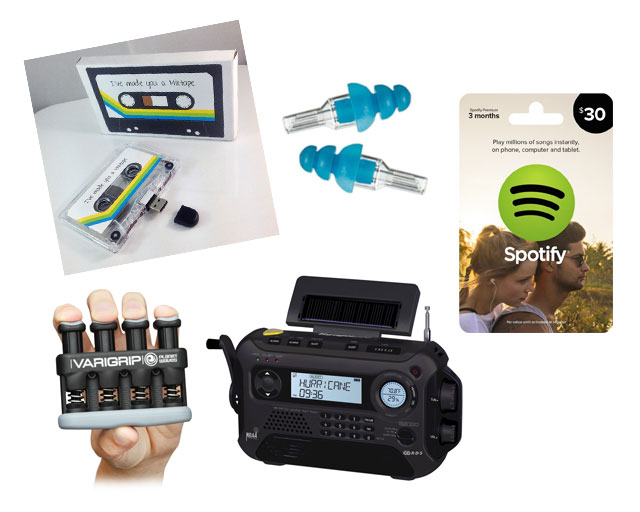 USB Mix Tape ($38)
A thoughtful mix will never stop being one of the greatest presents ever. This USB Mix Tape might be a cuter alternative to sharing a Spotify playlist or throwing mp3s into Dropbox. (NB: only ships to Australia and the UK)
Etymotic Ear Plugs ($14)
Nothing says 'I love you' like saving someone from tinnitus. These reusable ear plugs are a thoughtful gift and miles better than those cheap squishy foam bullets that fall on beer-soaked floors halfway through the first song.
VariGrip Hand Exerciser ($15)
ThinkGeek says this hand exerciser is great for musicians and gamers, with adjustable tension that you can customize for each individual finger. I mean, I can't think of any reason you wouldn't want the person in your life to have incredibly nimble and talented fingers.
Emergency Handcrank Radio ($80)
Maybe your loved one is a paranoid weirdo who keeps a bunker full of canned beans and other end-of-the-world supplies beneath your love nest? Or maybe you'd just like to have this neat little radio, which is impervious to inclement weather and ideal for being stranded on a desert island or whatever.
Spotify Gift Card ($10, $30, $60)
There are many music lovers who'd go wild for a few months of ad-free play. Spotify Premium is a no-contract service and so it's perfect for all gift budgets—a $10 gift card will give someone one month of listening.