I've always played with makeup, even during my tomboyish kid years. Once I hit middle school, I was finally allowed to buy and wear makeup of my own. I was 12. I was thrilled. I was surprised to find that all my magazine-reading prep was for nothing. The eye makeup tips in Seventeen and Lucky didn't work on me. My eyes were a different shape and, confusingly, my eyelids were different, too. Every eye makeup look included some step about putting eyeshadow "in your crease" or "up to your crease." I did not have this crease, though. I mean, I looked for it. I estimated where it should be. I was like a high school virgin looking for the g-spot. I had an idea of where it should be, but I just couldn't put my finger on it. My white mom and white friends didn't have any useful tips for me, either. I was at a loss, but I was determined.
I forged my own path with cosmetics. Back then, the internet was still new and filled with crude HTML sites. Nobody was posting monolid makeup videos. Asian people on TV were like, not even really a thing. So I forgot everything these white people makeup experts were saying and I just did what made sense to me. And I think I did pretty OK. Now that there are monolid makeup tutorials, a lot of the things I figured out through intuition are, indeed, what other people with monolids do.
Enough about me and my monolid backstory. Here are two fun and very wearable makeup looks for your holigay festivities, my fellow monolid-blessed beauties. One glam, one funky, both easy to recreate using similar products and techniques.
The trick to gorgeous monolid eye looks is to consider the whole eyelid as a blank canvas (forget about the "crease") and take advantage of the monolid's natural shape. Winged eyeliner looks awesome on monolids. Eyeliner, in general, is a must-do for monolid makeup looks. Non-monolid people have mascara. We have eyeliner. Now get your boldest eyeliner out, because it's time to sparkle!
---
Glimmer Glam Bedtime Eyes
I'm skipping the "get your face ready" step, so get your face ready, whatever that means for you. I don't use foundation or BB cream, but I do use mineral powder and bronzer. So here I am with a clean face, plus NYX Cosmetics Studio Finishing Powder, Mary Kay Facial Highlighting Pen, and contoured cheekbones with Mary Kay Mineral Bronzing Powder in Canyon Gold. If you use eye primer and/or anything else to get your face ready for color, do that now. Here's my ready-to-go face.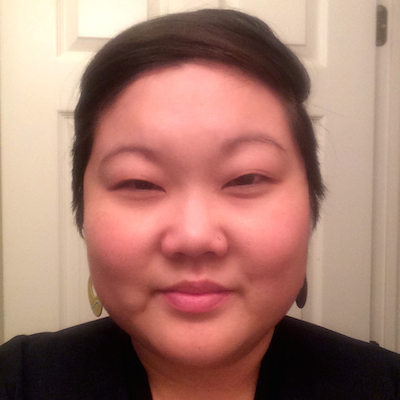 Let's start with eyeshadow. With monolids, you want to use the whole eyelid area. There is no crease. I repeat, no crease. Some monolid makeup tutorials show you how to fake a crease with eyeshadow, which works on some monolid types, but not all. I have no interest in faking a crease. I like to work with the eyelids I have. Creating an ombre effect looks bangin' pretty much always, with a base color all over, a lighter highlight color right along the browbone, and a darker color right above the lid or in the outer corner of the eye.
We are using Sephora Colorful Eyeshadow in Hold Me Tight, a plum red shimmery color, as the base for both looks today. Using an eyeshadow brush, cover your entire eyelid, from lash line to brow, with Hold Me Tight. Then, right under your brows, apply a generous amount of a lighter color, like Mary Kay Mineral Eye Color in Crystalline. With your pinky finger, blend the two colors gently where they meet. Next, take a darker shade in the same color family, like Mary Kay Mineral Eye Color in Sweet Plum, and apply it right above the monolid area, about a 1/4″ thick. Pull out towards the corner of the eye into a triangle shape. Fill in the triangle shape completely, so there should be a 1/4″ line of darker shadow across the lid, building into a large sweeping triangle at the outer corner of the eye. Now take your pinky finger and blend the Sweet Plum gently into the Hold Me Tight. You should have three colors on your eye now, in a sort of layered effect, and you shouldn't see a line where one color starts and another ends. If you look at the bottom picture below, you'll see that one eye is blended and one is not. See the difference? It should all blend together.
Finally, let's get to the eyeliner, which for any monolid look is going to be the most important part to make your eyes really pop. I have a fairly extensive eyeliner collection. For this look, I'd suggest a liquid liner or a gel liner in a deep black. Here are some of my favorites:
I'm using stila Stay All Day Waterproof Liquid Eye Liner in Jet Black. Here is where monolid makeup gets really different from non-monolid makeup. Instead of drawing a line that is tight to the lash line, you are going to take the eyeliner and apply it all over your natural eyelid. If you have a monolid, you know that most of your eyelid disappears when you open your eye. It may seem like this is too much eyeliner as you are putting it on. I promise when you open your eyes, it will look amazing. Fill in the eyelid all the way to the outer corner of the eye. You can stop here if you want to keep the look subtle.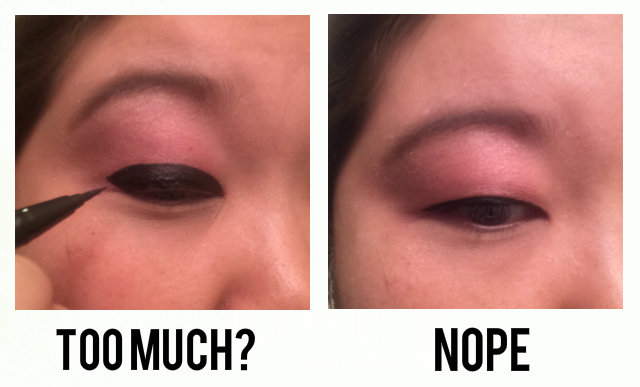 For more drama, extend the black eyeliner into a winged look. I'm doing a straight wing here because it's an easy beginner wing shape, but other wing shapes will look great, too. OK, close your eyelid and look at your lower lash line. Try to imagine your lash line extending farther up your eyelid. Use the black eyeliner to draw this extension of your lower lash line up your eyelid. Connect the line to your eyeliner at about the mid-eye point, forming a triangle on the end of your eyeliner line. Fill it in.
Line your bottom lashes very close to the lash line in a shimmery gold color like Mary Kay at Play Bold Fluid Eyeliner in Gold Metal. That's it!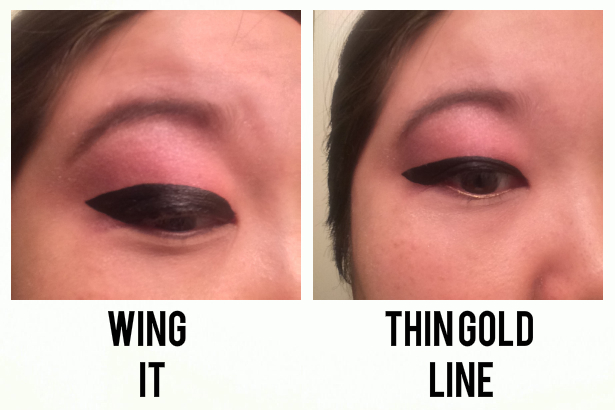 You can make this look swing naughty or nice with your choice of lipcolor. Keep it sweet and sexy with a shimmery natural shade that puts the emphasis on your eyes. Or set off a sultry look with a deep berry or plum lipstick. Here I'm wearing Make Up For Ever Lab Shine Lip Gloss in Pearly Light Beige in the picture on the left and Mary Kay Creme Lipstick in Berry Kiss in the picture on the right.
This look is simple and pretty and fairly neutral. If you aren't afraid of a little shimmer (don't be afraid), you could definitely wear this to work or lunch or other daytime outings. Go forth and look hot!
---
Sparkly Green Glitter Femme
Do you love bold color and sparkles? This look is for you! You can recreate this look using many eyeliner/lip color combos, but I chose red and green for the holigays because why not?
Start with the same eyeshadow, Sephora Colorful Eyeshadow in Hold Me Tight and Mary Kay Mineral Eye Color in Crystalline as the brow highlight. Apply the Hold Me Tight shade in multiple layers, going over the lid several times, so the color is very intense. Apply your highlight color to the area beneath your brow and blend. This time, do not apply a third darker shade of eyeshadow.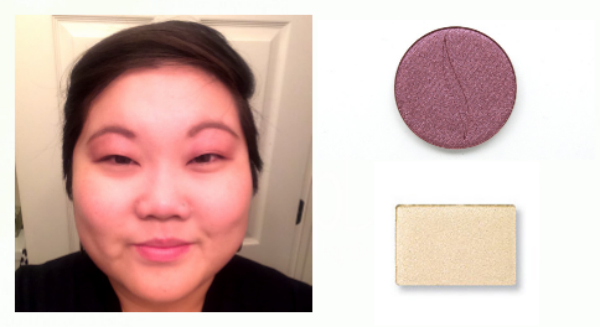 Instead, we're going to do a very bold eyeliner look. Cover the entire eyelid in Sephora Retractable Waterproof Eyeliner in Glitter Green. Now, color slightly above the lid line, about 1/4″ with the eyeliner, all the way across the lid. When you open your eyes now, there should be a thin glittery green line that shows above your lid line.
Now extend the liner into a super extreme straight wing. As before, study your lower lash line to estimate where to draw the wing line, extending the natural curve of your lower lash line. Take the wing extension all the way up and out to just a little below your brow. Create a triangle shape back to your eyeliner and fill it in completely. (For extra glitter, you can brush a green glitter powder over the eyeliner.) Now, line the bottom of your eye, keeping the line tight to the lash line. Because you are using a pencil instead of liquid liner, you may have to sharpen the tip of the pencil to make the corners of the wings pointy and precise. Your eyes may be slightly different shapes, as mine are (I technically have a demilid on the left and a flat hooded lid on the right). Don't worry too much about that. Aim to make your eyes look the same when they are open.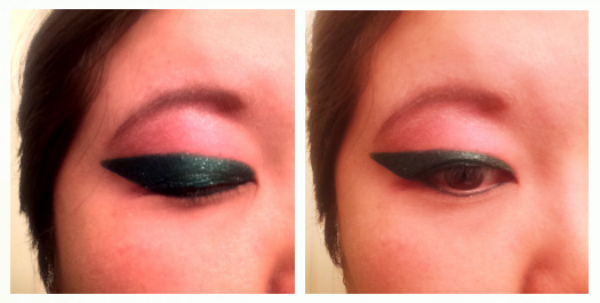 Finally, take out your black liquid liner or gel liner and go over your entire eyelid, but just the part that is your actual eyelid (so not the part you colored in above your lid). Extend this black line to the edge of your green eyeliner. Add a small black wing at the edge, that mimics the shape of the larger green glitter area.
Go for a bright red lip in a matte shade. You want everyone to look at your pretty glittery eyes, so don't use glitter on your lips, too. We all love glitter, but there is such thing as too much. I can't believe I just wrote that, but I'm standing by it. I'm wearing Hourglass Opaque Rouge Liquid Lipstick in Icon, a long-lasting matte color that will bind to your lips and stay on all night.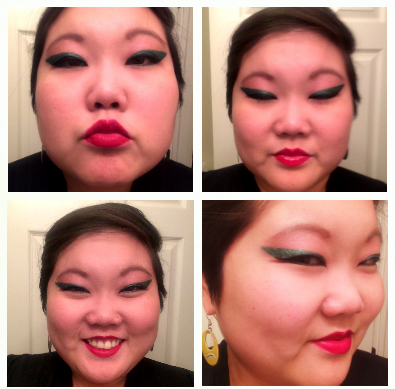 You may have noticed that I didn't mention mascara in either makeup tutorial. I have short lashes that point downwards because of the shape of my eyes, so I don't bother with it. However, some would balk at this omission. If you have the patience to curl your lashes and apply mascara, go for it. The same with fake lashes. Longer lashes will make both of these looks even more glamorous. If you just wear mascara for the eye definition, you're going to find that eyeliner works better on monolids for this purpose than mascara.
---
Now, gorgeous you, go show off those sparkling monolids at your nearest holiday gathering, office party, or night out. Shoot smoldering glances at delicious strangers. Stand under the mistletoe and dare someone to kiss you. Or just take pics of yourself for Instagram. You do you, darling!