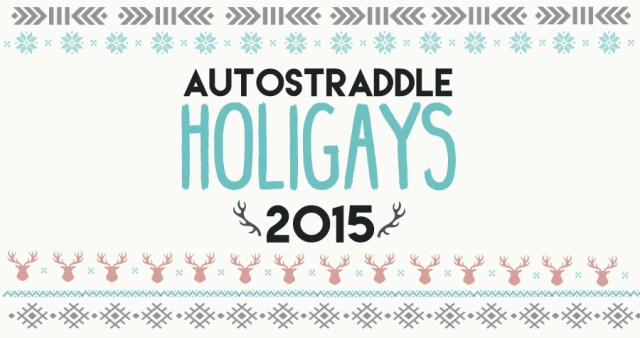 This past year I've been working on my handyperson skills. Although I still struggle with furniture assembly — it recently look me two days to put together an over-the-toilet hutch — my fix-it skills have improved mightily. Correspondingly, my tool kit has also seen major improvements.
If you have a partner with any sort of DIY inclinations, I think tools for their tool box would make a great gift this holigay season. It says "let's take care of each other, and also, our hardwood floors." One time I went with a friend to the hardware store and helped her pick out an S-Drill for her girlfriend. A few months later, I accompanied her to a (different) store to pick out an engagement ring. Now they're married and live together in Indiana. Coincidence? I think not.
Here are some tools you can put in your girlfriend's tool box. (Not a euphemism. If that's what you're looking for, wait for Carolyn's gift guide.)
---
Tool Box: Trusco L-450-B – This is the tool box that I have and I love it a lot! It's really sturdy. Also: pretty.
Speed Square: Swanson Tool SO101 7-inch – Good for lining things up at perfect 90 or 45 degree angles. Can also be used as line scribers, protractors and straight edges.
Cloth Measuring Tape – Takes up very little room in a tool box and is handy for measuring circumferences.
Ratchet Offset Screwdriver – Offset screwdrivers have a bend in the shaft, which means you can easily screw in hidden screws that you wouldn't otherwise be able to reach. The ratchet function on this one means you don't ever have to break contact between the blade and the screw.
Tweezers: Tweezerman Stainless Steel Slant, Pry Bar: Titan 11509 Multi-Purpose, Adjustable Wrench: Channellock 804 4.5-Inch, Chrome – Everyone needs an adjustable wrench! And tweezers and pry bars are just endlessly useful.
Vise Grip: IRWIN Tools Locking Sheet Metal Tool, Original, 8-Inch (23) – Holds things in place really, really well. Which is good when, for example, you need to keep things pressed together for a long time after gluing. Or you need something held super steady while you're cutting into it.
Dremel 8220-1/28 12-Volt Max Cordless Rotary Tool – This is a little handheld rotary tool that grinds, cuts, sands, buffs and polishes, depending on which attachment you put on it.
Assorted Fasteners: Capri Tools 290-Piece Assortment Set – Home and Workshop – Possibly the most useful item I've purchased in the past two years.
Nippers: KNIPEX 99 01 250 Concretors With Cushion Grip – These can cut through just about anything, and they last forever if you take care of them.
Clear Plastic Ziplock Bags – Perfect for storing little bits and bobs when you're halfway through a project and need to stop and pick up at a later time.
Measuring Tape: STANLEY STHT, 25-Feet x 1-Inch – I picked this one specifically because it's 25 feet long. I don't understand why shorter ones exist, really.
Drill/Driver Kit: DEWALT DCD980M2 20V MAX XR Li-Ion Premium 3-Speed – I assume it's obvious why drills are useful. Dewalt is particularly great because they make all their batteries backwards compatible.
Manual Screwdriver Set: Top One Tech 66in1 Screwdriver Repair Tool Set – The bits on these switch out, meaning you no longer need multiple screwdriver types taking up space.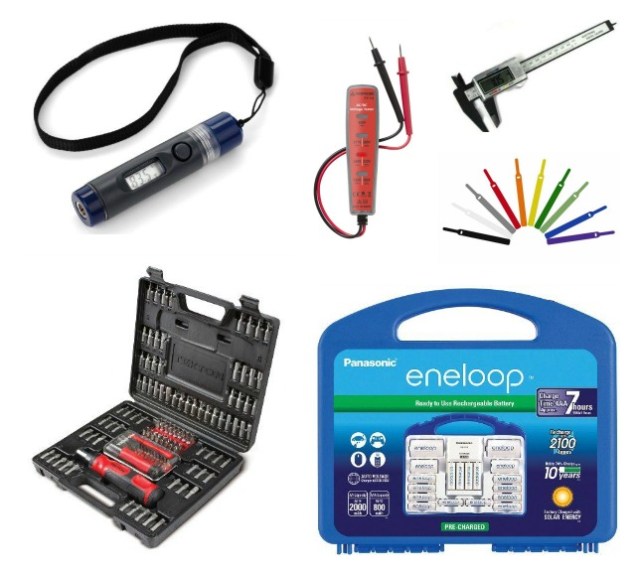 Infrared Thermometer: KINTREX IRT0401 Compact Waterproof (IP67) – These are also sometimes referred to as "laser thermometers" and "temperature guns," and I just think they're really cool. Good for candymaking and other situations where you need to know surface temperature.
Amprobe PY-1A Voltage Tester – You know when you plug something in and it doesn't turn on so you run around the house trying different outlets and nervously plugging different things in? This eliminates the running and nervousness; this tool allows you to check the outlet directly to find out whether you've blown it or not.
Digital Calipers: AODE 6 Inch 150mm Carbon Fiber – Perfect for measuring tiny things and giving the appearance that you're doing Important Engineering Work.
Patu Cable Ties – 10 pcs 4″ reusable fastening velcro straps – These are useful for keeping cords tidy, but I'll be honest: I mainly included it on this list because it comes in rainbow colors.
TEKTON 2841 Everybit and Electronic Repair Screwdriver Bit Set, 135-Piece – This is nice because it has the security bits needed to get into most laptops, gaming consoles, cell phones, etc.
Panasonic K-KJ17MC124A Eneloop Power Pack – I always mean to get rechargeable batteries and then don't, because I'm terrible. I wish I had a considerate girlfriend who would buy these for me and prevent me from ruining the planet.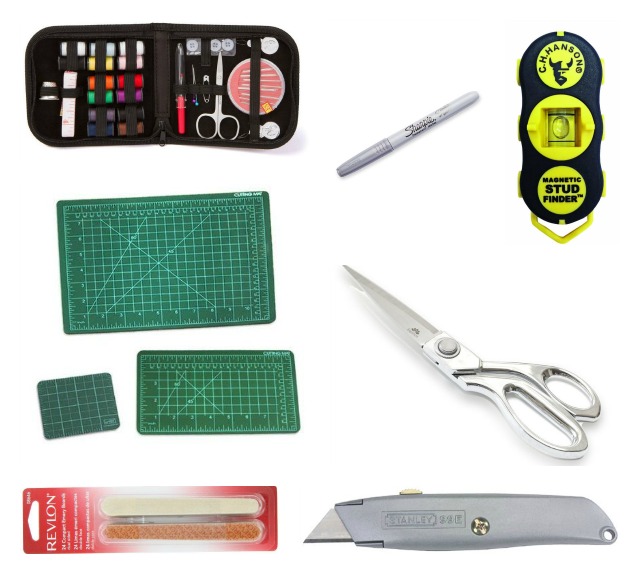 Compact Sewing Kit for Home, Travel, and Emergency – Maybe it's just me, but I really appreciate the subtle gender fuckery of storing craft and sewing supplies in my tool kit. Also, though, there's a lot of crossover, and sewing kits are incredibly useful for fixing things!
Silver Metallic Sharpie – This is better than a plain black sharpie because you can mark both light and dark surfaces. Surprisingly useful.
Magnetic Stud Finder – Stud finding used to be the point in projects at which I'd lose all confidence in my handyperson abilities, give up, and call in an expert. Then I got a magnetic stud finder! Problem solved.
Self-Healing Artist's Cutting Mats –  The smallest size should be able to fit in your girlfriend's tool box. You want her to have one of these so that she won't destroy all the table surfaces in her home when she goes to cut things.
Equinox Tailor's Scissors – Dressmaking, Upholstery Shears 8 inch – When I buy normal scissors, I can never remember which pair I've designated to be my fabric scissors. I like having the visual difference of tailor's scissors to help me remember.
Compact Emery Boards – Again with the gender fuckery. This is sandpaper in stick form.
Retractable Utility Knife: Stanley 10-099 6-Inch Classic 99 – Because sometimes scissors just won't cut it.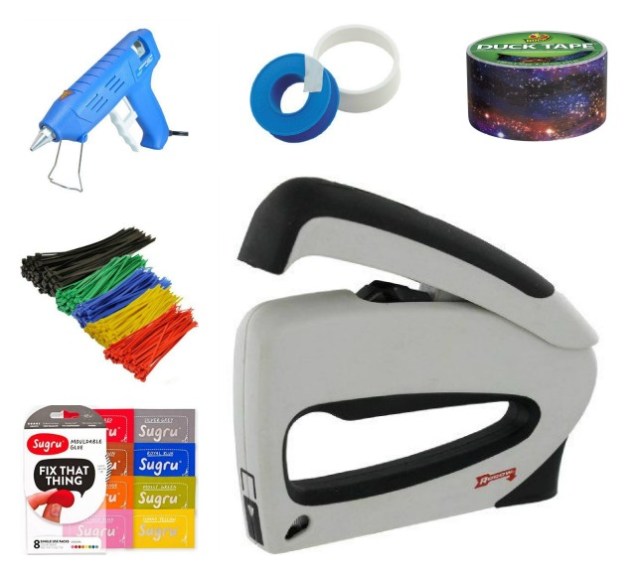 Glue Gun: Surebonder HE-750 High Temperature Professional 80 Watts – After I got tired of sewing this year, I finished my Comic Con costume with a glue gun and it worked great. Every Maker needs a glue gun.
Mr. Gasket 2842G Teflon Tape – Good for fixing leaky things!
Galaxy Duct Tape – Can you think of a situation where galaxy print duct tape would not be useful? Yeah, me neither.
Topzone Assorted Color Nylon Cable Zip Ties – The other day I used a plastic zip tie to fix the chain inside my toilet so it would stop running continuously.
Sugru SCLR8 Air-curing Rubber – 8 X 5g – New Multi-colors – One time I used Sugru to make bumpers for my frequently dropped cell phone. Most recently, I used it to plug a tiny hole near my sink where ants liked to run in and out.
Arrow Fastener TT21 TruTac Stapler – Listen. The only kind of staple gun worth having is a forward action staple gun. That's what this is. Buy one and rejoice in the beautifully ergonomic lack of recoil.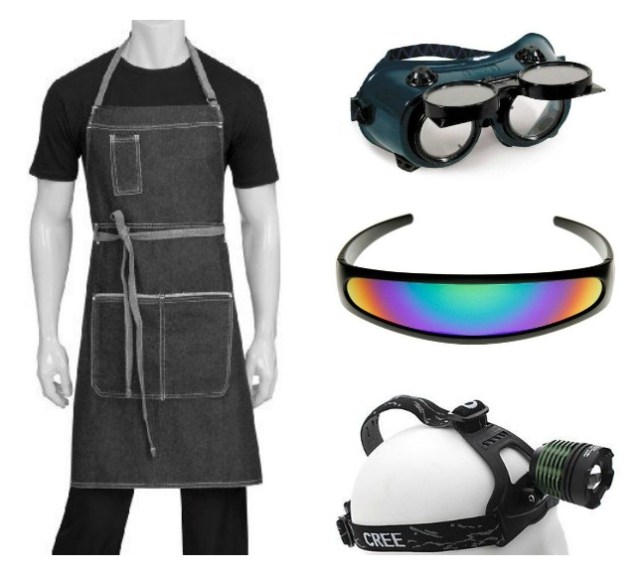 Apron: Chef Works AB041-BLK-0 Bronx Bib, Black – I'll tell you what, your girlfriend's gonna look real hot in this apron.
Goggle: Hobart 770129 Oxy/Acet Flip Front, 50mm Eye Cup Shade 5 – Almost certainly overkill for household tool boxes (this type of protective eyewear is designed for welders), but I like the steampunk-y vibe.
Visor Glasses: zeroUV Futuristic Narrow Cyclops Color Mirrored Lens – And on these ones, I like the Geordi La Forge vibe. Yes, they're sunglasses. No, I don't care.
Headlamp: DULEX Zoomable CREE LED 1600 Lumens Rechargeable Waterproof – You know when your girlfriend calls you over to hold the flashlight because she's using both her hands to fix some insufficiently lit thing? And then she's annoyed when you can't get the angle exactly right to illuminate whatever she's trying to look at? This headlamp eliminates that problem, because it points the light exactly where her eyeballs are pointing.