Hugs and (puppy) kisses to Stef for the drawings and Scully for helping out.
Cats and dogs are important members of families across the globe — and you should be making note of that this season. After all, don't you think your girlfriend would really love it if you showed up with a catnip-filled candy cane toy for her kitten tonight? I know I'm willing to melt on demand for whoever buys Eli a black leather jacket for Christmas to match the one I bought after Thanksgiving. Buying pets toys is a must, people! It makes everyone happy and when animals are happy, they ooze happiness that fills the air and your life.
As we write this Eli is curled up in that nook next to my ribcage, by the way. I dare you not to buy him a bone, honestly.
But it would be stupid for me to write a gift guide for animals without consulting one, so I consulted two –– Eli, my dog, and Scully, Stef's cat. I was also in touch as well with Mary Tully, bonafide professional animal expert person.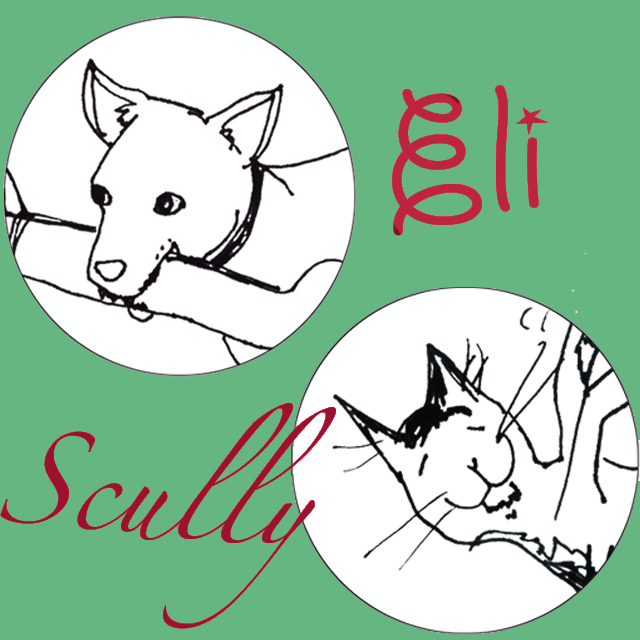 Also Mary has a dog named Kai, and I assume he affects her life in a powerful way and impacts her daily decisions. And he's adorable!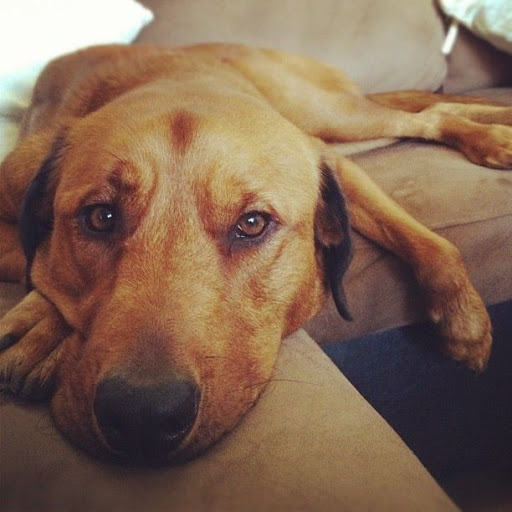 So without further ado, the pet gift recommendations straight out of the mouths of three animals and the people who love them more deeply than you can imagine.
Gifts for Dogs, Cats, Hamsters, and Other Weirdo Animal Friends
Pet Decor and Furniture
Eli recently tore up the basket his bed was in because he was upset and/or playing while in or around it while I was at work. Even though he sleeps in my bed, I keep dog beds around because I think they're important statement pieces. I've been dying to buy him this AKC plaid dog bed because I think it says a lot about me.
Stef also found hamster beds and "just thought you guys would like to be aware of the wide variety of handcrafted hamster beds available on Etsy, to the surprise of absolutely no-one." Disclaimer: she doesn't own a hamster.
STEF: i just emailed you four things, one of them was hamster beds
CARMEN: sweet beans
S: just a link to the search for hamster beds
S: it seems like a really lesbian thing
S: baby i want you to know i'm really serious about our relationship
S: so i got us this hamster bed as a promise
S: and a symbol of my commitment to our future
S: and when you're done making the kale chips, maybe we can go to the shelter
Also, my friend Libby would love this Alphapooch Napper Cat Den, thankyouverymuch.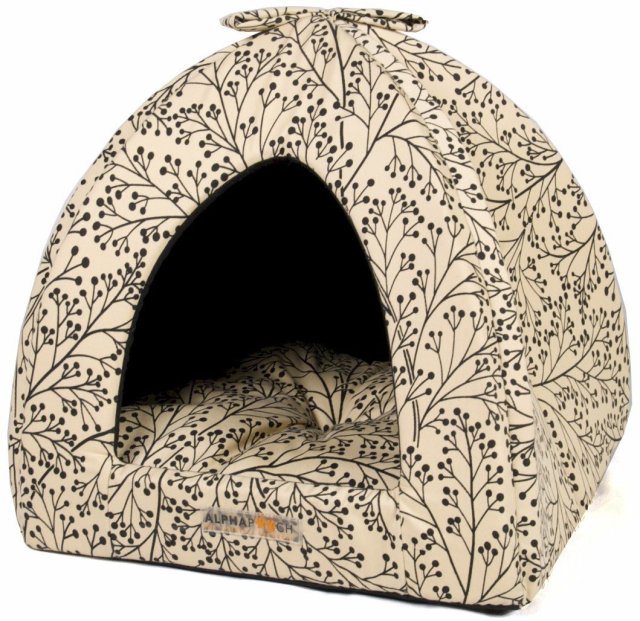 If Eli were a cat, he'd definitely want this cat condo. Stef recommends it:
Cats love small enclosed spaces. Cats love scratching things. Cats love scratching the small enclosed space they lie in and glare at you from.
Overall, though, I think what Eli and every animal in the world needs is a reliable ceramic bowl set. I love the french-inspired line from Wag.
Toys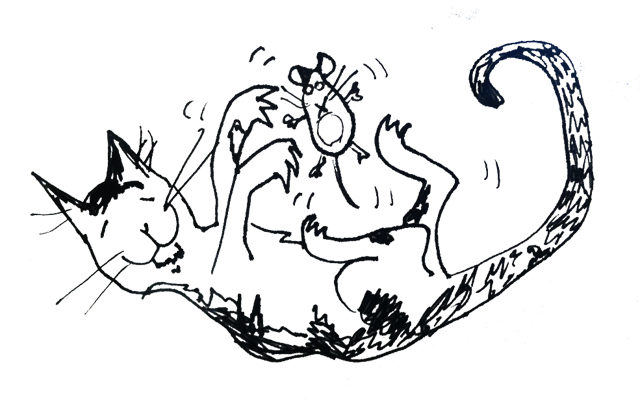 Eli is a medium-sized ball of energy (read: Chihuahua/Terrier mix) who only gets listless when I am trying to use the laptop he sleeps on. I keep him busy with all kinds of toys, but he destroys anything that isn't durable. Across the board, toys that last long just seem to make more sense. Try a Nylabone dinosaur for big chewers. A stuffingless dog toy is a cute gift — just bring a water bottle to fill it with! A traditional Nylabone never dies, and the DuraChew that looks like a tree but tastes like bacon is even better.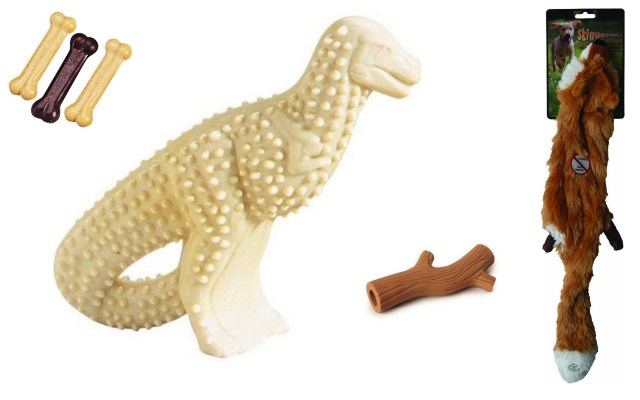 For cats, Stef and Scully recommend EEK! mice, which apparently come in 'mice color' and 'I'm on drugs color.' Stef's testimonial sounds promising:
I have owned approximately two cats in my 29 years, and both of them enjoyed a fine catnip treat now and again, but I have never seen my typically poised and aloof cat go absolutely apeshit like she does when I bring her one of these catnip mice (the pink ones, obvs). She FREAKS OUT before I can even get the mouse out of the packaging and cuddles and licks and kicks him with such fervor that eventually her affections become overwhelming and he disappears under the refrigerator, never to be seen again.
Nothing comes close to this fucking cat play circuit, though.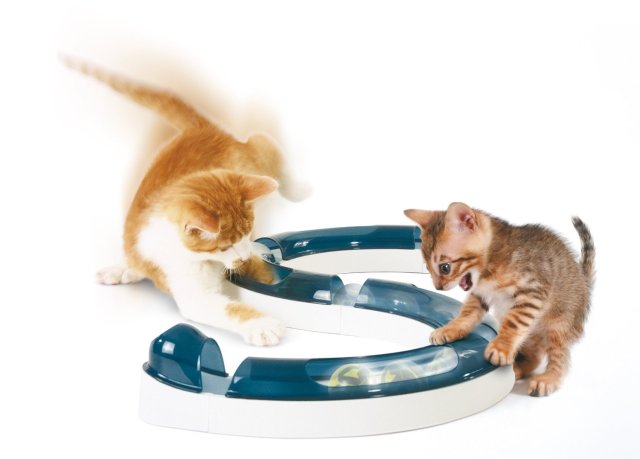 And never forget – the funniest toy is anything cats chase and you hold on a stick. Try the KONG version, which is probably indestructible. The KONG line of indestructible everything for dogs that you can fill with peanut butter is also helpful, PS.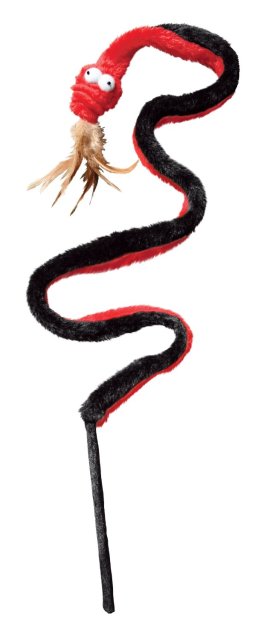 All pets love a good challenge, though, so maybe invest in a pet puzzle for your super smart friend who has a Yorkie that sits at the dining room table and eats out of a plate. The sophisticated kind of pet will appreciate this. Maybe also a Macaw. This seek-a-treat dog bone puzzle is absolutely adorable.
Then again, Kygen dog games come in every shape and seem to be built for puppy geniuses.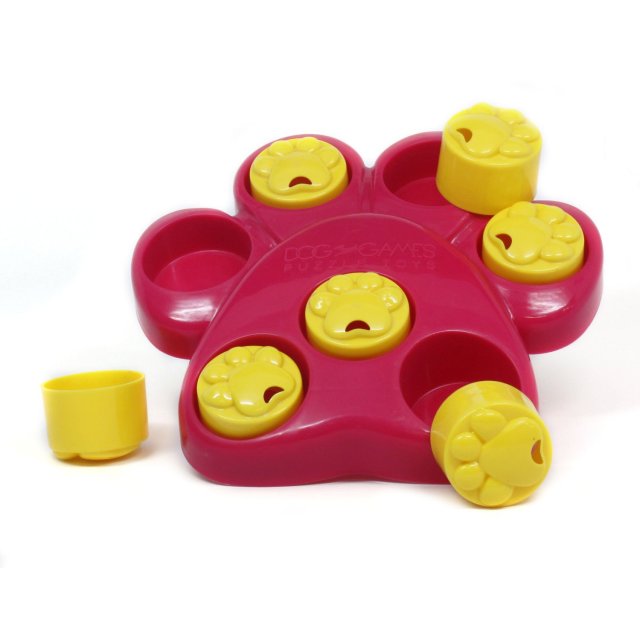 Also, Mary Tully really likes Fab.com's pet section – and they sell the incredible, amazing, one-of-a-kind holy shit it is so cute NORTH POLE EXPRESS CAT SCRATCHER. So. Mary advises keeping it simple and buying catnip but I one hundred percent endorse the following image/product being integrated more into your real life.
But it doesn't end there! Mary says:
Fab.com is a great place to find unique, quality products of all kinds! They have some strange shit. But some really rad stuff too. Seriously they have everything from toys to pet clothing, collars, scratching posts, beds, bones, all of it. EVEN SWANKY LEATHER POO BAG HOLDERS!!!! It is technically a design website so most of their products are aesthetically pleasing/ interesting.You won't see this stuff at Petco, which is why I like it:) Also, if you are looking for toys for intense chewers, they have so many things!
Excuse me while I buy a leather shit-holding pouch for my pet so I'm never seen as human again, but instead as an indestructible lesbian animal lover with an arsenal of kick-ass leather goods.
Food
After your pet has played with all those toys, it's going to need some serious snackage. I'm not sayin' that Eli and I get the munchies a lot a la Scooby Doo and Shaggy, but we do. And Stef gets it, too — how nice it is to feed your pet well and know they're loving food the way you do:
I don't think Scully would actually mind eating the same food every day, since she was born on the mean streets and spent most of her kittenhood dumpster diving. Still, for the sake of spoiling her, I really like to switch it up and occasionally bring her things like Meow Luau and Polynesian BBQ. There is something uniquely satisfying about your cat's dinner being fancier than yours.
Eli loves Beggin' Strips, which seems appropriate because the advertising is so good, and I once ate smoothies with him because doggie smoothies exist and that's fucking amazing. If you're trying to do well by them, feed your dog the natural shit like Wellness WellBars, or Blue Dog Bakery low-fat treats. My mom swore by Mother Hubbard because she liked the name, but my Chihuahua loved them, too. And who doesn't love a big ol' actual piece of lamb rib holy shit did I just touch that ew what the fuck Eli, I love you too much. They're called Smokehouse Meaty Mammoth bones, and he can't get enough of 'em. Gnaw, man. If your dog has a sweet tooth pick up a peanut-butter filled bone. Meanwhile, Stef buys the easily pleased Scully Weruva Canned Cat Food as a special treat every once in a while.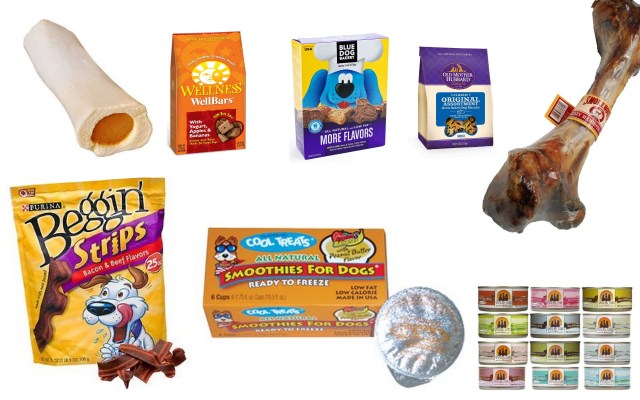 Mary also found amazing vegan treat recipes, so you can DIY your pet or your girlfriend's pet or your mom's pet some food without even clicking your mouse! It may involve walking to the kitchen though, so get ready. Here's the recipes for dogs and cats, and also — Bren wrote up one a long time ago and I still insist it's amazing.
Animal Clothing
The thing about my dog is that he's even cuter when he's dressed up — and finding him stuff is super easy because Eli happens to wear a size 3Mo. for babies and I just buy him used sweater vests in thrift stores. He also loves anything that attaches to his body at the neck, like collars and bowties. He's more dapper than I am but we have the same hair color so it doesn't matter, you know?
Your dog or cat or, really, even hamster could benefit from some clothing. After all, 'tis the season to be snuggie.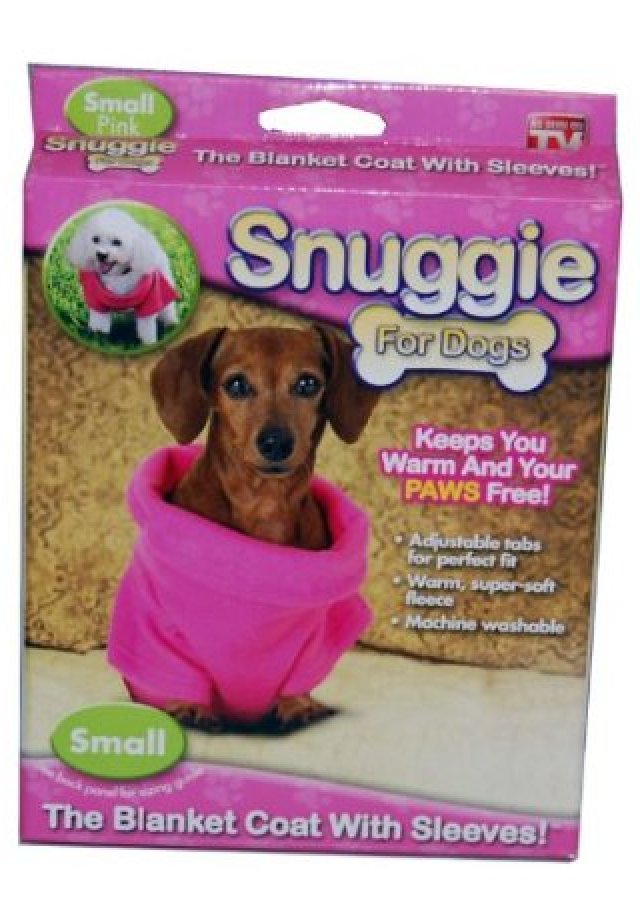 Also, four for anyone who buys Eli a smoking jacket.
Gifts for People with Pets and Other Animal Lover Weirdos
Books
Because I love my dog, there are things I want people to buy for me and him that nobody could possibly understand. Take, for example, the book Eli, No! which I actually did not write but could have, based on the imagery and plot alone.
You might also consider getting people coffee table books about animals. I'm pretty sure SNOG has you covered.
If your pet-loving friends need a bit of help, try training books by Victoria Stillwell and Karen Pryor. They're Mary-Approved, meaning they're amazing for real.
Movies
If someone loves animals, chances are they love The Aristocats, Milo and Otis, Benji, Oliver & Company, Homeward Bound, Air Bud, and/or Beethoven, right? How about My Dog Skip?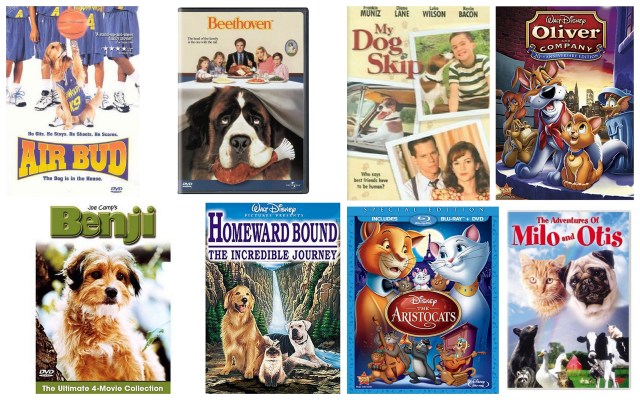 Petgo Hands Free Bicycle Leash
You're into girls who like dogs, maybe. Is there really a chance you won't ever need this? Buy one and keep it on hand for your next hipster girlfriend with a pug to walk.