This Heartstopper review was written during the 2023 WGA and SAG-AFTRA strikes. Without the labor of the writers and actors who are currently on strike, tv series like this one would not be possible, and Autostraddle is grateful for the artists who do this work. 
---
Netflix's Heartstopper — a live-action adaptation of Alice Oseman's beloved, best-selling graphic novels — might as well have been created in some kind of Television Lab specifically for me. It's sweet and tender and wholesome and oh so very gay. I laugh and cry, and walk away from every episode feeling a little bit lighter and more hopeful about the world. Season one grew my own personal heart at least three sizes, and season two, which just landed, nearly made it burst. The show was already incredibly queer, but the new season nearly doubles the gayness and transness and even gives us an asexual character! Plus, are you really living your full queer life if Olivia Colman isn't comforting you by loving her fictional gay child, at least once a year?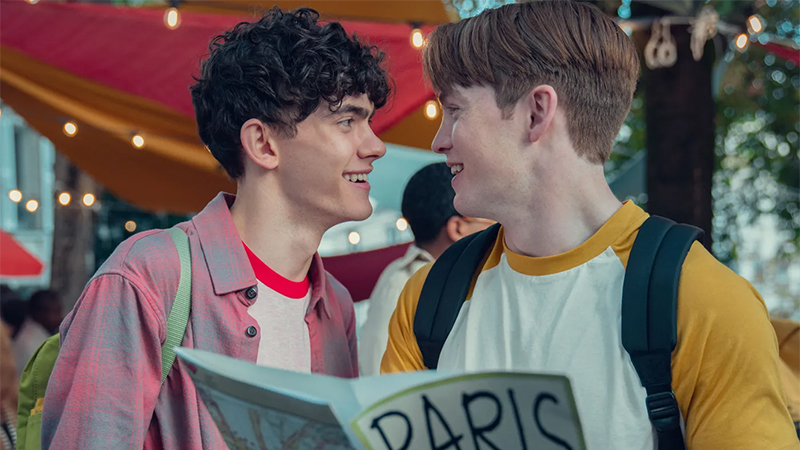 Heartstopper season two picks up right where season one ended, with Nick telling Charlie that he wants to come out as bisexual and make their relationship public. However, telling his rugby mates and even his good straight(?) friend Imogen about his sexuality proves to be much harder than Nick anticipated; and that's not even counting his older homophobic brother who shows up out of nowhere acting like a total — what's a good British insult? Bollocky Wankshite? That's Nick's brother, David. Mr. Bollocky Wankshite. Charlie gets it in his head that he's going to help Nick have the perfect coming out, that he's going to protect Nick from all the heartache and bullying he had to endure. It's too much pressure for both of them, and while they can keep telling each other to go easy on their selves, neither of them are able to personally take their own advice. Nick comes close to have a panic attack at a school party where he's promised to come out, and Charlie struggles with disordered eating and self-harm as things begin spiraling out of his control.
And yet, none of those conflicts keep Nick and Charlie from deepening their relationship, falling closer and closer and closer to love. They remain so gentle with each other, so supportive, so empowering, so communicative, so huggy! And sex enters the equation this season too. Neither of them are ready for it yet, but they think they will be at some point; and in the meantime, what's an enormous hickey between boyfriends? Also, if you're wondering how Heartstopper upped its romance settings from arcades and beaches, well, the answer is: Paris, where three episodes of the eight-episode season take place. If you didn't think it was the City of Love before, you sure will now.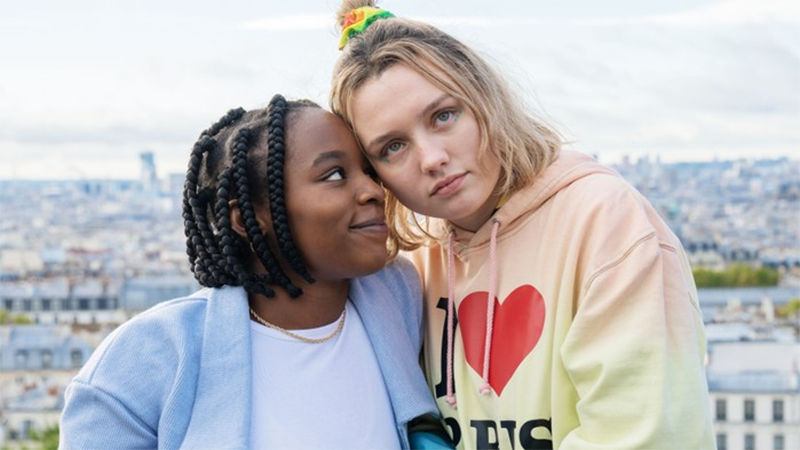 We also get more time with our supporting cast this season. Darcy and Tara, our favorite baby lesbians, are still as in love as ever, and now they're wrestling with how to say it out loud. Or, at least Dacry is. Tara kind of blurts it out and then tries to shrug it off — but then realizes she doesn't want to shrug it off. Darcy's having a hard time using her words to showcase the sincerity of her love, opting for the clownery that she's always been comfortable with instead. She's also got something going on at home that she won't talk to her girlfriend about. Tao and Elle are also finally brave enough to confront their romantic feelings for each other, dancing around them until neither of them can take it anymore and finally giving in. There's some really lovely Wes Anderson framing to their scenes this season, particularly when they're on dates with each other. And Elle makes two new trans friends that I'd love to learn more about; like her, they're applying to a prestigious art school.
One of the biggest delights of Heartstopper's second season is Isaac's journey toward understanding that he's asexual. It occurs to him, repeatedly, that everyone around him is pairing up and smooching every chance they get. And he's flattered when his classmate, James McEwan, expresses an interest in him. But he's also confused because he's just not longing for the kind of connections his friends seem to be reaching for. He even kisses James to try to figure it out, after asking Charlie how he knew he liked Nick ("I wanted to be around him all the time and I couldn't stop thinking about kissing him"). But Isaac doesn't feel how he thinks he should feel about that, and it has nothing to do with James being a guy. It isn't until Isaac finally encounters some art from an asexual painter that he starts to put the pieces together. It's an enormous relief to him, and easily the best asexual storyline I've ever seen on TV.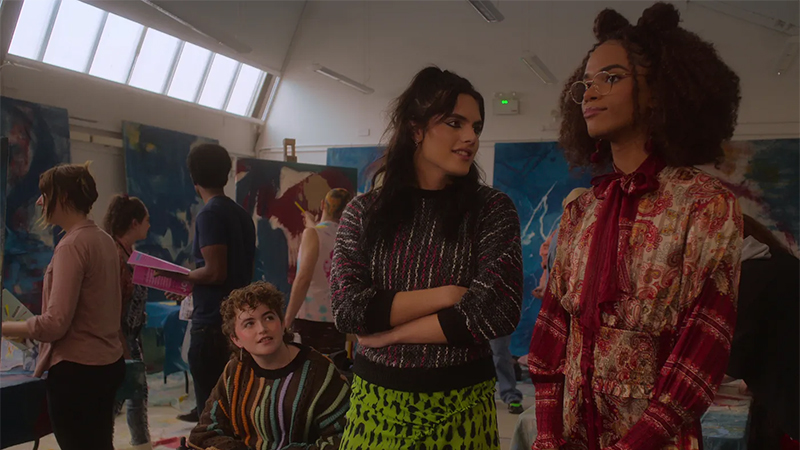 I understand that Heartstopper is not for everyone, that it's actually TOO gentle and sweet for some people. I understand that there are plenty of LGBTQ folks who don't find comfort in this fictional world because it's not nearly as brutal as the world they're actually navigating in real life. And I also understand that plenty of queer and trans viewers have a hard time stomaching Netflix trotting out this show as proof of their progressiveness while they cancel other LGBTQ shows en masse and without apology. But Heartstopper speaks to the little closeted gay kid inside of me, it patches her up and holds her hand and promises her a brighter future. And it speaks to the grown-up me too, the one that will never stop working to push the world closer to this fictional reality, where gay and trans and asexual kids can experience the same kind of safe, happy years of self-discovery as their straight peers.
Of course, falling in first love isn't just for teenagers, and Heartstopper knows that too. Mr. Ajayi and Mr. Farouk are here this season to remind us that it's never too late for gay adventure.