This review contains spoilers for season five of Grace and Frankie. 
In the second episode of Grace and Frankie's fifth season, which landed on Netflix last Friday, Grace flat out asks Frankie if she wants to have sex with her. They've just tucked the miniature pigs they're pet-sitting (long story) into their pin and settled down onto the makeshift mattresses they're using to sleep on while they squat in their former beach house. Frankie, as usual, flirts with Grace and Grace finally calls her bluff. It makes Frankie topple over giggling, but Grace wants to know what's so funny. She didn't just appear in the world the second she and Robert appeared and Frankie and Sol's life. Before she was a wife, she was Just Grace and Just Grace made out with girls.
Grace Hanson: confirmed bisexual!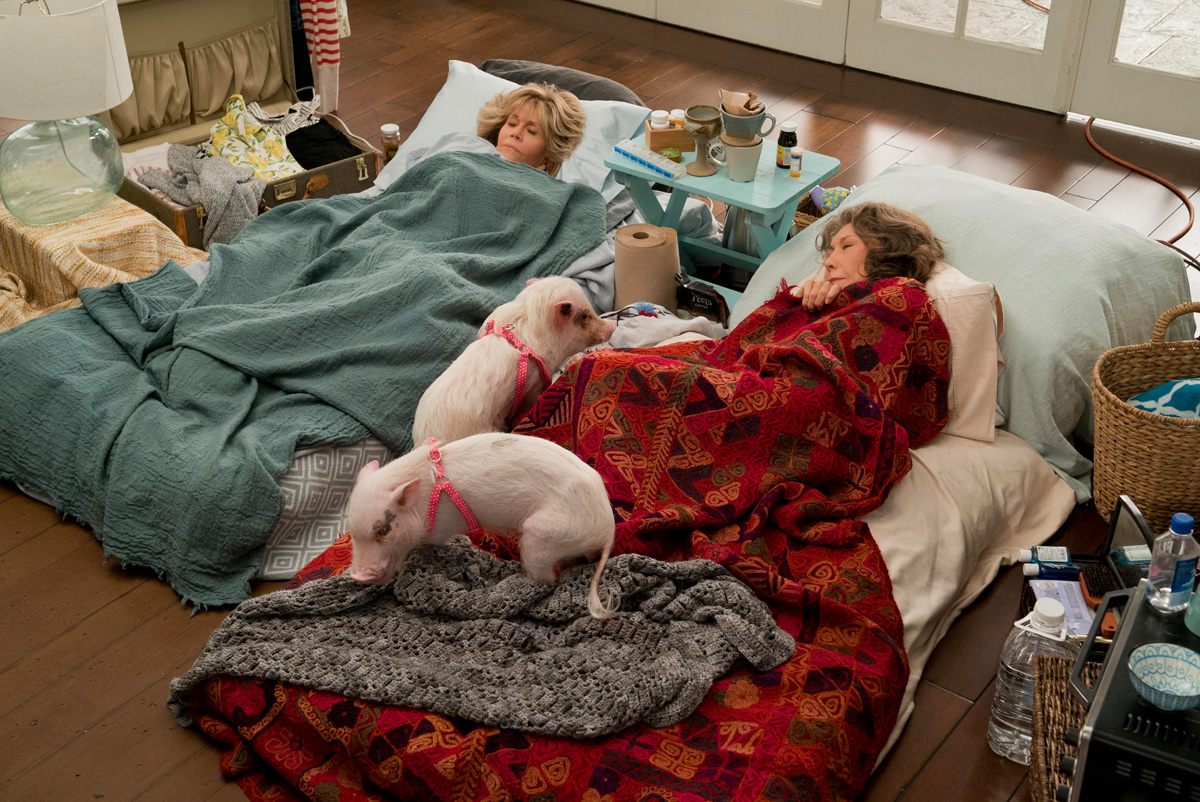 The revelation isn't played for laughs or shocks; it's another moment that deepens Grace and Frankie's relationship. Sadly, they do not hook up. But they do engage in Grace's first-ever sleep-over, complete with secret-sharing about their childhoods. And that is just another in an endless parade of glorious rom-com tropes that leave me more convinced than ever that Grace and Frankie are just so very, very, very in love. (The season ends with an alternate reality where they never met followed by them running toward each other on a beach in actual reality, falling into each other's arms to reconcile as waves crash their harrowing harmony alongside sweeping piano music, okay? It's a goddamn Nancy Meyers movie.)
Of course, that's been true all along. What makes this season especially romantic is how Grace and Frankie's relationship storyline mirrors Robert and Sol's. Where Sol decides he's going to stop being Mr. Nice Guy and start doing things that make him happy, leaving Robert to wonder nightly where his dinner is, Frankie decides to return to her roots of veganism and living in a yurt. Can a relationship survive when one person inside it makes big changes? Can two people grow as individuals and as a couple? How do respect your person's autonomy and empower their growth toward their best self and deal with the fear that your person is going to change so much they won't want to be with you anymore? Sol and Robert don't find out the answers to those questions, and at the end of the season, their relationship is up in the air. Grace and Frankie, however, do figure it out by realizing they wouldn't be who they are as individuals without the life they built together.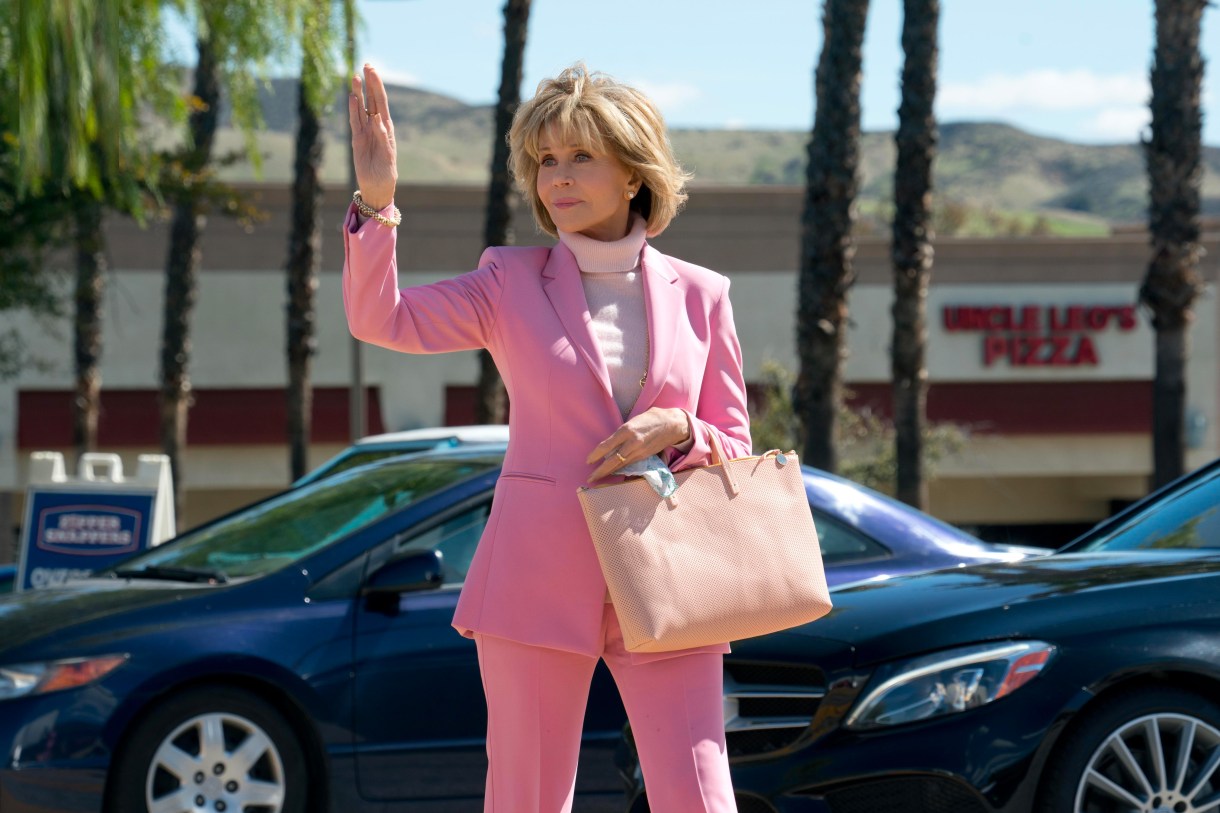 It's not all pathos, though. You know Grace and Frankie is as wacky and empowering as ever. Frankie works her activism to get the city to add a few seconds to a crosswalk so she and her friends can make it from the overflow parking lot to the new crab leg buffet before it runs out of food. Grace tag-teams with Brianna (June Diane Raphael is back from maternity leave and gloriously here for the full season!) to try to save Say Grace. Frankie makes a huge Twitter snafu that results in her owing about fifty thousand free vibrators to their followers. Grace tries to figure out what to do about Nick. And the whole time they're employing their new motto about ageism and sexism and everything else: Fuck it.
There's plenty of other gay stuff going on this season. Barry, Brianna's accountant boyfriend, signs on to be the sperm donor for two of his college friends, a lesbian couple named Erin and Liz, who are both delightful. A non-binary actor named Peg tries out for the role of Sancho in Robert's gay theater company's production of Man of La Mancha. ("I'm Sancho — or am I Sancha?") RuPaul brings the aforementioned miniature pigs. And all of Robert and Sol's gay stuff and gay friends are gaying around. Also did I mention Grace Hanson is A CONFIRMED BISEXUAL?
I was going to write about how I love this show more than ever in this, the 40th year of my life on this earth, afflicted as I am just recently with perimenopause and early onset arthritis. But you know all that already.
Instead I want to tell you this story: Since the 2016 election, I have begged and pleaded and cajoled and sob-cried trying to get my grandparents to stop watching Fox News. Finally, very recently, they got rid of their cable full stop to get rid of Fox News, for me. For the last ten years, probably, they'd been watching Everybody Loves Raymond reruns on TVLand before bed. Once their cable was gone, though, they turned to Netflix, which recommended this brightly lit comedy starring two of their faves from 9 to 5. I laughed so hard when my grandma told me, imaging her and my grandpa watching Jane Fonda wield a vibrator like a sword, but then she said a thing that pierced my heart. She said she was glad a show exists where Stacy and I can see "two old women living together, happily ever after."
Season five ends with a shock I haven't spoiled for you. Frankie, for one, doesn't know how they're going to get through it. I don't either, but I know they will. Grace and Frankie might never make out, but that doesn't mean they're not soul mates. "Bad things happen when we split up," Frankie tells Grace early on in the season. Grace agrees. She calls Frankie "my partner." Also, "Frankie, it's a little thing, but can you not put my phone in your boobs anymore?"