Ali here: Cheese is so good. It's so good, I camembert it. I liked cheese before, but then I lived in France and I got super spoiled and particular about my cheese. When you're Staycationing, a cheese plate is a wonderful thing whether you're hosting company or you plan to eat that entire board all by your fucking self (I support you in this). But y'all, you wouldn't believe how many humans I've met who approach putting together a cheese plate — and pairing it with wine or other drinks — like it's nuclear physics. Sure, there are best practices, but y'all. It's cheese. It's hard to fail.
The Basics of Getting Your Cheese Together
There are four categories of cheese — Aged, Soft, Firm and Blue. If you're not sure how to go about setting up your first cheese plate, picking one cheese from each category is a good way to start. It ensures a fairly well-rounded plate that pairs with a lot of different things.
Another way to pick your cheeses is to select those made from the same kind of milk — an all sheep's milk or all goat's milk plate are popular options. (We've even got an all-goat's-milk plate further down the page.) Picking a theme can serve to unify your plate and make you less crazy by narrowing down options from "all cheese" to "just these kinds of cheeses." Doing a tour of a region, a tasting of a particular farm's cheese, or an exploration of one of the four types of cheese ("Blue Cheese Bonanza," anyone?) can be good jumping off points. Get down with your bad themes — make an assembly cheese plate where everything can transform into a tiny sandwich, or go with Cheese That Reminds You Of Bette Porter. Go wild! It is your cheese day.
If you're serving a stinky cheese or an extremely soft cheese, make sure you put them out separately — that stinky cheese is likely to beat up the other cheeses and take their lunch money. If you're serving company, make sure to serve at least one "accessible" (read: popular, not too stinky) cheese, even if the rest of what you've selected is hardcore Roquefort.
Cheese plates aren't just cheese, either — you can serve bread, fruit, pickles, nuts, even chocolate! The name of the game here is diversity of texture and flavor. Definitely pick things that you can smear cheese on/put on top of the firmer cheeses. Speaking of pairing…
---
The Basics of Pairing Cheese With Drinks And Such
Presumably you won't just be eating this plate — you'll probably be drinking something with it too. The most popular option is wine and that could be one entire post, just on pairing cheese and wine together. There are cheesy (lol) sayings like "What Grows Together Goes Together," so if a goat and a grape come from the same area, that goat cheese probably goes well with that wine. Then there are tannins to consider (I like to pair tannic wines with cheese that can be compared to butter: super heavy cheese, warm flavors). But here's a secret — I cheat. There is a cheat sheet that I use when I don't want to experiment with a pairing and risk looking like a wine n00b. There are only two things I can definitively say for sure without a cheat sheet when it comes to pairing wines and cheeses:
Never pair Cabernet Sauvignon with any cheese that has pepper added to it; black pepper changes the way Cabs taste, and mostly not for the better. I learned this from my fiancée when she spent three months in Napa making wine.
Riesling goes with a lot, so if your plate is super varied, it's a good option. Which is too bad for me, because Riesling isn't my favorite.
Keep in mind, though, that cheese doesn't just pair with wine. You can pair cheese with whiskey, for example, or tequila or rum. You can pair cheese with artisanal soda or no-alcohol mocktails. And because I think eating anything is a total experience, you can pair cheese with activities you are doing (i.e., A Cheese Plate for Meeting One Million Deadlines, or The Netflix Marathon Cheese Plate). Basically, when it comes to experimenting with these pairs, knowing the following things helps:
The flavors of the things you're pairing — that's why grocery stores and farmers' markets with samples out are my jam. Usually I know what the wine, whiskey or other such drink tastes like. I just need to taste the cheese before committing.
Whether you want to complement or contrast. Either is good, they're just different effects. Do you want to contrast a sweet wine by pairing it with a salty cheese? Or would you prefer to pick up the fruity notes with something lighter? Your choice.
Whether any of the flavors is particularly strong. I like to say that if the flavors of the things you're pairing would be equal to each other in a cage match, they'll pair fine. One flavor shouldn't be substantially stronger than everything else, or everything's going to taste like that one thing — think like that stinky cheese we sat in a corner by itself when we were making the cheese plate. If we didn't serve it separately, it would just overwhelm everything.
---
The Golden Rule
Speaking of "your choice," remember how I said Riesling isn't my fave? To me, even though Riesling is supposed to go with a lot, it's never going to taste as good to me as, say, a Cabernet Sauvignon. It just isn't. Which is to say, for me Riesling doesn't go with everything. That's what the Golden Rule of Cheese Pairings is about:
If you think it tastes good together, it tastes good together. And fuck what experts say if you think they're wrong.
Taste is super subjective — and sure, there are people who really fucking know what they're talking about. It can be fun to try their pairings to see if you agree, but you are not required to acquiesce to the cheese authorities. Damn the man, have your cheese plate. You are the authority on your own taste buds.
That goes for us too — we're going to give you some example cheese plates to get your noggin inspired, but here's the thing. You can ignore us. You can ignore us and follow your heart. Or you can do what we did; the following plates are tried and true.
---
Advanced Cheese Plating, Courtesy of Team Autostraddle
Ali's Whiskey Lunch + Deadlines Plate
Because sometimes Staycations have to be Working Staycations, which I define as paying more attention to my emotions and stress level than I normally do and treating myself. Treating myself in this case can be defined by the presence of Brenne Whisky during lunch hours. Not something I do often (or ever) because I get tipsy comically quickly, but hey. It's Sunday (while I'm writing this, at least). I'm writing a novel. I need to treat myself sometimes, because turns out writing a novel is really fucking difficult. This cheese plate is intended for three people all of whom are working on projects at our dining room table and is built to pair nicely with Brenne Whisky, a French single malt on the sweeter side with undertones of Cognac and Bananas. Brenne Whisky, by the way, is a former A-Camp Whiskey Tasting sponsor and we all lost our minds over it.
Silhouette Goat Cheese from the Ardith Mae Farm (with vegetable ash — it's actually not a blue cheese, but it kinda looks like one). Has a nice smokey flavor with the lovely creaminess that the goat cheese. Chosen to contrast the Brenne and to put it in the context of a flavor profile more common to single malts.
Edamer from Hawthorne Valley Farm. This is like cheddar, but a little lighter and less sharp. Chosen to compliment the Brenne — I thought a sharper cheddar would overwhelm some of the Brenne's more delicate, fruity notes.
Aged Gouda from the grocery store on the corner. This is my more accessible cheese, and I wanted a Gouda without the smoked aspect since we already have a lighter smokey flavor with the Silhouette — I thought more smoke would be too much smoke for such a light single malt.
Pink Lady apples
Baguette (Hot Bread Kitchen)
Pickles
Carrots
Aged Parmesan Cheese Ranch Dressing (all cheese, all the time)
Dark chocolate. This was also chosen specifically to pair with the whiskey, because the whiskey does have a banana quality to it. Dark chocolate goes with it swimmingly.
Pairs well with: Brenne Whiskey, duh. But I also think this would pair well with some medium-bodied red wines and some medium ales. Basically the keyword here is "medium."
---
Laura Mandanas's Gilmore Girls Plate For Two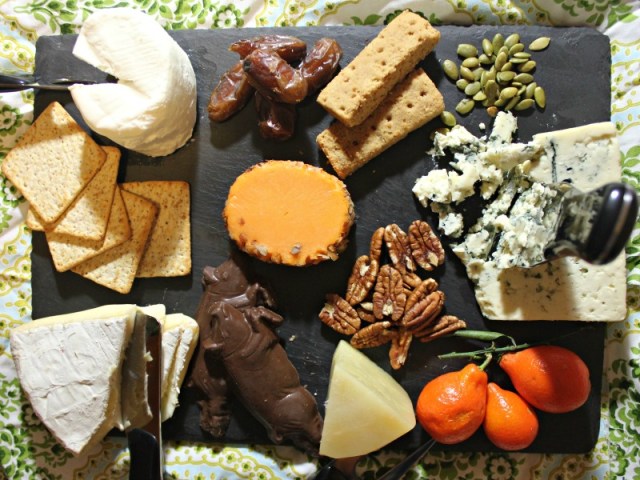 This cheese plate was delicious, obviously, but what was really great about this arrangement was that there were lots of munchies, everything went with everything else, and I remembered to put out multiple cheese knives. My girlfriend and I found this perfect for TV watching, because it ultimately meant less time futzing with the food and more time staring into Rory and Lorelei Gilmore's beautiful baby blues. Goodness gracious, I do love those girls.
Goat cheese
Halawi Dates
Ginger Shortbread
Pepitas
Blue cheese
California Mandarinquat
Pecan
Italian Table Cheese
Sharp Cheddar with Almond Crust
Flying Chocolate Pig with Bacon
Brie
Table Crackers
Pairs well with: Gilmore Girls and root beer.
---
Maddie's No Cows Allowed Goat's Milk Plate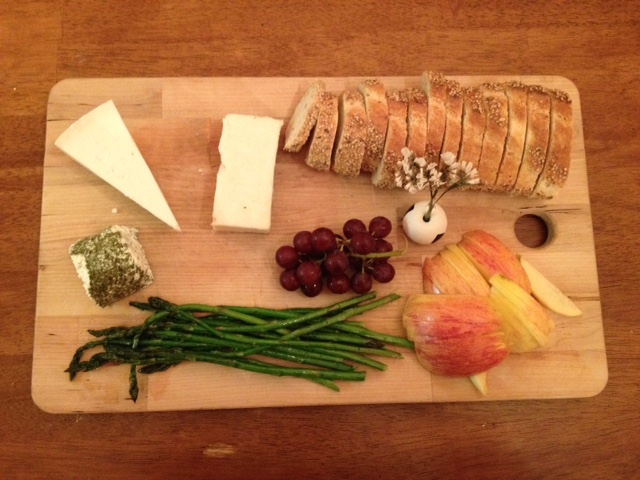 This is a GOAT'S MILK ONLY plate. I visited the fine cheese monger known as Trader Joe, picked his finest [only] cheeses made from goat's milk. The chevre with herbs was delightfully predictable. The cheddar was sharp, flavorful and much more crumbly than your average cow cheddar. The goat gouda was the surprise favorite: rich, smooth and nice with the apple.
Goat chevre with "fine herbs"
Goat milk cheddar
Goat milk gouda
Grapes
Oven-roasted asparagus
Gala apple
Multigrain baguette
Pairs well with: the cheapest red wine you can find.
---
Carmen's Haus Meeting Plate

I've recently moved into a new house with Skinz, my forever BFF, and a new and amazing and really fancy roommate named Hillary. And everything is white! Like, everything you guys. The hardwood floors are white. The walls are white or soon-to-be-painted white. The furniture has a creamy glaze. The couch is — yep — white. Even her dog is white, which means no matter what color I wear now you can see dog hair on me! Yay!
I made us a cheese plate for our first-ever haus meeting because nobody can be happy without cheese and also, killing two birds with one cheesy stone is my idea of a good time. I totally coincidentally chose a lot of light cheeses and then ate them alongside a Stella Artois, which is so light it's pretty much clear. What I'm saying here is, the cheese matched the decor matched the drinks: all white everything.
On this cheese plate:
Stolen Sharp White Cheddar Cheese, like literally stolen cheese from Skinz's old house.
Jarlsberg Semi-Soft Part-Skim Cheese, which is creamy and actually amazing and not that much money!
Cabot Pepper Jack Cheese because I love spice and also because this is a super-thrifty cheese choice.
Brie, because we needed something you could really put all over…
Homemade Rolls, which I loved and don't find ugly at all.
Pairs well with: white walls, white floors and white wine (lol). Also the aforementioned Stella.
---
Rachel's Vegan Dreamin' Cheese Plate
Hello this is your resident vegan speaking. I am a wacko who is super into vegan cheese; I'm not usually crazy about the storebought brands, but I like making and eating cheese-esque situations at home. If you are also into this, I highly recommend Miyoko Schinner's cookbook on this. I didn't have time to make any of her recipes this week but they're pretty sweet. Here's what I did make:
Coconut milk cheddar made from this recipe (meltable!)
Multigrain artisanal cracker situation
Creamy mascarpone-ish cashew cheese
Medjool dates
Kite Hill almond cheese from Whole Foods (I'm actually not wild about this, especially not at $10 for 4 oz, but it was worth a shot)
Gala apple slices
Pairs well with: cheap red wine and watching Medium on Netflix