Secret Diaries is an award-winning coming-of-age play by Manchester theatre company Art with Heart, based on the real-life teenage diaries of a friend of writer Sarah Evans. Set in both the present and the past, it spans decades in the life of a queer teenager/woman (Hayley) including experiences like coming out and the angst of teen crushes was well as adult relationships and parenthood.
It's been featured as part of Pride, Queer Contact and LGBT History Month events and Sarah says that at every youth performance of the show, at least one young person has come out… which is pretty damn amazing.
I asked Sarah to explain a little more about the ideas behind the play and why she felt it was important to bring a queer teen's secret diaries into the spotlight.
Hey Sarah! I heard that you came up for the idea for Secret Diaries one night when you were going through a friend's hilarious teen journals — is that right? Why did you think it would make good material for a play?
Yeah! My friend had been given her old journals by her Mum and we sat around reading them. We laughed a lot, but it was also really clear that she really poured her everything out on those pages every day and used them to figure out who she was. The diaries were so honest and uncensored, they really stuck with me.
I suppose I saw me on those pages too; we all did! Growing up is such a mix of the good, bad, ugly and ridiculous. It make me think about all that time I'd spent fretting over if I was cool enough to wear a glittery dress, or practicing my dance moves to perfection, worrying if I would ever be happy.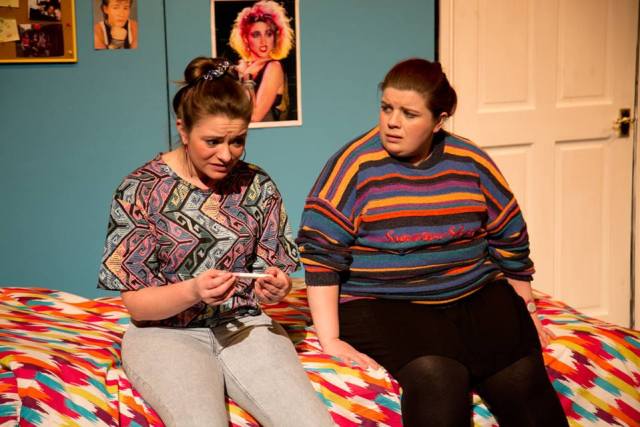 The diaries inspired me and I felt like I had to write something that fused together the pressure cooker of the 80s — being surround by excess — from neon spandex and political darkness to now, where even though Section 28 has been repealed, and same-sex marriage has been embedded into law, it still feels like society has a lot of catching up to do.
I'm always really driven by the line between tolerance and acceptance and I struggle with why we encourage tolerance. Tolerance means that we are happy to encourage acceptance on the surface but behind closed doors reject people. No! We should be exploring why we're not accepting of others, why we don't feel like we're all equal, not just tolerating difference!
So is the play totally autobiographical?
It's a mix of being inspired by the diaries, my own life and fiction. You are always inspired by the world around you. Some of the fire for writing it came from working with young people in schools and an LGBT Youth Centre and hearing the most awful things that they have experienced. It was hard to stomach that still now there are young people going through hell because they are LGBT. I felt like I needed to do something.
Half of the play is set in the past and half in today. Hayley and her wife are looking to adopt a child, but in talking to her Dad about it, he opens up for her what her life was like growing up before she embarks upon parenthood herself. She has these ideal scenarios mapped out, as we all do, of being the perfect parent, but her Dad makes her open up the past to really deal with it before facing the world with a new challenge. It takes them both on a journey.
Our past absolutely informs who we are today, no matter how tightly you pack it away in a box, in a loft or a cupboard, we're carrying those experiences round with us all the time. Including how much effort we put into getting that Bros dance routine absolutely perfect!
There's so much pressure on you as a teenager to be in the right place, saying the right things, wearing the right clothes — and that's just the easy stuff to deal with! Figuring out the bigger questions like who you are and who you want to be are always huge mountains that only you can climb.
What advice would you give your teen self now?
Listen to that Baz Luhrmann song 'Everybody's Free to Wear Sunscreen.' Especially the bit about looking after your knees. "Do one thing every day that scares you. Sing." And dancing. I always try and dance on my own in the kitchen when the kettle is boiling, it feels really liberating just to throw your body round when nobody is watching and not giving a shit if you look like an idiot. It's the best way to start a day. In fact, I've still got that song on tape, I'm putting it on when I get home. Thanks ☺
What's the overall message of the play?
It doesn't have one. It'll ask you to think and to question your own values and yourself. In society we're told what to think, what to do and how to be every day of our lives, drama should be a space that asks you what you really think and challenge yourself. It should make you think about your world, how it looks and empower you to change your world for the better.
It's easy to tell someone that we're all equal no matter what, but life isn't as simple as that, not if we really want to make change, if we really want to challenge people's perceptions of equality we need to talk, explore, and be open to a conversation, that's the way we change the world for the better. We can tell people what to think until we're blue in the face but we need to do is listen, and talk with each other. With everyone around the table.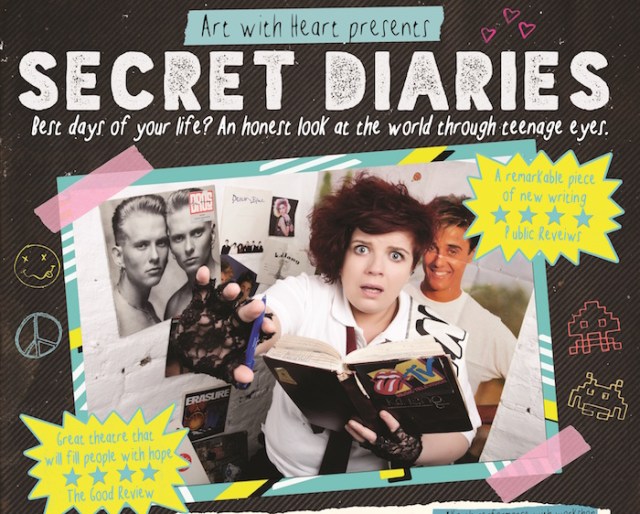 Secret Diaries is touring throughout the UK until 2nd April 2015
Information, dates and tickets are at artwithheart.org.uk/current and direct from venues.
Find out more about Secret Diaries and Art with Heart:
Web: artwithheart.org.uk
Twitter: @artwith_heart
Facebook: /weareartwithheart
Hashtag: #secretdiaries