feature image via shutterstock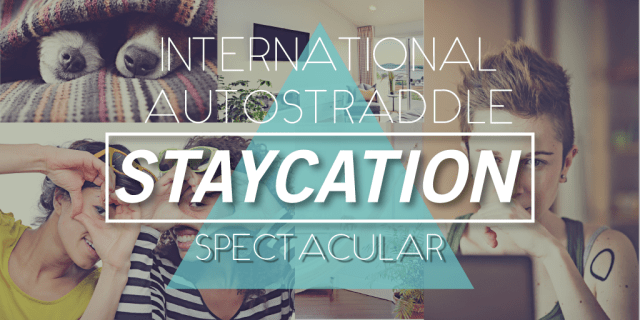 On March 14, we want our readers to stay in together as part of Autostraddle's International Staycation Spectacular! Follow along with everyone's hotel parties, spa days, and indoor picnics around the world with the hashtag #StaycationSpectacular, and join us on the day of for the A+ livestream!
---
It's a truth universally acknowledged that if you're going to hang out inside all day, curling up with your off-brand Snuggie and popcorn to watch a movie is a pretty solid idea. This plan becomes EVEN MORE fun when you add a theme of some sort and possibly some friends. I firmly believe that the amount of fun you have during this experience is directly correlated to how hard you go in on your theme, because the rule is always that the more deathly serious you take something, the more fun it gets, right? Right. I will be conducting my Themed Movie Experience with my friend Batia, and our theme will be Jeff Goldblum. I know, it's a really great idea, we're geniuses. I'll be talking about the themed movie marathon concept through a Jeff Goldblum lens, but obviously feel free to use your imagination and apply it to your own life, it's your world we just live in it, etc.
Pick a theme
This is vitally important as it lays the groundwork for your entire situation here. The key is to find the right balance between specificity and broadness. "Action movies" is too broad; "movies that have both musical numbers and a Culkin" is probably too specific; "movies where Michelle Rodriguez kills a man" is perfect. Picking a specific actor and watching different parts of their filmography works well, as does picking important films from a specific time periodl. If anyone is screening all the Fast&Furious movies, all the Taken movies, and/or subtextually homoerotic teen girl witch movies, please invite me.
Movies and timing
I know you're excited about watching every movie ever made in which a trained animal learns to play a human sport and saves the soul of a whole town while helping one little child believe in magic, but that is a bad idea. Not the animal theme, but watching too many movies. It's probably better to err on the side of keeping the bar low, because it only takes one movie too many to turn the whole thing into a slog rather than a delightful frolic. Here's what we're aiming to watch:
Jurassic Park
Vibes
The episode of Law & Order: Criminal Intent where Jeff Goldblum and the lady detective I'm convinced is gay deal with a vampire cult
The Big Chill
It's also important to schedule breaks in between movies for snacking (at least more focused and dedicated snacking, separate from movietime snacking), changing themed outfits, recapping important movie points, etc. Speaking of snacks:
Snacks and other food
You could just order delivery and enjoy it while draped across your sofa like a decadent Roman empress, and that would be fine. You could ALSO fully integrate your themes into your victuals, like an ambitious mother throwing a Batman-themed birthday party for her six year old. Personally, we're entertaining the options of veggie dino nuggets (you know the ones by Dr. Praeger's?) during Jurassic Park and cranberry juice or bloody marys during the vampire episode. Opportunities abound. This category really opens up for people who are watching food-based movies. Go wild, y'all.
Drinks
Depending on a number of factors, maybe you would be interested in some alcohol-based activities as well. I don't understand how making up drinks or ~mixology~ works, but it seems like probably you could make a drink you like and name it after your favorite movie character, and no one could stop you. I mean there's no law about it. If there's already drink references in your movie (The Big Lebowski comes to mind) then you're really all set. Right now our vague Jeff Goldblum homage drink idea I think combines seltzer, tequila, orange blossom water, and lime, possibly simple syrup (or agave nectar??? hmmm). How is this actually related to Jeff Goldblum? We're still developing the backstory. I'll keep you posted.
Wardrobe
Both staycationing and movie marathoning really lend themselves to sweatpants and/or fleece onesies, so if you don't want to go all out on an advanced wardrobe experience. But if you do! IF YOU DO. It's like all the fun of going to a Rocky Horror showing except you don't have to leave the house, or see other people, or be written on in lipstick, and also you get to watch any movie not just Rocky Horror. (You can also watch Rocky Horror, if you want.) Anyhow there's a lot to work with here. Personally, I am torn between emulating Jeff Goldblum's grown-up mall goth/amateur pickup artist look from Jurassic Park and his extremely lesbian ensemble in Independence Day, a movie which I don't think is technically on the docket but which lives on in my heart always.
If you don't want to commit to a full-body look, you also have the option of themed accessories, like these nail stickers I made for Batia which are, if I'm being honest, incredible.
Togetherness activities
The best part of waking up is Folgers in your cup and the best part of movie marathons is FRIENDSHIP. If you are watching your movies with one or more others, this category is for you, although I want to honor and respect those of us who are going to watch every Pixar movie all by our solitary selves.
Batia and I are separated by several states and a number of the great lakes, so we are marathoning together long-distance. There are a few ways to do this: you can use actual screensharing to watch things LITERALLY AT THE SAME INSTANT, via something like Google Hangouts. You can also just be on the phone or on gchat and, you know, try to synchronize things.
This is just the beginning, however, of the FRIENDSHIP POSSIBILITIES. We haven't even gotten into all the multitudes of ways there are to make what could be lowkey and lazy weirdly rigorous, which I assume we all agree is really fun. For instance:
Consider scorecards/some sort of rubric. For us specifically, I'm thinking of the rating scale that Watching Every Jeff Goldblum Movie uses. People can fill them out as you watch and then compare afterwards.
If you have seen the film before, consider a drinking game/moments to interact with the screen, like Rocky Horror.
Just an idea? I don't think you would regret posed group shots enacting scenes from the movie. This option is especially enticing if you really took your costuming seriously.