Alice has been lying to her partner.
Right before she took the stage for her first slot in a comedy show, her mentor — Lindsay Brady, played by Rhea Butcher — kissed her. It was unexpected and unwelcome. Alice didn't kiss back and chastised Lindsay for crossing the line when she has a partner. But Alice doesn't leave in that moment, nor does she leave when she discovers that Lindsay knew all along that she was dating Joey. She doesn't leave when Lindsay tells her that Joey had an affair with Lindsay's girlfriend, even though it conflicts with what Joey's told her. Alice doesn't leave, she accepts Lindsay's apology and takes the stage.
That's when the lying starts. It was innocent…it didn't mean anything…the affection wasn't returned. They're all the ways we convince ourselves — that Alice convinces herself — to lie to our partners. Alice keeps the secret, through several one-on-one training sessions with Lindsay to build her material for her stand-up sets. She keeps the secret even as they prepare to go to Sacramento, alone, together for a comedy show. Alice just keeps lying.
But remember when Davia warned about Sumi's ability to come in and "Sumi shit up" last week? Well, this week she definitely does that…but we'll get there…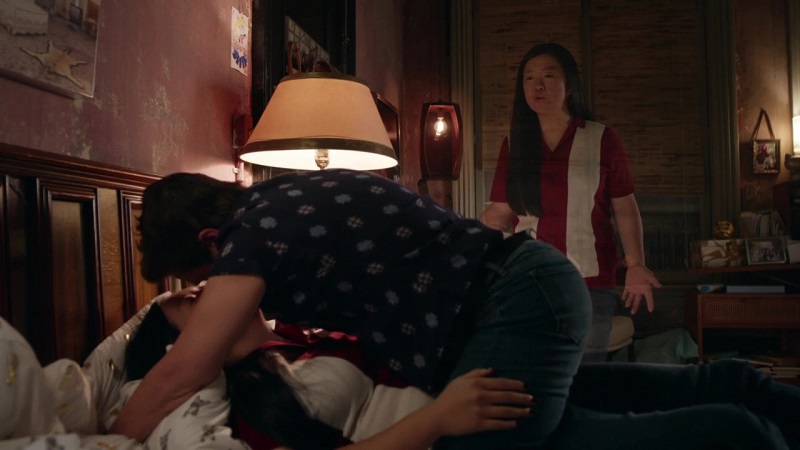 When Alice's storyline picks up this week, she's lying in bed with Joey dreaming about what her gig in Sacramento will be like. They're as charming as they've ever been together — imagining titles for Alice's future Hulu comedy special ("Alice Kwan: Sorry I'm Not Ali Wong" was my favorite) — but, inside, Alice is bothered by the secrets she's keeping from Joey. The show offers us a hilarious glimpse into Alice's internal monologue: on the one hand, she wants to tell Joey what Lindsay said about them breaking up Lindsay's relationship, but, on the other, she imagines Joey forcing her into a choice between her partner and her mentor. Her monologue imagines Joey joining her and Lindsay in Sacramento and the truth coming out before Alice can tell her…which leads to her imagining Joey breaking up with her. Even as the pair kiss in bed, Alice's inner monologue is imagining what would happen if she told Joey about the kiss.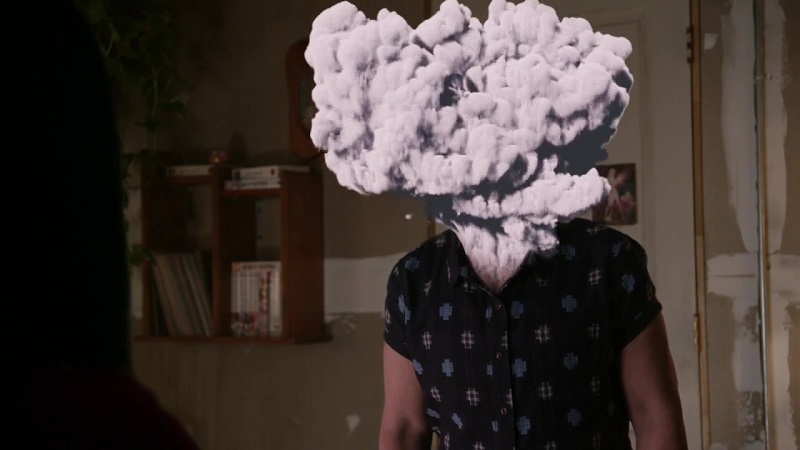 Good Trouble does a lot its storytelling in a non-linear fashion — mimicking the way the mind recalls past memories — that sometimes ends up making the story more confusing. But this? Having Alice's inner monologue come out? It's one of the strongest bits of directing that the show has ever done. It's hilarious and enhances the storyline rather than distracts from it.
Joey notices Alice's distance and pulls back on their makeout session. They lament that they won't be able to make the trip to Sacramento for Alice's show because of a work commitment but Alice is understanding. But while she avoid Joey making the trip to Sacramento with Lindsay awkward, Alice isn't so lucky when it comes to Sumi, who — despite her conversation with Alice about boundaries — finagles her way into joining the roadtrip to Sacramento.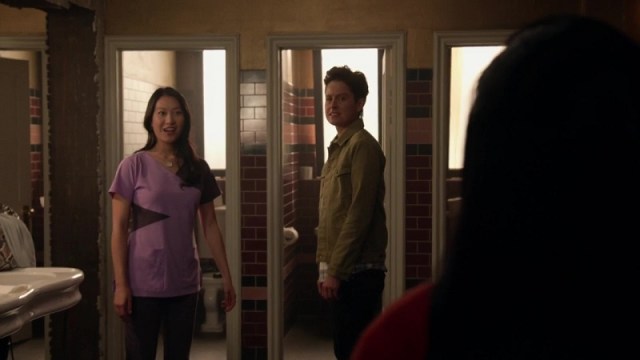 Between the singalongs and her attempts to keep Sumi and Lindsay from falling for each other, it's a painful ride for Alice…but it goes from bad to worse when, in a conversation about past relationships, Lindsay reveals her ex cheated on her with Joey…Alice's Joey. But just when you think things can't possibly get any worse for Alice, they do: Joey surprises her in Sacramento. Sumi knowing about the cheating story was already a ticking time bomb, Alice inner monologue warns, but Sumi knowing while stuck in Sacramento with Alice, Joey and Lindsay?
"Boom, you're screwed," Alice's inner voice laments.
Lindsay thwarts Alice's attempts at keeping the two couples separated for the weekend by suggesting they all go out to dinner. Joey accepts the invite so Alice is forced to go to plan B: begging Sumi not to tell Joey about what Lindsay said about her last relationship. Sumi agrees but given how capricious she is about the whole thing, you know it's just a matter of time before she manages to "Sumi shit up."
At dinner, Sumi tries to forge a bond between Lindsay and Joey by pointing out what they have in common but Alice warns her against it (in Mandarin, no less!). Joey opts to stop talking around the "elephant in the room" and just deal with the issue directly. After talking it out, Lindsay and Joey both realize that they got played by their shared ex: she'd lied to both of them about the status of their relationships. They both apologize to each other and, for a moment, it seems like everyone's going to be friends, until Sumi unwittingly reveals that Alice has known about the conflicting relationship stories the entire time.
After a successful gig in Sacramento, Joey and Alice return to the Coterie and have the conversation they've been avoiding since that night at dinner. Alice admits she didn't tell them Lindsay thought Joey broke up their relationship because she didn't want to be forced to choose between her partner and her mentor. Joey assures her that she would've never asked Alice to choose between themselves and Lindsay, they just need Alice to always be honest. Alice's internal monologue jumps back out, urging herself to come clean about the kiss…and this time, Alice listens, to devastating affect. Joey is stunned at Alice's admission that Lindsay kissed her, especially since they'd been told to stay away from Alice's first gig because of their trust issues with Lindsay. Alice tries to assure them that she didn't even kiss Lindsay back and that it all meant nothing.
"It's not nothing that you let me look like a fool this whole time!" Joey tearfully confesses. "I can't do this…It's over. I'm done."
Though it hurts to watch Joey walk out of Alice's loft but you can't blame them for leaving either. Alice lied and sometimes heartbreak is what accountability looks like.
---
Coterie Sundries
+ Callie is heartbroken when she heads back to the Coterie to reclaim her space in the loft only to discover Mariana's found a new roommate. She ponders housesitting for her boss' friend but instead decides that her place is with Jamie. They agree to split the rent of his penthouse — an equitable 30% of each of their income — and persist, despite being on opposite ends of an upcoming court battle. I'm still not confident about the future of this relationship but at least Callie's showing some personal growth.
+ Mariana's been spending so much time with Evan that she's starting to catch feelings for her boss. But after getting a thoughtful gift from Raj, congratulating her on the launch of her activism app, she realizes that she's got a great boyfriend that she hasn't appreciated enough. She skips drinks with Evan and Speckulate's investors to spend time with Raj. Unbeknownst to her, though, Raj has been spending time with Mariana's new roommate, Isabella, and he may be starting to catch feelings for her.
+ Am I convinced yet that Isabella isn't a secret axe murderer? No, I am not. She's just too nice and too flirty (with everyone) and I'm suspicious.
+ Heather highlighted it in this week's Pop Culture Fix but, in case you missed it, this is what appears on on-screen when Good Trouble is over on Wednesday nights:

Apparently, Freeform has changed the disclaimer that now appears before the (contractually required) showings of "The 700 Club." pic.twitter.com/2Ixi5TNB9M

— Matt Marcotte (@MattMarcotte) January 31, 2020