The Gay, Lesbian & Straight Education Network (GLSEN) has released the first study to survey both students and teachers about their experience in bullying related to bias, homophobia and attitudes towards gender nonconforming individuals. The study was conducted using 15 minute online surveys given to 1,065 elementary students in 3rd – 6th grade and 1,099 K-6th teachers between November and December of 2010.
The study found that words such as "gay", "fag", "lesbo", "that's so gay", "spaz" and "retard" are among the most common forms of biased language used to harass students.  Troublingly, only 2 in 10 students have learned about families with gay or lesbian parents — although now that Rachel's gay dads will actually show their face on GLEE that's sure to change, right?
Less than half of the teachers surveyed believe a gender nonconforming individual (44% for male nonconforming, 49% for female nonconforming) would feel comfortable at their school and less than half (48%) indicate they would feel comfortable responding to questions from their students about gay, lesbian and bisexual people. Even fewer (41%) would feel comfortable discussing transgender people.
While this is far from the first study to consider bullying, GLSEN's study specifically evaluates the bias and homophobia for elementary age children. Senior Director of Research & Strategic Initiatives Dr. Joseph Kosclw explains,
..our report is one of the few that examines bias-based bullying at the elementary school level and the first to examine incidence of homophobic remarks and the negative experiences of children who do not conform to societal standards in their gender expression from a national vantage point.
As we've seen, if you're being bullied and even the teachers don't have your back due to bias or poor understanding of the needs of gender nonconforming individuals, you're in trouble. Studies like this are key in establishing that the problem at the root of bullying issues isn't just about discipline or behavorial issues — it's about education. Education of students, for one — we can hope that if more than 2 out of 10 children know that gay people exist and grow up to raise children, "gay" can function more as a statement of fact and less as an epithet. But education of teachers and caretakers for young children is just as, if not more important. How can a teacher effectively address the bullying of a transgender student if they don't even feel comfortable talking with students about the fact that transgender people exist? When adults don't have the knowledge necessary to defend students who are gender non-conforming or of a different sexual orientation, the obligation to defend and explain falls on the student themselves, and that's a failure of the system that's supposed to care for and protect all students, even ones who aren't straight or cis.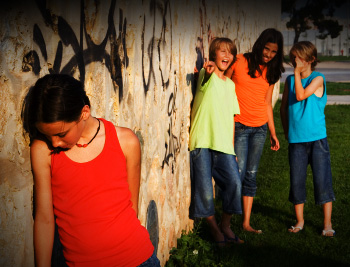 In conjunction with the study GLSEN has developed  Ready, Set, Respect! GLSEN's Elementary School Toolkit, to help teachers figure out how to ensure students a safe and respectful learning environment.  The group will be hosting a webinar on February 1st to review the findings of the study. Things such as this toolkit, lessons teaching gender variance,  and teaching gay history will go a long way towards confronting and understanding bullying in the classroom.