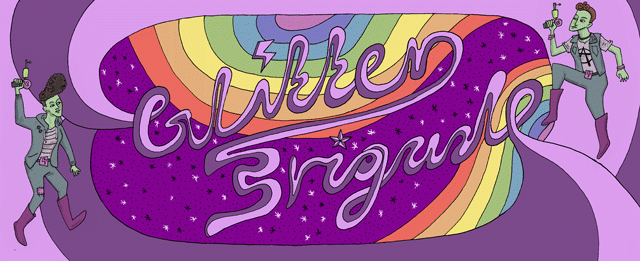 I wish I could say that starting a queer youth group has always been a priority of mine. Or that I've always wanted to create a safe space for underserved queer youth of color to exist and develop community with each other. It feels like when other people tell their stories, they've always been connected to the needs of their communities and the people living in them. But that's not me and in order to talk about this queer youth group thang, I've got to let the beginning be and let out the life bits that are less than shiny.
Before I found community, refuge, and rediscovered joy in Autostraddle, before I started working at a kickass Arts Center, before all the things/people/experiences that have helped me re-create myself as a functioning love-filled, powerful human, I was pretty much a self-centered party-dyke, with enough creative energy to pretend I was an artist, when mostly I was a functional mess. I worked 17hr + days on NYC film sets, then spent my weekends and any/all weeknights I could binge-drinking and partying like a hood rat rockstar. My queer community didn't exist. My world consisted of lesbian lunacy parties that favored excess and high-maintenance drama over meaningful, soulful person to person connection. I didn't think I needed any of that hippie shit anyway.
Where else were the lesbos? What else did gays do? I didn't know and again, I didn't give one solid damn. I was in a relationship with someone who kept the party going. My friends did the same, even though they weren't really friends, they were people with whom I could black out with and swap post-puke stories. I hated myself, my world, and yet I was in so deep that I couldn't imagine any other way.  Wait, maybe that's a lie. At some point I just stopped thinking I was worth any better. Something's always gotta give. Put enough pressure on skin and it will bruise, more pressure and flesh will be bypassed until blood and bones are exposed. My best friend's death changed everything forever. That is a literal statement devoid of even one gasp of hyperbole. It's hard to even write this part. I've come so far in my grieving process but trying to find the words for this brings out the soul-ache that's never left. She died and the world stopped moving. I don't even remember breathing. Woke up one morning, a few months after the end, and I was unemployed, single, wrecked, and in need of a reason to keep waking up. My best friend had dedicated her entire adult life to serving the needs of her Latina lesbian community. She worked directly with people in need, was of the people, and now was gone. No one can or will ever fill the void she left on this planet. But again, something's always gotta give. Flash forward to the universe being open to a fresh start and providing me with the opportunity of working for an Arts Center in my community.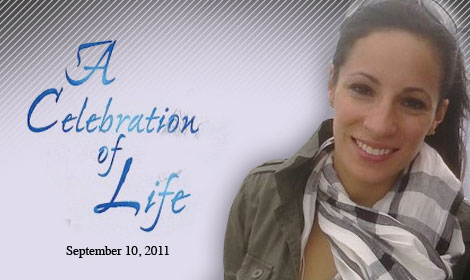 In my dreams, Christina's proud of me, living eyes wide open, awake, breathing. All of this backstory, all this extra, to get to the part about starting an LGBTQIA youth group. This is my root, this is what holds me to the earth and creates the vulnerability necessary to give energy and love to something else.
Starting up a thing isn't easy. I tried connecting to other local youth-oriented community groups to start this youth group for QYOC. but nothing worked. Either the politics of the adults involved didn't mesh with mine, the people weren't as committed as they said they were, or I just wasn't able to make an outside schedule fit with my Arts Center schedule. Life. Life. Life. I gave up, frustrated, thinking maybe I was taking on too much or maybe it wasn't my place to start any group for anyone because who the hell was I anyway? Other things filled my plate: indie movies, falling in love, laundry, A-Camp, etc.
Still it gnawed at my queer heart. Youth group. Youth group. What about that LGBTQ (all the letters) Youth Group? I shared my feelings with an openly queer co-worker. His eyes lit up and he said, "Girl, we can do all that here at the Arts Center." So we got together, made plans, met with the higher ups, created detailed outlines, thought of huge inter-connected workshops and panels to host with other groups and … weeks went by without actually having a youth group meeting. The world of grown ups is filled with meetings and Google docs and holy snap, we were drowning in all of our good intentions.  Then one day during teen arts programming, a kid waited for me at the end of class and asked me — without looking me in the eyes — if there were any "community meetings, you know for like lesbians that are teenagers." I asked her to repeat herself because she'd spoken so so softly, and she did and then she ran like hell. RAN. Flash. Out. Done. She never came back to the Arts Center.
I grabbed my co-worker and told him that we needed to just hold a youth group meeting. We'd taken to calling it the Glitter Brigade. We agreed that planning, developing a curriculum, and taking our time was important but that our kids needed the group like ASAP yesterday. If one kid asked for it and ran, how many others couldn't even ask? I wouldn't have and didn't ever ask for something like that when I was a teen. We held the very first Glitter Brigade meeting the next week. And we asked our teens to name the group whatever they wanted but when they heard us call it the GB, they fell in love and so we're officially the Glitter Brigade. Our first meeting included 3 teens, 1 intern, and me and my fabulous co-worker. The subsequent hour and half was seriously one of the most magical moments in my life. It felt like A-Camp in the Bronx. It felt like Christina was alive and blessing all of us.
The following are some ideas on how to do something like this. NOTE: I am not a professional Queer Youth Group person. I'm a queer nerdy teaching artist with a beautiful workplace that supports this type of youth group. The following is not the best or only way to facilitate a youth group. These are just the things that helped us make the Glitter Brigade come to life.
Connect with a teen center, arts organization or any local community center. Volunteer first, be of service to your people before you decide what you think they need. Build trust and see if this is something you can fully commit to.
Immediately go to some queer conferences, workshops, panels, etc. Take notes on how they are run, logistically and emotionally. Look for icebreakers, structure, themes.  See NYQueer, The Allied Media Conference, The Creating Change Conference etc.
Find an adult partner that is 100% committed to this youth group. Having a peer to build this with was essential for me. Take and appreciate leadership together. Trust that the youth will see you and in turn, own their group and be the leaders they need to be.
Write out or create a Google Doc that contains the following info: Big dreams for the group, attainable short-term goals, attainable long-term goals, purpose, trajectory, and what about it excites you. These things will shift as the goals are narrowed and shifted via the teens but without them, floundering is almost inevitable.
Plan your first meeting like it was a party, a very structured party. Promote it like it was an after-party.
Have the meeting. Ask the youth what they want and need from this group. Start over and do those things. This isn't about you at all, not anymore.
Next month, I'll lay out the structure of our first Glitter Brigade meeting and talk about some of the issues I've had with my hyper-intelligent and super strong/supportive co-worker. I'm going to share this post with our teens and tell you what they had to say. They know I'm writing this. They love that I'm sharing these ideas. So here we are. Let's go Glitter Brigade forever. If you have any resources, tips, or suggestions for how to run a queer youth group, please feel free to leave them in the comments. Also, if you have any questions, please feel free to ask me and if I don't know the answer, I'll do the best I can to find the resources to help you out. We're a community; let's work together to do our best for these damn beautiful kids.