Welcome to the 22nd recap of the fourth season of Glee, a show about man-eating penguins, protein smoothies, lawnmowers and earnest teenagers hoping to become the next O-Town. This was the last episode of the season, praise Teen Jesus, so let's jump right in to this giant vat of lard and secrets!
---
We open at "MIT," where all the men dress like dapper butch queers and are intrigued by Brittany's near-perfect SAT score despite her .02 Grade Point Average. They gave her a math test  and she failed the math test.
Despite this failure, however, Brittany did manage to doodle a bunch of numbers on a piece of paper in crayon (does she just carry crayons with her everywhere?) (yes) during her test-taking period and these numbers turn out to be like the formula to the meaning of life or an equation for weapons of mass distraction or a mass calculator determining the likelihood that Kristen Stewart is gay or an exact algorithm of how to write something on the internet without getting yelled at. It's called The Brittany Code and it's "the most important scientific breakthrough of the 21st century."
Thus the MIT guys would like to offer her "a unique proposition." It's probably an offer she can't refuse.
---
We then type formulas into a giant machine that transports us all the way from the Old North Bridge back to good ol' Lima, Ohio, home of my favorite Cracker Barrel restaurant in the entire g-damn world. Ryder's all ryled up about katie_xoxo, STILL.
In the Glee Room, Mr. Shue tells the kids that Regionals will be hosted at McKinley because who cares, and therefore they've got a "home court advantage, YO!" (-Artie). Mr. Shue emotes that the children are in for "the time of their lives" and also it's time to "get real." Oh! One more thing: it's their "moment." Some people wait a lifetime for a moment like this!
Then everybody is asked to take a moment of silence to think of all the people who died today from gun violence JUST KIDDING to think about Rachel's audition for Funny Girl?
---
We then take a midnight train to Georgia and a noon-time plane to New York City, where Rachel's auditioning for Funny Girl… with a Celine Dion song? Don't Broadway people hate Celine Dion, like as a rule? Shouldn't she be singing like… a funny song?
At the end of the number, Rachel is crying, probably because listening to Celine Dion can be an intensely painful experience.
---
We then abruptly hightail it back to Lima, Ohio, where Blaine and Sam are roaming the hallowed halls while Blaine talks crazy about proposing to Kurt, which Sam points out is crazy.
Blaine says that "people like him" have been hearing "it's not time" for hundreds of years, so he has to marry Kurt. Unfortunately he doesn't mean "people who are 17 fucking years old," as he should, but "gay people."
---
Cut to the Glee Club Room, where Sugar and Teen Jesus suddenly show up, to great acclaim and zero explanation, inspiring the children to erupt into orgasmic cheers!
Then Brittany shows up with her rolly suitcase and wants to know why they're doing Marley's song and not her song, "My Cup."
Brittany's got some bitchery to dole out:
Brittany: "Let me break it down: nobody in this musty choir room compares to my megawatt star power. Blaine, you're shorter than your average lawn gnome, Joe, you look like a Yucatan spider monkey. Tina is… you know, she's… Tina."
Sam rushes to her aid frontstage, also requesting that she stop texting him because it's rude, but she has some important texts to send:
Sam: "Did you just break up with me? By a text?"
Brittany: "Yeah. As fascinated as I am by your down-filled pillow-soft lips that are ten times too big for your face, I really miss my sweet sweet lady kisses."
SWEET SWEET LADY KISSES? Ah yes, we miss those too. I love it when ladies become lesbians and then leave the show! Maybe Brit-Brit will go to that magic place in the sky with that lady from Law & Order. But first Brit-Brit has to light her Cheerios uniform on fire and coat the hallway with her crayon-drawn list of 95 reasons she's quitting the Cheerios.
---
Cut to yet another scene in the Glee Club Room, where the children are sitting peacefully with their sheet music when Ryder Bieber-Strong flips his shit, yelling at the class about his Catfish Situation. Ryder screams a lot and kicks things violently until Marley stands up and says, "It's me! I'm Catfish!"
But first the camera zooms in on Unique's face of shock, thus revealing the true catfish to all of us here at home. At which point my stomach fell out of my body and splattered all over my shoes.
Marley-Kate: "I'm sorry. I didn't mean for this to happen."
New Puck: "Look take it easy Ryder, okay? It was just a little joke and things got out of hand."
Ryder tells everybody that they're all fucked up. Valid.
---
Cut to the Lima Mall, where Blaine's taken Tina along to help him pick out a ring with which to propose to Kurt.
Personally, I'd suggest this ring, because not only is it attractive, it tastes delicious!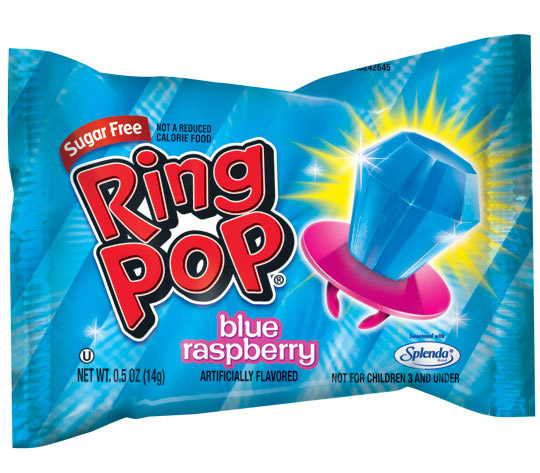 Alternately, you can never go wrong with a Mood Ring: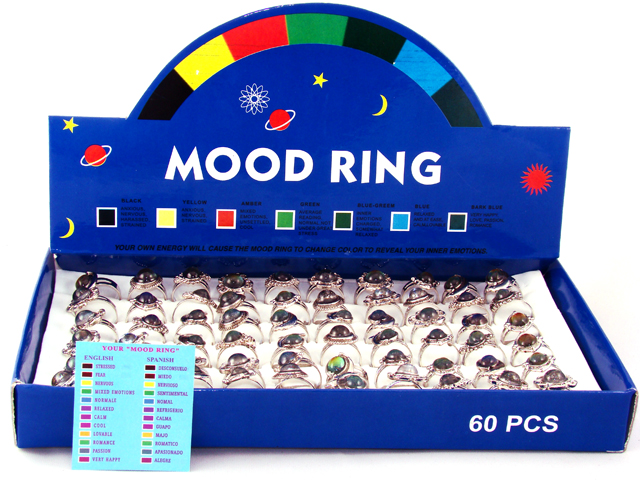 If he wants the moment to be super-special though, there's only one choice, amirite Tina? –
Anyhoosers, Blaine clearly has no taste, but luckily there's a super-cute old lady working at the jewelry store and not just any cute old lady, but a LESBIAN who met her partner Liz at a Styx concert when they were 18!
Jan: "Doesn't matter how young or old you are. True love is true love."
Blaine: "My friends have been giving me so much flak."
Jan: "If we all had listened, we wouldn't be moments away from the Supreme Court telling us that we are just as crazy and awesome as anyone else!"
Then Sam busts into the shop, declaring that he'd like to help Blaine pick the ring. Jan asks if Sam is the boyfriend and Sam's like, nah, Blaine wants to ride me bareback, but we're just friends. It's cute and evolved, just like this scene in general.
Jan asks if Blaine has anybody to advise him on this because you know, if not, she'd like to show him what's possible when two people really love each other! She's probably gonna show him their joint checking account or the couch they picked out at IKEA, this is gonna be good.
---
Cut to the McKinley High Office Room, where Mr. Shue and Sue have summoned Brittany to discuss the fact that they are worried about her, but she refuses to discuss anything anywhere besides Fondue For Two, duh. So, cut to Fondue for Two:
Brittany knows the true identity of Sue Sylvester's baby's father! It's Michael Bolton and Sue Sylvester attests that he is a "fantastic lover." Har.
---
We then galavant gayly back to the Bushwick Barbie Dreamhouse Loft, where Santana's taking off her clothing and putting other clothing back on when Sam calls her to talk about Brit-Brit.
Unfortch, Santana's about to jet to a hot date with a choreographer and I'd really like to see that entire situation played out on camera, ideally with both of them in sports bras, but alas:
Sam: "You also know that I'd help you if you ever asked me to. Something, something's wrong. I'm asking you for help."
---
Pages: 1 2 3See entire article on one page