Cut to Brittany's bedroom, where Santana, who Brittany describes as her "former lady-lover," has been summoned for a Very Special Episode of Fondue for Two. Ideally this'll be the episode where they dip each other in fondue, and then lick away.
Also:
But Santana's totally over this Fondue for Two situation and is ready to get down to personal intimate business, because she's the only one who can really break Brittany open. Once upon a time these were two best friends who loved each other so much that before long their bodies became part of that intimacy, these were two girls who were never seen apart.
Santana: "What the hell is going on with you? You're acting like a completely different person, it's making me sad."
Brittany: "Well get over it, sadness is stupid."
Santana: "Brit, I sill care about you as a person and as a friend, and this just isn't you."
Brittany: "What I'm about to tell you is going to change everything, Santana."
We then cut, leaving us empty and unsatisfied, just like Santana's vagina. What was Brittany gonna say? That she manufactures meth? That she murdered her abusive stepfather and was in the care of a federal air marshall when Oceanic 815 crashed? That she and Landry killed that guy who attacked Tara? That Dawn is the key? That she cheated on Tina with the carpenter? That she's having an affair with Brody? We'll never know.
---
After a rigorous commercial break, we return to Glee to find that despite it being merely 9:36 PM, Regionals are well underway. Is somebody gonna do a Michael Jackson tribute.
First up is a bunch of cater-waiters singing "The Rainbow Connection."
Backstage Ryder surprises everybody by re-joining the Club, 'cause it wouldn't be fair to punish the whole team when he's only upset at one person. Everybody still thinks that person is Marley-Kate, but apparently nobody cares, maybe because they all think Ryder should've busted that fake pop stand the minute it turned out to be fake, because come on dude, get a hobby.
But Ryder will be leaving Glee after this year, he says, which is meaningless because people are always quitting and then re-joining Glee Club. It's a thing.
Then the Hoosierdaddies take the stage, starring some girl who is apparently famous amongst our target market who I have never heard of (maybe I'm just too old for this show?), Jessica Sanchez. She'll probably transfer next season.
Here they are doing "Clarity":
https://www.youtube.com/watch?v=zGkTv5HfxPw
And next up is "Wings":
https://www.youtube.com/watch?v=_Un0D4eft60
---
Because the breaks between songs in Glee-land Regionals Master Tournament are indefinite, the children have gathered backstage for Brittany to tell everybody a thing.
The big news is that Brittany got a full ride to MIT and they'd like her to leave for MIT immediately, because Glee. This news has empowered her to begin speaking like a normal person:
Brittany: My entire life, people have always told me that I was stupid. And after a while I started to believe them. And it wasn't until I walked in this room and I joined this club that I started believing in myself. And as soon as I did that, as soon as, I started believing that maybe I was smart after all, I think the whole world did, too. And I'm really gonna miss you guys. Cause you guys are like my family.
Brittany: Mr. Shue is like our dad.
Brittany: And Mercedes and Tina and Sugar and Mercedes [ed note: she meant "unique"], you guys are all like my sisters.
Brittany: And Mike Chang and Blaine and Jim ["my name's Joe"], you guys are all like my brothers.
Brittany: And Artie, you're like the boy next door who builds robots in his basement and who I take his virginity.
Brittany: And Jake and Marley and Ryder and Kitty, you guys are like the foster kids who come to live with us when the orphanage closes and that who we don't trust at first but we grow to love just like we do our pets.
Brittany: And there's Sam. The cute boy from the wrong side of the tracks who does good impressions and who I fake marry. I love you so much Sam.
Sam: I love you too Brittany.
Brittany: I'm really gonna miss you.
Sam: I'm gonna miss you Brittany.
Obviously Brittany is saving the best for last.
Brittany: And there's Santana.
Santana: Oh man, you don't have to say anything, Brittany.
[My notes for this section: "UM YEAH YOU DO"]
---
The New Directions take the stage and I am of the unpopular opinion that their performance was pretty neat, mostly 'cause almost everybody had a moment to shine — although I would've liked way more Brittany and Unique.
New Puck opens "Hall of Fame" with a bouncy, dancey confidence, joined by his brothers-in-cardigans Ryder Bieber-Strong, Teen Jesus, Artie and Sam. They sing like cocky schoolboys while the girls dance demurely in the background, eventually joining the group front and center for the dramatic ending.
https://www.youtube.com/watch?v=0yIGVOyiHDc
Here, for "I Love It," Fake Quintana and Tina get to be sassy, singing like they're smacking gum with their tits thrust into the air, alternately strutting around fashion-model style or pushing boys around like smart bitches. It's super fun and sassy.
https://www.youtube.com/watch?v=IAlGX6GtGGY
"All or Nothing," Marley's Original Song, is predictable and relatively uninspired, but whatever.
https://www.youtube.com/watch?v=C9oZAjrIdd0
There's a moment when Ryder glances at Unique with nearly a half-smile, too, and I cry, and a little tiny creature called hope pops up in my gut, hoping it'll be time soon.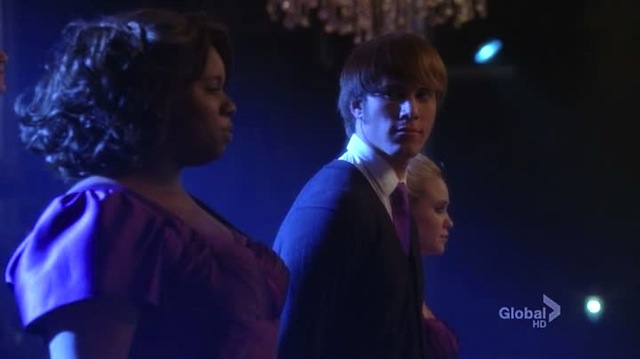 We all die of shock when the Cater-Waiters snag third, the Hoosierdaddies take second, and The New Directions win FIRST PLACE WORLD CHAMPION EVENT LEADER CAPTAIN GENERAL UNIVERSE CRUSHERS EVER!
Surprise! The Cater-Waiters snag third place, The Daddy-os get second place and New Directions manage to seal the first-place deal despite the fact that they just started practicing yesterday. Cue standard slo-mo piano music celebratory embrace.
---
The auditorium: a little bit later. Brittany is sitting alone. Santana shows up, like Brittany knew she would, and she takes Brittany's hand, and they walk offstage like two peas in a pod.
This was nice. It was nice that she exited with the girl she came in with — that at least to Brittany, if not the writers, Brittana remains the realest thing.
---
Backstage in the Clubhouse, Mr. Shue congratulates his young charges, triumphantly declaring that "the present and the future is all about the New Directions"!
Then Emma shows up with a minister so Will and Emma can get married without "the pressure of a big wedding." On a scale of one to ten I don't really care, so.
The most important part of this scene is that Brittany and Santana show up slightly late to this hoo-ha because they were obviously going clamdiving in the bathroom stall.
Meanwhile, Blaine's got a box with a ring on it in his hand behind his back… will he propose to Kurt? Will Rachel end up in Funny Girl? Did Santana reschedule her date with the hot choreographer? Is there a giant dildo in that bouquet of flowers? I'm sure we will get the answers to 10% of our questions when Season Five returns!
Pages: 1 2 3See entire article on one page