We then jumprope our way back to Lima, Ohio, where Blaine & Kurt are dining at Breadsticks with Jan and Lizz. Blaine really lucked out because who better to convince his boy-toy that making a premature long-term commitment based on adolescent feelings is not only a good idea, but the best idea ever, than two lesbians?? We're so good at this shit.
It's adorable and special, these two on our screen: Jan, played by Patty Duke, and now Liz, played by actual gay lady Meredith Baxter. Liz tells Blaine and Kurt that when they first met, lesbians had to walk five miles in a snowstorm uphill both ways just to make out:
Liz: "It was different times then, you know. There were no gay clubs at school. You know, nobody talked about it, we had no representation."
Jan continues:
Jan: "AIDS. Don't Ask Don't Tell. Ellen. We've seen it all side by side. Remember when we couldn't even do this in public, hold hands?"
Apparently Jan and Liz have been chowing down at Breadsticks for 30 years, which is pretty amazing because heart disease. Kurt says it's really inspiring to hear their story. When she says that Blaine and Kurt are a sweet couple Kurt's like, "oh we're not a couple." RED FLAG.
But then! Then Jan proposes to Liz right there at Breadsticks! They should've had the server bring out the ring on a piece of cheesecake.
Everybody is super excited about it:
You know what they say: when you're here, you're family.
You guys cute lesbian cougars on our television!!!!
---
Back in the hallowed halls of McKinley High, Marley tells Ryder Bieber-Strong that it's not fair to ditch Regionals just 'cause she liked to cyber in the afternoon, but Ryder demands answers:
Ryder: "I need to know why. Okay, you say we're a team but you've been lying to me and messing with my head, and I need some kind of explanation if I'm gonna go to regionals."
A bizarre shaky-cam informs the viewer that Unique is hiding behind a wall, lurking on the conversation, and she then emerges from the shadows:
Unique: "Because I know I'm not your vision of beauty."
Ryder: "Wait… it was–?
Unique: "Yes, I'm Unique aka Wade, aka katie, aka Catfish. Marley, I love you but you don't have to cover for me anymore."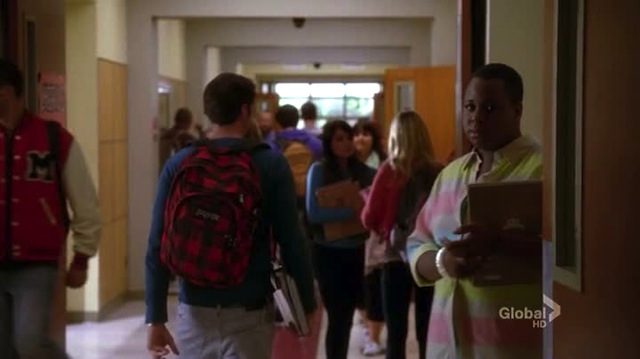 We then starswipe to a flashback of Unique confessing to Marley that she's Katie_xoxo and that it started out innocent but then she got in way too deep and "you have no idea how long it's been since I felt this close to someone without all of this [gestures at her body] getting in the way."
Unique says to Ryder:
Unique: "I know you're probably going to punch me in the face, but the truth is, I reached out to you because I liked you. So I got a picture of a cute blonde to make you like me back. But all those stories, all the jokes, the connection that we had, that was all me, and that was all real. I'm sorry I stayed hidden, but I didn't do it to hurt you. I just… I really don't want to lose what we have."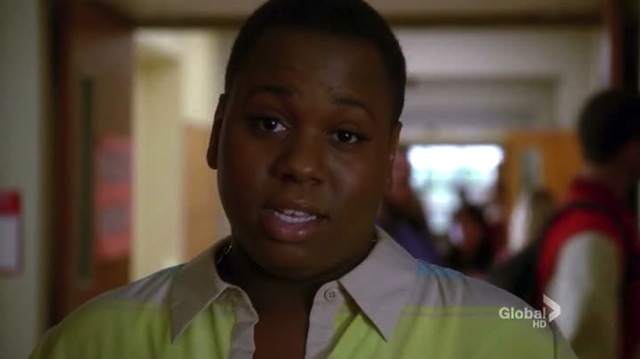 Ryder: "We don't have anything. I'm not gonna punch you in the face. But I'm also not gonna talk to you ever again."
Womp WOMP.
When Unique stepped out of the shadows I started sobbing. Yes, it's been a stressful week and it's likely I'd actually cry over spilled milk at this point — but although television often makes my eyes water, it's never before caused me to burst into full-on tears like it did on Thursday. Alone on my couch, with whiskey/regret, so sad for this trope being used.
Maybe I was the only Glee-watcher on earth who held out 'til the moment of revelation refusing to believe that Ryder's "catfish" would be Unique. But I definitely wasn't surprised that everybody had predicted it'd be Unique. I wasn't surprised because it's the only storyline we ever see for transgender characters — as described by Julia Serano: "Media depictions of trans women, whether they take the form of fictional characters or actual people, usually fall under one of two main archetypes: the "deceptive" transsexual or the "pathetic" transsexual." This one seemed like a mix of both, with Ryder being the "innocent straight guy" Serano describes in the "deceptive" scenarios.
So I started skimming the Unique tag on tumblr and I found so many rants that confirmed my worst fears of how fans might digest this storyline…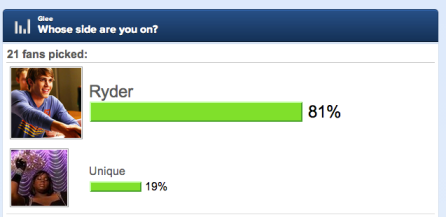 …but I also found a lot of positive and empethetic commentary as well that made me wonder if my perspective hadn't been tainted by internalized transphobia, the result of growing up in a world where only one transgender narrative existed. Maybe the problem was me, not Glee, maybe I was unable to see Unique's story as its own, to divorce this situation from all the "deceptive" stories I've seen before and the trope in general. Because there were these heartwarming things from cis teenagers on tumblr:
I love Unique. Like I can't put into words how happy I am that they kept her. And her saying she was Katie because she didn't want Ryder to be put off by her body really hit me, because it's so relatable. I for one know that feeling like you need to hide behind something because you're scared about what someone might think and you don't want it to get in the way of a relationship. Not to mention she's hilarious.
I  just want Rynique to happen so bad. It would be a beautiful storyline if done right, cause really, it's just the inside that counts. Plus I don't want Unique to go under the Mercedes treatment and just never get a love interest.
I called it and I knew the moment I called it that it had the potential to be one of the most powerful storylines Glee's every touched on – and I hold to that. In my opinion, they're off to a phenomenal start.
So that was nice.
But no.
No, no, no. No I can't. No this isn't okay.
There are some things I can't get over.
The fact that Glee would have katie_xoxo use male pronouns and speak about Unique how she did — alternately inaccurate and invalidating — because kids at home don't know, really, what's okay to say and what isn't, and having a transgender character use those terms, even while pretending to be somebody else, is confusing and irresponsible.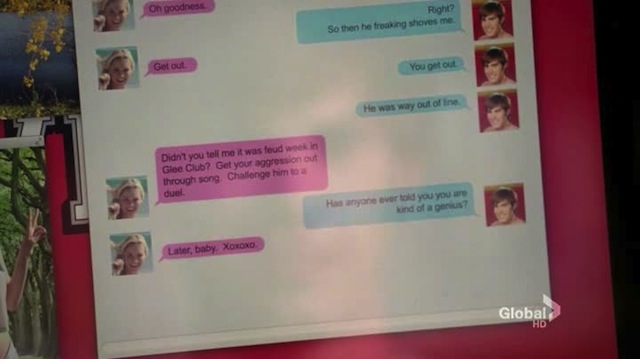 The fact that they had Unique crushing on a boy who bullied and misgendered her is sad. I don't want something that sad for Unique.
The fact that Unique wasn't just attempting to pass as cis, but also as thin and white, and the fact that Glee doesn't, never has, and never will, have the writing chops to actually address the complexity of that issue.
The fact that regardless of her motivations and regardless of Ryder being an asshat, what Unique did to Ryder was wrong and there's no way around that, and I don't think we can afford to have TV's first transgender teenage female character doing something so blatantly shitty.
The fact that violence was even mentioned in this context — "I know you're probably going to punch me in the face," says Unique, and Ryder, as if he's doing her a favor, replies that he won't punch her in the face — no. No, just no. You just cannot mention or invoke or suggest violence when a white cis dude and a transgender women of color are having a conflict. Just no. Would Glee have a cis female character say to a cis man, "you're probably going to punch me in the face?"  We saw Ryder get violently angry early in the episode, which is a dangerous emotion to summon in a story like this one. Kitty even said that the catfish should fear being murdered, based on Ryder's emotional state, and no. No no no. You cannot do that with this.
The fact that this was the laziest way for this storyline to pan out — we already knew what her motivations and Ryder's reaction would be before we saw them, but with a different character it would've been more of a twist/mystery. If this situation is indeed laying the seeds for a Rynique next season, then I'll be pleased — but if not, then this is just another wasted moment on all sides.
The fact that Ryan Murphy would never do this to a gay character because he has stated again and again his dislike of the "predatory gay" trope.
And, finally this: the problem with the "deceptive transsexual" trope is that it reiterates the concept that transgender folks can only find love by tricking cis people into thinking they're also cis. (This particular play-out is also reminiscent of a broader application of "deception is the only way to find love" used in film/television to marginalize all women who don't fit standard conceptions of beauty, like Janeane Garafalo's character in The Truth About Cats and Dogs.) That's not accurate and it's not kind and it's not even interesting. 
I want, and the world needs, a different story. A new story. A story of a teenage boy falling in love with a teenage girl where the boy is cis and the girl is trans and yeah, maybe that will involve some complicated conversations, but it won't be the focus of the entire relationship. I don't want "all this" to get in the way, as Unique told Marley, I want "all this" to be front and center and still be okay. I want them to tell that story. Degrassi is telling that story for Adam, why can't Glee tell that story for Unique?
But as always, although I can bring my experience with media critique to bear upon this analysis, I remain cisgender, and hope our trans* readers share their perception of this storyline in the comments.
---
Pages: 1 2 3See entire article on one page