Ladies, let's start this ship a-sailing with a fuel tank of real talk: Brittany had some fucked-up lines this episode and everybody has a lot of feelings about them.
If you missed the episode, here's the context of the first scene containing bits of the weird meta-commentary unleashed upon us by a gaggle of gay men who are jealous of how ridiculously awesome we are: Brittany has just eaten a trail of Cheerios right off the sweet sweet diseased floorways of McKinley High School's Hallowed Hallways and said trail lead her to the open arms of Sam and his lips and his Backstreet Boys haircut and the whole deal. He likes her, she likes him, they sing a stupid song, and then Sam tries to kiss Brittany but Brittany turns away.
Brittany explains her rebuke:
Brittany: "I just like you too much to put you in danger."
Sam: "Santana broke up with you."
Brittany: "No, it's not just Santana. It's like, all the lesbians of the nation, and I don't know how they found out about Santana and I dating, but once they did they started sending me, like, tweets and Facebook messages on Lord Tubbington's wall. I think it means a lot to them to see two super-hot, popular girls in love and I worry that if they find out about you and I dating, they'll turn on you and get really violent and hurt your beautiful face and mouth."
"The lesbians of the nation"?
The next Brittany/Sam scene in question happens mid-episode, when Brittany approaches Sam to ask him on a date to the VIP Booth at Breadstix, where every day is Unlimited Pasta Bowl Day.
Sam's wondering why Brittany's changed her mind about pursuing their interest in each other:
Brittany: "Yeah, well, I was thinking about what Finn said about last chances…"
Sam: "Mm-hmm.."
Brittany: "…and how everyone's joining all these clubs because they don't wanna miss out and the truth is that every since Santana left, you're the only person that makes me smile."
Sam: "I am pretty nonstop hilarious."
Brittany: "You make me happy, Sam. And I don't want to waste any more time not smiling at your hilariousness."
Sam: "What about the lesbian blogger community?"
Brittany: "They're not gonna like it, but the way I figure is that they know they're my sisters and love is love."
"The lesbian blogger community"?
I admit I was surprised that Ryan Murphy reads AfterEllen, but then realized he's probably confusing blogging with twitter, which's where his staff partake in most of their horrendous fan "conversations" which generally devolve into a Glee writer dumping a pile of shit on a bunch of lesbians and then going out for lunch at The Ivy. After the episode, I caught some chatter about The Lesbian Blogging Community on twitter and tumblr and then went to bed and woke up the next day and kinda forgot about it until I was done writing about Mormons and having a three-hour consult with accountants regarding how many bunnies we'll be offering as sacrifice to the IRS this year and then it was Friday night and ladies – LADIES !!!
Fuck that Ryan Murphy guy!  Whatever, dude! We're like the awesomest people on the entire internet. Everybody thinks we're hysterical, the rest of the web is always dying to hear what we think, and basically, if the internet were McKinley High, we'd be The Unholy Trinity Season One. All the straight white cisgender geniuses of the internet battle over who can link to us more often, and all the list-makers fret over whether it's okay to make a Power 100 or Top 100 Feminist Blogs that consists entirely of us, the queer-lady blogging community. And the reason each Lesbian Blog employs at least 100 Lesbian Bloggers is because there are a billion lesbian television characters begging to be written about, because we're just that popular. In fact, we're so cool that you've gotta mock us on your stupid musical show about a silly club led by six feet of Potatoes Au Gratin sealed in Saran Wrap with a head made out of a tampon box.
Meanwhile, we're just over here being awesome and smart and right about everything and the thing is that much like David Simon, the television producer targeted for backhanded meta-commentary in two Ryan Murphy shows earlier this season, you wouldn't mock us if we didn't make you uncomfortable by being awesomer than you.
For example, here's your team: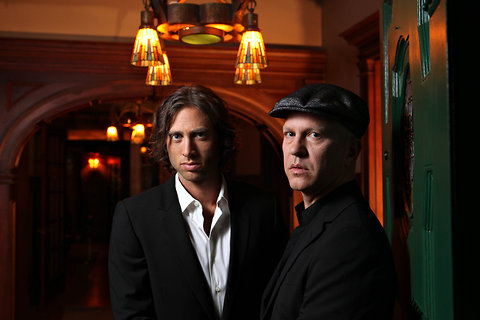 And here's my team:
What we're dealing with here is just classic denial. Much like a certain something on Season Three of The Real L Word, it seems the Glee producers would rather write off our complaints as the irrelevant cries of hypocritical biphobic lesbians — a cleverly deceptive double-whammy — than take responsibility for the actual problem, which's that they suck. Although I do hate men, Sam's maleness is not why these scenes harsh our mellow — honestly, I actually find Brittany/Sam more plausible than Brittany/Santana 'cause Brittany's profoundly stupid and Santana would be happier with a girlfriend who knows the difference between a pizza topping and her own nipples. Brittany and Sam make sense together.
It harshes my mellow — and the mellow of many lesbian, bisexual and/or queer ladies — because it's a pointedly obnoxious double-standard that there were 44 entire episodes between Brittana revealing their sexual relationship and them actually kissing onscreen and there were approximately 44 seconds between Brittany and Sam revealing their feelings for each other and actually kissing onscreen. I cared about the Brittana storyline because that was the only context in which Glee allowed us to see a queer female story develop, and no new queer female characters have been introduced, despite adding two more pointless straight white girls to the cast, and thus far it doesn't seem like anybody's gonna build a Santana's Dorm Room set this season.
Here's the thing: we're right and if we weren't right then Team Glee wouldn't be re-asserting themselves all over us every chance they got. We're literally correct, entirely rational, observant and passionate. By "we" I mean lesbian, bisexual, queer, pansexual women, not just lesbians. It's easy to write off our wrath, but our wrath is exactly as overblown as our love. We boil hard but we love hard, too, we can become a thing's best girlfriend ever and we'll sing its praises from the highest mountaintops like dancing squawking birds. For example: look how much our blogging community loves our blogging community. That guy just has a big lesbian crush on us.
I have another four paragraphs about the show's quality decline that I've cut to spare you the pain, but in short: I really do enjoy the singing & dancing, and I'll watch the show for that, but I sort of ended up recapping it by default (We burned through three recappers before it landed on my plate) and didn't begin caring passionately about the show 'til the gay stuff happened and Santana came out and she was me and I loved loved loved all that stuff. Also, Blame It On The Alcohol is a cinematic masterpiece. It was super-fun and good for a while, and broke a lot of ground! But then I Kissed a Girl happened, and it just started sucking more and more and as of right now, the inconsistencies make the show pointless for me, it's just hard to invest anymore. But I try to be objective when I recap. Anyhow! You wanna talk about what happened, yeah? Alright, let's talk about what the fuck happened.
---
We open where we left off at Sectionals, with Sad Semi-Conscious Marley-Kate being carted off-stage post-fainting-spell in a woozy fever dream, trailed by her panicked peers, some of whom immediately disburse to locate juice boxes and Marley-Kate's mother and some of whom stand around looking stressed out.
New Puck informs a very-concerned Mr. Schuster that Sad Marley-Kate's been skipping all the meals except for Afternoon Tic-Tac Tea and Santana Lopez calls Fake Quinn a "crazy bitch" for trying to make Sad Marley-Kate "rexy," and Finn kinda stands there like an idiot with his eyes bugged out, much like his lifelong hero, Mr.Potato Head.
Mr. Schuster commands his former charges to return to the stage, lest they risk disqualification for skipping out mid-performance, but then Sue Sylvester bursts in to burst everybody's collective bubble: the disqualification has already happened, and the Sectionals Win has gone to The Warblers. Womp-womp.
---
We thus travel forlornly along a cross-country path surely treaded by our weary anscestors carrying unleavened bread on their backs and babies in their fanny packs to New York City, where Kurt and The New Rachel are discussing the New Directions Loss while moving various objects from one area of the Barbie Dreamhouse Bushwick Loft to another.
Kurt's yammering about how you only get one chance at life and therefore he's gotta ace his second chance at getting into Fake Julliard, but then conversation quickly turns to the matter of the Fake Julliard Winter Showcase, for which Guinan Goldberg distributes "golden tickets" to her very best students. The New Rachel's not expecting an invite 'cause only one freshman's ever gotten one, ever, and said then-freshman was "raised on the Broadway stage," not unlike one very special Lea Michele.
Kurt puts on some opera and delivers some exposition:
Kurt: "The Winter Showcase is like the NYADA Met Ball. Ten students are invited to perform at the showcase a year. The cream of the cream. She handwrites and hand-delivers each invitation. Just getting invited is an honor, former performers have gone on to win Tonys, Emmys, even an Oscar. But they all agree. The proudest and greatest moment of their careers is when Carmen handed them that Golden Envelope."
We then segue, accompanied by The Dramatic Opera Soundtrack, to The New Rachel's dance class…
…where Whoopi Goldberg presents The New Rachel with an invitation to The Winter Showcase!
It's a rewarding moment for The New Rachel, a big moment because this is it, finally, the confirmation that she's precisely as exceptional as she's always considered herself to be, that all the Lima Dreams weren't for naught, that she's here for a reason and on her way somewhere. And that's pretty cool.
---
Cut back to the sweet valleys of Lima, Ohio, where Sue Sylvester is reclaiming the Glee Room for her new project "Sue du Soleil," much to the chagrin of our favorite Kentucky Fried Chicken side-dish, Finn Hudson.
Finn wrestles Sue for the trophy, a match which transitions quickly to the Principal's Office!
Mr. Schuster, suspiciously present, joins Finn and Sue for this groundbreaking meeting about budget cuts. Apparently the entire school's been rented out to the meetings of various special interest groups, leaving the thwarted Glee Club with nowhere to rehearse, much to Sue's delight.
Sue: "Got to be honest, Becky. I have looked forward to this very moment for a long time. Now that it's finally here, I'm left with a strange, empty feeling."
Becky: "That's how I felt when I saw Prometheus."
Sue wonders what'll become of Glee's sad sacks, fantasising the following –
Tina: "I'm a drug mule in the Lima crack district."
Artie: "I was forced to sell my legs for science."
Blaine: "I'm performing on the bathhouse circuit."
Brittany: "I'm a finance major at Brandeis. It turns out Glee Club was really holding me back."
Har.
---
Cut back to the Glee Club Room, where a man-child in a sweater vest and a lifesized knish are attempting to raise the spirits of their dejected Glee Clubbers.
Tina unleashes a mini-torrent of rage upon Sad Marley-Kate, who Tina points out is "no Rachel Berry," which's true, and also Tina stole her dress from Amelia Bedilia and nobody wants to talk about it.
Finn reminds them there's still the holiday show to look forward to, and his insolent charges, likely remembering last year's strange psychotropic christmas disaster, find no comfort in this news.
Finn: "If this is our swan song, let's make it the best it can be."
I hope this means they'll be doing "All I Want For Chistimas" again.
---
Following a delightful commercial break, we return to McKinley High for the Brittany/Sam scene we mentioned briefly earlier. Brittany begins licking Cheerios and, let's be real, Hepatitis, from the soiled floors of McKinley High.
The trail leads straight to Sam Evans, clutching a glass of milk in his manly man-hand.
Sam: "I think the reason why Santana was always picking on me was because some part of her knew the truth."
Brittany: "About Area 51?
Sam: "About that I'm totally into you. You're, uh, the only person who really understands me."
Um… Sam was dating Mercedes last season and Santana picks on everybody and also, Sam and Santana dated once, but whatever, it's Glee, let's sing an annoying song!
Following their insufferable musical number is the conversation we already discussed in the intro, so there's no need to re-hash again, yes? Certainly. Let's move on.
---
Over the river and through the interstate highways to Fake Julliard we go, where Rachel and Kate Hudson are facing off regarding Rachel's dancing skills or lack thereof, 'cause obvi Kate Hudson's super-jealous of Rachel's Golden Ticket.
Thus we launch with great fervor into an appropriately sexed "All That Jazz" (from Chicago, duh) dance-off!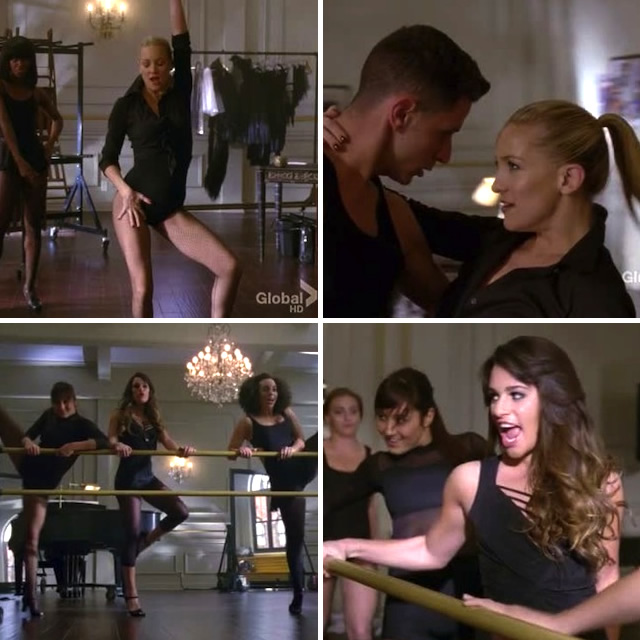 Kate Hudson demonstrates her superior dancing skills and Lea Michele demonstrates her superior singing skills while also wearing a bra that totally reminds me of Miss August 2011. Then Kate Hudson has sex with the window treatments and Rachel turns into a bird and flies away into the great blue beyond filled with starshine and strawberries.
---
Meanwhile, elsewhere in the lovely city of new York, Madam Tibideaux is attempting to settle herself into yet another eclectic pile of fabric when Kurt Hummel enters with questions about his application and accompanying video, which apparently featured an acoustic WAM! cover.
Madam Tibideaux shares her evaluation of said audition:
Tibideaux: "Here's a very talented young man who knows how to sell a number, but who is devoid of complexity and depth."
Kurt: "What?"
Tibideaux: "You gave me surface when I was looking for soul. We are training artists here, Mr.Hummel, performers who are not afraid to show their vulnerability and yes, even their heart.
Kurt: "I have all of those things."
Tibideaux: "I rarely give anyone a second chance, and when I do, it is on my terms."
Dismissed.
---
Smear on back to the frozen tundra of the cinematically weatherless Lima, Ohio, where the New Directions are revealing their respective new directions: empty without Glee Club and undeterred by extracurriculars previously attributed to said characters (because Every Episode Is A Blank Slate!), all the Glee Clubbers have joined extracurriculars to fill the voids in their hearts.  For example, Unique has joined floor hockey despite minimal rollergirl skills, Tina & Blaine joined Cheerios, Ryder Bieber-Strong and New Puck joined basketball and Artie has joined the Intermural Nutcracker Reenactment Society, I think.
Joining Cheerios was easier than Tina expected, and we learn why via flashback:
Sue: "I'm gonna be blunt. 60 Minutes is doing a piece on me, and that Leslie Stahl is gonna bring the heat, I could use a handsome, non-flammable gay to articulate how my defeating Glee Club once and for all and absorbing its budget was actually the best thing that ever happened to him. And my squad's looking a little pale these days. Wouldn't hurt to add a dash of Yellow #4 to my championship cheer batter."
Teen Jesus shows up with perhaps both the funniest and the only worthwhile thing he's ever said:
Teen Jesus: "I joined the Interfaith Paintball league, where Jews, Christians and Muslims can shoot at each other safely."
Smear over to the Auspicious Auditorium of Aural Atrocities, where Finn's butthurt regarding the Glee Club's coping mechanisms.
Finn has managed to snag a 9:54 rehearsal slot for Friday night and encourages the Gleeks to attend, lest we the audience be robbed of a potentially Heartwarming group musical number this fine, fine episode.
---
Cut back to the lockers for yet another scene discussed in the introduction between Brittany S. Pierce and Sam "White Chocolate" Evans.
In case you've already forgotten — I NEVER WILL — this is then said:
Sam: "What about the lesbian blogger community?"
Brittany: "They're not gonna like it, but the way I figure is that they know they're my sisters and love is love."
The ease with which Brittany and Sam subsequently smack their succulent lips together is a poisonous dart to the heart for all of us who begged, pleaded and fever-dreamed for a Brittany/Santana lips to mash up for 44 merciless episodes. Brittany & Sam seem happy though!
---
Thus we travel gayly back to the Fake Julliard Winter Showcase, for which Carmen Tibideaux has gathered ten students who best exemplify the Fake Julliard spirit to entertain a room of well-dressed extras. We open with the aforementioned Former Freshman Star, who's rocking a Black Swan get-up because apparently being "born on Broadway" = "being born in toe shoes" now.
Outside the auditorium, The New Rachel is wearing a gown and lots of eye makeup and look who's here, it's Geyerdean!
Geyerdean assumes The New Rachel's freaking out and attempts to calm her nerves, but The New Rachel, being The New Rachel and all, is totally totally fine –
Geyerden: "You're here because you're the best of the best."
The New Rachel: "Well that's very sweet, that was a very good pep talk. I don't know, I feel like — I feel like I got this, you know? Look, I know I may not be a typical beauty, no one's ever gonna pay me to walk the runway at fashion week and I'm not gonna cure cancer or write the Great American Novel, but if you give me a stage to sing on, I know in my gut there's nobody can beat me."
Geyerdean: "I can't believe you can be so calm."
The New Rachel: "I'm terrified! But I know who I am and I know what I'm gonna do."
This is a stunning reversal for Glee, who usually prefers its cast members to know who they are, but do something stupid and out-of-character anyhow. Then The New Rachel smacks Geyerdean's lips with her lips.
Rachel then takes the stage to do a predictably stunning performance of "Being Good Isn't Good Enough" from Hallelujah Baby. 
The New Rachel's performance earns an enthusiastic standing ovation. For her encore piece, The New Rachel will perform "O Holy Night" 'cause you know how us Jewish girls love our Christmas Carols, and it's so fucking good that you start crying midway regardless of your feelings re:Jesus.
Carmen Tibideaux: "That was wonderful. No, it was superb."
Carmen announces that after the commercial break, Kurt Hummel will take the stage. Surprise!
---
We return from intermission to the Fake Julliard Showcase Building, where Kurt's flipping out about his surprise audition and his lack of gold pants while frantically scanning his internal songbook for the right song selection. The New Rachel gets all truthy and special and New Rachely:
The New Rachel: "You know when you were your absolute best? My favorite performance ever? When you sang I Wanna Hold Your Hand in the choir room, it was so just simple and emotional and I don't know, I get the chills every time I think about it. Do you remember that?"
It's all so much, really. It brings me back to my youth, of course, when I was 18, living in New York City, eating fat slabs of cake at Cafe Mozart or lounging in various tiny apartments with my friends who went to Real Julliard and other advanced theatrical institutions in Manhattan, talking about audition songs like they were the most important things in the world because everything felt so big and close but at the same time, you'd never felt so little. When they manage to touch that time in this show, it works, and you know what else works? Kurt's performance of "Being Alive."
Unfortunately we're forced to view while riding the psychotic bird of death Glee straps its cameras to for musical numbers, but whatever.
---
Cut to ten minutes or two hours later when The New Rachel calls Finn for no real reason, and luckily Finn's not-busy sitting on his bed staring at his trophies thinking about leeks:
Finn: "Everyone's giving up and moving on. It's over, we're done competing for the year."
Rachel: "Finn, Glee Club isn't just about competing."
Finn: "Are you kidding? You live to compete. Kurt told me you were competing tonight. How'd it go?"
Rachel: "I won."
Finn: [gets teary] "Great. Wow, that's uh.. congratulations."
Rachel: "Finn, listen to me. You know even if we never won our sectionals or Nationals had never happened, it would still have been worth it. I mean, Glee is about the love, the music, it's about people like Puck and Artie not just singing together but actually being friends, Brittany and Mike dancing for fun when none of us is around. It's even about the romances, you know they come and go, but they're just as important. Look, those kids, they respect you so m uch and they look up to you so don't let them give up on their dreams, okay? Promise me one thing: don't give up on yours."
We then cut to the suspiciously empty auditorium for the 9:54 rehearsal which nobody attends besides Sad Marley-Kate, who comes bearing news: she's found a place where they can practice and nobody will kick them out, such as the Fox Network. (Sidenote: if 9:54 was the only available timeslot, why isn't anybody in the auditorium at 9:53, when Finn's waiting?)
---
Cut to the following day, I think but also really who cares, at McKinley High School For Wayward Grrrls, where Finn is unlawfully appropriating my favorite movie of all time, The Breakfast Club, by writing the entire Glee Club a stupid letter that pales in comparison to Brian's letter in the actual Breakfast Club but whatever, Glee, whatever!
Dear Glee Cub:
I realize most of you think it's stupid to still call us that, I mean, our season's over, so what are we now, really? We lost sectionals which means there's no more competitions, and Sue stole our space, so what do we have left? Nothing. We've got nothing.
I got a phone call from Rachel last night. She just won the Winter Showcase at NYADA, which is like this huge deal — like not once in history has it ever gone to a freshman.
And she reminded me why I joined Glee Club in the first place. It's about music. Every one of us loves music. and no one can take that away from us, I'm not giving  up on you. Marley found a place where we can rehearse and I want us to meet there today after school at 5 o'clock. I hope to see you all there."
Which brings us to the next day at 5 o'clock, because it's always 5 o'clock somewhere. Initially it seems just Marley-Kate and a six-foot stack of Potatoes O'Brien will be participating in this weak rendition of Crowded House's "Don't Dream It's Over" but of course it's only 44 seconds before the rest of the children, stuffed into various winterwear fashions, appear full of joy and holiday spirit!
Oh and back in New York City, Kurt's been accepted to Fake Julliard! I think! That's what happened at the end, right? I'm pretty sure it is.
Whatever will Carrie Bradshaw do without her own Pocket Gay? Stay tuned for the remainder of this season of Glee, in which that question and many others will likely never be addressed or heard from again!!
Pages: 1 2See entire article on one page