Yesterday evening, Gawker published a story entitled "Rethink Everything You Thought You Knew: Mormon Church Softens Its Stance on Homosexuality," which reported that, according to the new Mormon website porntastically named Mormonsandgays.com, "being gay is still a sin, but the church is now willing to admit that homosexuals are people too." This morning, Religion and Dispatch noted the Mormon Church's "call for greater openness and understanding on LGBT issues" as reflected by this website. Gather.com asks "Mormons: Okay With Gay?" This was big news! It's a new dawn! It's a new day!
I eagerly dove in to Mormons and Gays Dot Com in search of this softened stance, fantasizing about this Bold New Era for the Mormon Church in which gay and lesbian Mormons didn't have to choose between being themselves and pleasing their families, between their private lives and their religion, between their home and someplace far away where they might better fit in. I entertained fantasies in which the Mormon Church may divest itself from anti-equality measures — it's Mormon money, after all, that enabled the passage of Prop 8 and that has been employed against similar anti-equality measures in other states, regardless of the Mormon church's actual presence in said states. So this could be a big deal!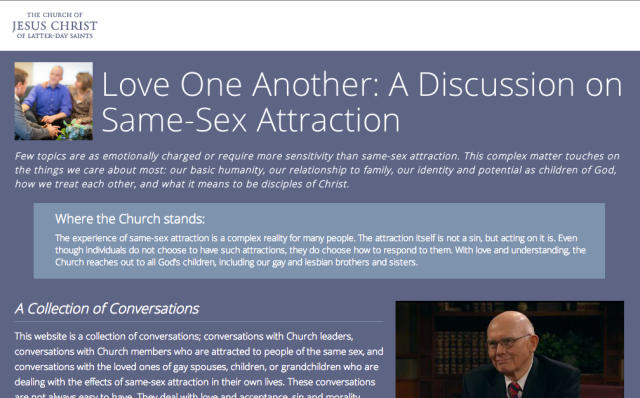 Yeah, not so much.
In "Love One Another: A Discussion on Same-Sex Attraction," the Mormon Church has set out to have "a collection of conversations" on same-sex attraction. The Church acknowledges that "same-sex attraction is a complex reality for many people," and goes on to conclude that "even though individuals do not choose to have such attractions, they do choose how to respond to them."
The remainder of the website is devoted to variations on that theme, accompanied by videos in which gay and lesbian Mormons discuss the joy of abolishing their sinful behavior in favor of Jesus Christ's warm embrace. Church elders and other apparent stakeholders are also featured in videos, such as the site's first video starring Elder Dallin H. Oaks of The Twelve Apostles, who declares in high-definition so vivid that it honestly feels like he's sitting on my lap:
"There is so much we don't understand about this subject, that we'd do well to stay close to what we know from the revealed word of God. What we do know is that the doctrine of the church, that sexual activity should only occur between a man and a woman who are married, has not changed and is not changing. But what is changing and what needs to change is to help our own members and families understand how to deal with same gender attraction."
It's complicated, however, to parse out genuine "change" in this message from re-packaged versions of the same old idea. It's worth mentioning that I'm not Mormon (I'm Jewish), I don't presently have any close Mormon friends, and I haven't been to a Mormon Church in probably ten years, so I don't know what this looks like on the ground. I can only comment from what it looks like as a journalist who has been covering Mormon LGBT Situations for three years, and it looks like more of the same.
The driving point of the website is, essentially: it's okay to have same-sex attraction, but it's sinful to act on it. Don't reject your gay and lesbian brothers/sisters, embrace them (and their journey away from same-sex behavior and towards the Church). Although free of condemnation to eternal damnation, fire/brimstone situations, or harsh words like "immoral," there's nothing new about these ideas. For example, the aforementioned Elder Oaks, in the Church's official Statement on Same-Gender Attraction, gave the following advice to the parent of a gay son in 2006:
[Tell your son] You are my son. You will always be my son, and I'll always be there to help you… I encourage you, as you struggle with these challenges, not to think of yourself as a 'something' or 'another,' except that you're a member of The Church of Jesus Christ of Latter-day Saints and you're my son, and that you're struggling with challenges.
And, again:
It's no sin to have inclinations that if yielded to would produce behavior that would be a transgression. The sin is in yielding to temptation. Temptation is not unique. Even the Savior was tempted.
Framing gays as "good people" isn't new, either. In fact, in 1997, the then-president of the Church of the Latter-Day Saints, Gordon B. Hinckley, said in an interview:
Now we have gays in the church. Good people. We take no action against such people – provided they don't become involved in transgression, sexual transgression. If they do, we do with them exactly what we'd do with heterosexuals who transgress.
In 1998, he expounded upon this position:
People inquire about our position on those who consider themselves so-called gays and lesbians. My response is that we love them as sons and daughters of God. They may have certain inclinations which are powerful and which may be difficult to control. Most people have inclinations of one kind or another at various times. If they do not act upon these inclinations, then they can go forward as do all other members of the Church. 
In summary, the Church Of Jesus Christ and The Latter-Day Saints created an entire website to encourage their followers to act like decent people. Yay!
Which isn't to say the site is completely void of incremental change. The overall tone is encouraging and there are some seemingly relatively progressive ideas, such as an unidentified Mormon named Greg encouraging followers to keep their gay family members and peers "in perspective" and say "look, I can love this person, I can relate with this person, I can be friends with this person, for an awful lot of what they are that we have in common." That seems nice, although it's interesting that although homosexuality should be treated as an easily discarded element of one's identity, heterosexual marriage is repeatedly stressed as the most important and identity-defining human relationship ever.
The website also succeeds in "opening a dialogue" and perhaps providing families with language and resources they might otherwise lack (and compensate for this lack by just being as mean as possible).
There is also the affirmation and progress of a stance like "Unlike in times past, the Church does not necessarily advise those with same-sex attraction to marry those of the opposite sex," which one hopes will save a solid chunk of heterosexual people from languishing in insecurity and self-doubt while married to partners who are not sexually attracted to them. That being said, the aforementioned 2006 interview addressed that same issue with essentially the same answer: that not all Mormons will marry and that anybody who cannot marry is expected to remain celibate, gay or straight, and that for some gay Mormons, marriages "eventually can become possible."
But there's nothing progressive or liberating or even acclaim-worthy about telling queers it's okay to feel queer as long as you never do anything about it, ever. There's nothing comforting about Kelly's video, in which he testifies that he left behind same-sex attraction and returned to the church because he "couldn't imagine living an eternity without my mom and dad." He continunes: "And so I knew I needed to change and do something different. Because even though I felt happy and felt content at the time there was a huge hole that I was afraid of losing my family."
Any joy wrought from this compassionate tone extinguishes when you realize that beneath every paragraph on loving somebody is an implication or direct order for gay people to stop being gay people. Furthermore, the Mormons deep financial stake in anti-gay politics makes it difficult for me to take any public message about gay people at face value. In fact, my first thought was,"Is the Mormon Church afraid of losing their next generation of Mormons now that homophobia isn't as cool anymore? Is that why they're doing this?"
In 2008, the Mormon Church succeeded in passing Prop 8 and making a bunch of money in the process, but in 2012, gay marriage measures passed in four states, thus threatening that incredible cashflow generated by the church by getting everybody riled up about same-sex marriage. Young people, even conservatives, are supporting LGBT rights in droves. If The Mormon Church expects to maintain the $7 billion it pulls in annually, its $35 billion worth of temples and meeting houses and the resources it has "plowed into a multi-billion-dollar global network of for-profit enterprises," it needs a very large flock of congregants. Followers are asked to give at least 10% of their income as "tithings" to the church, despite the church's complete lack of transparency on where that money goes. There's also money to be made from helping gays and lesbians conquer same sex attraction, like the LDS-endorsed Evergreen Partners, billed as "The SSA Voice of Faithful Latter-Day Saints."
A seeming "softening" could also just be an attempt to keep up with the times — like many Republicans and the anti-equality behemoth National Organization For Marriage, the Mormon's company line seems to be moving towards a more digestible and seemingly moderate stance to avoid a continual public relations disaster.
In one of the site's longest videos, Elder D. Todd Christofferson declares that, "one of the things I like about what you see on this website is that people have hope. Some have not always had hope, and they talk about how they keep hope in their lives, or bring it back if it's been lost." That's right — there is hope! If you're gay and Mormon, there's hope that you can successfully live a life of denial and that your family and community will love you for who you aren't but who you're totally awesome at pretending to be. Sorry, Todd, but that's not hope I can believe in.