Welcome to my page. I hope I didn't scare you with that headline, which reads a lot like something else at a quick glance! Today we're talking about fanficking, or the act of bringing fanfic to life.
Fanfic, for a refresher, started as fan-based storytelling incorporating characters and settings from original works of fiction, although I'm sure the confines of source material have bled into the margins over time and there's now fanfic about like, Benjamin Franklin and the Babadook. While I know this isn't all fanfic, modern fanfic, from what I can tell, has come to mean romanticizing or sexualizing an otherwise platonic fictional or non-fictional pairing, as in "I'm going to write fanfic about Wonder Woman and most of Themyscira,wp_postsor expanding upon an already established fictional or non-fictional pairing, as in, "I'm going to write fanfic about the gay Vegas ad couple."
It's in this way that fanfic has become an invaluable resource/outlet for the queer community, who is so often denied the love stories it craves in every possible avenue. We can't even get the Applebee's to-go customer and the Applebee's to-go employee being backed by Melissa Etheridge to get the recognition they deserve. Sad!
This is where Halloween comes in. It's an opportunity to bring fanfic to life and level the scales. Obviously, this can be done every day with a little thing called role-play, but no one gets to see that, unless they do, given everyone is aware! Halloween is where you – no, we – can shine publicly.
Doing my part to get this fanficking ball rolling, on Halloween I will be the Debbie to my girlfriend's Ruth from GLOW.
You may have seen a couple pieces from us about the gay undertones of GLOW that have only marginally been made explicit in season two. In particular, the painfully stunted portrayal of Debbie and Ruth's dynamic is an extra special denial of obvious sexual chemistry and genuine romantic love, made proof by the fact that one of them usually leaves the room screaming crying after having a conversation.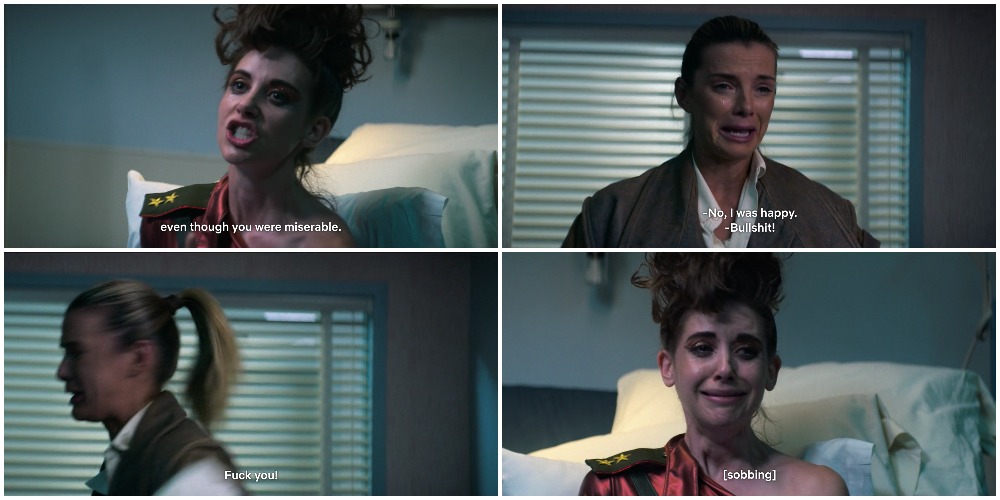 This is not how adult friends act! Here's a list of some more things that strictly platonic adult friends don't do, that Debbie and Ruth have done:
Choked each other for fun
Pulled each other's hair for fun
Asked the other for the permission to date
Told the other they miss being made fun of by them
Fucked the same guy as a power move
Had to alert those around them not to acknowledge their whole deal
Stared at each other's bodies during aerobics
Sabotaged the other's date
And yet we have been forced to watch Debbie trying to get back with her husband, Ruth entertaining being courted by the camera guy, and Ruth testing the waters with their terrible writer/directer. So, we will be righting these wrongs by showing up at every function as Ruth and Debbie, The Couple. It's a backstory that will appeal to less than five percent of the people in any given area, but if I've gotta watch a shoehorned romance between a straight man and Michelle Rodriguez in an action movie, you're gonna hear about this damn Netflix Original couple.
Also, I'm interested to see where I am mentally, and I guess physically, embodying a character that I am devastatingly attracted to. Should be a fun night!
I bet it'd be fun for you, too. I'm no date expert, but this could be a great first (or second or third) date, because then you sort of have to make out, for the cause. So, if there's a duo (trio, etc.) in media or history that you know were together/belonged together but have been cast as platonic friends and/or business partners, I ask that you join us and tag Autostraddle on Instagram with a picture of your pairings so I can compile a beautiful list of gay dreams come true.
I love you.