While they are trapped inside the elevator:
Sue sends a prayer out for Blaine's safety and the Warblers perform "My Sharona"/"You Spin Me Round," and it's fine. The most important part of their performance is Kitty arrives to watch and realizes how much she misses show choir. She decides to join up one more time, and she comes bearing gifts: The password to Sue's computer (ThunderBolton69, of course) and the password to Sue's encrypted file of songs that make her feel real feelings. Kitty got the passwords by bribing Becky with Mexican snack cakes.
After the Warblers' do their song and dance, Sue visits Sam in the football field house to hypnotize him some more and continue her plan of Destroying Rachel Berry. First up, she wants him to convince Rachel to perform "the worst set list in human history." The songs she has chosen are "Ascension Millenium" (by Cory Feldman; it is a song that paralyzed her when she heard it); "Dear Mr. Jesus" (a song that makes you want to beat up a small child); and "Justified and Ancient" (the worst song ever written). Sam does try to get Rachel to do those songs and also he tries to smooch her, but she snaps her fingers and breaks his trance and tells him to get his shit together and help her recruit some more members for New New New Directions.
Sam hops right on that. He tries to convince Spencer the Postmodern Gay to join up. Despite being a guy who was so confident in his gayness just two episodes ago that he monologued like a supervillain about how television changed his life/the world so much that he can just be who he is now and it's no big deal, Spencer does not want to join glee club because he doesn't want to be too gay. He feels like he can't be a quarterback and also be a show choir guy. Sam says Finn Hudson shattered that stereotype in season one after Troy Bolton shattered it in 2006, and so Spencer says he'll think about it for a minute. And he does. He thinks about it for a literal minute. And then he joins glee club.
The New New New Directions don't want to change their setlist the day before Invitationals because they've never seen this show and don't know how things work, but Kitty says Rachel has more talent in her pinky than they do in all their bodies combined, and so shut up and do what she says. They perform "It Must Have Been Love"/"Father Figure"/"All Out of Love" while Sue (really hilariously, actually) flashes back to all these terrible things that happened to her, like all these Republican presidential candidates losing elections and getting passed over for roles in Star Wars and Pretty Woman.
I don't have any funny captions for these photos because they're just amazing and insane by themselves.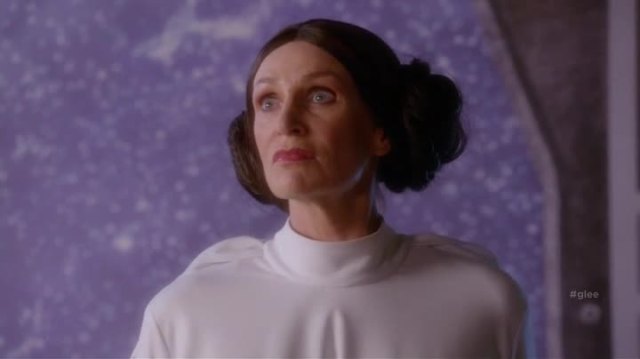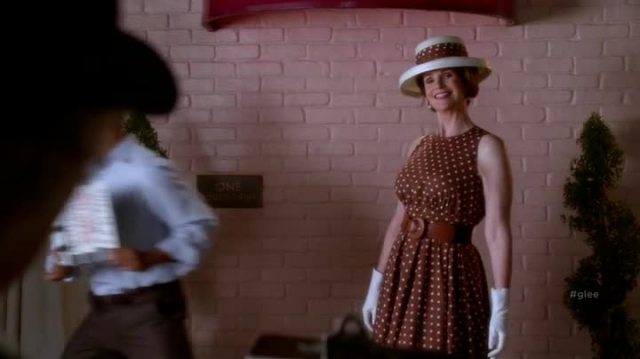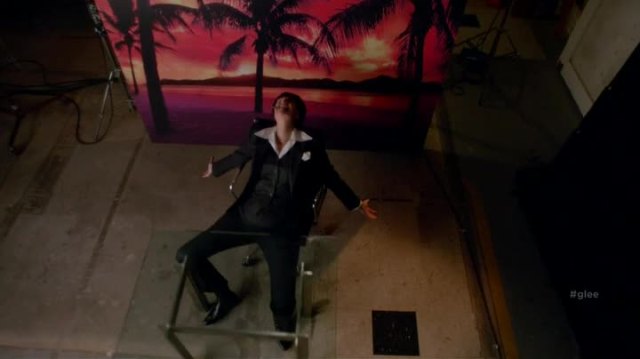 She has no choice but to award New New New Directions first place because of how they touched her heart. Sam is the only person in the audience when the winners are announced.
After the show, some guy that is older than both Mr. Schue and Puck but somehow still in Vocal Adrenaline says he's going to get Will fired for not doing his job, which is completely fair since he spent the whole day cheering for Lima's glee club and bitching to Rachel about how he doesn't like any of his students because they don't need him to be anything more than their teacher/coach. It's like they pity him, and he just can't have that. He'll be the one doing the pitying, thank you very much.
Kurt and Blaine confront Sue about her fake elevator torture chamber and gaze lovingly at each other and can't keep their hands off each other while they tell her they're totally over each other, and that her plan backfired. She says phase two is to just straight up murder their boyfriends. She takes Becky back to her lair and looks at a calendar and promises at least six more weeks of this … whatever this is.
Next week: Santana and Brittany are back, praise the heavens, and I think Brittany's dad is Stephen Hawking? Also, Rachel and Sam get closer. And MERCEDES IS HOME. Riese, how did you manage to get all the Old New Directions in your episodes?!
Pages: 1 2 3See entire article on one page