Welcome to the eighth episode of the fifth season of Glee, a show about a covert spy operation led by a team of taller-than-average Joe's Crab Shack waitresses who enjoy eating corn on the cob, using corn cobs as sex toys, cleaning out their ears with organic q-tips, Magic: The Gathering, watching hot dog commercials, wearing fingerless gloves and developing intergenerational communes for hamsters. Also: TIME TRAVEL!!!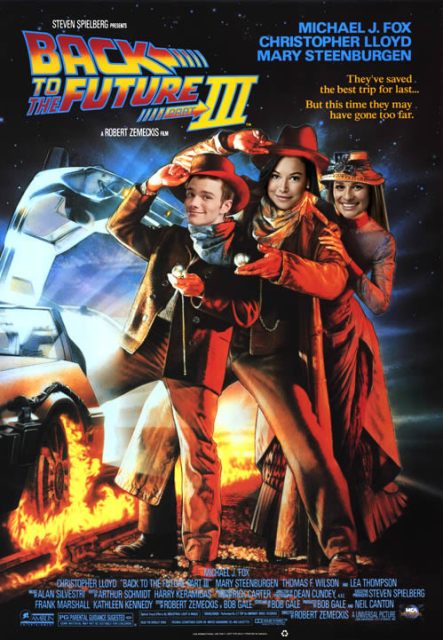 Every year, the writers of Glee gather in a spacious Malibu loft on the beach, do a shit-ton of illegal drugs, and write a Christmas episode. What did they have in store for us this year? LET'S FIND OUT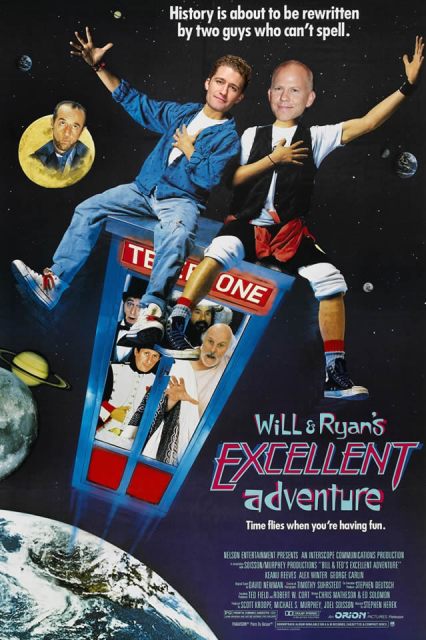 ---
We open in a seasonal Hollywood backlot set, where America's Jane Lynch is introducing this week's premise: Glee recorded a Christmas episode last year that never made it to air and now we're gonna see it. This'd be SO much cooler if Glee hadn't recorded a Christmas episode last year that unfortunately did make it to air!
Seriously though, the whole point of doing a flashback episode is to bring back old characters or to provide much-needed backstory required to understand present storylines better. But there's not much that happens in this episode that couldn't have been just as easily situated on the present timeline. I blame SYLVESTER.
---
We re-open in what we're told is Glee Club December 2012, despite the fact that characters present the last time we witnessed Glee Club December 2012, such as Brittany, Joe, Sugar and Finn, are missing; and characters missing last Christmas, like William Schuster, are present; and characters who had reasonable haircuts, like Sam, now sport greasy mops on their melons; and characters who were visiting New York, like Blaine and Burt, are not visiting New York; and characters who were visiting California, like New Puck, are not visiting California.
Sir William announces that the 50th Annual Tree-Decorating Contest theme this year is "Green is Good," which I believe will be a tribute to limeade and/or Laneia's former internet pseudonym. Then Sam eats a gallon of frozen peas and throws up all over everything and says, "that was good." Just kidding. Nobody throws up in this scene except me.
This year's winners will receive a magical glass angel, not to be confused with magical glass dildos. Tina is determined to get her hands on this bird and therefore must yell at everybody about it because that's what her character does now!
---
Cut to the Nondenominational Christmas Club, hosted by Coach Beastie adorned in an unfortunate Christmas sweater, board shorts, and antlers from the Dollar Tree.
Apparently McKinley's Nativity Scene has been defaced by Nazis or Banksy or whatever and therefore the flesh-and-blood children of Glee Club must serve as replacements for those undoubtedly pricy figurines. It'll be called the "Living Manger" and there will be auditions. Apparently the division of church and state is not an issue at this time.
Obviously all the nubile teenagers chomp at the bit for their chance to wear a ridiculous outfit and stand in the cold for three hours singing boring songs about Jesus.
Unique wants to be Virgin Mary, but so does Marley-Kate, because she's a virgin. Fake Quinn makes fun of Virgin Marley, but then Virgin Marley is like, "well my boobs are bigger than yours" which I think tells us all we need to know about who has been naughty or nice this year.
---
We then break into the backyard barn where all the reindeers are eating mashed potatoes and being lazy, herd them into the front yard, latch their brawny limbs and elegant feet onto a sleek new Christmas sleigh, run over Grandma, feel kinda bad about it, and then finally arrive in the Barbie Dreamhouse Bushwick Loft in New York, New York, where Santana is visiting her strange friends for the holiday season. She's brought Kurt a present:
Santana's been coping with her traumatic break-up with Brittany by blowing all her college money on bikini waxes, training bras, ferrets, chapstick and JetBlue vouchers for Rachel. She's also purchased Kurt a trip to Dildo Island, which must be what they're calling Fire Island these days.
Rachel shows up and is delighted to see Santana's lady-limbs lounging on her sofa, surrounded by commercialized holiday cheer!
Rachel squeals that she's swung her besties a sweet Christmas gig playing elves at The Midtown Mall, which I assume is the Glee edition of the Manhattan Mall. For those of you unaware, the actual Manhattan Mall was the inspiration for Dante's Inferno as well as the film Apocalypse Now. I think it's been remodeled since my time living in New York City (2004-2010), but trust me, that shit was not pretty.
---
We then stop, drop, and roll ourselves all the way back to Lima, Ohio, home of Pat's Donuts & Creme, where Sam's telling Tina that the Greenest way to go Green is to chop down an actual tree right outta the green lush forest.
Their undoubtedly gripping conversation is interrupted by Becky, wearing a plant on her head and demanding a lick of Tina's tonsils and a ride on Sam's pony, which upsets Tina and Sam. Sue pops in, informs Becky she's got poison sumac on her noggin and promises Tina & Sam that she's gonna start cracking down on Becky in general and stop giving her special treatment.
Then Sue performs her requisite lampshading, announcing that she'll be judge of the 50th Annual Christmas Tree Decorating Contest, a "longstanding tradition here at McKinley High even though we didn't do it last year, or the year before, or the year before that."
---
We then smash our giant duck feet into tiny toe slippers and squeeze our generous guts into leotards and pink tights, tightly wind our hair into little hot cross buns and pirouette all the way back to New York, New York, where Kurt and Rachel face an angry mob of infants at the Fake Manhattan Mall.
Santana is rocking a delightful Slutty Elf Chic ensemble.
At last, drunk Santa finally rolls up, much to the delight of the tiny sweater-vested humans crowding the scene. Santa snarls at the elves that he resents their "equity card attitude" and invites them to perform a RENT medley while he busies himself sitting on the toilet, chugging spiced rum from the flask he's been storing in his beard, and probably eventually going drunk-shopping at Aeropostale.
The Glee children, of course, combat this sour turn of events by performing "Here Comes Santa Claus" to the children, which I'd argue qualifies as "leading them on," but whatever.
Witness the entire situation from start to finish right here:
http://youtu.be/ghqJyyeUJyU
---
We then hollow out a large log gifted to the class of '99 by Paul Bunyon himself, put on our overalls, hop into the hollowed-out log, and paddle our way back to Lima, Ohio, home of Burgandy's Italian Grille, where  Virgin Marley's asking Fake Quinn if she wants to tag-team the group audition she's prepared with fellow Virgin Mary wannabes, Unique and Tina.
Fake Quinn assures Virgin Marley that if she wanted to be the Virgin Mary, she'd easily snag the spot, but unfortunately she's got no desire to be Virgin Mary SO THERE.
---
We then inflate the family raft, adorn ourselves in full-body snorkeling suits, and float on back to New York, New York, where Santana's naked in a bathtub.
Kurt and Rachel interrupt her soothing vagina rub with a jarring phone call — Santa's passed out in his own piss, shit and vomit and they're in desperate need of a stand-in Mrs. Claus.
---
Just when we'd finally got done fixing our hair after its recent white-water cross-country rafting experience, we're shoved into a fleet of kayaks and sent back to Lima, Ohio, home of the Dehaven Home & Garden Showplace, where the children are performing "Rocking Around the Christmas Tree" while rocking around the Christmas tree.
Throughout this musical travesty, we're gifted with sugar-plum fairy visions of the other competitors in the Tree Decoration Contest Of Life and Love. These kids are the worst tree-decorators ever.
Seriously you can't just put dirty underpants and socks on a tree. People could get hurt.
http://youtu.be/eoxrrJts-hg
---
Then, Katniss's arrow breaches the arena's walls and we're suddenly airlifted into a mysterious space orb which transports us back to the Fake Manhattan Mall, where everybody who knows what's good for them has ditched this Keebler nonsense in favor of Auntie Annie's pretzels but unfortunately nobody knows what's good for them besides me.
Santana invites young children to sit on her lap so she can tell them that they're too fat, need new teeth, pooped their pants, want molesty toys and appear too Jewish for Santa.
Innocent Child: I want a Kinder College Learning Laptop!
Santana: Why don't we just get you an iPad? You can't even get porn on whatever you just asked me for?
One special child in a purple snow hat gets the best complement of all:
Santana: You look exactly like a young Brittany S. Pierce, doesn't she? Brittany is my ex-girlfriend and she just dumped me which is why I'm even here, and why I have this job, and we're lesbians, you know—
---
We then close our eyes, cross our fingers and jump all the way to Lima, Ohio, where Sue Sylvester is judging the Christmas Tree Decorations contest and is impressed by the Glee Club's hard work stealing hamsters and incorporating pine cones into found art.
---
Cut to the auditorium, where "auditions" for the "Living Nativity scene" are in full swing, as monitored by William, Beastie and Artie, because why anything.
Marley, Unique and Tina, dressed in bedsheets and the fleece of ten thousand innocent lambs, prance around onstage while belting "Mary's Little Boy Child."
Eventually the ladies discard their robes in favor of a USA Gymnastics-flavored spandex glitterbomb situation that really screams VIRGIN MARY.
Ta-da:
https://www.youtube.com/watch?v=z4QVbBpTQuo
---
We then steal my stupid ex-boyfriend's purple Kia ("it's blue!" – my ex-boyfriend) and race each other all the way back to New York, New York, where Rachel's freaking out that they'll be mauled and eaten by a crowd of angry children.
THEN, who should appear before their twinkling eyes than an underwear model in a Santa outfit, his cloak suggestively opened to reveal his manly chest muscles!
Santana tells this guy that "even I'll admit that my girl-loving vagina is feeling a little jingle bell from you," and although I have issues with her saying that to this guy but not to my gay boyfriend Adam Lambert, I'll deal with it.
Sexy Santa offers to step in for Drunk Santa, and the trio initially declines until Sexy Santa mentions that they'll likely be bashed against a manger and left for dead if they don't solve their Santa Situation ASAP.
For reasons far too convoluted or elusive for me to recall, Sexy Santa hires the Sassy Trio as his "deputies" and invites himself over for dinner at the Barbie Bushwick Dreamhouse Loft.
---
We then sing "I Believe I Can Fly" to ourselves while hiding underneath thick blankets until we truly believe we CAN fly, and then we do fly, all the way back to Lima, Ohio, where Sue announces that Glee Club has won the Christmas Tree decorating contest, for which the prize is NOT, unfortunately, a lifetime supply of tampons.
Becky, however, is devastated to have lost the big contest despite the fact that her tree didn't contain any trees. Meanwhile in the Hallowed Hallways, the Nativity Scene cast list is up.
Virgin Marley unsurprisingly secured the role of Virgin Mary, not to be confused with a Virgin Bloody Mary, which is just expensive tomato juice in a glass with a stalk of celery. Unique and Tina are heartbroken.
Fake Quinn's like oh duh, the Virgin Marley's gonna be the Virgin Mary, and Marley-Kate is like what's your damage, why didn't you audition if you wanted to be the Virgin Mary so bad, it's obvs that you're like, totally obsessed with her and have a big fat lesbian crush on her.
Fake Quinn: "Don't you get it? I'm a Christian, and I know what it means to have the Virgin Mary spirit in your heart. I don't have it and I don't deserve to be her. To tell you the truth, I'm more like Mary Magdalene."
---
We then tie up our Air Jordans, toss on a vintage pair of oversized basketball shorts and dribble all the way back to New York, New York, where the three little bears are preparing for a visit from Sexy Santa.
At last Sexy Santa shows up! Sexy Santa somehow made it all the way to Bushwick in subzero temperatures without a shirt, so he's probably some kind of cyborg. "For struggling actors, you guys got a great apartment," Sexy Santa points out while Kurt drunkily trails him like a puppy about to hump the leg of a dining room table. Then Sexy Santa shows off his mediocre bag of tricks which just-so-happens to include a helium tank!
Upon hearing that this twinky triumvirate became friends in high school Glee Club, Sexy Santa suggests a song — not just any song, but THE MOST ANNOYING CHRISTMAS SONG OF ALL TIME (Besides "I'm Getting Nuttin' For Christmas" which I might hate less if it hadn't played every hour of every day between Thanksgiving and New Years at The Macaroni Grill for all three years I worked there), "The Chipmunk Christmas Song (Christmas Don't Be Late)."
So then the entire song happens in chipmunk voices, which is really funny if you're stoned (and it's always great when Kurt has a chance to actually be sexual instead of being the Safe Sexless Gay) but I can't speak to the experience of watching this situation sober.
Throughout the song, the audience is privy to Sexy Santa's appraising glances at various household items throughout the musical number, which means we just have to wait and find out when, exactly, he plans to rob these little munchkins of all their kitschy Pier 1 paraphernalia and festive candles.
Here's the whole enchilada:
http://youtu.be/gaBceOMchQw
---
We then grease up the floors, put on our favorite pair of kneesocks, and slide all the way back to Lima, Ohio, where Tina's having sexual fantasies about her new hand-blown glass angel dildo.
Becky intercepts their walk-and-talk with Christmas presents for Sam and Tina — two tiny vials containing her baby teeth, to remind them of the innocent Baby Jesus. Becky laments her big loss and Sue's critique, saying now she feels like Tina and Sam because they're losers, like Beck.
---
We then extract one of our many JetBlue vouchers from underneath our craft supplies bin, catch the next flight back to Newark, and drive in a rented mini-van that smells like dead cats all the way back to New York, New York, where Rachel and Santana are sloppy drunk but for some reason not making out.
But the way they're drunkenly sitting on the couch and drunkenly discussing how Santana should totally move to New York is totally the way that lesbians and straight girls end up with their tongues down each other's throats but ALAS this show is DETERMINED to ROB us of all potential lesbian action this season and instead this hypersexual moment of lady-on-lady bonding is interrupted by said ladies wondering where the hell Kurt is, and finding him getting some homosexual handsiness of his own.
Rachel: OH MY G-D!
Santana: OH HELL NO that is not happening!
Sexy Santa: Don't worry ladies, Santa swings both ways!
Santana: WHAT?
Instead of immediately fleeing the scene like normal humans, Santana and Rachel stick around for some drunky banter!
Kurt: What's the matter, Santana? Jealous?
Santana: No, I am disgusted. and also IMPRESSED, who knew the Queen of England could be so trashy!
Kurt: Aren't you the one who's always calling me Miss Priss and telling me that I need to live it up a bit? Well you're right, I'm in New York, I'm single I'm available and [to sexy santa] your hot buttered rum concoction is dangerously lowering my inhibitions. So why not throw caution to the wind?
Sexy Santa proposes a toast "to being naughty."
---
After an invigorating commercial break, we return to Hangover Island.
Santana declares the last time she felt this bad was when she was "roofied at Lilith Fair."  UM she would've been too young for Lilith! She would've been too young for the Lilith revival, even. Among other problems with that 'joke.' Anyhow, the two girls get up (with their shoes on?) and look around to see that their dreamhouse has been stripped bare by the almost-bare stripper Santa who Santana recalls was probs most recently seen riding Kurt's hobby horse.
They rush into Kurt's bedroom to find him hogtied in reindeer ears? It's kind of disturbing honestly.
Apparently role-playing "Santa and his reindeer play Hide the Salami" led to Kurt getting tied up and left to flop awkwardly about in bed all night while Sexy Santa stole all their nice things.
---
We then position ourselves strategically atop an ambitious camel, slather our noses in SPF 45, hydrate excessively, and ride that camel all the way back to Lima, Ohio, home of the El-Bee Shoe Outlet, where Blaine's upset that Fake Quinn doesn't think she could be The Virgin Mary because who cares.
Virgin Marley says she tried to give Fake Quinn her part but Fake Quinn rejected her. Luckily, Unique has a plan. Think about the worst possible plan ever, then think about something slightly worse than that, and then think about that plan involving "running into traffic." The plan we're about to witness in action is worse than that plan.
Fake Quinn arrives in the music room for a run-through and is befuddled by the fact that Virgin Marley isn't dressed up like the Virgin Mary.
Fake Quinn: Wait, Marley, why aren't you dressed as the Virgin Mary?
Marley-Kate: We all decided that the only girl who could do the part justice is —
Unique: —the black one! Joseph honey, get me to the stable, I'm about to pop!
Yup. Unique's wearing a pregnancy suit! We're gonna scare the racist white Christian cheerleader into taking her rightful spot as the Virgin Mary by presenting the image of Virgin Mary as a young black teen Mom. NICE WORK GLEE. A++++ fuck
Eventually the children begin tossing the baby doll around?
Here, witness the whole glorious event for yourself:
http://youtu.be/-M3k0ATmUZM
Fake Quinn declares this performance a sacrilegious horrorshow and insists she'll get to play the Virgin Mary. PHEW. That was gonna be the worst five minutes OF MY LIFE.
---
Sam and Tina tell Becky her bag of diapers won the Christmas Tree Decorating Contest and give her the shitty cheap plastic angel and a part in the nativity scene, all while employing the most condescending tone of voice ever.
---
We then slip into our favorite pair of flower-print leggings, smush our cold toes into warm Uggs, and walk very slowly, because we are very tired, back to New York, New York, where Kurt's having a Couchsit of Shame.
Rachel returns from her trip to the Cop Shop, where the cops told her that Sexy Santa also robbed the Mall and the Salvation Army or something. I don't know why this isn't already on Gawker. Also, they're fired from the elving gig. Kurt insists that getting fired from their job as Christmas Elves will leave a black mark on their acting resumes… which is why they shouldn't even put it on their resumes? What is he even talking about. You don't see "Tony the Tiger for one day" on my resume. Rachel says he shouldn't worry 'cause she got them another gig. WHAT WILL IT BE?!!!
---
We then walk for forty days and forty nights with unleavened bread on our backs to catch the late late show of The Birth of Jesus Christ, starring Becky as little Lord Jesus, Fake Quinn as Virgin Mary, Unique as an angel, and everybody else as men with weird beards.
It turns out that Rachel, Santana and Kurt's new gig involves singing in a display case.
Witness the entirety of this situation right here, right now!
http://youtu.be/Pi2r9uju11w
---
Well kids, that's it for this partial-season of Glee, as apparently the show won't be returning until February 25th! I'm sorry that this recap wasn't as funny as usual but it just wasn't happening and I had to move on with my life. I hope you all still put nice things in my stocking. I'm sure my first Glee recap of February will be FUCKING HILARIOUS.
Anyhow, this extended hiatus will give me lots more time to devote to writing about things I really care about and masterminding the re-launch of my Sunday Top Ten series! If you're craving a terrible television fix in the meantime, I would suggest our endless archives, Chelsea's American Horror Story recaps and Kate's Once Upon a Time recaps. Furthermore, in January you can look forward to the return of Lizz's Pretty Little Liars recaps and Vikki's Fosters recaps. It's also really easy now to access our TV show recaps via our brand-new redesigned menu!
I will end this recap with a video from a Previously Aired Christmas Special, featuring so many of my favorite people singing my all-time #1 top favorite Christmas song of all time!
http://youtu.be/2B8JFBNya0s
---
Before you go!
It takes funding to keep this publication by and for queer women and trans people of all genders running every day. And A+ members keep the majority of our site free for everyone.
Still, 99.9% of our readers are not members.
A+ membership starts at just $4/month.
If you're able to, will you join A+ and keep Autostraddle here and working for everyone?
Join A+
Pages: 1 2See entire article on one page