Ladies and gentlehooved creatures of the internet, let me tell you this one thing: if there's anything I hate more than a bad episode of Glee, it's the popular romantic comedy film Love Actually. In 2004, Love Actually dethroned Patch Adams as my personal "number one movie I hate and everybody else likes despite the fact that it's the most unbearable cinematic event of all time."
If you'd like to take this opportunity to dash into the comments and proclaim your love for Love Actually, that's fine, this isn't the first time we've been through this. I'll just be here, staring at this photograph of Bangers and Mash in pajamas: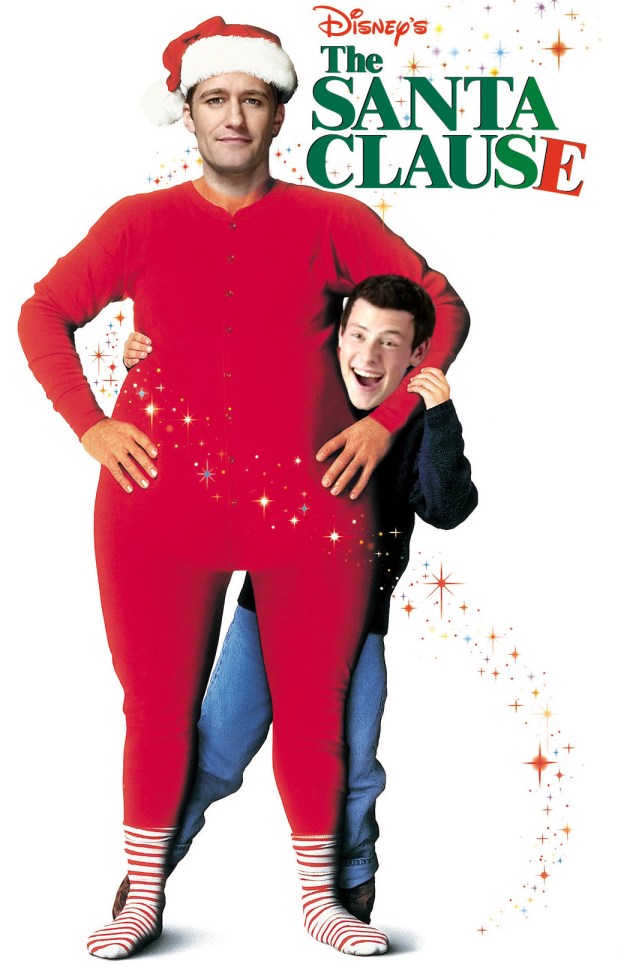 Hello again! This week's episode, Glee Actually, promised to remind me of Love Actually and I realized, when pondering this situation, that in general Glee and Love Actually already have a lot in common. For example, this quote describing Love Actually from the Videogum article "The Hunt For The Worst Movie Ever: Love Actually" could easily be used to describe Glee: "…almost none of the relationships are particularly well explained other than the fact that they all seem to bring everyone to the same locations on a regular basis (airports, weddings, school plays)."
Well, luckily for me, this week's episode of Glee didn't attempt to re-create Love Actually shot-by-shot, at least not on purpose, much to our collective relief.  However, it managed to capture the "why anything" spirit of Love Actually, in which relationships and continuity are blissfully discarded in favor of cloying hollow bullshit!
There were a lot of adult parts and I don't recap the adult parts. Remember when I only recapped the gay parts? I miss those days. They were very low-maintenance days. Let's begin!
---
We open in Sue Sylvester's office, where Sue Sylvester is journaling about the Christmas season.
We then transition quickly to the hallowed hallways of dear dear McKinley High, where Artie, dressed in a very festive Christmas sweater, is struggling to get shit into his locker after a spill on the ice outside.
Finn, 'cause he just hangs out at McKinley now, rushes to Artie's rescue and then insists Artie let Finn take him to the hospital, which Artie doesn't enjoy:
Artie: "I'm tired of being so helpless, and I'm tired of everybody pitying me, and I'm tired of being in this chair."
It's true, he'd much rather be a reindeer!
Alas, Annabelle's wish is not granted, but Artie's is — we transition spookily to a Grayscale Glee World wherein Arie's traditionally-functional legs have somehow wrought near-apocalyptic disaster upon all of Laviscous Lima, Ohio. But hark! Which eighth-rate insufferable hack from a 17th-rate insufferable reality television show is here to guide Artie through Grayscale Glee?
Irish Breakfast: "I'm your Christmas guardian angel, and I've granted your wish. Your car accident never happened."
In Grayscale Glee, that dark dizzy merry-go-round, everything's a mess: Tina still stutters, and because Artie never took Becky on a date in Glee Greyscale, Becky lacks self-respect and is the pregnant "school slut." You know how ladies get without their trusty man-savers around!
In a remarkable conflation of time/space, we spot the douchey jock crew of Ryder Bieber-Strong, Mike Chang, Finn Hudson, Sam Evans, Old Man Puck and New Puck slamming Kurt into lockers while making gayfaces at each other. Artie stands up for Kurt, because Artie is a Hero in All Dimensions. Also, Mr. Schuster's an alcoholic, Rachel is a secretly hella-sexy librarian with a bit part in the Lima Community Players production of something something and Terri's an evil money-moocher with a fake doll instead of a baby and Mr. Schuster doesn't notice, which's actually kinda funny.
Irish Breakfast materializes from the darkness to drop enchanting shitstacks of wisdom upon Artie, who apparently has usurped Finn for this episode as The Man Who Keeps Glee together.
Irish Breakfast: "You weren't in a wheelchair, so you were too busy playing football to join Glee. Turns out you were the glue of Glee, Artie, the quiet steady beating heart of the group."
We then hit up "Sue's Craft Room," formerly the Glee Club Room, where, sans Artie's magical wood-glue, the wageslaves are doing "crafts" on their Singer Quantum Stylist Sewing Machines.
In an attempt to enchant the Wageslaves of Grayscale Glee to witness and embrace the power of music, Artie launches into a really unfortunate culturally appropriated version of "Feliz Navidad," replete with Authentic Mexican Costumes and Authentic Mexican Maracas.
Finn reviews the performance:
Just before returning to Technicolor Glee-World, Artie notes an abandoned wheelchair in the hallway. Irish Breakfast explains that Quinn, a chronic texter-while-driving, kicked the bucket because "much like her body, her spirit never recovered" after the car accident. Well, that's women for 'ya — without a good man around to improve their self-esteem and save puppies from burning buildings, everybody dies!
Artie: "For better or for worse, this chair is a part of me. It's made me who I am."
So say we all: whatever.
---
We then slip swiftly through the snowdrifts lining the plains of our fair country to The Barbie Dreamhouse Bushwick Loft in New York, New York, where Rachel's preparing to ship off on "Rosie O'Donnell's Holiday Cruise." (I hope Rachel got a time machine for Christmas because Rosie's not really involved with R Family Vacations anymore, her ex Kelli runs the ship, literally.)
Anyhoo, Kurt's sticking around to give himself eggnog facials and stare at his hair in the mirror — BUT NOT SO FAST — Burt shows up! Hey Burt! It's Burt and a tree! IT'S BURT OUR FAVORITE CHARACTER AND TREES OUR FAVORITE TREE!
Kurt is so excited, his mouth opens all the way up like a nutcracker!
Burt & Kurt share fond memories of Mom and Christmas ornaments and then promptly ship into midtown to catch the Rockettes at Radio City Music Hall, followed by an evening meal, at which this happens:
Burt: "I have prostate cancer."
Kurt: "I feel like I'm gonna be sick."
Burt: "Hey hey hey, do I look like a guy who's dying? We caught it early at the local stage, no spreading, the cure rate's nearly 100 percent."
The cure rate's nearly 100 percent! That's excellent news! Alas, not for dear Kurt, who remains devastated for the episode's entirety. But really Glee needs to slow its roll, re: Burt Hummel's health and re: Discarding Old Big Issues In Favor Of New Big Issues Every Episode.
Anyhow, Burt & Kurt then return to Bushwick for about ten minutes before Burt sends Kurt right back into Midtown (including walking-to-the-subway time, this'd be a 45 minute – 1 hour journey each way, sidenote) to pick up his gift! I hope it's a Samantha doll!
Womp womp. It's just that cutie-pie from A Very Harry Potter Musical, Blaine Warbler!

Yup, Burt's ringing in the holiday cheer by shipping the boy who cheated on his son all the way to New York City so they can wear nice scarves and sing carols together! Also, Blaine's got everything on lockdown:
Blaine: "He told me everything and I promise, I'll keep an eye on him for you…. he didn't want us to miss out on another holiday tradition!"
Thus Kurt and Blaine break into an icey homoerotic rendition of "I'm Dreaming of a White Christmas," while gleefully skating amongst a polite and skilled group of ice-skating extras including, at some point, Intern Grace's sister.
Blaine: "No matter what, no matter where, even if we're not together, we're always gonna be there for each other."
That's nice. See, Exhibit A:
---
We return to the Hallowed Hallways of McKinley High, where New Puck's getting his ass kicked for being Jewish, or something, because this show is stupid.
Old Man Puck, also aimlessly wandering the McKinley halls despite being 34 and having graduated, swoops in to save his young charge and then transports his young charge to California via motorcycle. Seriously.
Old Man Puck strides onto the Paramount Backlot as if he owns the place, reassuring his brah of his Hollywood Success story.
Old Man Puck: "If you're in Hollywood and you're a Jew or a gay, you pretty much got it made."
I think Julie Goldman would disagree, but alas, it's not for us silly ladies to decide, it's time for Old Man Puck and New Puck to save the failing Vermont Inn of their former commanding general!
Wait, sorry, no, I got Glee confused with the 1954 Christmas classic White Christmas. Anyhoo, Old Man Puck and New Puck hit up a Hollywood Backlot Set Situation, littered with actresses in cheap angel outfits (turtlenecks are involved), Las Vegas showgirls, gaggles of Nuns and mobsters, in order to desecrate the Talmud with an unfortunate rendition of "Oh Chanukah."
When I was eight and in the throws of depression over the fact that I wasn't allowed to have a Christmas tree, because Judaism, I would've appreciated this song. Unfortunately, I'm a misanthropic grown-up now and honestly they should've just done the Mourner's Kaddish.
The number ends with the badass brothers getting Star of David tattoos on their shoulders, which reminds me of when my ex-girlfriend had a manic episode and tattooed the Star of David on her wrist because of Jesus. Old Man Puck then takes New Puck to a luscious Hollywood beach-house for cocktails and tanning, claiming it's his mansion but obviously it isn't, as we learned in Episode 14 of Season three of Sex and the City.
New Puck: "Dude, why did you lie to me?
Old Man Puck: "I didn't think you'd be impressed by my apartment in the Valley filled with Ikea furniture I never figured out how to put together."
New Puck: "So all that screenwriting stuff is that just garbage, too?"
Old Puck: "I figured it was my only chance to get you to come move out here with me."
New Puck: "I'm a sophomore, man. I mean I had to lie to my Mom and say I was going on vacation Fort Lauderdale with Ryder's family just to get out here for this."
Old Man Puck: "I'm a mess out here, man. It's lonely. Ive got no friends. It's impossible to meet people because you spend your whole day in a car."
New Puck: "Why didn't you just tell me that?"
New Puck suggests they take their biceps and craniums back to Ohio to bask in the biting unbearably cold midwestern winter air at Breadsticks with their Moms.
The Moms are very bitter towards each other until the Old Man Puck and New Puck point out that Oldest Man Puckerman ditched all of them, which means they're all equally damaged and broken, like a shattered sheet of glass or a car on the side of the road or a piece of wood you have broken into two pieces.
New Puck: "This week with Puck was ridiculous, but it felt different than being with a friend. We're a family, okay? A pretty messed up one, but still a family."
Ms. Puck #1: "Your father really was an ass."
Ms. Puck #2: "An epic ass."
Finally, a little man-hating! This show is mercilessly short on misandry, for real.
---
Cut to the hallowed horrifying hallways of McKinley High, where a perky Brittany S. Pierce is distributing gifts purchased from cashing out her alleged 'savings' due to the impending Mayan Apocalypse. Then she's approached by her new serious long-term activity partner steady boyfriend lover, Sam!
Sam: "Can I ask you a question?"
Brittany: "Not if you're gonna tell me that the Mayan apocalypse isn't real. Because the documentary that I watched was on the History Channel involving real actors portraying real events."
Sam: "No listen. I believe it, too."
He thus shuffles Brittany into an abandoned classroom to reveal his hilarious shoddy math involving lots of numbers regarding things like Korea and Mexico as a tourist destination. The math adds up, he says, the Mayan Apocalypse is real, and Brittany is delighted.
Sam: "We need to purify ourselves for the last day of b'ak'tun, the 144,000 day cycle of the Mayan Calendar."
Brittany: "Totally. We need to tell everyone we know how we really feel about them."
Smear to the library, where they've gathered the Gleeks to unleash a stream of real talk, but unfortunately Finn is absent so they won't be able to tell him what a douchebag he is.
Brittany: "Tina, acting is a pipe dream for you, and your decision to pursue it as a career is both irresponsible and shocking. Joe, you haven't really made much of an impression on me, and I don't really know what your deal is."
Tina: "Wait a second!"
Ryder Bieber-Strong: "This is the worst club ever!"
Melancholy Marley-Kate: "We're not gonna just sit here and let you insult us!"
Brittany [to Marley-Kate]: "I wasn't gonna insult you, I was gonna tell you that I think you're delightful."
The kids ditch the club and Sam then launches into an enthusiastic performance of "Jingle Bell Rock," accompanied by Cheerios in garish makeup with tinsel on their heads.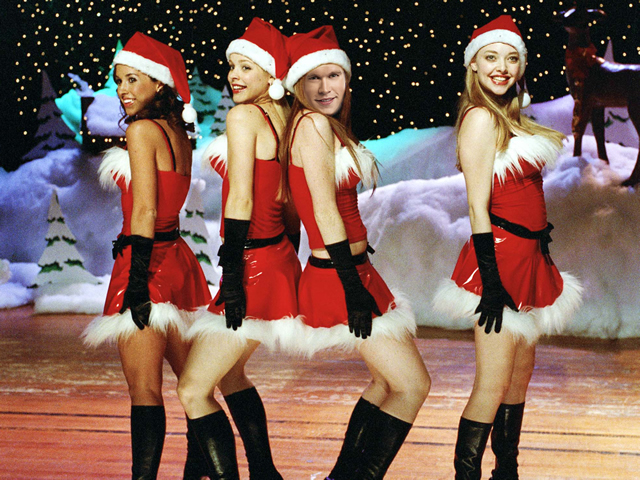 Oh wait, sorry, I got Glee confused with the classic teen film Mean Girls, which also featured a delightful musical rendition of "Jingle Bell Rock" starring nubile young ladies all dressed up in red and white!
Oh right, then this:
Sam: "Before the world ends, will you marry me?"
Pages: 1 2See entire article on one page