Welcome to the seventeenth recap of the fourth season of Glee, a multi-colored fruit-flavor explosion in your mouth starring an assortment of punchy youths dedicated to performing spirited renditions of 90's pop anthems, going dog-sledding, arranging flowers and harvesting fresh root vegetables, like potatoes.
This week's episode was definitely one of my favorites of the season! (Issues with their handling of the near/dear-to-my-heart sex worker storyline aside — although even that didn't play out as badly as I'd anticipated.) Perhaps we owe some of this to this week's decency to the Guilty Pleasures director, Mr. Eric Stoltz:
Eric Stoltz has directed Glee episodes before, but my love for Eric Stoltz is rooted in many things, including but not limited to his work as an actor in seminal '80s & '90s films as well as his brief time starring in the short-lived masterpiece Capricia as well as his directing work on shows like Nashsville, Nip/Tuck, Boston Legal and Grey's Anatomy. He also directed one of my favorite Glee episodes of all time, Blame it On The Alcohol.
More importantly, this episode was written by the dynamic duo of Garrett Lerner & Russel Friend, writers from House M.D, Roswell and Boston Public. I think they did a pretty good job, actually, so more of them please! Anyhow, enough about me and the zombies who live in the walls, let's recap this bitch!
---
We open in the hallowed hallways of McKinley High School for Wayward Bois, where Gay Blaine's offering Sam grocery cash. See, yesterday Gay Blaine was cutting through the cafeteria (shaves six seconds off his morning routine) when he saw something very suspicious going on…
…what could it be?!!!
Just kidding, that screencap is from an episode of Buffy the Vampire Slayer I was watching yesterday where Buffy can hear everybody's thoughts and she hears somebody plotting to kill the entire student body at lunch and it turns out to be the lunch lady. Um, where was I? Oh yes! Blaine caught Sam pilfering pasta from the caf.
Sam admits that the noodles aren't for his starving destitute family, he's gonna let those bitches eat cake 'cause he's stealing spaghetti for artistic purposes. Mhm.
You think you liked Emma Stone in Easy A, just wait 'til you see Emma Stone in Easy-Mac!
Gay Blaine's admiring Sam's edible interpretation of Lady Hummel when Tina bounces in to announce that Mr. Shue's got a week-long case of The Flu and Glee Club's cancelled.
Sam: "Hey uh, just curious. Are you gonna go over to his house and straddle him while he's passed out and rub some ointment on his chest?"
Tina: "That was a phase."
This situation thus introduces us to this week's theme: GUILTY PLEASURES! Since it's only "a few" weeks 'til The Supernatural Fantastic Worldwide Universehood Regional Celebration Contest of Song, Sam and Gay Blaine insist on holding Glee Club in spite of Mr. Shue's bird flu. I hope Regionals are in Berkeley so Gay Blaine can sleep on my couch and we can talk about Klaine all night.
Anyhoo, the children are lukewarm about this theme. "Unique knows no shame, baby," says Unique. For example, Unique's constantly referring to herself in third person, which a normal person would be ashamed of. Not Unique. Unique will talk about Unique in the third person all Unique wants.
This kicks off the evening's first musical number, "Wake Me Up Before You Go-Go," an homage to perms, mini-skirts, jubilation, white shorts, scrunchies, white high-tops, yellow hot-pants, scrunchy socks and neon pocket-Ts.
Here's the original version, by WHAM!, from 1984, starring George Michael as a spritely homo and Andrew Ridgeley as his straight best friend:

Here's the Glee version, from 2013, starring Blaine Warbler as a spritely homo and Sam Evans as his straight best friend:
https://www.youtube.com/watch?v=yrt10kAEwZI
---
Cut to the hallowed hallways of McKinley High for Wayward Bitches, where Brittani tells Fake Quinn that everybody hates her because she's mean and calls Marley fat, but because Fake Quinn is blonde and therefore has magical powers like turning Swedish, she should be on Fondue for Two.
At Fondue For Two, the ponytailed blondes exchange banter about their guilty pleasures, like farting around old people. Also, Lord Tubbington's guilty pleasure is Scientology.
The following exchange is a rare example of a conversation that appears to have been written by somebody who has interacted with an actual teenager within the last ten years. Not because they keep repeating "guilty pleasure" like it's an actual game and not a stupid device established for this episode of mediocre television, but because of their familiarity with the Greatest Films Of The Era.
Brit-Brit: "Guilty pleasure. Bring it On."
Fake Quinn: "Guilty pleasure. Bring it on Again."
Brit-Brit: "Guilty Pleasure, Bring It On, All Or Nothing."
Fake Quinn: "Bring it On, In It To Win It."
Brit-Brit: "Bring It On, Fight to the Finish."
Fake Quinn: "That one's horrible there's no way you could like that."
Fake Quinn refuses to confess her biggest realest guilty pleasure though. It's probably Fun-Dip. Brittany notes, "come on, this is a safe space, we're on the internet."
Then something super-wacky happens — we witness Tina Cohen-Chang viewing Fondue for Two on an actual computer! It exists! This show doesn't take place in the Glee Blackhole of Nonsense, it's a real thing a person is watching on a computer! I can barely contain my excitement! Possibly this has happened before, but if so, I forgot all about it!
---
We then wrap our babies in soft towels, strap them to our backs with giant velcro belts, and trek across the wildnerness eating Astronaut Ice Cream until at last we arrive at an actual acting class at Fake Julliard in New York, New York.
Finally! An accurate representation of actual acting classes! Like the kind where you unload your traumatic life experiences and secret shame in front of a room of your judgmental peers and then go win an Oscar.
Regardless, we're only here to listen to Kurt's inner monologue, which's that as a gay man, he's got heaps of guilty pleasures, such as Powerhouse Women in TV marathons of Golden Girls, Murder She Wrote, Designing Women & Moonlighting. He also enjoys Sweatin' to The Oldies with Richard Simmons, but I mean don't we all. (Have you ever seen Richard Simmons' David Letterman appearances? They're the best.)
Also, Kurt's got a weird creepy boyfriend pillow he bought online while on Ambien. That used to happen to me all the time before I quit ambien in the fall of 2010, for example I purchased three nearly-identical denim mini-skirts from e-bay, a complicated 3-step set of tiny rubber bands which promised to close unsightly gaps between my front teeth in 90 days or less, and a machine that claimed to kill mice through radiation waves when you plug it into the wall. Don't do drugs kids.
---
Back in Lima, Ohio, birthplace of Phyllis Diller, Gay Blaine and Sam are hanging out in the locker room with all their bros when Sam pulls Gay Blaine aside to confess some important news:
Sam: "Lately I've been battling a really deep-seeded sense of shame about something in my life, and it's a secret I've kept buried for as long as I can remember and I've been waiting to like, let it out and release this inner sin that's tortured my insides."
Blaine: "Do you have feelings for me?"
Sam: "What? No. Dude, come on-"
Blaine: "Obvious- obviously I'm kidding. I'm just… trying to losen you up-"
Sam: "It's a million times worse than that."
Sam likes Barry Manilow!!!! OMG!!! Yawn. Just like my grandmother!
Sam accidentally yells his confession, however, so all the spry young McKinley males overhear him, which must be SUPER embarrassing. I wish Gay Blaine had yelled, "AND HE MAKES MACARONI PORTRAITS OF EMMA STONE!!!" right afterwards. Remember when somebody threw rocks at Gay Blaine's eyeballs? Lol.
---
Meanwhile or perhaps the next day in the hallowed hallways of McKinley High School For Wayward Feminists, the Angry Lesbians Of the Internet storm Fake Quinn and Brit-Brit, demanding they go public with their secret sex orgy parties or else confess Fake Quinn's guilty pleasure.
Brit-Brit spills the dirt: it's The Spice Girls.
Um, everybody likes the Spice Girls.
Everybody.
The ladies agree that they must do the Spice Girls, and Unique says that "this fierce black woman will be Scary Spice," which inspires Fake Quinn to go…
Which inspires everybody else to go…
Which inspires Brit-Brit to go…
Which inspires Fake Quinn to go…
And then…
So basically what just happened is Fake Quinn made a transphobic joke… and got called out on it! (Or, more specifically: didn't get laughs or complacency, as per ushe — compare this to Tina's "angry inch" comment from three episodes ago, which I nobody on the show, let alone any TV critics, batted an eye at. Within the fucked-up universe of Glee where offensive racist, transphobic, homophobic, sexist and size-ist jokes are made (and unchecked) like clockwork, it almost seems like progress. What happened here was nobody feeding the troll (Fake Quinn), and hopefully it worked.) I expect a flying pig to crashland on my keyboard any minute now. Or who knows, maybe Santana will get a new girlfriend or something. Anything is possible at this point.
---

We then put on gas masks and run like wild banshees in our underpants all the way through the great boring Pennsylvania flatlands until we arrive at the Bushwick Barbie Dreamhouse Loft, where Santana's moved in and is paying rent, which means she's got lots of feelings about her allotted shelf-space in the bathroom. It's super cute, like they're just girlfriends on their own in the big city! I've been waiting for so long for this moment.
Kurt insists Santana keeps her lips sealed about his "BFF's BF and his man-whoring ways" 'til after Rachel's Funny Girl audition, 'cause nobody casts Crying Desperately Girl as Funny Girl, yannow? Santana teases Rachel Berry when she emerges from the shower in her shower cap and towel, and Rachel reminisces about Geyerdean:
Rachel: "You know we first met in the bathroom, bonding over our moisturizing ritual?"
Santana: "Wow, that sounds really not romantic and also very very gay. Is that why he left, huh? Did he finally admit to having a boyfriend on the side."
Rachel: "You know he didn't actually say why."
Santana insists Rachel doesn't need Geyerdean's friendship 'cause she's got friends like Santana, with whom she can sneak into Kurt's quarters with a bowl of water and inspire him to wet the bed! Obviously this is just an excuse to have them catch Kurt with Bruce The Mini-Boyfriend.
Adorably flummoxed, Lady Hummel attempts to justify the seductive power of arm-pillow advertising.
Kurt: "His name is Bruce, and we're exclusive."
---
We then attach magical rubber suction springs to the bases of our white high-tops, put on our bunny ears and hop on back to Lima, Ohio, home to above-average-for-the-region tornado activity, where Sam's confessing his love for Barry Manilow to all the Glee Clubbers on payroll this week.
Sam then performs Barry Manilow's tropical hit "Copacabana" with two giant dodo birds on his arms while everybody else gets super-wacky and fun.
The original, by Barry Manilow from 1978:
https://www.youtube.com/watch?v=D8955_YASoQ
The Glee version:
http://youtu.be/YNVZHSJzIkQ
Turns out everybody loves Barry Manilow because this show was written by grown-ups.
Ryder Bieber-Strong says he'd be rocking the Barry Manilow cut if it was the '70s. Sometimes when Ryder talks he sounds like an actor who is really stressed about forgetting his line halfway through. You know what I mean?
---
Cut to the Auditorium, where the ladies are hopping around like little animals, debating whether or not it's racist for Unique to be Scary Spice.
Brit-Brit: "Mercedes, I don't think that you should be Scary Spice just because you're black."
Unique: "Excuse you?"
Brit-Brit: "I think it's really racist that the Scary Spice is the only black one."
Fake Quinn: "Marley should be Posh Spice because you're so skinny and you make everyone uncomfortable."
Ha!
This pretty party is interrupted by Tina, who confesses that she doesn't even know what to say about what she just saw.
We then zoom speedily into the Hallowed Hallways of McKinley High School for Wayward Boy-Toys where Marley-Kate gets all up in New Puck's face, bursting with angry feminist rage (my favorite kind of rage, honestly):
Marley: "Tell me it's not true. Tell me you're not singing a Chris Brown song."
The ensuing commercial break was possibly the most tense commercial break of my entire life, so petrified was I with fear that Glee would be planning to sell a Chris Brown cover on iTunes, an endeavor which would've likely benefited Chris Brown financially.
---
We return from aforementioned commercial break to Ryder Bieber-Strong's favorite computer lab, the library, although Ryder Bieber-Strong is nowhere to be seen. Maybe he's hunting for katie_xoxo in the wild. But look! It's Gay Blaine, catching up on Goosebumps!
Sam shows up to demand Gay Blaine reveal yet another guilty pleasure, because apparently WHAM! isn't pleasurable enough. Meanwhile, Sam probably watches A Clay Aiken Christmas featuring Barry Manilow in the shower and deserves to be leveled with.
The point of this scene is gay subtext. NEXT!
---
We snap on over to The Glee Room, where the Angry Feminists have followed New Puck to yell at him, a scene which trumps the Bring It On exchange for the most realistic moment of Glee this year. It also made me like Marley-Kate 500 times more than I did last week.
New Puck: "I don't understand what you're all so upset about."
Marley: "That's why it's upsetting!"
New Puck: "Look, look, I get that Chris Brown is a douchebag—"
Unique: "I don't think that douche is a strong enough word to describe Chris Brown."
Tina: "He totally beat up his girlfriend."
Brit-Brit: "He beat up a window at Good Morning America!"
Marley-Kate: "He says horribly misogynistic things on twitter!"
Fake Quinn: "What about the Frank Ocean fight in the parking lot?"
New Puck insists these forces align to make Chris Brown the perfect selection because "I like his music, and I feel guilty about it." He then mansplains about how they do Britney Spears and Whitney Houston songs, "and neither of them are role models."
New Puck adds, "What about Rihanna? Do we think RiRi is some kind of role model? I mean she's the one who got back together with him." Ummm….
Sigh.
New Puck adds that they should be able to separate the art from the artist, and Marley says that actually um, no, she can't listen to Chis Brown's "art" without thinking about "the horrible person behind it."
Tina: "If there was a list of people's music we should never do in this room, Chris Brown would be at the top of that list."
Fake Quinn snaps that Chris Brown is a total powder keg, leaving New Puck alone to think about his life and his choices.
---
We then strap jet-packs to our backs, stick matches up our asses, and blast off to New York, New York, where Kurt is surprising his roomies with boyfriend pillow presents!
Santana: "You gave my boyfriend pillow a sex change, that's so sweet."
Santana's digging the girlf but Rachel's not quite as enthused — she explains that she doesn't need her boyfriend pillow because she's not lonely, and besides, Geyerdean will be back between her luscious thighs in no time. So Santana breaks the news that Geyerdean was a "gigolo."
Rachel says it's not true, and turns to Kurt frantically — "it's not true, is it?" — and her face is 56 kinds of sad, and Kurt's is 56 kinds of "I'm sorry."
Rachel retreats to her Den of Sad and Kurt turns to Santana:
Kurt: "Why did you have to do that?"
Santana: "It was for her own good!"
---
We then hop into our brand-new PT Cruiser, roll down the windows, crank up the RENT soundtrack and journey all the way back to Lima, Ohio, home to the Ohio State Beauty Academy, where Gay Blaine's performing "Against All Odds" with his whole entire heart!
Every word is a bucket of feelings. It's like his soul wants to escape his body and play the piano forever.
At the song's end, Blaine insists the tune is about his raw spicy fresh breakup with Kurt and then he talks crazy about his love for Phil Collins. (Yes, The Postal Service version was a Phil Collins cover, for those of you unaware of this.) The implication here, I gather, is that he's actually singing it to Sam, but honestly the lyrics are far more Kurt-relevant. Just saying.
Here's the Phil Collins video, from 1984:

And here's the Glee version:
http://youtu.be/UtOXTCijvbg
---
We return after a nail-biting commercial break to The Glee Room for a private concert held in my honor! Yes, that's correct, we openly love The Spice Girls around here and yes, I saw the movie the weekend it came out at the mall in Traverse City with Risa and yes, we were the only people in the theater, and yes, that all happened before anybody in this scene was born. Anyhow! It's fucking killer.
I find it super-creepy when adults dress like babies and I think they took that a tad too far with Unique's costume here, but otherwise I've got no complaints. In fact, I've got the opposite of complaints. I was grinning ear-to-ear.
That being said, they look much more authentic than Cinco De Mayo 2006, when Haviland, Lainy and I dressed as Posh, Baby and Sporty Spice, respectively, and went to Henrietta's where everybody asked us if we were straight. Youth!
This song works because these girls work best when operating exactly like the Spice Girls did — shrouding their actual personalities (or lack thereof) in bright shiny campy costumes and exaggerated hair, playing archetyped characters, singing unchallenging pop songs, dancing like cartoon characters and/or Fly Girls. Also Fake Quinn's growing on me like ivy.
Here's the original Spice Girls video, from 1995:

And here's the Glee version:
https://www.youtube.com/watch?v=AuSoPnpTM4Y
Artie points out that he's never seen Fake Quinn look so "happy to be part of the team." "That's 'cause the Spice Girls are spicy!" says Unique. I don't even know.
Now it's New Puck's turn to sing his guilty pleasure!
New Puck announces that he'll be singing a Brown song, but a different Brown. Not Chris Brown.  Obviously he means reggae singer Barry Brown, right?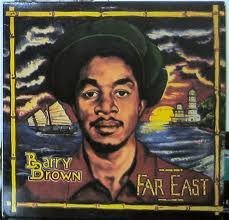 No? Um… oh! Obviously! FOXY BROWN!!
Honestly, I was praying that it was gonna be Bisexual Melanie Brown, a.k.a. Mel B, of The Spice Girls, because I want them to cover "2 become 1" so bad.
But, barring that, I'd settle for the legendary 5 Browns:
It's not the 5 Browns? Well then it must be this guy: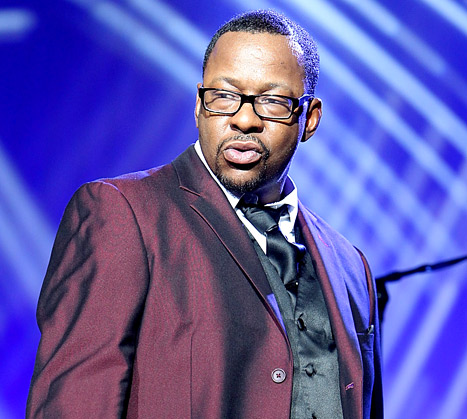 Indeed it is! New Puck will be covering "My Prerogative " which I obviously loved when it came out because who the fuck didn't. Ugh I hope Marley-Kate leaves New Puck for Robyn Crawford.
The original, by Bobby Brown:

The Glee Version:
https://www.youtube.com/watch?v=4KP5tCK5xeY
I think the message here is that it's okay if you did shitty stuff to women, as long as you did it before most of your audience got born. Regardless, is this the first time we've really gotten to see New Puck's dance skills? Because he's really good!
---
Back in the Hallowed Halls of McKinley High School for wayward Spices, Tina's dressed up as "Vikki the Robot" from "the TV cult classic Small Wonder," which I've never heard of, despite the fact that I was alive for its entire existence, unlike these fellows:
Fake Quinn's had her fill of obscure pop culture references but before she can dash, New Puck insists on apologizing as he was informed post-performance that Bobby Brown "allegedly got Whitney Houston hooked on crack, right?"
Fake Quinn: "Let me get this straight. You know about Vikki the Robot Girl but you didn't know about Bobby and Whitney?"
Marley-Kate tells New Puck that each ocean starts with a drop of water and she loves Jessica Simpson and then they kiss and approximately six people care.
---
We then pack our go-bags, put on giant sun-hats, and drive in our topless cars all the way to New York, New York, where Rachel is being predictable by offering Geyerdean money for dinner, followed by, "I'm sorry, is it not enough? I wasn't sure what the going rate was these days for male hookers." NICE ONE, RACHEL. TWO THUMBS UP. What, no "get your dirty hands off of me?" Not a "I can't even look at you"? Come onnnn.
Geyerdean: "Don't judge me."
Rachel: "For selling your body?"
Geyerdean: "Not everybody has doting daddies to pay their bills."
(Also my girlfriend pointed out that it's kinda redic that even THIS story has been given to a straight white cis male. It's not even the first time really, because Sam.) Again, his fault here isn't "selling his body," it's the fact that he wasn't honest about it. Anyhow I bitched about that enough last week, SO!
Rachel shouts that Geyerdean claimed that with honesty, they could do anything, and he's like um, except when you lied to me about rolling in the hay with Mr. Potato Head, and P.S., your starchy friend came all the way here to punch me in the face! Rachel seems touched that Finn flew out to New York just to punch Geyerdean in the face, because she's a total idiot I guess?
Rachel: "You're right I haven't been uh – completely honest with you. I think that there was a part of me that was … using this. Partly to make Finn jealous, and um, the other part to just fill my own personal heartache."
Okay, if anybody ever said that to me during a breakup I'd wanna stick spoons up my nose. That's cold!
Geyerdean: "So, what, this is… it's just over?"
[sniffles]
Rachel: "Yeah, uh, it feels like it is."
Geyerdean: "Seeing you around is really gonna suck."
Then they start in with Radiohead's "Creep" and somehow, somehow despite all my feelings and more importantly, my not-feelings, about these kids, it's really heartbreaking and full.
My girlfriend also has a lot of feelings about Glee getting permission to cover Radiohead, but I don't know, it made me cry a little.
Here's Radiohead performing "Creep" live in 1997:
http://youtu.be/m4J0CR2aB14
Here's the Glee version:
http://youtu.be/X-2L0cKJSVM
---
We then slip on our killer high heels, sexiest corset and a pair of old sweatpants and fly back to Lima, Ohio, where Blaine's making love to the piano by playing Phil Collins and Sam demands Blaine open up about his actual guilty pleasure. Sam's obsessed with Blaine's guilty pleasure.
Sam: "It's okay, I get it, your guilty pleasure is me."
Blaine: "Um… "
Sam: "I mean – I mean, I've known all year and frankly I'm an attractive guy, and you are into dudes, and if you weren't into me, I'd probably be pretty offended."
Sam insists that he's not freaked out, because they're like brothers, and honestly he enjoys the attention, it's flattering. Blaine's shocked that Sam's not creeped out. Honestly, it's pretty cool.
I love Glee for moments like this, but I admit they frustrate me too, because they never pull off similar feats for the ladies. The gay boy/straight boy friendship thing is murky territory, and they just busted right through that friendship's greatest taboo in like 30 seconds and did so with style. I wish there were more ladies in the writing room. Out of curiosity, I did the math: there have been 83 episodes of Glee thus far: six directed by a woman and seven written by a woman. That means only 8% of all Glee episodes were written by women. 8%! So.
---
Following a horrid red-eye, we return to New York City, home to my favorite restaurant Zen Palate, where Kurt, Santana, Bruce and Santana's girlfriend pillow are watching a Facts of Life marathon. Santana catches on to the lesbian subtext right away:
Santana: "We have to turn this into a musical so that I can play Jo."
Rachel pops in to add that she'd like to play Blair. Somebody make this happen!
Rachel thanks Santana for sending Finn out to the city to "defend her honor," which doesn't make any fucking sense. Also seriously, who has the money to fly out to New York just to punch Geyerdean in the face? An unemployed kugel?
I have no idea why this show made me cry like fifteen times tonight. I don't even like these people!
Kurt: "Don't be sad."
Rachel: "I'm not. I'm good, I feel, ready, you know? I'm ready for my Funny Girl audition and to maybe start seeing older guys, and I'm definitely ready for our new and permanent roommate. But I'm gonna use the pity card just for a second, since I'm the one whose heartbroken and going through a breakup and just found out that her boyfriend was some weirdo man-whore. I'm gonna get to pick the movie tonight, okay?"
She picks "the best guilty pleasure movie-musical ever," Mamma Mia!
Unfortunately, I don't care for this movie-musical, but you know what my guilty pleasure is? Really cheesy Glee musical numbers!
And this one does not disappoint, mostly because Marley-Kate and Fake Quinn are hella cute, and the Bushwick Barbie Dream Girls are doing that cute roommate thing, and I don't know, I just fell for it. What can I tell you?
Here's the ABBA music video, circa 1975:

And here's the Glee version, circa 2013:
http://youtu.be/1PPiJfOuv-A
See you in three weeks!! I'll be taking vocabulary tests, trying to get my brain back, and g-chatting Laneia.
Pages: 1 2 3See entire article on one page