Hello and welcome to the eleventh recap of the fourth season of Glee, an intolerable television program about a bunch of nubile taxidermied teenagers searching for their place in this cruel dark world under the incoherent tutelage of a walking talking barrel of poutine named Finn Hudson. This week, Glee celebrated "female empowerment" by making women look like idiots and celebrated their own lawlessness by stealing Jonathan Coulton's arrangement of "Baby Got Back" and performing it on television and then selling it on iTunes. 
This blatant violation of human decency backfired when Glee asked viewers which of Thursdays' 44 unbearable minutes were their all time favorite…

…and boy, did they get an earful!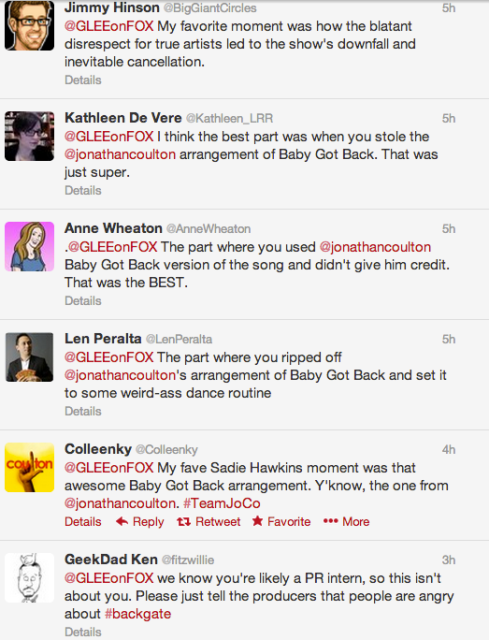 As a fellow victim of Evil Bitches Stealing Your Shit For Their Television Show, I felt this was worth mentioning prior to embarking upon our recap. If anybody involved with Glee is reading this, I suggest you send Jonathan a large check.
Well, let's get this shitshow on the road!
---
We open in the hallowed hallways of McKinley High, where Sam's in heat regarding The Warblers' sudden ability to land it like Mary Lou Retton all over the show-choir stage and his suspicion that something suspicious is going on.
Sam suspects that The Warblers, everybody's favorite Blazered Band of Bland Metrosexuals, are using performance-enhancing drugs! McKayla agrees:
Before we can dig too deep into the diseased mud wrestling pit of this subplot, it's time for a Student Council Meeting starring President Blaine Warbler and Tina Cohen-Chang, who is auditioning her 56th personality transplant since she first bound into our lives via her stunning performance of "I Kissed a Girl" in Episode 101 (were we ever so young?).
This week, Tina Cohen-Chang will play a romantically deprived lonelyheart who's never had a prom date or an anything date, let alone long-term relationship with that mega-cute 30-year-old dancer from Step it Up 2: The Streets. She's taking charge of her romantic life, Cosmo-style:
Tina: "It is now officially 142 days until prom, when all the hot girls get immediately snatched up by all the hot guys, then the sort of hot girls get asked out by the sort of hot guys and then all the rest of us have to sit around and wait for all the nerds and the freaks and the burnouts and the losers to work up some courage and ask us out to the most awkward night of heavy petting we're likely to get till we wake up in a nursing home getting groped by an orderly."
Ah yes, today Tina will also be playing the role of a Not-Hot Girl, which's likely a challenge for the Certifiably Hot Jenna Ushkowitz. Honestly, I'm unconvinced. Thus Tina proposes the first ever McKinley High Sadie Hawkins dance, which Blaine's not into but nobody lets him speak because oppression.
Obviously Sadie Hawkins is the Definition of Heteronormative and it explicitly prevents cute pocket gays and rowdy diesel dykes from pairing up for the soiree because the only way to end up at this dance is to be a girl who asks a boy or a boy asked by a girl. Regardless, Student Council enthusiastically endorses Sadie Hawkins, overriding Blaine's silent feelings, which probs have nothing to do with being gay 'cause hell, it's Glee, maybe he won't even be gay this episode, and then wham bam thank you ma'am we smear on over to a different meeting on a different hour/day/week and look who's back in town:
For the purposes of this week's episode, Lauren Zizes is no longer the sassy powerhouse with a bad attitude who Knows What Boys Like. I thought she'd dumped Old Man Puckerman AND McKinley High following Glee's loss at Nationals Season Two, but I guess she's been hiding behind the bleachers for the last 33 episodes. Anyhow, now Zizes is playing a romantically deprived lonelyheart with a bad attitude and top bitch of the Too Young To Be Bitter Club.
The Magical Moldable Sugar's there, too, as is Becky and, obviously, Tina Cohen-Chang, and this girl in a neck brace who's in love with Ryder Bieber-Strong, and they're all weak in the knees about the Sadie Heterokins dance!
---
Thus we bound over lakes, streams, brooks, rivers, oceans, koi ponds, waterfalls and waterslides until we arrive at Fake Julliard, where the newly-enrolled Kurt is a tad lonely 'cause The New Rachel's busy boning Shirtless Geyerdean Brodybear and college is apparently "just like high school."
Kurt's considering hitting up some extracurriculars to round out his social game and a poster for the Adam's Apples Show Choir catches his eye, probs 'cause of its resemblance to everybody's favorite party game, Apples & Apples.
Fascinating!
---
Then we plow on through the chilly night air, through snowstorms and heatstorms and glitterbombs all the way back to Lima, Ohio, where guys are walking down the hallway and girls are looking at them, because Sadie Hawkins.
Then something happens and then something else and then we're in the teacher's lounge with Mr. Potato-Head, and Beiste says this to him:
Beiste: "Sadie Hawkins is a metaphor for empowerment, and not just for women, but for everyone who is sick and tired of the status quo!"
So Finn hops, skips and jumps over to Glee Club and announces that this week's theme is Lady's Choice, when every lady will choose her favorite brand of tampon and sing to it.
JK! Um, girls are gonna sing songs to boys and ask them to the dance. This is so empowering, I feel like the Statue of Liberty. Maybe next week the girls can pick out their own wedding dresses, and the week after that they can pick out new drapes! Possibilities are endless.
---
Then we remove our eyeballs from our skulls, drop them into miniature Thomas the Tank Engines, and choo-choo cross-country to The Barbie Dreamhouse Bushwick Loft, where Kurt's singing and Rachel's freaking out 'cause Geyerdean's asleep in the other room because he slept over.
Kurt and Rachel plop their asses onto a sofa and Kurt says he needs new friends and is considering the Adam's Apples, and Rachel says you can't do that because show choir is for LOSERS.
---
Having spent enough time in New York City for this act, we then take the last train to Clarksville but stop in Lima, Ohio, where Finn's reserved the locker room for a quickie with Glee Club and Tina's gonna serenade Glee Club with her Pro-Choice anthem, which Artie predicts will be dedicated to "the forbidden love she let slip through her fingers."
Sam: "Unique?"
Nope, Artie's not talking about Unique, because 1) Unique is a girl, 2) Artie is talking about Artie. Surprise!
None of this matters however because Tina's singing "I Don't Know How To Love Him" from Jesus Christ Superstar to… Blaine.
As Tina Cohen-Chang emotes, we're treated to a montage of flashbacks detailing Tina's descent into madness. For example, that time Blaine bent over in Algebra class…
…and that time she scribbled nonsense in her journal…
Regardless it's a fitting tune, considering that "knowing how to love him" involves being a dude, and Tina's not a dude, but she asks Blaine to the dance anyhow, and he's like "No thank you," and everybody feels really embarrassed for everybody else.
---
Thus we zoom back to the East of the Southern Wild, where Kurt's staring wistfully at the Adam's Apples poster when the great-great-great-grandson of Lady Edith Crawley and Sir Anthony Strallan pops up in Whitney Mixter's hand-me-downs, identifies himself as Adam of The Adam's Apples and corals Kurt into checking out their vocal stylings at a rehearsal.
Thus we skim on over to the auditorium for an assault on my earholes and eyeballs I'm not sure I'll ever recover from. Prior to learning this arrangement was the work of an independent acoustic musician, I was prepared to rant about how this might be my least favorite musical number in the history of Glee and how bizarre and gross the choreography was but now I feel bad, so. That being said, I bet Jonathan also hated the choreography!
Kurt, however, is essentially creaming in his pants over the performance performed by this motley crew, a group which includes a substantial number of escaped employees of Historical Williamsburg as well as Sherlock Holmes, a fan of Lolita cosplay, Keifer Sutherland circa Lost Boys, Eric Stolz's long-lost son, Bobby Brady, Susan Powter circa 1992, Jane Fonda and a few extras from a 1995 production of RENT.
Then it's over and I remove my head from its submersion in a pile of soundproof vanilla pudding.
---
Cut back to Lima, Ohio, home to eight Subway sandwich franchises, where Brit-Brit is introducing herself to Marley-Kate and then suggesting that Marley-Kate follow her heart towards New Puck and ask him to the dance.
This convo segues neatly into the episode's next musical number, "Tell Him" by The Exciters, featuring Marley-Kate, Britt-Britt, and the females of Glee Club dressed like Mermaids with brand new legs and killer cleavage:
At the song's end, Marley-Kate asks New Puck to the dance and he says yes, and Brit-Brit asks Sam to the dance, and he says yes, and then somebody asks me if I'd like these cashews and I say HELL YES.
Pages: 1 2 3See entire article on one page