Cut to The Sadie Hawkins Dance we've all been waiting for. The theme is "Snowflakes."
Tina looks hot, though:
Blaine compliments Tina on her spectacular Decoration Skills but fails to credit the theme's inventress — yup, Jonathan Coulton wasn't the only artist who got robbed this episode. Princess Frostine's entire situation was blatantly copied with no credit given, AHEM: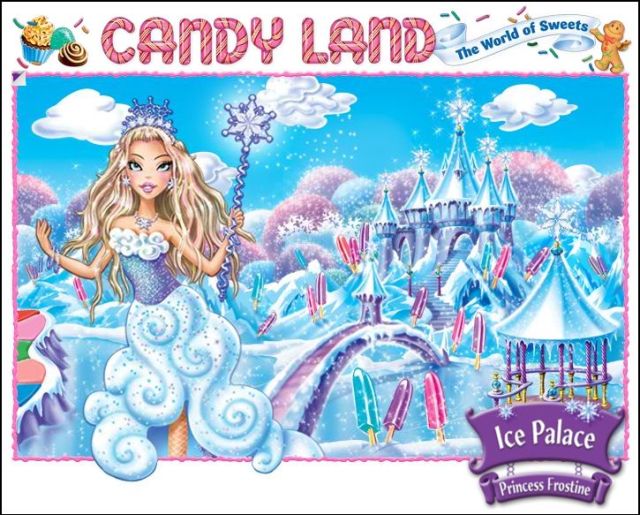 Anyhow, we zip on over to the mainstage, where T-Boz, Left Eye (RIP) and Chili are about to bust into a thrilling rendition of the hit 1999 single "No Scrubs" from the hit 1999 album "FanMail" WAIT JUST KIDDING it's Artie, Ryder Bieber-Strong, Teen Jesus, Blaine and Sam about to bust into a lukewarm rendition of the hit 1999 single "No Scrubs" from the hit 1999 TLC album "FanMail."
Artie: "We'd like to dedicate this song to all the strong, proud and empowered ladies who stuck their necks out to make this happen. This week you showed us what it's like to wait by the phone that never rings. The horror when all your friends get asked to dance, and you don't, and then you have to sit there…"
Right so, nobody asked Artie to the dance, and Blaine the Ex-Girlfriend Stealer cuts him off so the song can begin —
The audience is positively delighted and therefore probs on Crystal Meth.
---
Elswhere in Princess Frostine's Garden of Good and Evil, Marley-Kate and New Puck are moving their limbs and torso in dance-esque movements while Marley-Kate discusses her Trust Issues and, probably also noticing a lack of Female Empowerment in Female Empowerment Episode #456, lays down the law with New Puck:
Marley-Kate: "I need you to be with me and only me and I need to take things slow. If you can agree to that, we can have the best time, and if not, I'm sorry, I… I just can't."
Before he can consent, she's whisked away by a fairy. Thus we mosey on over to the bleachers, where the entirety of the Too Young To Be Bitter Club (sans Tina), headed by the previously sassy sister known as Lauren Zizes, are mourning their datelessness when Beiste strolls through.
Beiste: "What's the problem here, single ladies? Unless you're beat up like me from riding a buffalo down at the state fair, you should be out on the dance floor. This ain't a dance for flowers to sprout on the wall. Get out there and spread your petals."
Zizes: "We're not flowers, we're losers. And this dance only doubled how patheitc I already feel."
Beiste: "Girls, take it from a former wallflower myself. Life's not about waiting to be asked, and neither is this dance. Now, get out there and get what's yours. Just remember one thing: the worse he could say is no."
We then cut quickly over to Fake Julliard, where Kurt is navigating the myriad architectural masterpieces in his sneakers when he runs into Adam The English Faun and decides to seize the moment…
…while simultaneously Zizes seizes the moment to ask Teen Jesus to dance…
…and Sugar asks Artie to dance, a great act of courage considering that they dated once I think and never really broke up but also she dated Irish Breakfast and also idk, I thought they were together now and whatever he's liked her for at least 20 episodes…
…and back at Fake Julliard:
Adam The English Faun: "Thoughts on a Sondheim super mashup, like epic to the power of epic. We'll all probably die while singing it. You in?"
Kurt: "I'm in."
[The English Faun descends the stairs]
Kurt: "Hey Adam, I was wondering? Would you ever wanna get a drink or a coffee sometime?"
Adam The English Faun: "Yeah, that would be great."
Kurt makes the cutest face ever as he clutches the English Faun's newly-acquired digits in his fey hands.
Then we're back at the Ice Palace, where Tina and Blaine are doing the awkward dance:
Blaine: "I love your new attitude these days. It's so empowered."
Tina: "I love your everything… you're perfect."
Blaine: "Oh, Tina Cohen-Chang, where have you been all my life?" [dips her]
Tina: "Right here!" [TINA GETS FOGGY]
It's so tragic and unempowering on so many levels and also totally non-sensical. Blaine's clearly enjoying his platonic funtime and Tina's somehow thinking that Blaine is about to kiss her or something and just UGH
So Tina, possessed by a demon of plotlines passed, appears to be going in for the makeout but before she can, Blaine gives her the fakeout 'cause Sam has bounded across the Ice Palace to retrieve his bestie for an emergency meeting of The Warblers Are On 'Roids Club. Tina's left alone to witness The Ladies of Glee covering an unbearable pop song I hate while making love to microphone poles:
At some point while watching Glee on Thursday with three glasses of wine and half a Cheeba-Chew, I tried watching it while imagining that I was 12 years old, and oh my G-d, 12-year-old Riese really loved this show. You guys, how much would you have loved the FUCK out of this show when you were 12? I mean do you remember the shit you were into back then? Real talk: I was super into Crystal Clear Pepsi. I think maybe there are a lot of 12-year-olds watching this show.
As the dance floor throbs with hormonal extras, Meow Mix and Old Man Puckerman are "dancing" and chatting:
Then:
Meow Mix: "Look I usually avoid dating Jewish guys on account of your people killing my Jesus, but I was willing to make an exception because of your biceps, but I'm gonna have to end this little expriment in religious tolerance if you don't stop dancing like an idiot."
Old Man Puckerman: "One night with me and I'll have you studying for your Bat Mitzvah."
Meow Mix: "Not a chance. I like bacon too much… I read your screenplay, you know."
Old Man Puckerman: "Why didn't you tell me, I gave that to you like three days ago."
Meow Mix: "It took me that long to get through all the spelling errors. Have you ever heard of spell check?"
Old Man Puckerman: "No."
She tells him that he has talent and then they go to make out and then go to Sonic Burger or something.
---
Smear to the emergency meeting of The Warblers Are On 'Roids Club, where Sam and Blaine present Finn with an iPad slideshow of evidence regarding the Warblers being on 'roids.
They've even snagged a cell-phone vid of a Warbler going batshit on an innocent Barista at Limabucks:
Angry Warbler on video: "I fucking hate Splenda. It tastes like pencils. Why are you putting pencils in my latte?"
(I agree about the Splenda)
According to section something something line something else of the Show Choir manual, anyone caught using steroids, amphetamines, human growth hormone or Four Loko is automatically disqualified, which's really gonna screw over all the ADD kids on Adderall and their "friends" who steal their Adderall to cram for another hard-hitting geography test about the rain in Spain. The rule's retroactive so if they can prove the Warblers have been juicing up, heads will roll. Regardless, Finn says that's not enough evidence and Sam's like, OH YEAH WELL HOW ABOUT THIS GUY???!!!! Then Trent Warbler shows up:
Trent Warbler relays a tale of how Sebastian and then the mysterious Hunter have turned The Warblers into a rowdy band of sinners, robbing them of their showchoir purity and offering Ryan Murphy an opportunity to make us look at a lot of young male ass:
Yup, The Warblers have been giving themselves the hot beef steroid injection, and Trent's willing to testify to this effect, which means they'll get disqualified and everybody will rejoice, like this:
---
We then pack our tiny suitcases, load up the station wagon, stock up on healthy road snacks, plug in our Road Rage Mixtape and traverse the great American landscape all the way to New York, New York, where The New Rachel has been making an afternoon picnic for dinner, featuring every Vegan's favorite delicacy, "the turkey burger." She plops down a the table-for-two and busies herself thinking about how much potato salad reminds her of Finn's genitals.
Rachel maintains the table set-up for 45 minutes so she can dramatically remove her sad sack entrees from the table when Geyerdean shows up and apologizes for being late.
The New Rachel: "You know, it's amazing how I strive for such greatness for myself and my career, but I'm fine with taking whatever scraps I can get with my personal life."
Geyerdean: "Well, I'm sorry. The train was late."
True story: sometimes the train is late. Rachel's unconcerned with reality, however, so Geyerdean opens his mouthhole and says words including:
Geyerdean: "All I was thinking was that I would wait all night, I would wait my whole life for that train if it meant that I got to spend my last day with you."
Rachel: "I guess I could put it in the microwave."
But Geyerdean's willing to put the Turkey Lurkey on hold in favor of dancing. The New Rachel points out that there's no music, seeing as they presently exist in a tech time-warp where Geyerdean lacks a cell-phone he could use to tell The New Rachel the train is late and the New Rachel lacks a cell phone she could use to ask Geyerdean what the holdup is and Rachel/Kurt lack a stereo or laptop or ipod dock or tape deck or record player or keyboard.
"Use your imagination," he suggests, and apparently her imagination imagines Ryder Bieber-Strong performing The Flamingos' arrangement of Warren and Dubin's "I Only Have Eyes For You," 'cause that's where this scene sends us:
On the dance floor, New Puck tells Marley-Kate that she's the most amazing person he ever met and he doesn't want to be with anybody else.
Blaine returns from his meeting and escorts Tina to the dance floor, where she maintains her insipid and pointless unempowered moony attraction for a gay man who will never want her back, just like Kurt didn't want Mercedes and Blaine didn't want Rachel and Justin didn't want Daphne and Ricky didn't want Delia Fisher and Maxxie didn't want Sketch and Alex didn't want Liv and Marco didn't want Ellie and David didn't want Tracy and Will didn't want Grace. So.
Back in The Barbie Bushwick Dreamhouse Loft, Geyerdean promises to never be late again and even volunteers to move to Bushwick, because he's a moron.
Rachel: "Why don't you just move in?"
Um, because that's the stupidest fucking idea you've ever had. Well, besides this idea: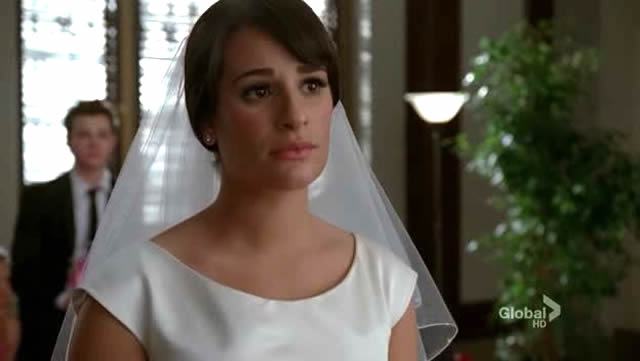 ---
Over Pennsylvania and through the woods to Lima Ohio we go, where The Too Young to Be Bitter Club is giving accolades to Tina for her fantastic Sadie Hawkins Dance idea.
Lauren: "That Sadie Hawkins dance gave me back my swag. I not only snagged the cutest Christian hippie in all of Ohio, I was also empowered to apply for a wrestling scholarship at Harvard."
McKinley High is basically a holding cell for underachievers with spotty high school records to snag spots at Ivy League schools for weird reasons, yeah?
Then Tina's like, "Just between us girls, I think I found the love of my life!"


Becky says, "You're not talking about gay Blaine!" and before anybody can give a tip of the hat to Becky, Tina disbands the meeting and disbands the club itself altogether forvermore and we're left here with empty memories of when this show had a lesbian in it!
Pages: 1 2 3See entire article on one page