There are times when you find yourself staring at a large plate of bite-sized carbohydrates and sliced vegetables and thinking MAN ALIVE I WISH I HAD SOMETHING TASTY TO PLUNGE THESE ITEMS INTO. Well as usual, I'm here to help turn your dreams into realities.
+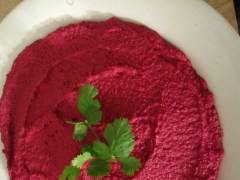 Today I'll be doing so via DIPS!
Dips are miraculous things, aren't they? So quick and easy to prepare. Like thick little pre-chewed soups you can put on pita chips. Marvelous!
I don't like the word dip, Straddlers, because I am even stranger than you realized, so I want you to know that every time I've had to type or read that word, I've cringed and felt a little dizzy. But who cares! Look! Bean Dip! Alex's Guacamole! Miss April made hummus and Rachel also made hummus and if either of them were anywhere near me I WOULD EAT BOTH OF THEIR HUMMUSES.
1. Black Bean and Artichoke Dip: Rachel
2. Alex Makes Guacamole: Alex
3. Basil Pesto Hummus: Sarah Croce
4. Roasted Beet Hummus: Rachel
1. Black Bean and Artichoke Dip
If you have a can of black beans, a can of artichoke hearts, and a food processor, you're basically already done with this. Garlic and lemon juice are probably a good idea if you have them, but like honestly, whatever. This is fucking delicious, and probably only has like three calories because there's no oil in it really.
Canned beans are easier to find, but cooking them from dried beans is way cheaper and also better for you! Just buy a bag of dried ones, soak them overnight, and then simmer them for six to one thousand hours until soft. You can also put them in a slow cooker for about eight hours on low. The same goes for chickpeas for hummus, but you can cook them for less time. Okay? You're welcome. I love you.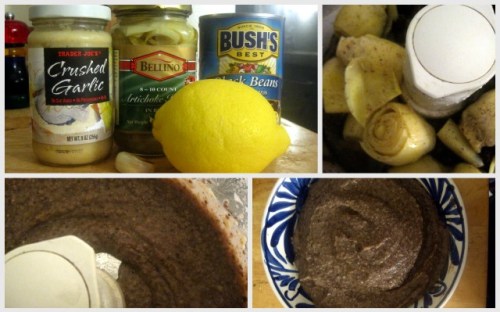 Ready for this? Take all this stuff:
roughly 1 can black beans, or like two cups-ish if you're cooking them from dried beans
+/- 1 cup of artichoke hearts (I used the ones packed in brine, but whatevs)
1 clove of garlic, or more if you like garlic
splash of lemon juice, unless you're allergic to citric acid / are Riese
salt and pepper to taste
Put it all in a food processor. Press "on." YOU'RE DONE. Didn't that feel good? Now put it in your mouth. Didn't that feel even better?
2. Alex Makes Guacamole
For some reason when I make guacamole, people always be tellin' me how awesome it is. I don't use a recipe, I go by taste – it's all about the right amount of salt and citrus I think. Regardless, my aunt made me write out this recipe for her. If anything, use it just for the proportions of ingredients and use your tongue for the rest THATSWHATSHESAID.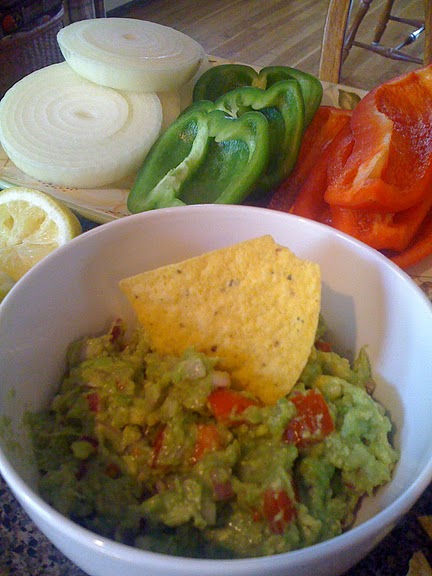 Ingredients
4 avocados
1 lemon or lime
2 garlic cloves.
1 half or whole red onion (depending on size), very finely chopped
1 jalapeno, guts and seeds removed, very finely chopped
cilantro, roughly chopped
salt (kosher obvs) and pepper
optional: cherry or grape tomatoes, a few dashes of hot sauce.
First I chop all the things I need to chop — the red onion, jalapeno, and the cilantro. I chop the shit out of them for reals. Set those aside.
Get the good stuff out of the avocados and place that in a bowl. Cut the lemon (or lime) in half and squeeze over the avocados. At this point I add the salt and pepper (maybe about a teaspoon of each? Eyeball it) and I put the garlic in a press thing and squeeze it into the bowl.
Roughly mush the avocados with a fork and mix that stuff together. Now you can mix in the chopped red onion, jalapeno, and cilantro.
If you're using tomatoes, I add them in at this point and fold them in gently so they don't break or get too mushed.
Give it a taste! You will probably need to add salt, or more lemon juice, or even more red onion… Almost always I add salt and more lemon juice at this point cause I am very conservative with those things in the beginning.
The trick is chopping the red onion and jalapeno up very finely, using a garlic press on the garlic (OR just chop/mush the garlic up), and having the right amount of salt and lemon juice in there… no one likes bland guacamole!
ETA: Intern Hot Laura likes to add a dash of balsamic vinegar to her guacamole because she is so very fancy. And when Laneia was pregnant and starving, she added bacon to her guacamole and didn't share it with anyone.
3. Basil Pesto Hummus
by Sarah Croce
Editor's Note: You guys, Sarah was Miss April. I like to remind you of this from time to time, because it's important that you never forget. Like the Alamo, but with boyshorts.
Ingredients:
2 cloves garlic
1 cup basil, washed
2 T lemon juice
12 oz can chickpeas
2 tsp. salt
1 T tahini
2 T nutritional yeast (optional)
2 tsp. jalapeno (optional)
1 T olive oil
water
All you need is a food processor! Throw the garlic in. Blend til coarsely chopped. Throw the lemon and basil and blend. Make sure you clean the basil, the worst thing in the world is to have dirt in your hummus, well, perhaps the second worst.
Throw in the chickpeas, salt, tahini, nutritional yeast, jalapeno (for a kick!), and olive oil and blend on high for a minute or two. If you're having trouble blending and if it looks too thick, throw in some water until it blends smoothly. Once it looks like it's blending smoothly let it run for another minute or two and Voila! Basil Pesto Hummus. So easy even a caveman could do it.
NOTE: I don't like to use a lot of oil for health and fitness reasons, and water does the same thing for the most part and the oil isn't there for taste, so it's ok.
4. Roasted Beet Hummus
Okay, so this is a hummus. It's just a hummus for people who like beets. It is at once mind-blowing and beautifully simple. Hummus + beets. Like any hummus, it contains chickpeas, tahini, lemon juice and garlic. Also, though: beets.
Hummus in general is a pretty flexible concept; you can adjust amounts and ingredients pretty liberally according to what you like. For this reason, I have made the amounts pretty approximate; for instance, I know I love tahini, so I tend to put more like 5 tablespoons in there, but you might prefer 3 or even 2. If there is something else you think you would love here, like cilantro or miso or roast beef, feel free.
Ingredients
about a can's worth of chickpeas, maybe 1.5 – 2 cups if cooking from dried
1 large or 2 medium beets
3-5 tablespoons of tahini
1-4 cloves of garlic
1-3 tablespoons lemon juice
1 tsp cumin
salt and pepper to taste.
paprika and/or cayenne to taste (optional, but I freaking love it, so)
olive oil as needed
1. Roast that motherfucking beet. Cut the weird fibrous top thing off, peel it, and wrap it up in some tinfoil. Preheat the oven to 450 and toss the beet in there for 45-60 minutes. You don't even need a pan or anything, just stick the tinfoil thing in the oven. If you're not using canned chickpeas, you can also use this time to boil them, it should take about the same amount of time.
2. Take the beet out of the oven and let it cool a little. Drain the cooked chickpeas. Once you can touch the beet without burning yourself, cut it into chunks.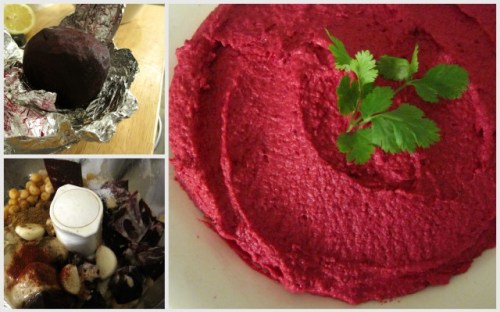 3. Put the chickpeas, beet chunks, garlic, lemon juice, tahini and spices into the food processor. Press "on" until you have a hot pink paste.
4. Taste the hot pink paste. Does it taste good? I found that mine was a little thick and dry, so I added more lemon juice and olive oil, then processed more. Feel free to adjust it to taste.
5. YOU'RE DONE. Put that ish on some falafel, or pita, or maybe a spoon. My roommate likes to spread it on her lips like she's five and playing with her mom's lipstick. Get creative. Garnish with cilantro or parsley if you're having company, you fancy fuck.
Ladies and gentlemen, what do you like to dip things into? Share your recipes in the comments!