We're pretty into empanadas here at Autostraddle HQ. Laura made them recently for lunch, and no one can ever forget the night that Gabrielle made empanadas with her incredibly hot model friend. Who can blame us? Empanadas are in many ways the perfect food: they combine a lot of food groups, they're portable, and most importantly, they're crazy delicious.
Which is why Stef and I felt a little left out; where's the empanada love for the vegans? Stef and I decided to find out, and to challenge each other to a food-off in the process, because where's the fun if you're not endangering your friendship over food? It's up to you to decide who came out on top. (Har har.)
Pastelón Empanadas
by Stef
First of all, until Rachel and I entered into this battle, I had never made empanadas before. When I finally got a look at a few recipes and started plotting my empanada victory, I noticed that most of the empanada dough recipes I saw looked an awful lot like the recipe I use for pie crust. When I make pie crusts, I use vodka instead of water because I heard once that vodka is supposed to make your crusts fluffier. I've never tested this theory with a control batch, mainly because I like the idea of cooking with vodka so much. Anyway, the point of this story is that I used a plastic handle of low-grade vodka that's been sitting on top of my fridge since last summer in my recipe instead of water and my crusts turned out amazing, so you know, you do you.
Every once in a while when I'm feeling really generous, I make some sort of complicated dinner situation and bring it to work for my friends. Some time ago I happened upon a now-defunct blog with a vegan recipe for pastelón, a Puerto Rican dish made of layered plantains, cheese and traditionally beef. The recipe I found taught me how to make a pretty incredible black bean filling, and although I didn't feel like I had any idea what I was doing, the end result was insanely delicious. When Rachel and I first discussed this project (I mean, when Rachel and I challenged each other to a deliciously violent empanada duel), I immediately wondered if it would be possible to turn pastelón into an empanada. Turns out, anything is possible. Reach for the stars, kiddo.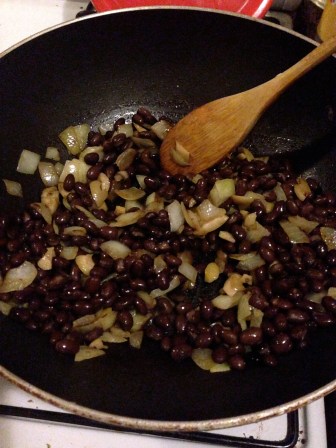 INGREDIENTS:
one recipe's worth empanada dough
almond or soy or whatever nondairy milk
like 2 yellow plantains
1 can black beans, strained
yellow onion, diced
8 pitted green olives, diced
2 tbsp olive oil
daiya mozzarella (or dairy cheese if you're into that i guess)
sazón, a spice mix you can buy at some bodegas but if not, here! you can make it:
1 tbsp ground coriander
1 tbsp ground cumin
1 tbsp ground annatto seeds or paprika
1 tbsp garlic powder
1 tbsp salt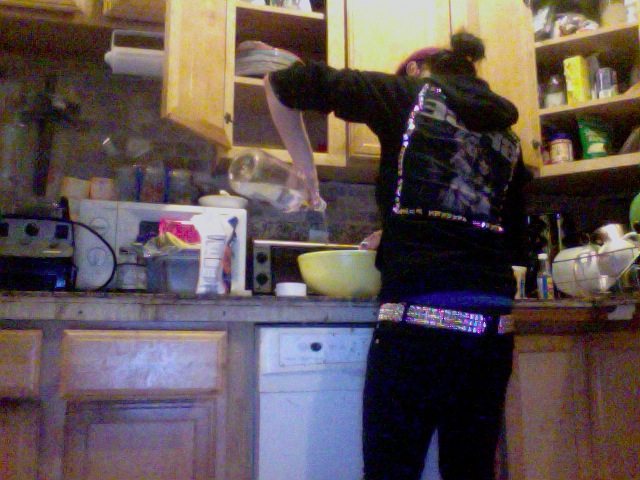 DIRECTIONS:
1. Preheat your oven to 400 degrees Fahrenheit, and get a pot of water boiling on the stove. Take your lovely plantains and slice them into thirds or so (with the peels still on) and drop 'em in the water. You will know they're done when they're bright yellow and floating happily at the top. Make sure they boil enough, cos if you take them out too early they'll be difficult to mash.
2. Take the plantains out – be careful, they're hot – and using an instrument that is not your fingers, remove the peels and mash them thoroughly in a bowl. Clean your mashing utensil cos you're about to use it again.
3. Heat up a large pan on the stove with some oil, and then add your onion. When the onion is translucent, add a pinch of your sazón, and then your olives and finally the beans. When everything's mixed, mash it all up in the pan. It's going to smell so good, you guys.
4. Cover a clean, flat surface with a bit of flour and slice your empanada dough into about six evenly-sized pieces. Roll each piece into a small ball, and then roll each ball out one at a time into a flat, round piece about 6″ around. They don't have to be perfectly round, but give yourself enough space to work with. I stacked my rolled-out dough with paper towels separating each piece.
5. Take each dough round separately and brush the top lightly with almond milk. You shouldn't put more than 1/3 of a cup of all the fillings combined into each empanada, so I put about 1/6 of a cup of the black bean mixture, slightly less than 1/6 a cup of mashed plantains and a sprinkling of daiya mozzarella into each one. Place your filling near the center, and be sparing – it's totally fine if you don't use enough, but if you use too much filling your empanada won't hold together properly and trust me, that will be a bummer. Leave at least half an inch around the edge for sealing, preferably a bit more if you can swing it. Carefully fold your empanada in half, using the almond milk sort of as your glue, and press the sides shut. Use the tines of a fork to seal the edges.
7. Bake for about 25 minutes, when the crust should be sort of browned and everything will smell amazing. Let your empanadas cool, and then eat them all in a ravenous frenzy.
Sweet and Spicy Empanadas
This recipe is from Viva Vegan but it's described as Sweet and Spicy Seitan-Potato Empanadas (Bolivian Salteñas).  Honestly, seitan and most meaty-textured things kind of give me the creeps, but Field Roast make this kinda spicy chorizo that I'm strangely OK with, so I used that.  I was proud of my pastelón empanadas, but these may be my pièce de résistance.  It looks like a lot of stuff, but the recipe is pretty easy to follow and thankfully it provides about twice the empanada filling you actually need, so you can gleefully devour the rest of it with a spoon.
 INGREDIENTS:
one recipe's worth empanada dough
almond milk or other nondairy milk
2 medium-sized potatoes, diced into 1/2 inch cubes
1 large carrot, peeled and diced into 1/2 inch cubes
3 tbsp olive or peanut oil
2 Field Roast vegan chorizo sausages (or whatever meat substitute you're feeling)
4 cloves garlic, chopped
1 yellow onion, diced into 1/2 inch cubes
1 1/2 tsp ground cumin
1 1/2 tsp dried oregano
2 tsp hot sauce or chili paste (I used this amazing chocolate habañero sauce but I am insane)
a sprinkling of black pepper
1/2 cup frozen or fresh peas
1/2 cup dark raisins
2/3 cup diced green olives
1 2/3 cup vegetable broth
4 tsp arrowroot or cornstarch
1 tbsp sugar
1/2 tsp salt
DIRECTIONS:
1.  Preheat your oven to 400 degrees Fahrenheit.  Place your diced up potatoes and carrots in a pan, cover with water and boil for 10-12 minutes, when your potatoes should be sort of tender but not mashy.
2.  While that's happening, heat a little oil up in a pan on a relatively high temperature.  When the oil is hot, crumble your chorizo into the oil and brown it lightly, making sure to mix it around with a spoon so it doesn't burn.  Don't overdo it.  When your chorizo is just lightly darkened, take it off the heat and move it to a plate.  Oh, your potatoes and carrots are also probably done; test those and then pour into a colander or strainer situation.
3.  In the same pan you just cooked your chorizo in (so efficient!), add a bit more oil and heat up the garlic, then the onions.  When the onions are translucent, add your cumin, oregano, hot sauce and the sprinkle of black pepper.  When everything is mixed, add your chorizo, potatoes and carrots, peas, raisins and olives.  Fry all of that together for 2 minutes or so.
3.  In a separate bowl, combine your veggie broth, arrowroot/cornstarch, sugar and salt.  Whisk that til it's completely mixed, then add it to your veggie mixture and begin stirring constantly.  The gravy will start thickening pretty quickly, and you should taste it as you go, adding a liiiittle bit more hot sauce here as you see fit.  When no chalky texture remains, your gravy and veggie filling are done.  Remove from heat and let it cool a bit.
4.  Just like the the other empanadas, you're going to roll out your empanada crusts on a floury surface into little rounds, then brush the inside of each round with almond or other nondairy milk.  Add no more than 1/3 cup of filling to each empanada, then pinch the sides together and seal the edges with the tines of a fork.  You may want to tuck the sealed end under, which will add extra security to your empanada filling.
5.  Bake for 25 minutes or so until the dough is golden brown.  Let cool for five minutes or so, then consume to your heart's content.  I suggest picking up some tomatillo salsa for dipping.
Shredded Seitan and Mushroom Empanadas
by Rachel
originally from Viva Vegan by Terry Hope Romero, recipe found at Eat Me, Delicious
I love empanadas. They are the king of foods. In my pre-vegan days (I will never, God help me, be the kind of person who says "pregan"), I had a baller recipe for empanadas that involved ground beef, green olives, raisins, and I think potentially hard-boiled eggs. Obviously that was no longer going to fly, and I had made my peace with that. But when I was looking for vegan empanada recipes, I kept feeling underwhelmed. Eventually I had to be honest with myself and admit that what I really wanted was to recreate the festive bonanza of flavors that I missed. And that's where Terry Hope Romero's shredded seitan and mushroom empanadas with raisins come in!
I, like, Stef, had had some dodgy experiences with seitan, but this was a pretty positive one. I think the key was the grating technique, which replicates shredded/ground beef pretty well without you ever having to bite into a giant singular chunk of tough or gummy seitan, and the fact that I used about half what the recipe called for. Just some helpful hints.
Lastly, let me share one piece of wisdom: this is not a simple recipe. It is, shall we say, involved. In light of that, I advise you to make the seitan and crust the day before. I mean, if you have a Buffy marathon all queued up and want to cook for like 6 hours straight, then go girl go. But if you want to spend a normal human amount of time cooking over two days, then I would go ahead and do that. Now, on to the recipe!
Empanada Dough
3 cups all purpose flour
1 1/2 tsp salt
1/4 tsp baking powder
4 tbsp chilled vegan shortening, cut into 1/2″ pieces
4 tbsp chilled vegan margarine, cut into 1/2″ pieces
3/4 cup cold water, or more as needed
Seitan
(you can halve this amount if you want the amount of seitan I used)
1 1/2 cups cold vegetable broth
4 cloves garlic, minced
3 tbsp reduced sodium soy sauce
4 tbsp tomato paste
2 tbsp olive oil
1 1/2 cups vital wheat gluten
1/4 cup chickpea flour
1/4 cup nutritional yeast
1 tsp dried oregano
1/2 tsp ground cumin
Everything Else
1/2 lb button mushrooms, very finely minced
2 tbsp olive oil
4 cloves garlic, minced
1/2 lb onion, finely minced
2 tbsp red wine
1 1/2 tsp smoked paprika
1 1/2 tsp dried oregano
1/2 tsp ground cumin
1/4 tsp ground cinnamon
Salt & pepper
1/2 cup kalamata olives, pitted and sliced in half
1/3 cup dark raisins
1/3 cup nondairy milk
Day Before:
1. Make the crust. Mix the dry ingredients in either a regular bowl or the bowl of a food processor. Chop the margarine/shortening (I used all margarine and it was totally fine) into small pieces. If you have a food processor, throw it in there and pulse until the mixture is the consistency of clumpy sand. If you don't have a food processor, use a pastry cutter and smush the butter into the dry ingredients until the same consistency is achieved. Drizzle in your water while mixing with a spatula, and use only enough water for the dough to hold together — too much water and it won't be delicate and flaky! Divide your dough into two parts and flatten into discs, then wrap in plastic wrap and put in the fridge.
2. Make the seitan! Mix together the wet ingredients in one bowl and the dry ingredients in another. Make a well in the middle of the dry ingredients and pour in the wet ingredients, then mix until the dough comes together. Then knead the dough like bread for 2-3 minutes, until it holds together firmly. Let it rest for 10 minutes, then knead again for 30 seconds or so. It should look like the top left photo. Divide the dough into 4 pieces (or 2 if you halved the recipe) and shape them into rectangles, and wrap in tin foil, leaving a little room for the seitan to expand. Put in a steaming basket (I used the one that came with my rice cooker) and steam for 30 minutes. After steaming, allow to cool to room temperature and put in the fridge overnight, still wrapped in tin foil.
Day Of:
1. It's a beautiful day and we're ready to go! First, grate your seitan to oblivion using a cheese grater or grater attachment on a food processor. It should look like the bottom left photo. See, isn't that kind of like ground meat?
2. Chop the mushrooms, garlic, onion and olives. Sauté the onion and garlic til translucent, then add the mushrooms. Cook until they've released a lot of liquid, about 5 minutes. Add the red wine and spices, and cook for 5 more minutes. Add the seitan and cook for 6-8, letting it absorb all the delicious flavorful liquids. Stir in the olives and raisins, and take off the heat. Salt and pepper to taste.
3. Let the filling cool while you take care of business with the dough. Take the dough out of the fridge and divide into 12 equal pieces (so, 6 pieces per disc that you made last night). Using a rolling pin, roll them out one by one until they're maybe six inches wide. Or wider. I don't know. I can't really count. As you can see, rolling perfect circles is not my strong point; I made do. Brush the insides of your empanada with some non-dairy milk (this will help the edges stick together) and put a few spoonfuls of filling in there. I'm not even going to try to tell you how much filling to use, I'm just going to say that it's probably not going to fit as much as you think it will. That's what she said, etc.
4. Now you need to close the empanada. There are a few schools of though on this. You can use a fork to press the edges together, which is honestly what you should probably do. I am an overachiever who, in college, felt bad about not doing all of the reading for the class I was auditing and not even being graded in, so obviously I had to try to figure out how to hand fold it. If you also are this person, try watching this video like thirteen times like I did.
This was the best I could get: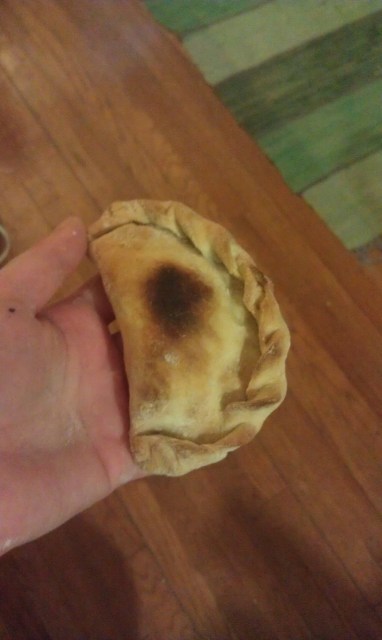 5. After your empanadas are sealed, give the outsides one more pass with the nondairy milk, and pop them in the oven for about 25 minutes at 400. You may want to open the oven halfway through and flip them over so they don't burn; it's possible my oven just cooks unevenly, or it's possible that everyone needs to do this. I have no idea. Enjoy!
Apple Pie Dessert Empanadas
Ok, I'll admit it: I didn't really have a recipe for these, but I did have some leftover dough and a lot of heart. Stay tuned for the episode of Glee based on my experiences. Anyways, for these you can keep the dough the same, obviously, and here's more or less what I did for filling:
Apple Filling
A few apples, maybe four
1/4 cup of a combination of brown and white sugar, to your taste
Splash of vanilla
Splash of lemon juice
1. Chop up the apples, mix them with the other ingredients in a bowl.
2. Roll out as many circles of your dough as you can get — I had about 8.
3. Put a few tablespoons of apple filling in each empanada. For extra ~wow factor~, put a few little bits of margarine in there as well. Seal your empanadas nice and tight.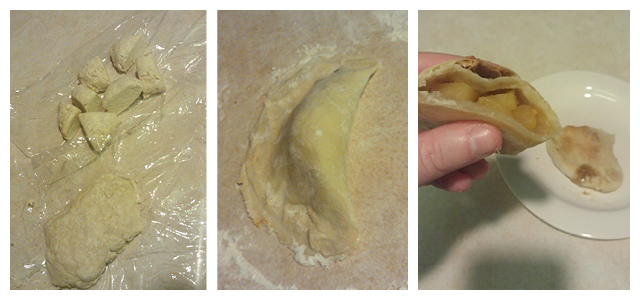 4. I baked these at about 375, because apples somehow seem more tender and in need of lower temperatures, for between 20 and 25 minutes. Voila! Mostly better than the apple handpie you can buy at McDonald's.